Custom Magnetic Dry Erase Calendars

We produce high quality customized magnetic dry erase calendars for Amazon sellers, small to medium-sized businesses, schools, universities, non-profits, marketing agencies and more.
Our custom-made magnetic dry erase calendars are popular with Amazon sellers, educational institutions, and businesses because they're practical, stylish, and affordable. We can fully customize your calendar to your chosen specifications. For example, we can print a colorful branded logo and background art or add information about your company, brand, mission, and more. Just get in touch to talk through your needs and a dedicated, named consultant will work with you to develop the design. Based on rough ideas provided by you, our design team will generate all the artwork at no extra charge.
At QinPrinting, we believe that practicality and aesthetics go together with beautiful design and the highest quality materials. That commitment — coupled with 25 years of success in the offset printing industry, our expert and enthusiastic team, state-of-the-art printing technology, cost-effective processing, and genuine customer service — sustains our world-class reputation among enterprise and non-profit sector clients all over the world.
Custom Magnetic Dry Erase Calendar Prices
While the final cost of your custom calendars depends on several factors, the example price chart below will give you an idea of how much your project could cost. Note that, unlike many offset printers who set a minimum order quantity (MOQ) of 1,000 units, our MOQ is just 500.
Magnetic Calendar Printing Price Chart
Quantity

500pcs

1000pcs

2000pcs

5000pcs

10000pcs

20000pcs
Please note that all prices are EXW our facility and do not include shipping costs.
157 gsm /106 lb art text paper with gloss lamination wrapped on 0.5 mm magnetic
Custom Magnetic Dry Erase Calendar Materials
The fundamental structure of our calendars is a 1 mm thick magnetic sheet, which we can cut to a variety of shapes and sizes. To create the surface, we wrap the board in 157 gsm / 58 lb art paper. To make the paper fully waterproof and render a surface on which it's possible to write and erase, we then laminate the paper with a thin but durable film of transparent plastic.
We want your calendars to be as functional as they are beautiful. The more your customers can engage with the calendar and the more useful it is, the more often they'll interact with it and strengthen the positive associations which lead to excellent reviews, a vital element for Amazon sellers.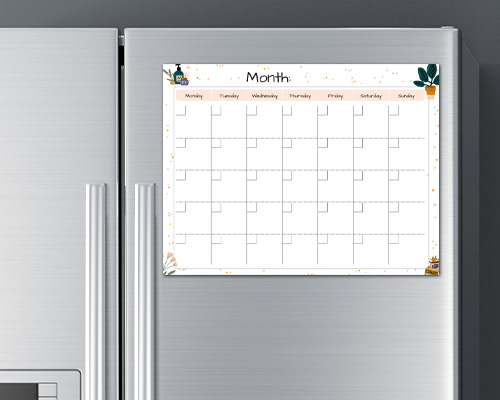 Magnetic (sticks to almost any metal surface such as a fridge, a filing cabinet, or a locker)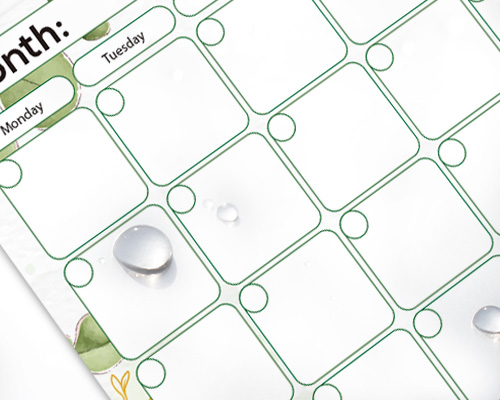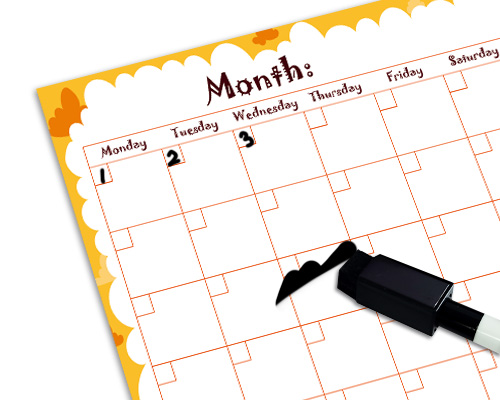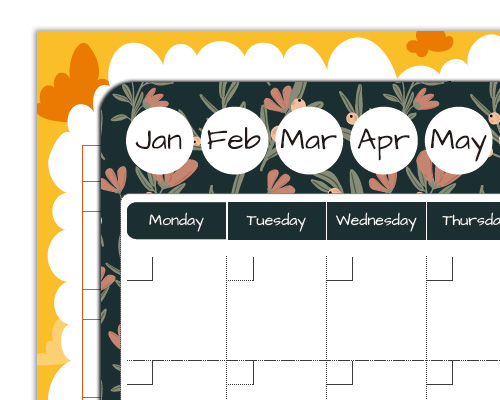 Choose rounded corners, square corners, or custom shapes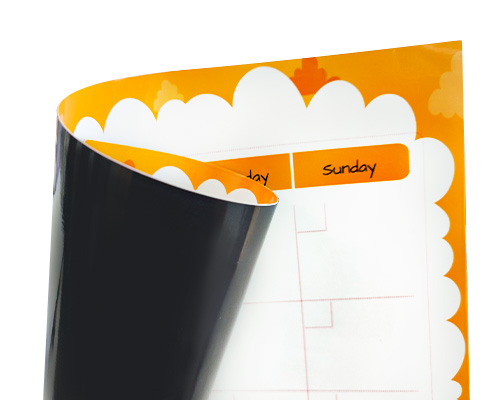 Custom magnetic calendars can be rolled up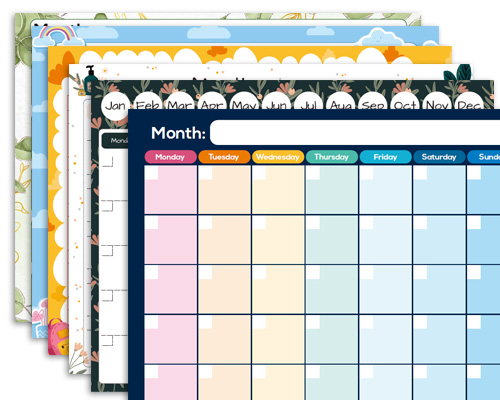 Printed with your artwork and branding
As well as the basic calendar, we can supply a range of accessories, including, for example;
On request, we will also create "kits" which include several components and we offer a full assembly service, too. We can also pre-package your calendars in individual plastic wrappers ready for mailing or pack them into cartons. Do you have a feature in mind for your custom dry erase calendar that isn't mentioned here? No problem! Talk to us. If it's possible, we'll do it.
Custom Magnetic Calendar Design and Artwork Tips
If you're preparing your own artwork in-house or commissioning a professional third-party artist or graphic designer, it's important to understand how to prepare the artwork and text for printing. You'll need to allow for bleed zones, for example, and make sure that the image resolution and the color space are correct.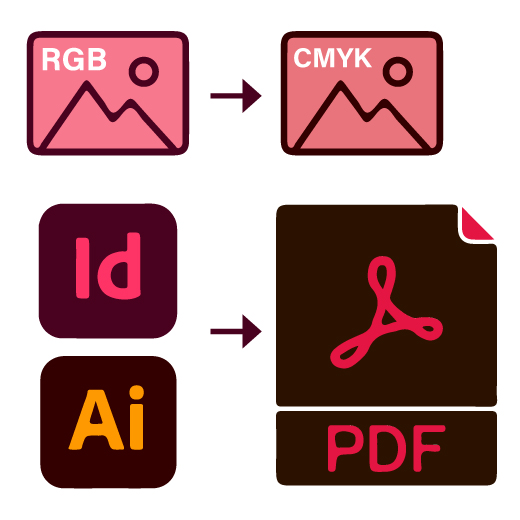 Export your files as vectors in PDF format for the best results. Our recommended software options for calendar design are Adobe Illustrator or Adobe InDesign. These will also allow you to convert your color space from RGB to CMYK which you will need to do for offset printing.
If you can't deliver vectors — say, if you're exporting bitmaps from Photoshop — then make sure the resolution is at least 300 DPI. With vectors, you needn't worry about resolution, but all other images must have a high definition to tolerate resizing without becoming fuzzy and "pixilated".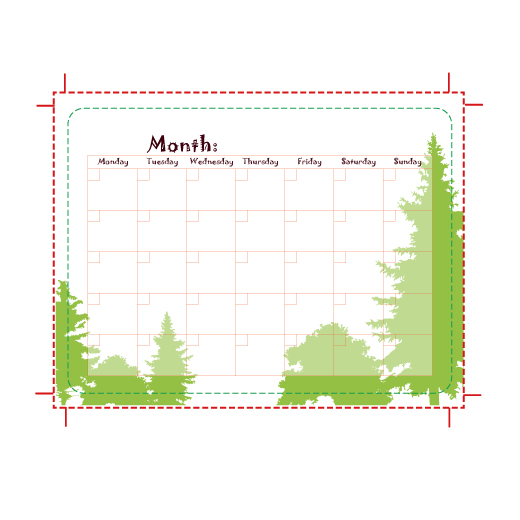 Make sure that the design space matches the dimensions of the calendar, especially if you choose an unusual shape.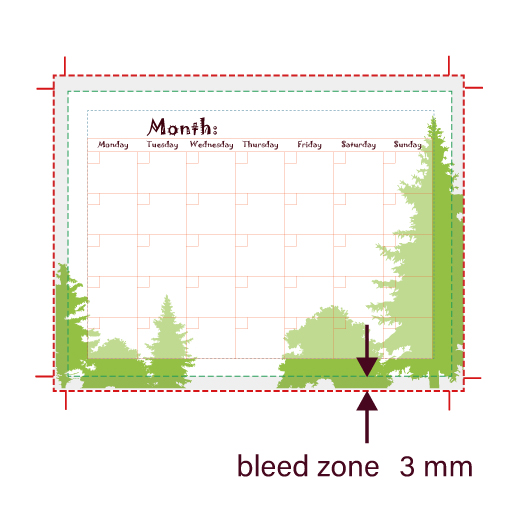 You'll need to add a "bleed zone" of 3 mm around all your artwork. A bleed is an extended zone at the periphery of your design, which falls outside the area that your finished image will cover. This "bit extra" gets cut off and makes sure that the finished image fills the space with none of it being lost.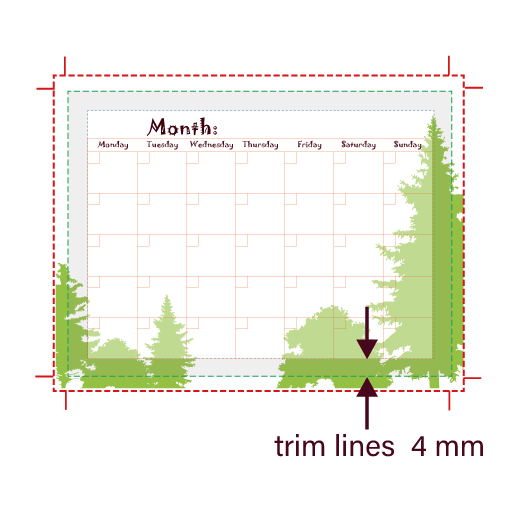 Inside your bleed zone, don't forget to mark the "trim lines". These should be green and will define the final dimensions of the surface. Make sure that any necessary elements of your images stop at least 4 mm short of the trim line.
A competent graphic designer should understand the technical details and be able to set this up for you. But we'll always manually check your files before going to press. While the responsibility for sending "print ready" files is yours, please don't worry! We'll be happy to "hold your hand" through the process, explain what's needed, and liaise with your designer to make sure everything goes smoothly and you end up with a perfect print.
And please ask us for a design template. We'll be happy to create one for you. And if design isn't your thing, we'll also be happy to create a design for you based on the images, logo, etc. that you provide. Just ask!
If you're an Amazon seller, an entrepreneur, a small to medium-business, in need of first-class customized magnetic dry erase calendars at unbeatable prices — we should talk. Get in touch today to chat through your needs or to ask for a no-obligation quote. We can't wait to help you make your next calendar the best and most effective ever!