Let your imagination go wild with our world-class manga printing services
"What I love about manga is its ability to reach this new audience of readers… 80% are girls."
 — Neil Gaiman, writer and manga book creator
From Naruto through Death Note and One Piece to Dragon Ball and Full Metal Alchemist, Japanese manga—with their complex heroes and plots—have risen to dominate the contemporary manga scene.
At QinPrinting, we love the free spirit of manga and the high artistic and narrative values they express. Our passion—together with an exceptional team, technological wizardry, and personalized customer care—position us among the most successful independent manga printers anywhere in the world.
"Manga are carried by characters. If the character is well created, the manga becomes a hit."
 —Kazuo Koike, world-famous manga creator
Custom Manga Printing Costs
At QinPrinting, we work closely every day with doujinshi creators and self-published mangaka to print gorgeous manga of unsurpassed quality. But we fully understand that many talented independent creatives need to publish their works on a tight budget. That's why we work constantly to improve our processes so we can deliver beautiful printed manga to unrivaled standards, but still at prices you can afford.
So, how much must you spend to print a manga with us? You can get a quick idea of your manga printing costs from the simple at-a-glance price charts below. The exact cost of printing your manga with us will depend on the paper you choose, the coating and finish for the cover and interior, how many pages your book has, and other factors. To get a precise, project-specific quote, use our handy Online Printing Cost Calculator. Unlike other offset printers who have an MOQ (minimum order quantity) of 500 or more copies, we're happy to print as few as 100 in a single run. And the more you print in one go, the less it costs per unit.
Manga Book Printing Price Chart (127mm x 191mm)
Quantity

100pcs

500pcs

1000pcs

2000pcs

5000pcs

10000pcs
Please note that all prices are EXW our facility and do not include shipping costs.
Cover: 105 gsm / 40 lb coated cover paper
Interior: 105 gsm / 70 lb coated text paper
Saddle stitch
Cover and inner: full color printing
Manga Book Printing Price Chart (210mm x 297mm)
Quantity

100pcs

500pcs

1000pcs

2000pcs

5000pcs

10000pcs
Please note that all prices are EXW our facility and do not include shipping costs.
Cover: 105 gsm / 40 lb coated cover paper
Interior: 105 gsm / 70 lb coated text paper
Saddle stitch
Cover and inner: full color printing
And don't forget that we're real people at QinPrinting and we're always willing to answer questions you may have. If you have questions, get in touch by whichever means you prefer — email, telephone, Skype, or our handy online contact form. One of our keen, attentive, in-house manga printing experts will be delighted to help.
We will print your manga any size you want, although unusual custom prints will cost a little more than standard sizes because of the extra work involved in preparing the plates and setting up the machines.
The most common sizes for manga comics are 5″ x 7.5″, 5.5″ x 8.5″, 6″ x 9″ and 8.5″ x 11″. From a commercial angle, it's often in your best interests to stick to the more popular formats. It's effective and inexpensive, meets customer expectations, and cuts down on set-up time, leading to a faster turnaround.
So, for your first manga, we recommend you print a 5″ by 7.5″ book.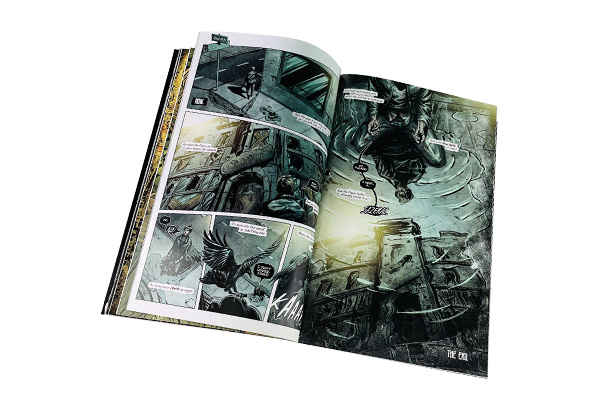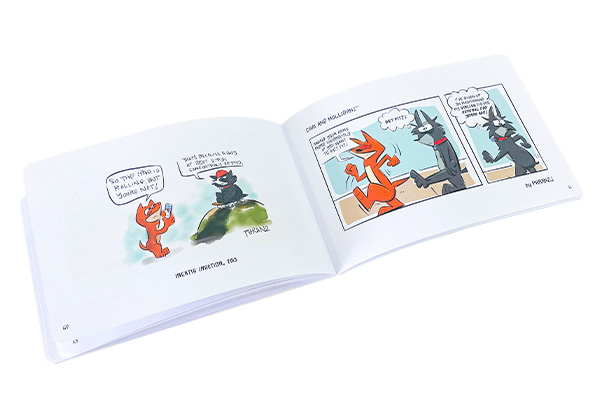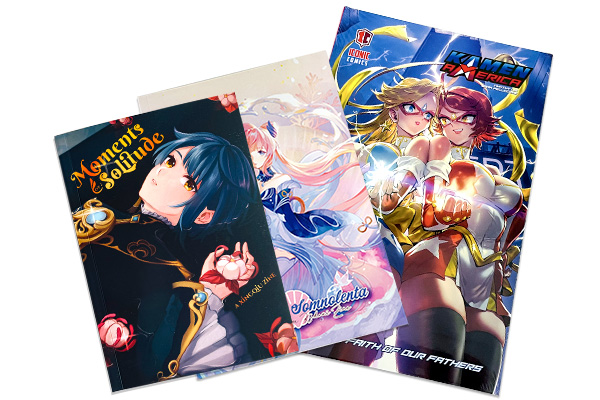 Paper Options for Printing Manga
The paper on which you choose for your manga printing influences its appearance, durability, and how much you spend. Many commercially produced manga use lightweight, coated paper for color interiors. These standards are fine for most manga.
But at QinPrinting we recommend 105 gsm / 70 lb, 128 gsm / 86 lb, 157 gsm / 106 lb coated paper or 80 gsm / 54 lb, 100 gsm / 68 lb uncoated paper for manga interiors as they give a lovely crisp, vibrant finish to the artwork and make the text easy to read. It will also stop the artwork "bleeding through" to the other side of the page. Choosing book interior paper depends on the book size and book thickness, too. As a general rule, we recommend thinner paper for the interior. Thinner paper can be opened flat easily which is best for a small size book. If the interior paper is too thick, smaller books can be harder to open. 
If the book is 8.5" x 11" or larger, we recommend thicker paper for the interior. For example, 128 gsm / 86 lb, 157 gsm / 106 lb coated paper or 100 gsm / 68 lb uncoated paper. If the book has 32 pages or less and you want to use perfect binding, we recommend 200 gsm / 135 lb coated paper to reach the required spine width.
You can download a book cover template to check the book spine thickness according to different paper types and page amounts here.
Paper for the cover of your manga depends on which binding style you choose. We usually make manga covers of heavier, gloss art paper. But you can also use the same paper as your interior, in which case we say that your manga is "self-covered". Saddle stitching, perfect binding, and hardcovers are the best options for manga. They give a professional look and feel and last a long time, even with repeated readings and handling.
Binding Options for Manga
While sometime our clients ask for "self-covered" manga to keep costs down to the minimum, the style of binding you choose depends on the genre, length, reader expectations, and your budget. The most popular options for professional manga are "saddle stitching" and "perfect binding". Mangaka may also choose hardcovers for special editions or series collections. 
This means that we make the manga of folded sheets stacked inside each other, often with an added cover sheet of glossy art paper, and then stapled together down the curved edge. The name comes from the original process of sewing the pages together with binding thread. Saddle stitch is only possible with a page count divisible by four, up to a maximum of 64 pages. But to make sure the book is neat and lies flat, we recommend a limit of 48 pages or fewer for this style of binding.
This is the binding used for standard paperback books and the most popular choice for manga, too. We collate the interior pages into a block, glued together, and then glued into a wrap-around cover made of heavier art paper or lightweight card stock.
In this binding, we organize the interior pages in "signatures" which are then sewn and glued into a hard cardboard casing covered with a printed sheet to form the cover.
Self-covers are the most inexpensive option and hardcovers are the costliest, with saddle-stitched and perfect bound editions falling somewhere in-between. The ultimate cost always depends on the materials, size, length, and number of copies printed in a single run.
Manga Design and Artwork Tips
The quality of your artwork reproduction of paramount importance when printing manga. You worked long and hard and poured your heart and soul into creating your characters, your story, and the images that represent them. So, you want your artwork to "leap off the page" and to spring to life in the reader's imagination. With that in mind, here are a few useful tips to help you when you're preparing your files for the printer.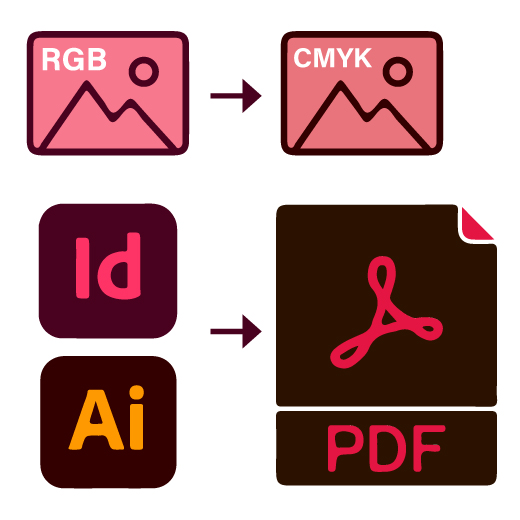 Export your files as vectors in PDF format for the best results. Our recommended software options for manga design are Adobe Illustrator or Adobe InDesign. These will also allow you to convert your color space from RGB to CMYK which you will need to do for offset printing.
If you can't deliver vectors — say, if you're exporting bitmaps from Photoshop — then make sure the resolution is at least 300 DPI. With vectors, you needn't worry about resolution, but all other images must have a high definition to tolerate resizing without becoming fuzzy and "pixilated".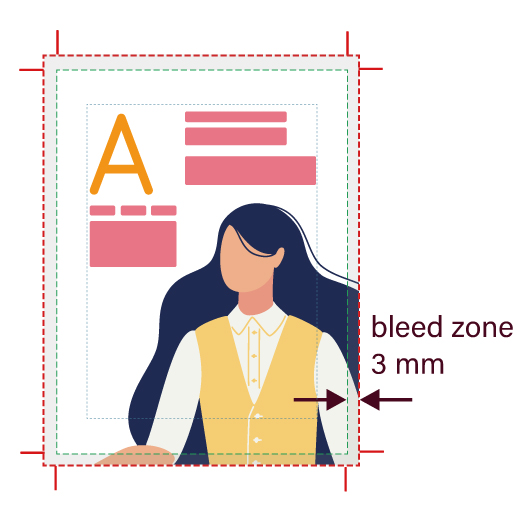 You'll need to add a "bleed zone" of 3 mm around all your pages. A bleed is an extended zone at the periphery of your artwork, which falls outside the area that your finished page will cover. Once we've printed your pages, we'll cut them to the exact size needed for your elected manga format. This "bit extra" gets cut off and makes sure that the finished image fills the page with none of it being lost. You should mark bleed zones as red lines.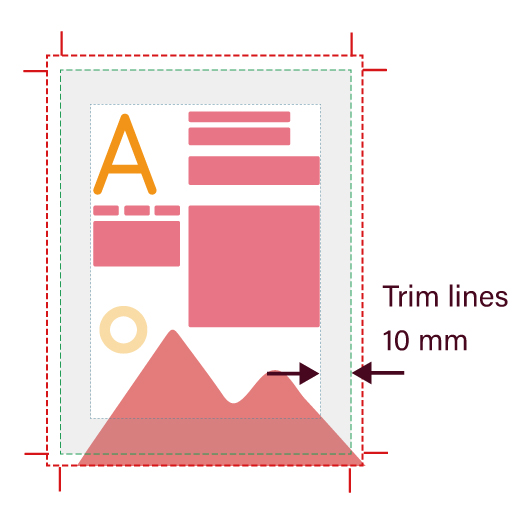 Inside your bleed zone, don't forget to mark the "trim lines". These will define the final dimensions of the finished page. Make sure that any necessary elements of your images stop at least 10 mm short of the trim line.
If you're working with a professional designer to create your files, they should understand what's needed to make everything "print ready". But if you're working with design software yourself for the first time, these are the vital tips to remember before you submit your files. Still, our team of experts will always manually check all your files before we go to press. If we find any issues, we'll let you know and help you resolve them. We won't print your manga until we're sure we'll get a perfect result and that you feel 100% satisfied with the proofs.
Unlike several other printing companies, we genuinely care about all our clients and appreciate the intensive creative work that makes a graphic novel from the first inkling of inspiration to the final printed product. We genuinely want you to succeed. So, if you're running a crowdfunding campaign, say on
Kickstarter,
talk to us first. We'll be happy to help you with
manga design templates both for the interiors
and
the cover, free artwork checking by our experts,
and
special discounts
on a range of optimal printing solutions. Seriously, call us up. We can help.

If you're an independent creative or a professional mangaka — and only the finest product and unbeatable customer service will do — we should talk. Get in touch today to chat through your needs or to ask for a no-obligation quote. We can't wait to help you make your next manga as mind-blowing as you want it to be!