Watch your story spring to life with our world-class children's book printing services
"The more that you read, the more things you will know. The more that you learn, the more places you'll go."
–from I Can Read with My Eyes Shut! by Dr. Seuss
Books are vital in a child's education, helping them to learn to read, explore ideas, use imagination, develop empathy and reasoning, and to find the courage to live their best lives.
At QinPrinting we believe children deserve the most beautiful books possible. That commitment — coupled with 25 years of success in the industry, an expert team, the latest technology, and unrivaled customer service — sustains our first-class reputation among self-publishers of children's books around the globe.
"Let the wild rumpus start!"
–from Where the Wild Things Are by Maurice Sendak
Custom Children's Book Printing Costs
At QinPrinting, we help self-published authors to print children's books of unmatched quality every day. But we also understand the importance of fulfilling an order within your budget. That's why we continually review our work processes to make sure we always deliver exceptional quality books at the most competitive prices you'll find anywhere in the industry. And that's a promise.
But don't take our word for it. See for yourself! You can get an immediate estimate of how much it will cost to print your children's book by checking out our at-a-glance pricing charts. Unlike most children's book printing services — which have a minimum offset print order of 500 or even 1,000 books— we offer a minimum offset print run of just 100 units and still with a competitive price advantage. But as you'll see from the charts, the more copies you order in a single run, the less you pay per copy.
Paperback Children's Book Printing Price Chart (210mm x 297mm)
Quantity

100pcs

500pcs

1000pcs

2000pcs

5000pcs
Please note that all prices are EXW our facility and do not include shipping costs.
Cover: 250 gsm / 92 lb coated cover paper with gloss lamination
Inner: 157 gsm / 106 lb coated text paper for interior
Cover and inner: full color printing
Binding: perfect binding
Hardcover Children's Book Printing Price Chart (210mm x 297mm)
Quantity

100pcs

500pcs

1000pcs

2000pcs

5000pcs
Please note that all prices are EXW our facility and do not include shipping costs.
Cover: 157 gsm / 58 lb coated cover paper with matte lamination wrapped on 2.5 mm thickness greybeard
End sheets: 140 gsm / 95 lb uncoated text paper, blank
Inner: 157 gsm / 106 lb art text paper for interior
Cover and inner: full color printing
For a more detailed quote, try our easy and convenient online Printing Cost Calculator. Just drop in your information, and get an instant quote! If you have any questions, get in touch and one of our enthusiastic, knowledgeable, expert team members will be delighted to help.
Common Children's Book Sizes
The size of a children's book typically depends on the target age group. Booksellers, teachers, and librarians divide juvenile readers' book types into the following categories:
Board Books for preschoolers from 0 to 4 years old
Picture Books for 4- to 8-year-olds reading with support
Early Readers for 4- to 8-year-olds reading alone
Chapter Books for 6- to 9-year-olds
Middle Grade fiction for 9- to 12-year-olds
Smaller sizes are great for preschoolers and toddlers — think of a 6″ x 6″ board book — who respond to a book they can hold and whose pages they can enjoy turning even with tiny hands.
Picture books are often printed in landscape up to 12″ x 9″ to accommodate full page illustrations and more text.
Early readers are more popular in portrait sizes, ranging from 5.5″ x 8.5″ up to 9″ x 12″.
Most chapter books and middle grade fiction books are the same sizes as a standard paperback, so usually 5.5″ x 8.5″ to 8″ x 10″.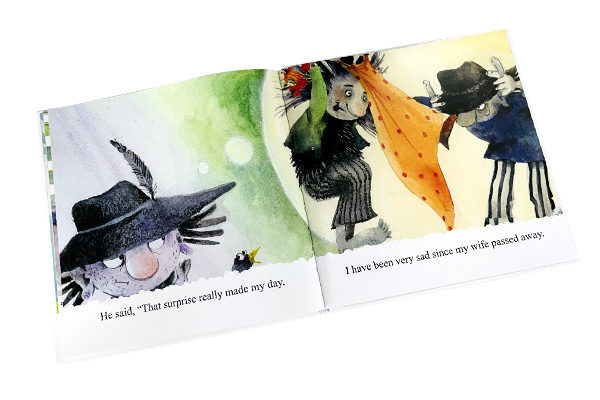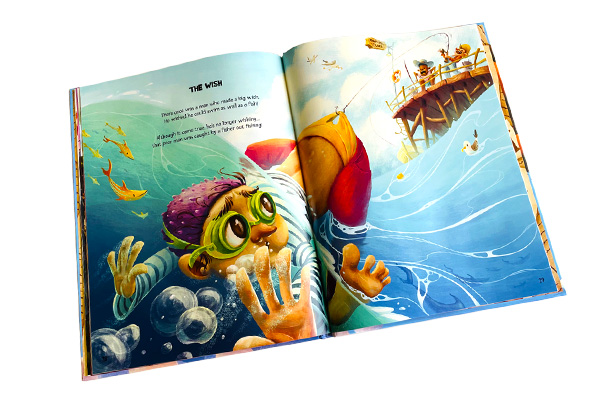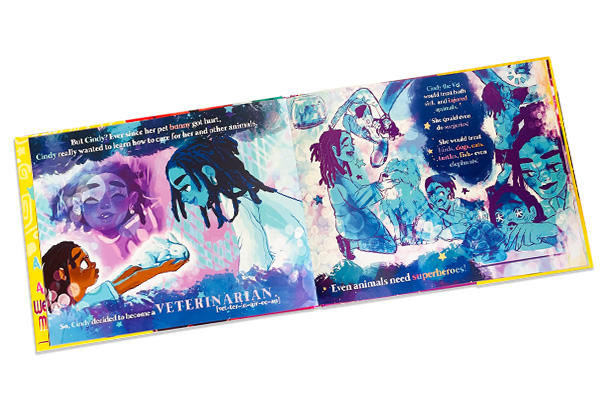 Check out our handy children's book size chart to explore the possibilities and help you to decide which size would best suit your children's book.
Common Children's Book Size Chart
| Square | 6" x 6" | 7" x 7" | 8" x 8" | 8.5" x 8.5" | 9" x 9" | 10" x 10" |
| --- | --- | --- | --- | --- | --- | --- |
| | | | | | | |
| | | | | | | |
Children's Book Paper Options
Most children's books feature colorful illustrations, cartoons, or other artwork. So, we recommend printing on gloss or matte art paper to get the best results. Gloss and matte both have ideal surfaces for vibrant color printing that will make your children's book illustrations really 'pop'. Gloss paper is often best for books with full-color spreads and less text, whereas books with more text and fewer illustrations may benefit from matte paper. Matte paper will still give gorgeous color reproduction while making the text easier to read.
For drawing, colouring, or activity books, we suggest an uncoated paper stock. On uncoated stock, the kids can scribble away to their hearts' content with pencils, pens, felt tips, Sharpies, crayons, and paint. Gloss and matte papers are not absorbent enough to work for these "interactive" book styles. So, if the children need to write on the book or color-in or paint the pages, uncoated paper is the best choice.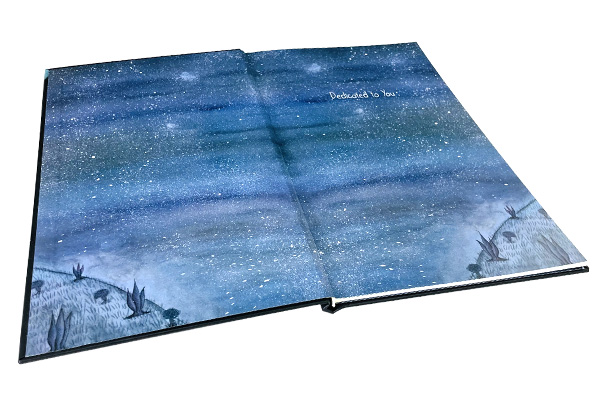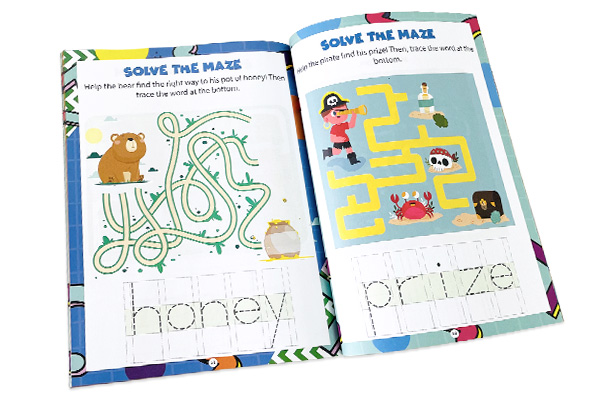 Interior Paper Stock for Children's Paperbacks
Paperback — also known as "perfect bound" — is a popular choice for chapter books and middle grade fiction. This binding style needs the spine to be at least 3 mm thick. With middle grade fiction, that shouldn't be a problem. But to meet that threshold with the shorter books, if the interior page count is 32 or less, we recommend 200 gsm / 135 lb coated paper for the interior pages. Generally, 128 gsm / 86 lb, 157 gsm / 106 lb, or 200 gsm / 135 lb coated paper is ideal for children's books. And remember that books for kids take a lot of knocks, so to resist the worst wear-and-tear, it's a good idea to use sturdier, thicker paper that's more durable and less easily damaged.
Children's Book Paper List
Bindings for Children's Books
Several binding styles may suit your children's book project. While each binding has its particular qualities, which may make it suited to one kind of book rather than another, they are all viable options and the choice in the end is a personal one. These are the best bindings for children's books:
To make a hardcover, we prepare the pages in "signatures" which we then stitch together, collate, and fix into a hard outer casing or cover board, wrapped with a printed cover sheet. The hard case overhangs the interior pages slightly.
Perfect binding: For children's books, we also prepare the pages in "signatures" which we then collate, stitch and sewn together signature by signature. Glue the signatures and a flexible printed cover at the binding edge. Then cut so that all the pages and the cover are "perfect". We also call them sewn and perfect binding. This binding is sturdy.
It includes self-covered board book binding and hardcover board book binding. Self-covered board book binding is with the front and back faces wrapped with a printed sheet which also covers the spine. Hardcover board book binding is with a hardcover added after interior front and back faces wrapped together.
With saddle stitching, we fold the pages and stack them inside each other, often with a separate cover sheet on the outside, and then staple or stitch them together.
In this binding method, we perforate the pages by drilling holes down one side and then bind them together using a colored plastic coil. We might also add cover sheets or even soft vinyl covers.
While children's books come in all shapes and sizes, the choice of binding is very important for reasons of appearance, durability, and even safety. Let's look at the different kinds of children's books and the binding styles which are most popular and suitable for each.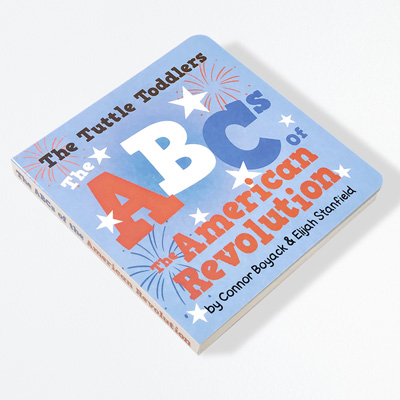 Board books are in a category of their own because they are not bound at all. The "pages" are glued together and a final sheet of printed paper is wrapped and glued around the faces of the first and last boards and over the "spine" to form the cover. That said, it's possible to add a hardcover to a board book, which is another popular choice. Find out more about our board book printing services here.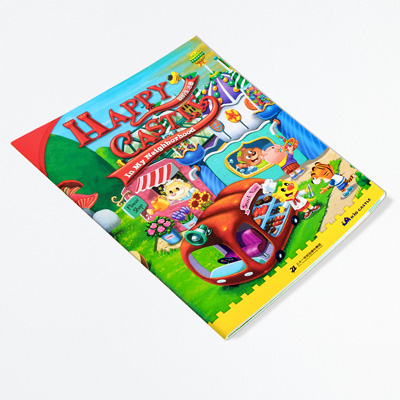 These may be larger-sized board books. Another popular choice is a saddle-stitched binding with a glossy cover. This only works if the book has few pages. Saddle-stitched picture books must have pages in multiples of 4. Most have 12 to 32 pages with full-page artwork. But we recommend that the saddle-stitching is sewn rather than stapled. This avoids the potential danger if a staple comes loose through rough use. Sewn bindings are also very attractive and more durable. Top-of-the-range picture books are often bound in sewn hardcovers, too.
Early readers may be bound in the same way as picture books. But the longer style with more text and fewer pictures may also be comfortably "perfect bound" as a paperback book.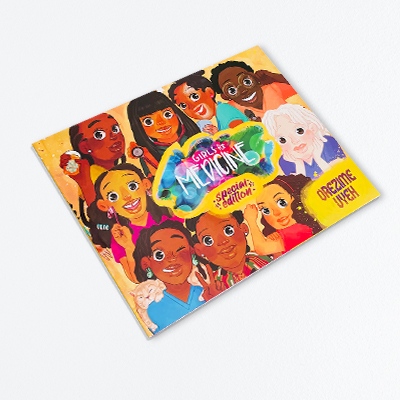 Given their length (typically 10,00 to 20,000 words), chapter books are almost always produced as paperbacks. On rare occasions, an author may choose a hardcover binding; for example, if it's to be a "special edition" or a compendium of shorter stories.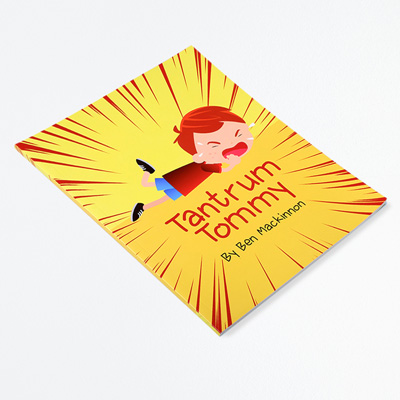 Fiction for this age group can be unillustrated and up to 45,000 words long. For this reason, middle grade books are usually treated in the same way as paperbacks intended for adults. So, you would choose a perfect binding in most cases. Hardcover binding is also an option.
Other bindings — such as sewn hardcover and sewn perfect bound or spiral bound — may interest you, but the options above are the most common for children's books.
Children's Book Design and Artwork Tips
Artwork is a vital component of most children's books. Even for a middle grade novel with a text-only interior, you'll want a colorful, attention-grabbing cover. Whether you're preparing your own artwork or commissioning a professional artist or graphic designer, it's important to understand how to prepare the artwork for printing. You'll need to allow for bleed zones, safety areas, trim lines, and borders, for example, and make sure that the resolution and the color space are correct. With that in mind, here are a few useful tips to help you when you're preparing your files for the printer.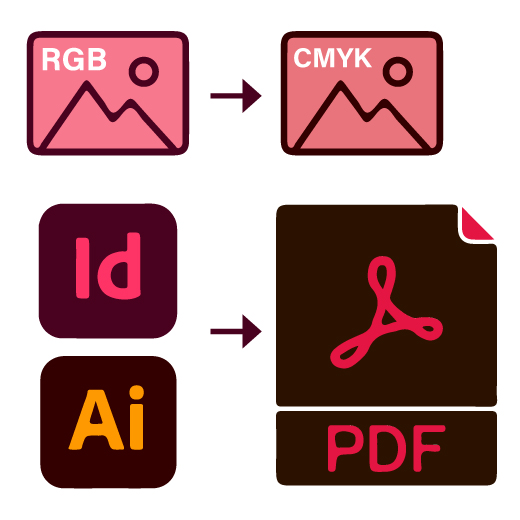 Export your files as vectors in PDF format for the best results. Our recommended software options for children's book design are Adobe InDesign or Adobe Illustrator. These will also allow you to convert your color space from RGB to CMYK which you will need to do for offset printing.
If you can't deliver vectors — say, if you're exporting bitmaps from Photoshop — then make sure the resolution is at least 300 DPI. With vectors, you needn't worry about resolution, but all other images must have a high definition to tolerate resizing without becoming fuzzy and "pixilated".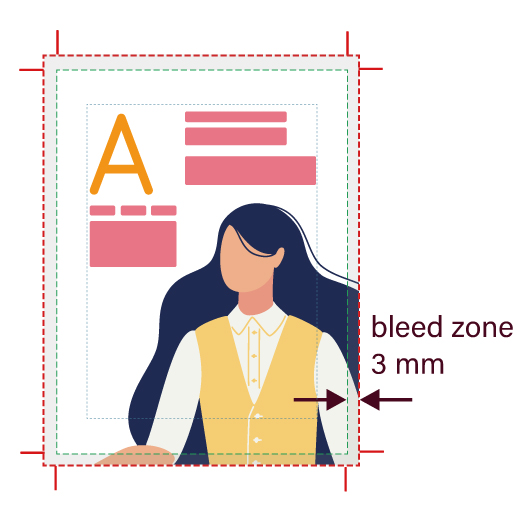 You'll need to add a "bleed zone" of 3 mm around all your pages. A bleed is an extended zone at the periphery of your artwork, which falls outside the area that your finished page will cover. Once we've printed your pages, we'll cut them to the exact size needed for your children book format. This "bit extra" gets cut off and makes sure that the finished image fills the page with none of it being lost. You should mark bleed zones as red lines.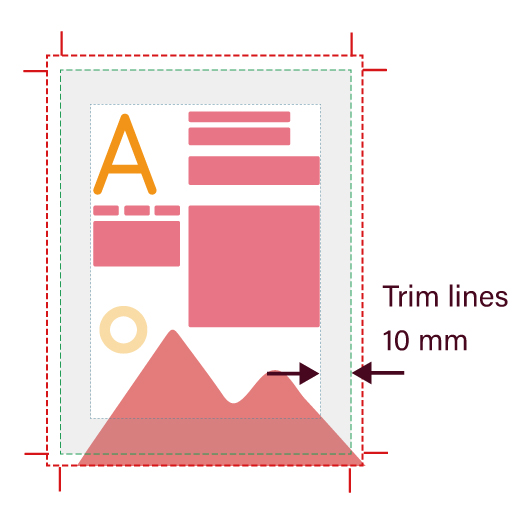 Inside your bleed zone, don't forget to mark the "trim lines". These will define the final dimensions of the finished page. Make sure that any necessary elements of your images stop at least 10 mm short of the trim line.
A competent book designer should understand the technical details — including how to digitize any traditional artwork — and we'll always manually check your files before going to press. However, the responsibility for sending "print ready" files is yours. But please don't worry! We'll be happy to "hold your hand" through the process, explain what's needed, and liaise with your designer to make sure everything goes smoothly and you end up with a perfect print.
To learn more about preparing your art for printing, please check out our Prepress Artwork information page.
The QinPrinting Eco-Friendly Promise
At QinPrinting, we are very conscious of our responsibility to develop our industry in a sustainable way that respects the life of the planet and of future generations. For that reason, we use paper stock that's sourced from FSC-certified sustainable forestry whenever possible. We can provide recycled paper material on request. We also use environmentally-friendly soy inks—based on harmless, biodegradable vegetable products—rather than toxic resins and solvents. Getting your book printed in batches with an offset printer — rather than one at a time with a print-on-demand service — is also significantly more energy efficient, saving both water and electricity.
When you order from us, we can include the FSC-certified logo and an environmental guarantee from the manufacturer of the soy inks.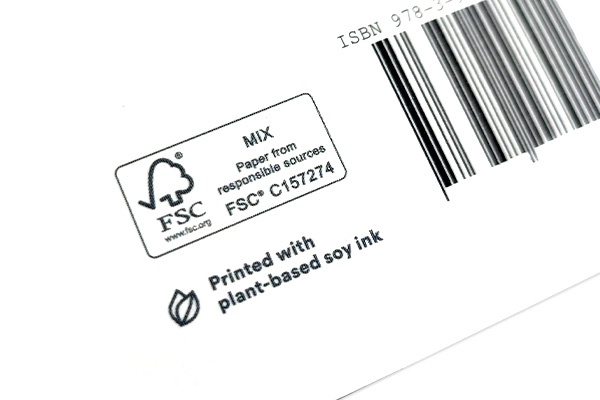 If you're an indie author or a small press wanting to print a children's book — and only the finest product and unbeatable customer service will do — we should talk. Get in touch today to chat through your needs or to ask for a no-obligation quote. We can't wait to help you make your next book the best ever!