Ever since Thomas Paine self-published "Common Sense" back in the 18th century, zines have been platforms for radical thinking and the dissemination of new ideas.
The word "zine" in contemporary usage is a contraction of the term "fanzine" and so is often not a radical tract these days but a space in which fans of an artist, singers, band, game, genre, or hobby can share their experiences, passions, and enthusiasm. The first modern fanzines broke out back in the roaring 20s to promote the burgeoning underground jazz music scene and expressionist art.
Whatever your reasons for printing a zine, QinPrinting can help you make the dream come true. And because we're committed to helping the smaller players succeed, we'll do it for 40% less than you'll pay at your local print shop without compromising quality or service. Over 25 years of success with zines of all kinds, an exceptional, dedicated team, top-notch tech, and efficient protocols make us the most successful independent zine printers in the world.
At QinPrinting, we cooperate closely with individual creatives, fans, enthusiasts, hobbyists, misfits, undiscovered geniuses, rebel spirits, clubs and societies to print astonishingly beautiful zines of exceptional caliber. But we totally get what it means to work within a mega-tight budget, especially when it's a new endeavor. That's why we always work smart, monitoring, analyzing, and adapting our work processes to guarantee that we continue to deliver quality zines at a price that's sensible and ethical.
Okay, so how much would it cost to print a zine with us? You can get an idea by checking the at-a-glance price charts. The exact cost to print your zine depends on the paper you go for, any coatings and finishes for the cover and inside pages, the quantity you need, and several other factors. To get an exact quote, use our helpful Online Printing Cost Calculator. Unlike most offset printers who have a crazy MOQ (minimum order quantity) of 1,000 or even more copies, we're happy to print as few as 100 in a single run. But the more you print in one go, the cheaper it is per zine.
Zine Printing Price Chart (148mm x 210mm)
Quantity

100pcs

500pcs

1000pcs

2000pcs

5000pcs

10000pcs
Please note that all prices are EXW our facility and do not include shipping costs.
Cover: 200 gsm / 74 lb coated cover paper with matte lamination
Interior: 105 gsm / 71 lb coated text paper, full color printing
Saddle stitch
Zine Printing Price Chart (210mm x 297mm)
Quantity

100pcs

500pcs

1000pcs

2000pcs

5000pcs

10000pcs
Please note that all prices are EXW our facility and do not include shipping costs.
Cover: 250 gsm / 92 lb coated cover paper with matte lamination
Interior: 128 gsm / 86 lb coated text paper, full color printing
Saddle stitch or perfect binding
And don't forget that we're real people at QinPrinting—not robots or exhausted call center drones—and we're always keen to answer questions. Just contact us by telephone, email, Skype, or our handy online contact form. One of our printing experts will drop everything and run to your aid as soon as possible!
Because we use offset print technology, we can print any size zine you want, but remember that custom prints cost a bit more than standard sizes because of the extra pre-press work and setup we need to do.
The standard zine sizes in the United States are 8.5″ by 11″ and 5.5″ by 8.5″.
In European countries (including the UK) and Australia, most zines are 210 mm x 297 mm and 148 mm x 210 mm.
From a practical perspective, it's maybe in your best interests to hold to these formats. They're established, inexpensive, ideal for mailing, and reduce set-up time, so we can get them to you faster. But a larger 7.3″ by 11″ tabloid size zine, or a landscape rather than portrait orientation, could be your jazz. If you want it, we'll print it!
The paper you fix on for your zine makes a massive difference to its appearance and how much it costs us to make.
If you print the inside in black-and-white you can use lightweight, uncoated paper.
If you need a ton of photographs or other graphics, then heavier, coated paper will be better. But talk to us, we know what we're doing and we'll be happy to guide and advise you on the best paper options for your zine and your budget.
We suggest 80 gsm / 54 lb, 105 gsm / 70 lb, 128 gsm / 86 lb, 157 gsm / 106 lb coated paper or 80 gsm / 54 lb, 100 gsm / 68 lb uncoated paper for your zine's inside pages because they give vibrancy to your artwork while leaving the text easy to understand, too. Choosing zine paper depends on the size of your publication and its thickness, too. We recommend thinner paper for the inside. Thinner paper can be opened flat more easily, which is best for a smaller sized zine. If the inside paper is too thick, zines can be harder to browse and flick through. 
If you print your zine at 8.5" x 11" or bigger, we think using thicker paper for the inside pages is best. For example, 128 gsm / 86 lb, 157 gsm / 106 lb coated paper or 100 gsm / 68 lb uncoated paper.
If it's a slim little zine with 32 pages or fewer and you want perfect binding, then 200 gsm / 135 lb coated paper will allow you to reach the minimum 3 mm spine width.
To make things easier, you can download a zine cover template to check the spine thickness according to different paper types and page amounts here.
Your zine's cover paper depends on which binding style want. We make zine covers from heavier, gloss cover paper. But to keep costs down, you can use the same paper throughout. We call this "self-covered". Saddle-stitched or perfect bound zines are the most popular option and—genuinely—the best options for zines you want to look really zingy, be durable, and be simple to store and cheap to mail out.
While you can cut costs by "self-covering" your zine, the binding often reflects the genre, page count, readership tastes, not just your budget. The most popular choices for zines are "saddle stitching" and "perfect binding"
This means that we compile your zine from folded sheets stacked inside each other, often with a cover sheet of glossy art paper, and then stapled down the curved edge. Saddle stitch is only possible with a page count divisible by four, up to a maximum of 64 pages. But to make sure the zine is neat and lies flat, we recommend a limit of 48 pages or fewer for this style of binding.
This is the binding we use for paperback books, too. We collate the interior pages into a block, glue them together and then glue the lot into a wrap-around cover made of heavier art paper or lightweight card stock. This is definitely the best option for binding zines which have 48 pages or more or have art and photography on every page.
Self-covers are the least expensive choice if you're really counting every penny. Saddle stitch is the next cheapest option, but limits the page count. Perfect binding is more expensive, but if your zine includes photography and full-color artwork—which means it needs thicker paper—it often works out cheaper overall. The cost always depends on the materials, size, length, and number of zines you print in a single run.
Zine Design and Artwork Tips
Most of our zine collaborators do the design work themselves, but others choose to engage a third-party professional graphic designer. Either way, it's important to get to grips with how to prepare the files so they're "print-ready". You'll need to consider bleed zones, safety areas, trim lines, and borders and make sure that the resolution and the color space are correct. With that in mind, here are a few useful tips to help you when you're preparing your files to send to us.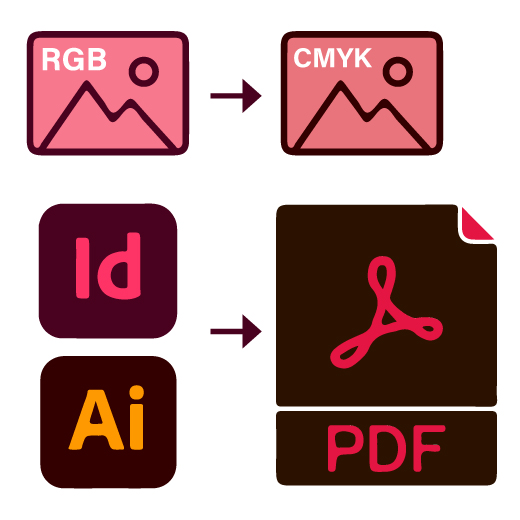 Export your files as vectors in PDF format for the best results. Our recommended software options for zine design are Adobe Illustrator or Adobe InDesign. These will also allow you to convert your color space from RGB to CMYK which you will need to do for offset printing.
If you can't deliver vectors — say, if you're exporting bitmaps from Photoshop — then make sure the resolution is at least 300 DPI. With vectors, you needn't worry about resolution, but all other images must have a high definition to tolerate resizing without becoming fuzzy and "pixilated".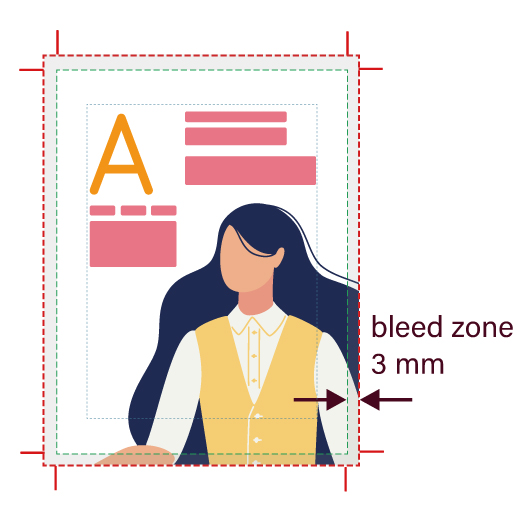 You'll need to add a "bleed zone" of 3 mm around all your pages. A bleed is an extended zone at the periphery of your photo, which falls outside the area that your finished page will cover. Once we've printed your pages, we'll cut them to the exact size needed for your chosen zine format. This "bit extra" gets cut off and makes sure that the finished image fills the page with none of it being lost. You should mark bleed zones as red lines.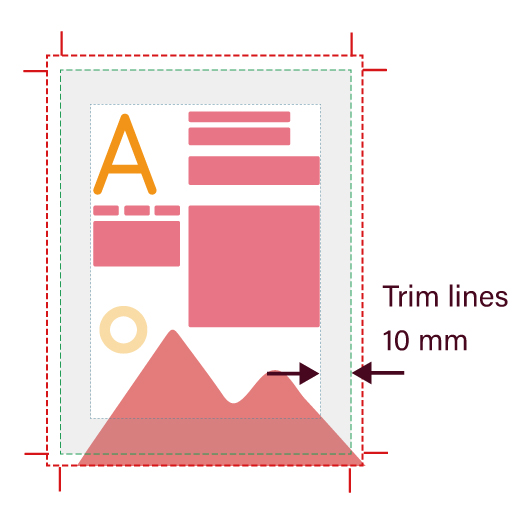 Inside your bleed zone, don't forget to mark the "trim lines". These will define the final dimensions of the finished page. Make sure that any necessary elements of your images stop at least 10 mm short of the trim line.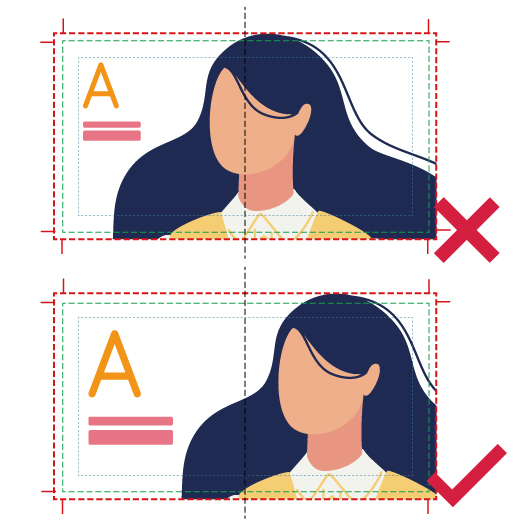 If a photo or artwork crosses over two pages in a "spread" make sure that nothing essential—like a face or other important details—lie along the center crease.
If your budget allows, you can choose to add special touches to your zine's cover, such as a super-glossy finish, varnish, soft touch lamination, die-cutting, spot UV, foil stamping, and more. You can explore zine cover surface options here.
If you're working with a designer to get your files ready, they should get what's needed to make everything "print ready". But if you're working with design software yourself, these are the vital tips to remember before you submit your files. Still, our team of experts will always manually check all your files before we go to press. If we find any issues, we'll let you know and help you resolve them. We're really helpful and collaborative; it's an essential aspect of our philosophy. So, we won't print your zine until we know with certainty, you'll get a perfect result. That's an absolute guarantee.
To learn more about preparing your photographs, artwork, text, and layout for printing, please check out our Pre-press Artwork information page.
If you're a fan club, a radical thinker, a non-profit, or an independent creative artist, writer, poet, musician or dreamer wanting to print a zine with a company that's genuinely sympathetic and wants to help you make a thing of beauty without breaking the bank, we should talk. Get in touch today to chat through your needs or to ask for a no-obligation quote. We can't wait to help you make your zine printing project into a dream come true!