Spiral Bound Book Printing

Looking for a robust, economical, and visually impressive workbook, report, planner, or user manual solution? Try our world-class spiral bound book printing services
Our spiral bound books combine the flexibility and durability you need in the workplace or classroom with the style, high-end design values, and quality materials that exemplify your professional standards and make a lasting positive impression. For a book that has work to do while acting as an ambassador for your values, our spiral bound solutions have you covered.
At QinPrinting we believe that practicality and function go hand-in-hand with first-class design and high-quality materials. That commitment — coupled with 25 years of success in the offset printing industry, an expert team, the latest technology, efficient, cost-effective processing, and unrivalled customer service — sustains our world-class reputation among enterprise and education sector clients around the globe.
Spiral Bound Book Printing Costs
At QinPrinting, we help businesses to print reports, workbooks, legal documents, planners, together with on boarding, technical, and user manuals and more every day. But we also understand the importance of fulfilling an order within your budget; especially for schools, colleges, and start-ups or small to medium-sized businesses. That's why we continually review our work processes to make sure we always deliver exceptional quality spiral bound book solutions at the most competitive prices you'll find anywhere in the industry. And that's a promise.
But don't take our word for it. See for yourself! You can get an immediate estimate of how much it will cost to print your spiral bound book by checking our helpful at-a-glance pricing charts. Unlike most high-end book printing services — which have a minimum offset print order of 500 or even 1,000 books—we offer a minimum offset print run of just 100 units and still with a competitive price advantage. But as you'll see from the charts, the more copies you order in a single run, the less you pay per copy.
Spiral Bound Book Printing Price Chart (148mm x 210mm)
Quantity

100pcs

500pcs

1000pcs

2000pcs

5000pcs

10000pcs
Please note that all prices are EXW our facility and do not include shipping costs.
Cover: 250 gsm / 92 lb coated cover paper with matte lamination
Interior: 105 gsm / 70 lb coated text paper, full color printing
Cover and inner: full color printing
Spiral Bound Book Printing Price Chart (210mm x 297mm)
Quantity

100pcs

500pcs

1000pcs

2000pcs

5000pcs

10000pcs
Please note that all prices are EXW our facility and do not include shipping costs.
Cover: 250 gsm / 92 lb coated cover paper with matte lamination
Interior: 128 gsm / 86 lb coated text paper, full color printing
Cover and inner: full color printing
For a more detailed quote, try our easy and convenient online Printing Cost Calculator. Just follow the link, drop in your information, and get an instant quote! If you have questions, get in touch and one of our enthusiastic, knowledgeable, expert team members will be delighted to help.
Binding Option for Spiral Bound Books
You can choose from a range of options to customize your spiral bound book to your specific needs. None of the following choices change the fundamental advantages of spiral binding. Your book will still be practical, durable, attractive, and functional. You can turn the pages through 360°, lay the book completely flat, stand it up for presentations, and more.
The coils we use in spiral bound books come in a variety of vibrant colors and a range of sizes to suit every need.
We can laminate your cover pages with a range of coatings, including varnish, gloss, matte, and soft touch lamination, to protect your book and give it a truly professional finish.
For certain applications — in workshops, classrooms, or outdoor situations, for example — we can complete your spiral bound book with custom made vinyl covers. This is a lightweight, inexpensive, professional-looking — and waterproof! — solution.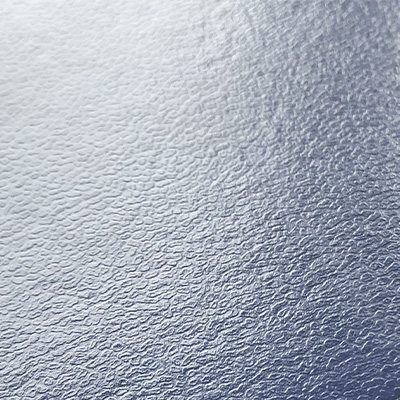 For books with more complex content and many pages, we can add colored index tabs to make navigation super-easy.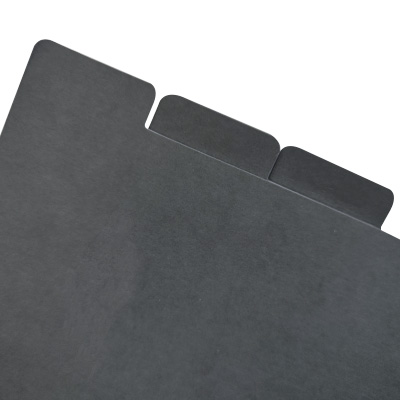 Custom Options and Extras
Do you have a feature in mind for your spiral bound book that isn't listed here? No problem! Talk to us. If it's possible, we'll do it.
Common Spiral Bound Book Sizes
The exact dimensions of your spiral bound book depend on its purpose, target readership, page count, number and type of graphics, and more. In principle, we can make a spiral bound book to any size specification you like. However, our experience shows that it's often better to stick with standard dimensions for most projects. It makes production simpler, it's cost-effective, and guarantees a proven track record of being fit for purpose.
As a helpful guide, here are several examples of suggested spiral bound books sizes for a variety of applications:
Company report: 8.5" x 11" up to 300 pages
Instructional manual: 5.5" x 8.5" up to 200 pages
Scholastic workbook: 7" x 12" up to 300 pages
Diary and appointments planner: 5.5" x 8.5" up to 200 pages
But you're not limited to the suggestions above. At QinPrinting, we're happy to create custom spiral bound books in any size or format you wish. Only remember that extensive customization incurs higher costs and slower turnaround times because we need to do a lot more pre-press work and setup. And remember that, while there's no lower limit, 300 pages is the upper limit for an effective spiral bound book. For certain projects, the added investment in customization could be worthwhile. It's always your decision.
Spiral Bound Book Paper Options
Depending on the application, most spiral bound books feature colorful illustrations, photographs, diagrams, cartoons, or other graphic artwork beside the text content. So, we recommend printing on gloss or matte art paper to get the best results. Gloss and matte both have ideal surfaces for vibrant color printing that will make your spiral bound book graphic elements really 'pop'. Gloss paper is often best for books with full-color visuals and less text, whereas books with more text and fewer illustrations may benefit from matte paper. Matte paper will still give gorgeous color reproduction while making the text easier to read.
For drawing, coloring, or workbooks, we suggest an uncoated paper stock. On uncoated stock, you can write, annotate, answer questions, and fill in forms easily using pencils, pens, or Sharpies. Gloss and matte papers are not absorbent enough to work for these "interactive" book styles. So, if your workbook users or students, say, need to write in the book, an uncoated paper is the best choice.
Spiral Bound Book Design and Artwork Tips
Whether you're preparing your own artwork or commissioning a professional artist or graphic designer, it's important to understand how to prepare the artwork for printing. You'll need to allow for bleed zones, safety areas, trim lines, and borders, for example, and make sure that the resolution and the color space are correct.  With that in mind, here are a few useful tips to help you when you're preparing your files for the printer.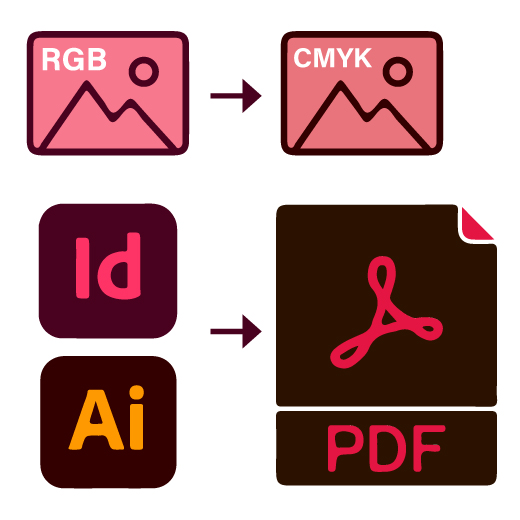 Export your files as vectors in PDF format for the best results. Our recommended software options are Adobe InDesign or Adobe Illustrator. These will also allow you to convert your color space from RGB to CMYK which you will need to do for offset printing.
If you can't deliver vectors — say, if you're exporting bitmaps from Photoshop — then make sure the resolution is at least 300 DPI. With vectors, you needn't worry about resolution, but all other images must have a high definition to tolerate resizing without becoming fuzzy and "pixilated".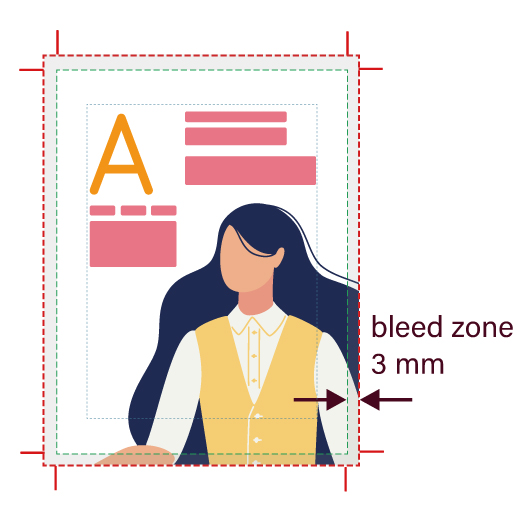 You'll need to add a "bleed zone" of 3 mm around all your illustrated pages. A bleed is an extended zone at the periphery of your artwork, which falls outside the area that your final page will cover. Once we print your pages, we'll cut them to the exact size needed for your spiral bound book format. This "bit extra" gets cut off and makes sure that the image fills the page with none of it being lost. You should mark bleed zones as red lines.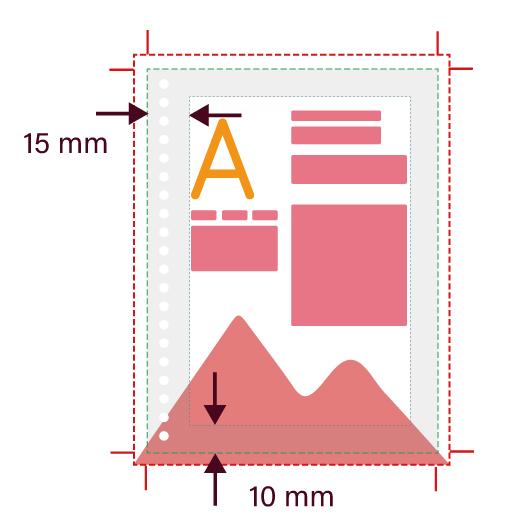 For a spiral bound book, always leave an added margin of at least 5 mm on the edge that we'll bind the book to allow for the holes. For example, if the book margin on the cutting side is 10 mm, on the binding side, you need to leave an 15 mm margin.
A competent book designer should understand the technical details — including how to digitize any traditional artwork — and we'll always manually check your files before going to press. However, the responsibility for sending "print ready" files is yours. But please don't worry! We'll be happy to "hold your hand" through the process, explain what's needed, and liaise with your designer to make sure everything goes smoothly and you end up with a perfect print.
To learn more about preparing your art for printing, please check out our Prepress Artwork information page.
If you're a school, college, or business in need of a first-class spiral bound book at an unbeatable price point — and only the finest product and personalized customer service will do — we should talk. Get in touch today to chat through your needs or to ask for a no-obligation quote. We can't wait to help you make your next spiral bound book the best!