QinPrinting offers world-class professional flyer printing services to businesses, non-profits, educational institutions, medical services, and independent publishers around the globe
Why print flyers in the digital age? The simple answer is because they still work! We print thousands of flyers for repeat-buying customers every day. Businesses, non-profits, service industries, and entrepreneurs of all kinds choose our flyer printing services because we offer the top-notch production quality of a major international printer with the dedicated customer support that you'd expect in your local print shop.
For over 25 years, our high-quality products, state-of-the-art technology, and excellent customer care have consolidated our world-wide reputation as one of the globe's finest enterprise printers. The same passion and commitment to excellence carry our reputation forward today.
How Much Does It Cost to Print A Flyer?
Our vision is to make high-quality enterprise printing accessible to everyone: entrepreneurs, small business owners, educational and medical services, and non-profits; not only national and multinational corporations. That's why we constantly review our processes, protocols, and supply chains to make sure we can always deliver world-class quality at globally competitive pricing. To get a quick idea of how much printing your flyer with us would cost, check out the at-a-glance charts below.
Flyer Printing Price Chart
Quantity

500pcs

1000pcs

5000pcs

10000pcs

20000pcs

50000pcs
Please note that all prices are EXW our facility and do not include shipping costs.
128 gsm / 87 lb coated text paper, no lamination, full color printing
Cutting
To get a tailored quote, try our online Printing Cost Calculator. Just drop your specifications into the preset fields and click for an instant quote. If you have questions, just get in touch. One of our in-house flyer printing experts — not a robot or a confused call center operator! — will be happy to answer all your inquiries.
At QinPrinting, we furnish a complete flyer and leaflet printing service. We have digital machines which we use to prepare "hard proofs" to check for color and printing quality. But for the final print run we use our superior offset press. Offset printing gives you great looking flyers with faithful color or black-and-white image reproduction and a noticeable price advantage over digital printing on longer print runs.
Common example sizes for flyers are: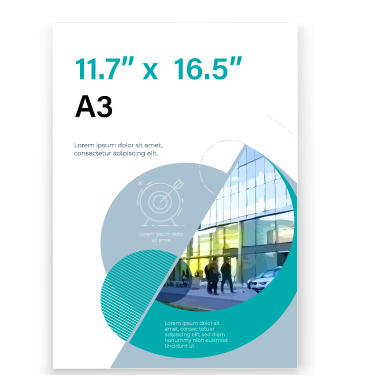 11.7 by 16.5 inches,
or 297 by 420 mm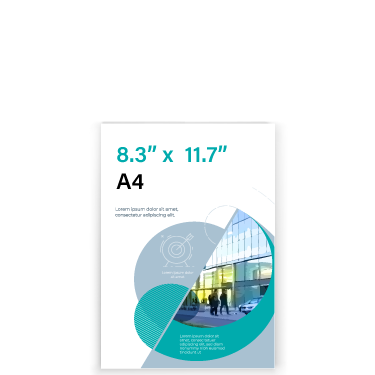 8.3 by 11.7 inches,
or 210 by 297 mm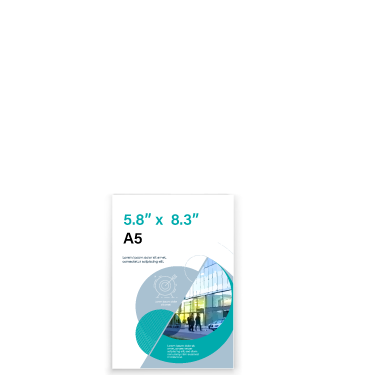 5.8 by 8.3 inches,
or 148 by 210 mm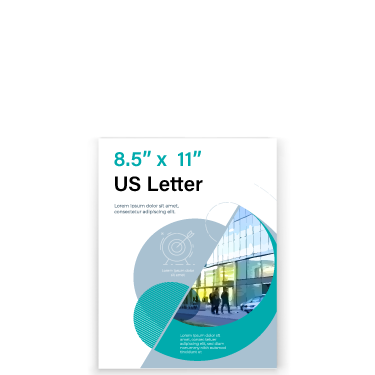 8.5 by 11 inches,
or 216 mm by 279 mm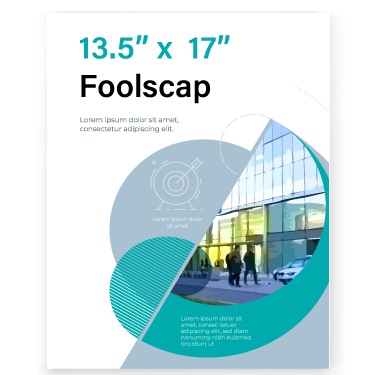 13.5 by 17 inches,
or 343 by 432 mm
3.9 by 8.3 inches,
or 99 mm by210 mm
Portrait, Landscape, Over-Sized, and Custom Formats
While most of our customers choose standard sizes, you can choose to fully customize your flyer if you like. Just remember that unusual custom flyer designs will cost a little more and take a little longer to turn around than standard sizes because of the extra pre-press and setup work involved. But if you want it, and it's physically possible, we will print it!
Gloss, matte, and uncoated paper
You have many options for paper stock to print your flyer at QinPrinting. Most flyers with photographic elements use gloss or matte cover paper because they have a high-quality finish which gives first-class image reproduction while uncoated paper could be fine if your flyer is mainly text, for example. Here's a helpful list of typical papers used for flyers:
Choosing paper for your flyers can feel confusing if it's new to you, but our printing experts are always here to recommend the best paper selections for your flyer design and your budget. And please ask us for paper samples. We'll be happy to mail them to you.
Special Finishes, Lamination, and Foil Stamping
You want your flyers to make a fantastic impression. Someone browsing your stand at a trade fair, picking up a flyer in-store, or sifting through their direct mail, is more likely to check it out if it's eye-catching and distinctive. QinPrinting offers a complete range of finishing options to make your flyers uniquely attractive.
Among other options, the most popular choices include:
Flyer Design and Artwork Tips
Whether you're preparing your own artwork in-house or commissioning a professional designer to do it for you, it's important to understand how to prepare the artwork and text for printing. You'll need to allow for bleed zones, safety areas, trim lines, and borders, for example, and make sure that the resolution and the color space are correct.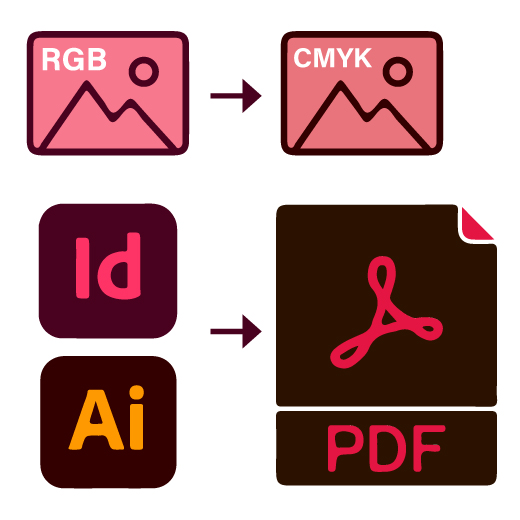 Export your files as vectors in PDF format for the best results. Our recommended software options for flyer design are Adobe Illustrator or Adobe InDesign. These will also allow you to convert your color space from RGB to CMYK which you will need to do for offset printing.
If you can't deliver vectors — say, if you're exporting bitmaps from Photoshop — then make sure the resolution is at least 300 DPI. With vectors, you needn't worry about resolution, but all other images must have a high definition to tolerate resizing without becoming fuzzy and "pixilated".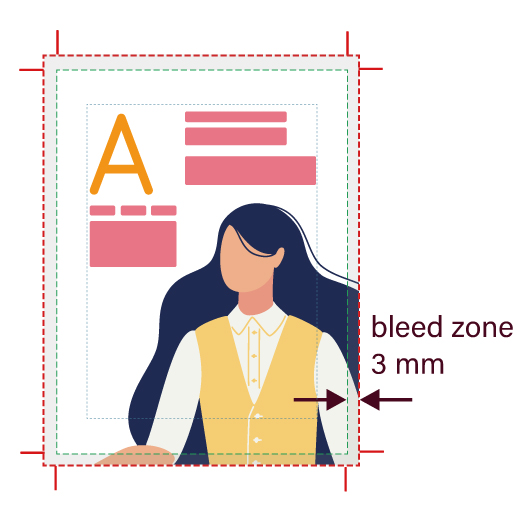 You'll need to add a "bleed zone" of 3 mm around all your photographic images and artwork. A bleed is an extended zone at the periphery of your images, which falls outside the area that your finished panel will cover. Once we've printed your flyers, we'll cut them to the exact size needed for your chosen format. This "bit extra" gets cut off and makes sure that the finished image fills the sheet with none of it being lost.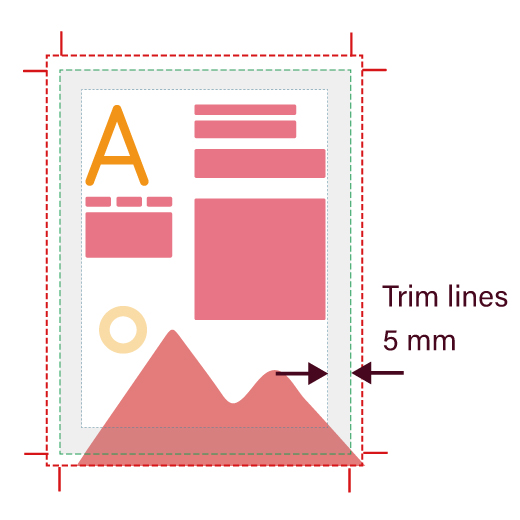 Inside your bleed zone, don't forget to mark the "trim lines". These will define the final dimensions of the finished flyer. Make sure that any necessary elements of your images stop at least 5 mm short of the trim line.
A competent graphic designer should understand the technical details and be able to set this up for you. But we'll always manually check your files before going to press. While the responsibility for sending "print ready" files is yours, please don't worry! We'll be happy to "hold your hand" through the process, explain what's needed, and liaise with your designer to make sure everything goes smoothly and you end up with a perfect print every time.
To learn more about preparing your artwork and layouts for printing, please check out our Prepress Artwork information page. And please ask us for a design template. We'll be happy to send you one. And if design isn't your thing, we'll be happy to create a design for you based on the images, logo, etc. that you provide for an extra fee. Just ask!
Other Products Similar to Flyers that May Interest You
We offer a number of products which are similar to flyers in the printing and production methods we use to make them but also need special processes and paper. If you're interested in flyers, these may be useful to you, too. Let's take a look.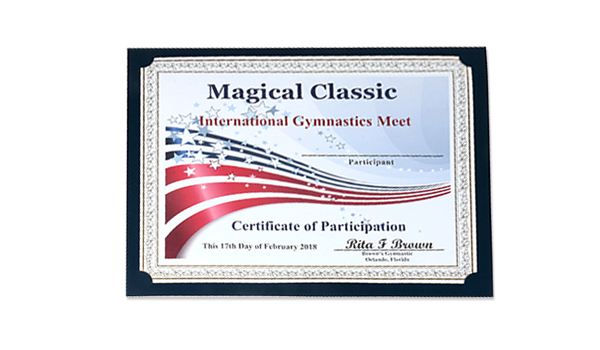 Certificates are fundamentally similar to flyers but usually incorporate special features such as foil stamping and a decorative border frame. While we print most certificates on 120 gsm / 80 lb offset paper, you can choose from a wide range including colored, textured, and parchment paper. You can send us you design, including any decorative elements, and we'll see to the rest. You needn't even do the artwork if you'd like to use one of our pre-designed decorative frames. Certificates are great not only to award students and employees on completing a course, but also as encouraging rewards for achievement in any context.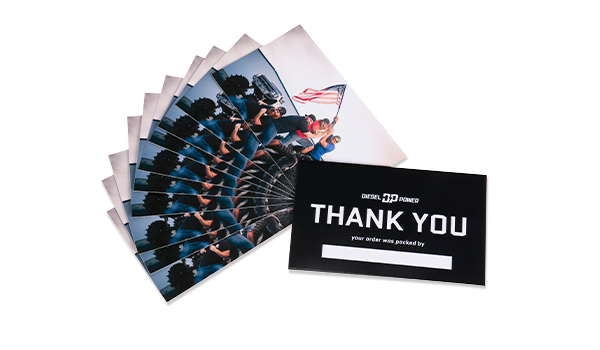 You can include a thank-you card with goods you ship to encourage a positive rapport with your brand and show your appreciation for your customers' business. Thank-you cards are a great way to let your staff and employees know that you value all their hard work, too. We've written about the many ways that you can use thank-you cards to strengthen business, staff, and consumer relationships, and promote your brand while making the word a happier, friendlier place.
We generally make our thank-you cards from high-quality 250 gsm / 168 lb or 300 gsm / 200 lb paper stock. 4″ x 6″ is the most popular size. But, as ever, if you have a custom design or size in mind, we'll be happy to accommodate your needs.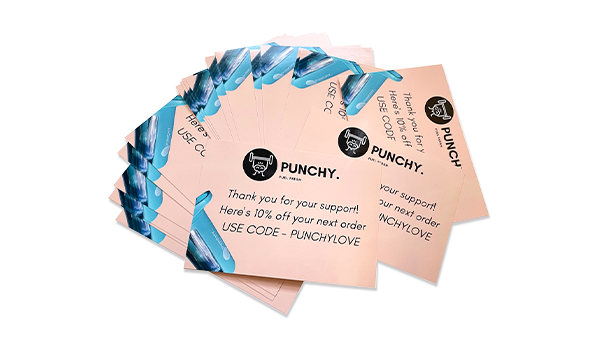 Discount cards are another excellent strategy to reward loyal customers, encourage repeat-buying, and generally promote your brand and products. We use the same paper for discount cards as for thank-you cards, although they are usually a little smaller, at 3″ by 4″. But of course, you're free to customize them in any ways you like.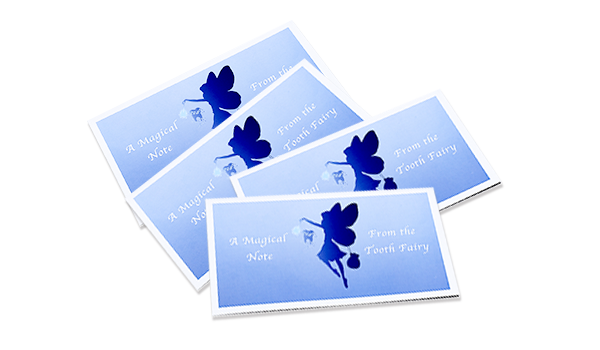 Postcards are a time-honored and attractive way to spread the word about your business and promote your brand. We make them, too! For postcards, we recommend 250 gsm / 168 lb or 300 gsm / 200 lb paper with one coated side—gloss or matte, for example—and one uncoated side. The coated side will make your photo/s or other artwork look great, while the uncoated side is easy for your clients to write on. Standard postcard size is 5″ x 7″ but if you have specific needs, just ask.
For the best pricing, highest quality, and quickest turnaround time on any type or style of flyer, printing with us is always a good business decision. No matter your target recipients or the purpose of your flyer, we guarantee the best pricing, the most professional service, and the highest quality product you can imagine. So, let's talk. We can't wait to make your next flyer the most effective yet.