Activity books are stimulating, educational, and fun. They can also be used with any age group from tiny toddlers to teens and adults. Here's everything you need to know about printing activity books
"Activity books help children develop habits that will assist them learn more effectively."
–Dr Lynn Gatto, Director, New Path Learning
Activity books are lots of fun and engage young minds is multisensory learning experiences that have been shown to improve cognitive skills, concentration, motor skills, and memory; enhancing learning through activities, reading, writing, solving puzzles, and more.
At QinPrinting, we are committed to helping our activity book authors and illustrators to print the best, most entertaining, and effective activity books possible. 25 years and more of success in the industry; an expert, caring team; state-of-the-art technology; and unrivalled customer service make us the first choice for your activity book printing needs.
Typically intended for kids, activity books contain interactive content like games, competitions, brainteasers, puzzles, quizzes, coloring pages, as well as other design features that necessitate writing, coloring, or doodling in the publication itself. They're fun and exciting but also help with children's psychological, emotional, and motor development.
But they're not only for children. Lots of adults enjoy them, too, and they can be especially useful to help older kids and students to revise and interact in more meaningful and memorable ways with the subjects they're studying.
At QinPrinting we collaborate with educational and health institutions, commercial publishers, and independent creative to provide world-class kids activity book printing and student activity book printing services. Our expertise and experience, coupled with state-of-the-art technology and unparalleled customer care, mean that you'll get a first-class product every time.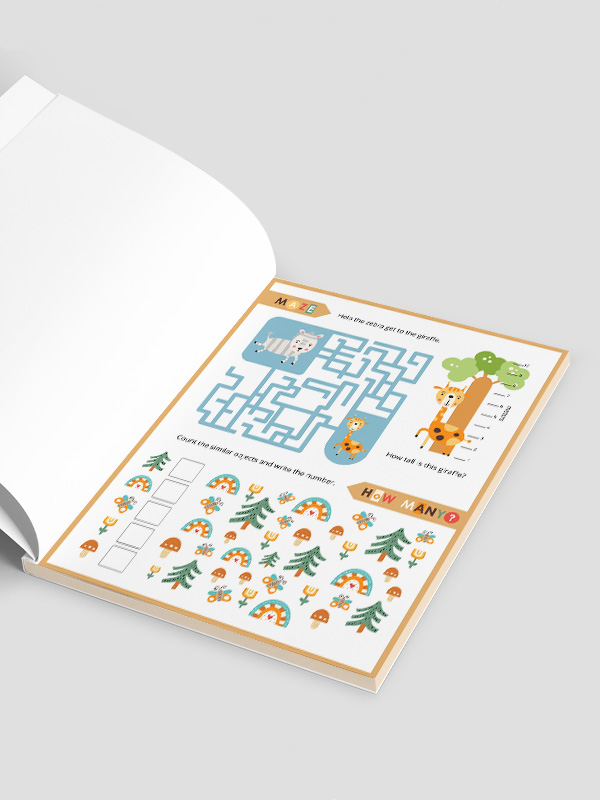 Activity Book Printing Prices
The price of your activity book will be influenced by several factors, including the side, format, paper choices, page number, how many copies you need, binding style, and more. If your book has fewer than 48 pages, we'd recommend saddle stitch binding. If it has more than that, perfect binding would be better. To get a precise quote for your specific project, just talk to us. In the meantime, you can get a ballpark idea by checking out the general pricing charts below.
Softcover Activity Book Printing Price Chart (210mm x 297mm)
Quantity

100pcs

500pcs

1000pcs

2000pcs

5000pcs

10000pcs
Please note that all prices are EXW our facility and do not include shipping costs.
Cover: 250 gsm / 92 lb coated cover paper with matte lamination
Interior: 100 gsm / 67 lb uncoated text paper
Saddle stitch
Cover and inner: full color printing
The most popular activity book sizes are
But you're not limited to these options. If you'd like to customize the size of your activity book—and for certain markets "jumbo" size activity books can be very popular, too—that's fine. We'll be happy to advise you about the practical and technical requirements if you'd like a non-standard size for your book.
Activity Book Paper Choices
Most activity books—whether for children, students, or adults—will need two types of paper; one for the interior pages and one for the cover. Paper can be gloss or matte coated, uncoated, and finished with varnish, lamination, or left in a natural state. In most cases, for activity books which need to be drawn or written in, uncoated offset paper is the best option.
Binding Styles for Activity Books
Several binding styles are suitable for activity books and which you choose will depend on your needs. These are the most popular options: 
Saddle stitch binding—also called "stapled binding"—is one of the simplest and most economical binding methods. When saddle stitching, we collect and collate the page signatures, cut, fold, and insert them one inside the other before stapling them together down the central crease. In most cases, we use two wire staples which we insert from the outer edge and crimp securely on the inside.
Perfect binding—with perfect binding, we print, cut, and collate the interior pages into a "block" and fix them with EVA hot melt adhesive—which allows structural adhesive bonding capacity while keeping flexibility. Once we've made the block, we glue it into the cover sheet. The cover is a thicker printed sheet with gloss or matte coating or laminated. Finally, we trim the cover and the pages on a super-sharp cutting machine, which makes them align "perfectly", giving the technique its name and the book a neat, professional finish.
Wire-O binding—also called double wire binding or twin loop binding, in wire-o binding we use a double wire coil to bind all the interior pages and cover of your book by twisting and crimping it through pre-drilled holes aligned down the binding side of the pages.
Spiral binding—sometimes called coil binding. With this binding method, we perforate the pages by drilling holes down one side and then bind them together using a colored plastic coil twisted through the holes and crimped at the ends to keep it secure. Individual pages are not attached to each other, but they are all attached to the spiral coil. We can also add cover sheets or even soft vinyl covers to complete the binding.
Activity Book Artwork and Design Tips
The quality of your artwork reproduction is always important, but never more so than when printing an activity book. Whether your activity book is for children or for adults, you want your artwork to "leap off the page" into the reader's imagination. With that in mind, here are a few useful tips to help you when you're preparing your files for the printer.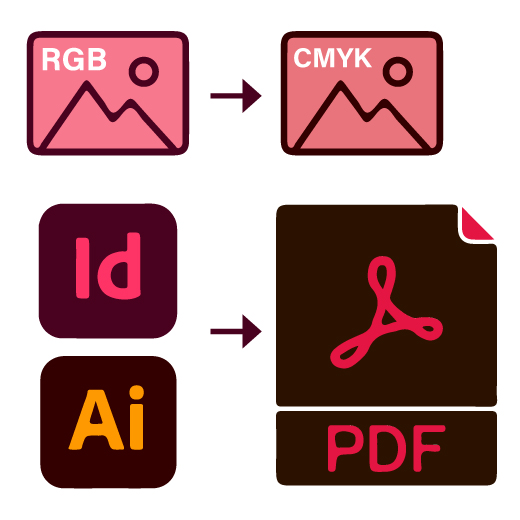 Export your files as vectors in PDF format for the best results. Our recommended software options are Adobe InDesign or Adobe Illustrator. These will also allow you to convert your color space from RGB to CMYK which you will need to do for offset printing.
If you can't deliver vectors — say, if you're exporting bitmaps from Photoshop — then make sure the resolution is at least 300 DPI. With vectors, you needn't worry about resolution, but all other images must have a high definition to tolerate resizing without becoming fuzzy and "pixilated"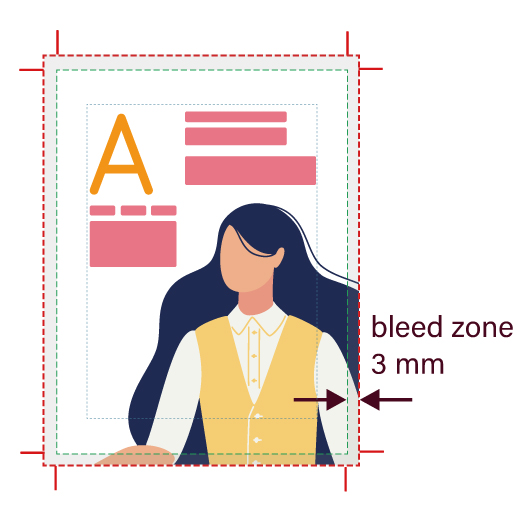 You'll need to add a "bleed zone" of 3 mm around all your pages. A bleed is an extended zone at the periphery of your artwork, which falls outside the area that your final page will cover. Once your pages are printed, we'll cut them to the exact size needed for your comic book format. This "bit extra" gets cut off and makes sure that the final image fills the page with none of it being lost.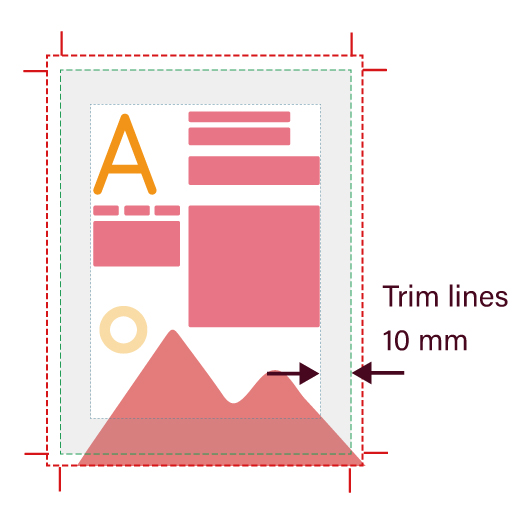 Inside your bleed zone, don't forget to mark the "trim lines". These should be green and will define the final dimensions of the finished page. Make sure that any necessary elements of your images stop at least 10 mm short of the trim line.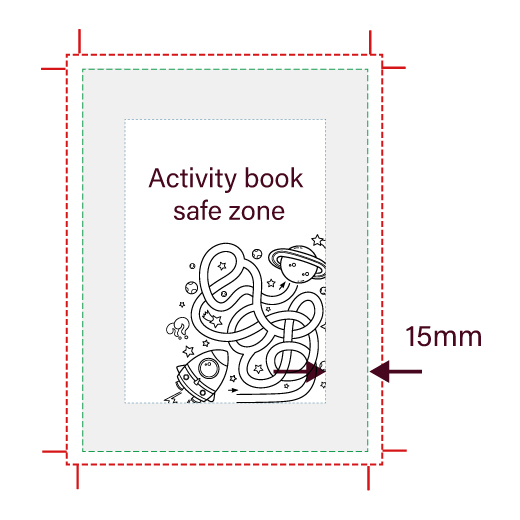 Also, as your pages are meant for writing or coloring, we recommend you make each interior page with a 15 mm (about half an inch) inner margin and keep all coloring images or writing activities within that limit. Otherwise, the area near the spine may not be easily accessible for coloring and writing in.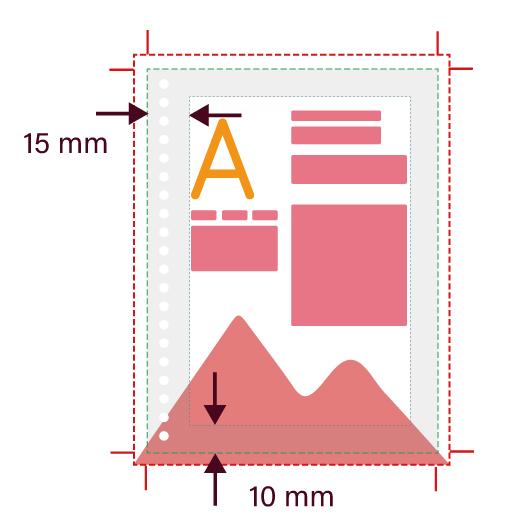 If you choose a spiral bound activity book, leave an added margin of at least 15 mm on the edge that we'll bind the book to allow for the holes.
If you're working with a professional designer to create your files, they should understand what's needed to make everything "print ready". But if you're working with design software yourself for the first time, these are the vital tips to remember before you submit your files. Still, our team of experts will always manually check all your files before we go to press. If we find any issues, we'll let you know and help you resolve them. With QinPrinting, we won't print your activity book until we're sure we'll get a perfect result.
If you're keen to print a beautiful, high-quality activity book — and personal customer service matters to you as much as a world-class product — then we should talk. Get in touch today to chat through your needs or to ask for a no-obligation quote. We can't wait to help you make the activity book of your dreams!