Posters should have a powerful impact. Our poster printing service makes sure that your poster captures the attention of your target audience while communicating your message with clarity and precision.
Even in the digital age, posters are everywhere. We use them to advertise movies, theater, sports events, and concerts; for public health messaging, electoral campaigns, and awareness raising; for store, sale, and product promotion; we use them in education; we also collect them to enjoy as part of our interior decoration. They can be as big as a billboard or small enough to drop in the mail.
At QinPrinting, we print high-quality posters in a range of sizes for businesses, non-profits, marketing companies, arts promoters, galleries, curators, public services, and more. With over 25 successful years in the industry, a dedicated team, world-class technology, and unbeatable customer service sustaining our global reputation as one of the world's finest independent printers, we can guarantee you'll love the posters we create for you.
At QinPrinting, we help anyone who needs them to print custom posters of unparalleled beauty and impact every day. We work with a wide spectrum of organizations, many of which need to find creative ways to print their posters on a restricted budget. That's why we constantly examine and revise our work processes, efficiency protocols, and supply chains to make sure we're always on top of the game and able to deliver fantastic posters at the most competitive prices you'll find anywhere.
So, how much will it cost to print your posters with us? The exact answer to that question depends on the size of the posters, the paper stock, coatings, and many other factors. But you can get an immediate idea of the costs of poster printing with our at-a-glance pricing charts. Unlike most printing services — which demand a minimum offset print order of 500 or even 1,000 posters at a time — we offer a minimum order quantity (MOQ) of just 100 posters and still with an attractive price tag. But as you'll see from the charts, the more posters you order in a single run, the less you pay for each one. But whatever options you choose, we promise we'll save you at least 40% on the price you'd get from your local print shop while providing much better quality.
Poster Printing Price Chart
Quantity

500pcs

1000pcs

2500pcs

5000pcs

7500pcs

10000pcs
Please note that all prices are EXW our facility and do not include shipping costs.
200 gsm / 87 lb coated text paper, gloss lamination, full color printing
For a more precise estimate specific to your project, try our convenient online Printing Cost Calculator. Just follow the link, add your specifications in the form, and get an instant quote! Have a question? No problem! Get in touch and one of our in-house poster printing experts will be delighted to help.
Campaign objectives and also where the posters will be displayed. They must be easily visible and capture attention. But at the same time, they must be an appropriate size for the space they will occupy. A large format poster coupled with faithful color reproduction gives your artwork and message the best chance to speak. But a smaller poster may be a better fit if it's to be displayed in a more intimate space. While the exact dimensions depend on your artwork, the purpose of your poster, and the layout, we print most posters on premium art paper in portrait orientation. A landscape-oriented poster is always an option, however, and we can print them in the same sizes as more common portrait posters. The most common poster sizes we offer are:
A0—this poster size is 33.11″ by 46.81″ (841 mm by 1189 mm). A0 size posters are big! They're often used as large-scale planners, explanatory or educational charts, festival programs, public announcements, academic posters, to promote entertainments and events, and more. A0 posters are used to communicate ideas in public information campaigns or to advertise commercial sales, offers, and product deals.
A1—the standard size for this poster in most of the world is 23.39″ by 33.11″ (594 mm by 841 mm) with a popular 34″ x 22″ variation in the US. A1 posters are used in promotional activities and for advertising movies and concerts.
A2—these very common posters are almost half the size of their A1 counterparts. A2 posters are 16.53″ by 23.39″ (420mm x 594mm). These posters are commonly used in restaurants, shopping malls, and stores to promote menus, products, and events.
24″ by 36″—these fall between A0 and A1 poster sizes. Trade shows, art shows, and commercial businesses are some of the most common areas in which this poster size is used.
Compared to digital printing services, as a fully equipped and specialist offset printer, we can offer all kinds of advantages when it comes to printing your posters. With a wide range of state-of-the-art printing machines at our disposal, we can offer discounts on large and short print runs of, for example, 24″ by 36″ posters by running them on a specific machine. While on longer print runs and for our biggest posters like A0, we can keep costs down by using several large-scale printers simultaneously. This also enables us to offer super-fast turnaround times as low as 48 hours before shipping.
Best Poster Paper Options
With all posters, whatever their size and purpose, quality and presentation are vital to the message you want to communicate. We recommend printing on premium-quality gloss or matte art paper to get the most effective and eye-catching results. Gloss and matte both have coated surfaces, ideal for stunning printing that will reproduce your photographs and artwork with faithful color, perfect contrast, and fine-grained detail. Gloss paper is often best for large-scale full-color posters with perhaps less text, whereas posters with more text may benefit from matte paper. Matte paper will still give sumptuous color or black-and-white art reproduction while making the text easier to read. Here's a helpful list of suggested papers for different poster sizes:
24″ by 36″-Sized Posters Paper
Lamination and Special Finishes for Posters
We also offer a range of lamination options to add visual zest to your posters while also providing an extra level of protection from weather, fingerprints, scuffing, tearing, and UV light damage. The most cost-effective and popular laminates are gloss and matte which offer excellent protection and durability at a low cost. For a luxury look and feel, we also offer soft touch lamination which has a beautiful, almost velvety effect. Ultra-violet coating and varnishing are other potentially useful options.
You may also want to add special touches to really make your poster stand out from the crowd. Options include foil stamping in gold, silver, copper, bronze, and a range of other colors; embossing and debossing; and UV spot coating. And if you have large posters destined for long exposure in outdoor spaces, ask us about sun-resistant inks, too.
Printed art and photographic reproduction are often the core component of most posters, along with beautifully formatted typography, decorative graphics, and other flourishes to enhance your text. Whether you're preparing your own layouts or commissioning a professional designer to handle the technical work for you, it's important to understand how to prepare the finished digital files for high-quality offset printing so that your posters come off the press looking as spectacular as they are professional. You must account for bleed zones, safety margins, trim lines, and borders, for example, and make sure that you've set the resolution and the color space correctly. 
This can seem quite complicated, especially if it's your first time working on this kind of design. If you are going the DIY route, we recommend working with Adobe Illustrator or InDesign. So, here are a few helpful tips to guide you when you're preparing your digital files for the printing press.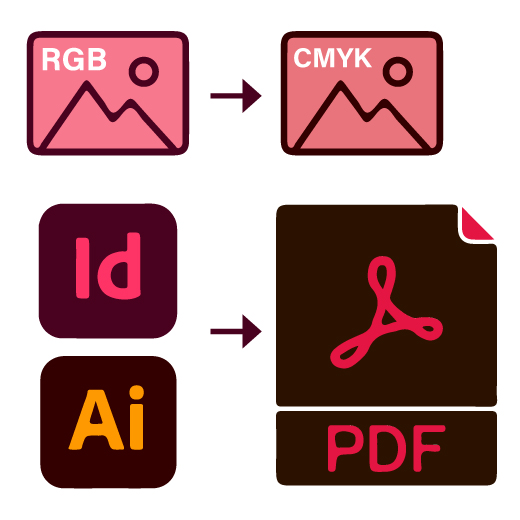 Export your files as vectors in PDF format for the best results. Our recommended software options for poster design are Adobe InDesign or Adobe Illustrator. These will also allow you to convert your color space from RGB to CMYK, which you will need to do for offset printing.
If you can't deliver vectors — say, if you're exporting bitmaps from Photoshop — then make sure the resolution is at least 300 DPI. With vectors, you needn't worry about resolution, but all other images must have a high definition to tolerate resizing without becoming fuzzy and "pixilated".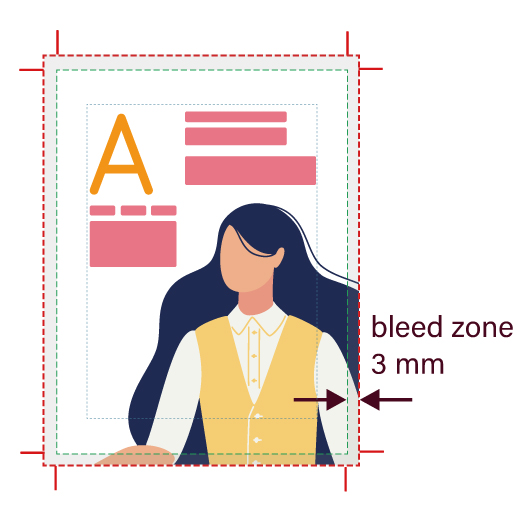 You'll need to add a "bleed zone" of 3 mm around all your image pages. A bleed is an extended zone at the periphery of your photo, graphic, or artwork which falls outside the area that your finished poster will cover. Once we've printed your poster, we'll cut them to the exact size needed for your chosen format. This "bit extra" gets cut off and makes sure that the finished image fills the page with none of it being lost.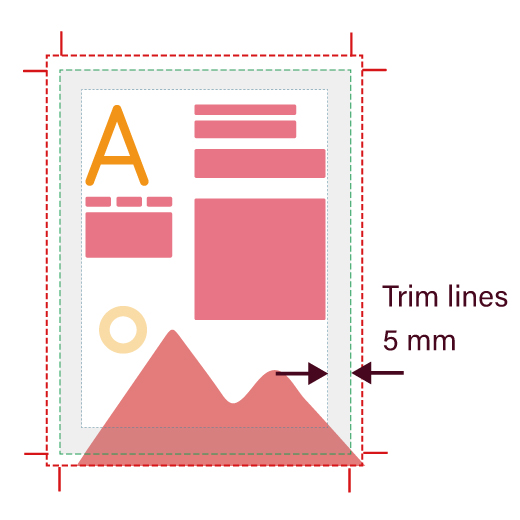 Inside your bleed zone, don't forget to mark the "trim lines". These will define the final dimensions of the finished poster. Make sure that any necessary elements of your images stop at least 5 mm short of the trim line.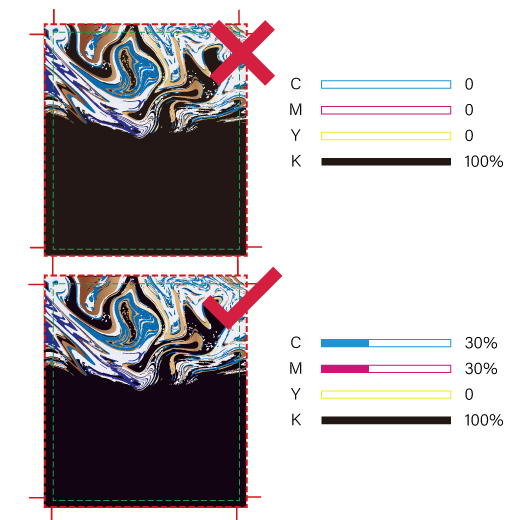 For posters with a black background, please make sure that it's designed with 90% black; 30% cyan, 30% magenta and 0% yellow in the CMYK color space. Please do not design with 100% black as this can look brown or purple after printing.
If you're working with a professional designer to prepare your files, they should be competent to make everything "print ready". But if you're working alone with design for the first time, these are the crucial points to remember before you submit your digital files. The responsibility for sending "print ready" files rests with you. But please don't overthink it! We'll be happy to "hold your hand" through the process, explain what's needed step-by-step, liaise with your designer when necessary, and manually check everything ourselves to make sure it all goes smoothly and you end up with a perfect poster print. If we discover any errors, we'll let you know, explain what the problems are, and help you fix them. We will never set the press rolling until we're sure everything is perfect and you are 100% satisfied.
To learn more about preparing your artwork, text, and layout for printing, please check out our Pre-press Artwork information page.
Poster storage, packing, and distribution solutions
We can store your poster for up to a year, during which time we'll deliver them to you or your chosen distributor—including the Amazon warehouse if you're an Amazon seller—on request.
We ship posters flat or in tubes. Most customers prefer for us to ship their posters flat as it takes up less space in the containers and so costs less. To flat pack your posters, we lay them in stacks enclosed in waterproof packaging paper. Next, we put the stacks into a robust carton custom made to fit the posters exactly to avoid damage and again keep costs down. Then we tape all the edges and corners of the carton before shrink-wrapping and loading onto a pallet if it is to ship by sea, otherwise we don't use a pallet as it's not needed to ship by air and would add extra weight. Tube packing is more expensive because it takes up more space in the transport containers.
We offer shipments either by sea or by air with our trusted partners at FedEx and DHL. Yu can be confident that we will choose the most economical shipment option for you based on your delivery address. For all the details visit our shipping and packaging pages.
At QinPrinting, we pride ourselves on our customer service and helpfulness as much as our deep knowledge of every aspect of printing technology. Get in touch today to discuss your individual needs or to request a no-obligation quote. We can't wait to help you make your posters the most breath-taking yet!