Printed booklets are cost-effective methods to promote goods and services or convey information. At QinPrinting, we print high-quality booklets for businesses, non-profits, educational and health organizations.
You may ask yourself if booklets—those pocket-sized printed marketing materials—are still relevant and effective in the digital age. Well, we know the answer is a resounding, "Yes!" because we print thousands of booklets for repeat-buying customers daily. If they're well-designed and targeted, booklets can work hard for your business or organization, packing a promotional punch well above their weight.
At QinPrinting, we believe that even a humble booklet must be a powerful advertisement for your brand and products, boost customer interest, spread the word, and show a return on your investment. With 25 years of success in the industry, an expert team, state-of-the-art technology, and unrivalled customer service, we're as proud of our first-class reputation as you are of your business. We strive to advance both.
At QinPrinting, we collaborate with all our customers to print beautiful booklets which express your brand identity and appeal to consumers. But we get that even the most successful business must work within a budget. That's why we constantly analyze our work protocols and supply chains so that we always deliver exceptional booklets at the most attractive prices anywhere in the world.
So how much does it cost to print your business booklet with QinPrinting? The final cost depends on the size, paper, finishes, binding style, and more. But you can get an estimate of how much it will cost to print your booklet from our helpful at-a-glance pricing charts. Most offset printing services impose a strict minimum print order of 500 or 1,000, or even 5,000 booklets. But we want even small businesses and startups to access our services. So, we have a minimum order quantity (MOQ) of just 100 units—known as a "short run"—and still with a competitive price advantage over digital printing. But as you'll see from the charts, the more booklets you order in a single run, the lower the cost-per-unit.
Saddle Stitch Booklet Printing Price Chart (210mm x 297mm)
Quantity

100pcs

500pcs

1000pcs

2000pcs

5000pcs

10000pcs
Please note that all prices are EXW our facility and do not include shipping costs.
Cover: 200 gsm / 74 lb coated cover paper with matte lamination
Interior: 128 gsm / 87 lb coated text paper, full color printing
Paperback Booklet Printing Price Chart (210mm x 297mm)
Quantity

100pcs

500pcs

1000pcs

2000pcs

5000pcs

10000pcs
Please note that all prices are EXW our facility and do not include shipping costs.
Cover: 250 gsm / 92 lb coated cover paper with matte lamination
Interior: 128 gsm / 87 lb coated text paper, full color printing
Perfect binding
For a more precise, project-specific answer, try our convenient online Printing Cost Calculator. Just go to the form, enter your details, and get an instant quote! If you have questions, please get in touch and one of our enthusiastic, knowledgeable, expert team members — not a robot or a bored call center operator! — will be there to help. We pride ourselves on personalized service and individually tailored solutions for all the businesses, non-profits, and other customers we serve.
We're confident that we can save you over 40% of the cost of using your local print shop — no kidding! — and still deliver the highest quality product. Our combination of super-efficient modern printing processes, the newest technology, materials choices tailored to your needs, and close attention to details help us guarantee the most streamlined and cost-effective booklet printing services on the planet.
Specialist Wholesale Booklet Printing Services
If you're a wholesaler, print broker, marketing company, or advertising agency, we can provide you with unbeatable wholesale booklet printing services. Our competitive wholesale prices, combined with quality, service, and fast turnaround times—as fast as 3 days—make our offer the best in the business. You can also take advantage of free training with our experts and a comprehensive range of paper samples to help you improve the service you deliver to your clients. Your success is our success, so we always go the extra mile to help you.
Common Printed Booklet Sizes
The size of your booklet depends on your content, the layout, orientation, paper choices and any specialized finishes such as embossing, debossing, die-cutting, or soft touch lamination, for example. At QinPrinting, we'll print booklets in any size or format you prefer. Just remember that extensive customization will mean spending more because we must do more pre-press work and setup. But depending on your needs and target demographic, the added investment could be worthwhile. It's always your decision, but most of our clients opt for the standard sizes.
They have sound business reasons, too, other than keeping prices low. You need to consider consumer expectations, storage, handling, and distribution costs, and several other factors when budgeting for your printed booklet. 
The standard size for most commercial booklets is 8.5" by 11" (approximately 210 mm by 297 mm in Europe, the UK, and Australia).
But we also print a lot of booklets in the smaller 5.5" by 8.5" (148 mm by 210 mm) size. We often print even smaller booklets.
Small booklet printing is very popular in the retail and packaging market. Many products need manuals or warranties which must fit in small packaging; say, for smartphones or accessories, just as one example. The smallest booklet we've printed so far was just 2″ x 3.15″, but if you want to see if we could go even smaller, we'll rise to the challenge! 
While most booklets have both images and text, the trend in modern marketing is for powerful images and shorter text with the opportunity to integrate the printed booklet with your website or e-commerce store, using scannable QR codes. But you'll still need to choose paper with good photo reproduction and readable text. We recommend printing on gloss or matte text paper to get the best results. Gloss and matte both have ideal surfaces for vibrant printing that will reproduce your photographs with faithful color, perfect contrast, and fine detail.
At QinPrinting we recommend 80 gsm / 54 lb, 105 gsm / 70 lb, 128 gsm / 86 lb, 157 gsm / 106 lb coated paper or 80 gsm / 54 lb, 100 gsm / 68 lb uncoated paper for booklet interiors as they give a lovely crisp, vibrant finish to your product photographs and make the text easy to read. Choosing booklet interior paper depends on the size and thickness, too. As a general rule, we recommend thinner paper for the interior pages but it may depend on the number of pages you choose.
If your booklet is 8.5" x 11" we suggest thicker paper for the interior. For example, 128 gsm / 86 lb, 157 gsm / 106 lb coated paper or 100 gsm / 68 lb uncoated paper. If your booklet has 32 pages or fewer and you want to use perfect binding, you'll need 200 gsm / 135 lb coated paper to reach the required 3 mm spine width.
You can download a booklet cover template to check the spine thickness resulting from different paper types and page amounts here.
Cover paper for booklets depends on which binding style you choose. We almost always make covers for booklets of heavier, gloss cover paper. Perfect binding is a good choice for classy booklets, as it has a very professional look. But you can choose from many styles including saddle stitch and wire-o.
Whichever binding you go for, your booklet needs at least two paper specifications: one for the interior pages and one for the cover.
Paper Options for Booklets
Sewn perfect binding—a style which can lay flat with the pages open without breaking the spine—is a good choice for top-end booklet printing. Booklets with fewer pages might be perfect bound using glue alone or wire-o bound. We recommend a paper weight of 157gsm / 106 lb gloss text paper for the interior pages in most cases. It's beautiful to see and touch, faithfully reproduces your product images, and stands up well to mailing and being passed around.
While booklets come in many shapes and sizes, the binding is very important for appearance and durability. Let's look at the most popular and professional-looking booklet binding options. You can open several of these completely flat.
To saddle stitch your booklet, we fold the printed interior sheets and stack them inside the cover sheet before stapling them together down the curved edge. This binding is only possible with a page count divisible by four, up to a maximum of 64 pages. But to make sure the booklet is neat and lies flat, we recommend a limit of 48 pages or fewer for this style of binding.
We use this binding style for many booklets with higher pages counts. We collate the interior pages into a block, glued together, and then glued into a wrap-around cover made of heavier art paper or lightweight card stock. For booklets with from 48 to 200 pages, this is a great option.
We use this binding several booklets we print. We collate the interior pages into sets called "signatures", which are then sewn together and fixed into a wrap-around cover made of heavier art paper or lightweight card stock. For booklets with a higher page count edging toward booklet size, this is one of the best options.
This binding is another possibility for booklets. We punch or drill holes into the pages down one side and then bind them with a double metallic coil which runs through the holes. We crimp the coil at both ends so the pages don't come loose. You can turn the pages of a wire-o bound booklet through 360° and also lay the open booklet completely flat. We can laminate the pages to make them extra-resistant to UV light, fingerprints, and spillages.
Another great choice for booklets that need to be displayed or in repeated use. It's like a saddle stitch solution but includes two or three loops exterior to the spine so it can be hung up or easily inserted into a ring binder, which can be handy for sales representatives.
Whichever booklet binding style you go for, we want to make it simple for you to design, so grab one of our ready-made design templates. And ask us for paper samples. We'll be happy to drop them to you in the mail. The samples are free, so you need only pay the mailing charges.
Booklet Design and Artwork Tips
The quality of images reproduced in a booklet is always important to show off your products to the best advantage. Whether your booklet has only one or two photographs or more, you want your images and text alike to be impactful and easy on the eye. With that in mind, let's share these helpful tips for preparing your files for the printer.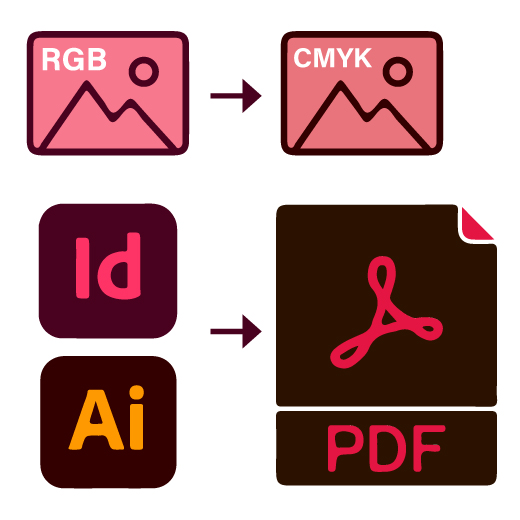 Export your files as vectors in PDF format for the best results. Our recommended software options are Adobe InDesign or Adobe Illustrator. These will also allow you to convert your color space from RGB to CMYK which you will need to do for offset printing.
If you can't deliver vectors — say, if you're exporting bitmaps from Photoshop — then make sure the resolution is at least 300 DPI. With vectors, you needn't worry about resolution, but all other images must have a high definition to tolerate resizing without becoming fuzzy and "pixilated".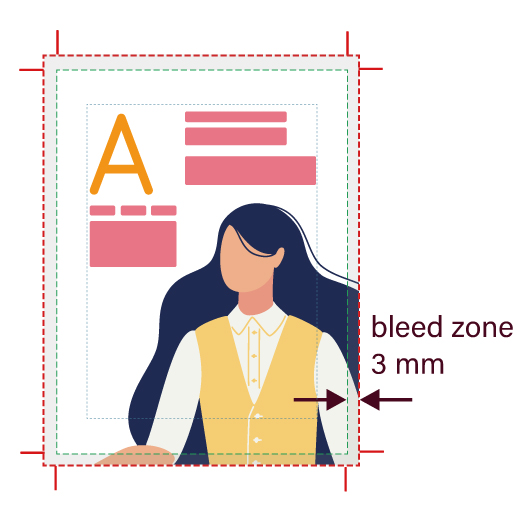 You'll need to add a "bleed zone" of 3 mm around all your illustrated pages. A bleed is an extended zone at the periphery of your artwork, which falls outside the area that your final page will cover. Once we print your pages, we'll cut them to the exact size needed for your booklet format. This "bit extra" gets cut off and makes sure that the image fills the page with none of it being lost. You should mark bleed zones as red lines.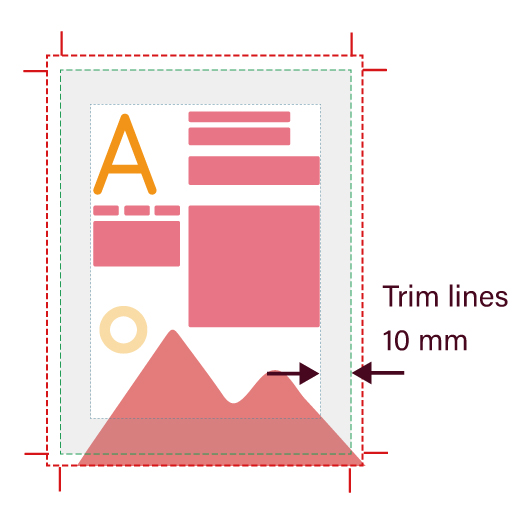 Inside your bleed zone, don't forget to mark the "trim lines". These will define the final dimensions of the finished page. Make sure that any necessary elements of your images stop at least 10 mm short of the trim line.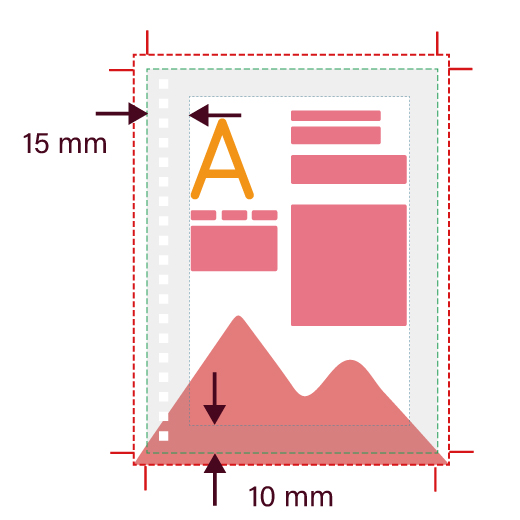 For a wire-o bound booklet, leave an added margin of at least 15 mm on the edge that we'll bind the pages to allow for the holes
If you're working with a professional designer to create your files, they should understand what's needed to make everything "print ready". But if you're working with design software yourself for the first time, these are the vital tips to remember before you submit your files. Still, our team of experts will always manually check all your files before we go to press. If we find any issues, we'll let you know and help you resolve them. We won't print your booklet until we're sure we'll get a perfect result.
To learn more about preparing your photographs, text, and layout for printing, please check out our Pre-press Artwork information page.
Are you responsible for your organization's booklet design and printing? If you'd like to deliver quality booklets at a fantastic price—we should talk. Get in touch today—either by telephone, email, Skype, or our simple contact form—to chat through your needs or to ask for a no-obligation quote. We can't wait to help you make your booklet!