Custom Board Games Printing Services

At QinPrinting, we provide a comprehensive board game printing service that goes beyond paper and ink to include your game components, rule books, and boxing solutions
What Are Custom Board Games?
Custom board games are games that you've invented, designed, tested, and refined yourself. They may be inspired by one of the traditional board game formats or break exciting new ground in game design. Our clients come from all backgrounds and walks of life, but they all have one thing in common: they want to take the next step and see their creative vision realized as a beautiful, professionally manufactured board game. Most have commercial ambitions: they want to market and sell their games. Of those with an entrepreneurial aim, many have financed the production of their project though crowdfunding on Kickstarter. Others are self-financed individuals or small companies willing to invest in a high-quality product.
Custom Board Game Components
Whatever your board game needs—an educational children's game, a complex game for adults with several custom components, a card game, or even a jigsaw puzzle—you can be sure that we'll create it with professional expertise, technical know-how, and creative understanding. We'll deliver a well-made, professional game of which you can be truly proud
And as a major international printer, QinPrinting provides a whole spectrum of options — from custom printed game boards with specialist finishes, to card sets, tokens, custom miniatures, rule books, boxes, and more. Our flexible and fully customizable service— together with the latest printing technology and manufacturing processes — make it easy to find a board game solution to suit your budget.
The Cost of Custom Board Game Printing
Exactly how much it will cost to print and make your custom board game depends on how complex your game it, how many and what kind of components you need, the materials you choose, and more. So, there's no one-size-fits-all answer to the question of how much your board game will cost to print. But we can give you a ballpark idea now with our at-a-glance charts below, which show you the prices for several typical board game configurations and production numbers. When your design is complete, just get in touch for a full and accurate quote.
Custom Board Game Manufacturing
At QinPrinting, we're dedicated to manufacturing the finest board games possible for all our clients. That's why we've evolved a unique and specialized protocol for custom board game manufacturing which guarantees an excellent result every time. We go the extra mile to ensure that everything works, all components are of the highest quality, and that we complete production on schedule.
We are proud of our expert quality control team who check every stage of manufacture and production. The team monitor and intervene quickly if there are any issues to make sure that the process continues to run smoothly and the products are perfect. We also have strict cleanliness and handling regulations so none of your board game components get damaged or soiled during manufacture, assembly, and packing.
Once we've finished making your games, we shrink wrap them and pack them reinforced cartons for transit so they arrive in first-class condition. At each step, our process is designed to combine efficiency with safety, precision and quality assurance.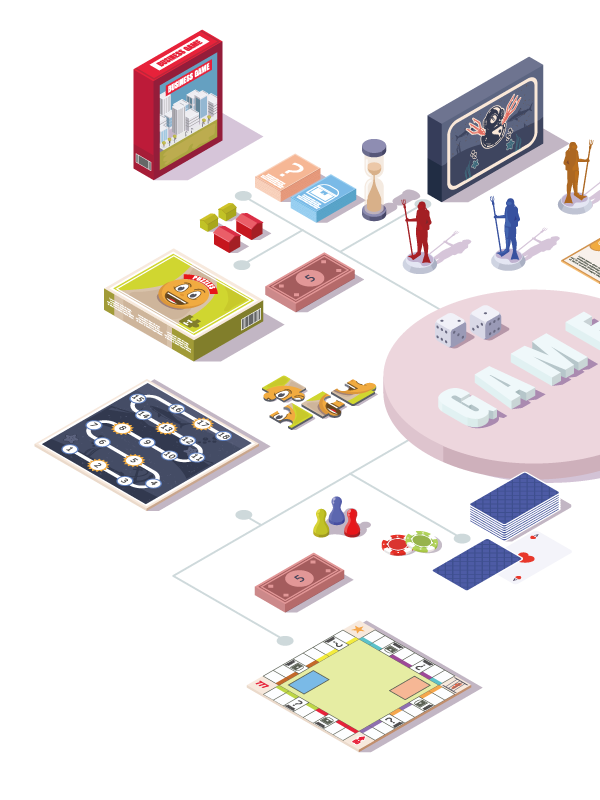 Custom Board Game Process
Our board game manufacturing process starts with talking through your needs and discussing your design objectives.
Most board game designers are inspired and influenced by games they've enjoyed playing. Perhaps you've enjoyed Azul, Dominion, Mysterium, and Magic: The Gathering. Or maybe your taste is more towards traditional family favorites such as Monopoly, Labyrinth, and Clue. Whether your design is based on set collection, area control, puzzle-solving, placement, combat, or co-operation, we have a broad knowledge of board games and can hep you realize your custom board game.


Why Create Your Custom Board Games with Us?
The short answer is because we make board games of unrivalled quality at unbeatable prices!
But there's more to it than that. With 25 years' experience in the offset printing industry, we have a dedicated, experienced team with an accumulation of knowledge and expertise which you won't find anywhere else.
Our facilities in Shanghai—the epicenter of China's global commercial sector and a beautiful city renowned for its advanced architecture, industry, and beautiful public spaces—boasts the latest, state-of-the-art technology. So, we can realize all your board game needs from the board and box, to booklets and inserts, to dice and custom-made miniature figures, to… anything you want, and all at highly competitive prices.
The cherry on top of the cake is our genuine dedication to customer service. We believe in bringing you the power and technology of a major international company with the personalized care and service you'd find in a small, local store.
Our Comprehensive Board Game Creation Service
We will work with you from the earliest possible stage to support you all the way through your game design and creation journey. For example, we will happily provide you with pre-made or custom templates and detailed technical advice to help you prepare your design files to industry standard and make sure the printing and manufacturing process goes ahead without a hitch.
Once you deliver your files, our expert team of in-house designers will manually check them to make sure there are no errors. If we find any issues, we'll let you know, explain what the problems are, and help you fix them. While our MOQ (minimum order quantity) for the final manufacturing run is 1,000 pieces—which is the typical industry offer—we can produce a high-quality prototype for you to check first before you give us the green light to produce your custom board game. We also offer a range of storage, delivery, and distribution solutions on request.
Once we go ahead, our team will monitor every step of the printing, manufacturing, and assembly process, following stringent quality control protocols, to make sure that your finished products are 100% perfect. We strive to do more than meet your expectations: we want you to be unequivocally delighted with the custom board games we make for you. Nothing less will do.
Publishing a custom board game can be a complicated and challenging process with dozens of decisions to make along the way. We're here to make the design, printing, and manufacture of your board game as painless and straightforward as possible. But if there's anything else you'd like to ask, then please get in touch. We'd be happy to answer all your custom board game printing and manufacturing questions and we can give you a no-obligation quote for your project on request. Talk to us — we're here to help!