Whether to share your innovative recipes, preserve your family traditions, or to self-publish at profit, let's make your cookbook good enough to eat!
"Cooking is all about people. Food is maybe the only universal thing that really has the power to bring everyone together."
— Guy Fieri, American restaurateur and award-winning presenter
Cooking is almost as old as humanity. Diverse flavors, dishes, aromas, traditional and innovative recipes, enrich all the world's nations. But preparing and sharing tasty food crosses cultural and social boundaries.
At QinPrinting, we believe "the first taste is with the eyes". A cookbook should be a visual as well as a culinary feast. Print your cookbook with us to benefit from our 25 years of industry experience, personalized service, and a scrumptious finished product!
"Food, to me, is always about cooking and eating with those you love and care for."
 — David Chang, restaurateur and cookbook author
Custom Cookbook Printing Costs
At QinPrinting, we believe cookbooks should be as beautiful as they must be practical. The best cookbooks combine functionality, ease of use, and eye-catching design. But we know you may not have the financial resources available to world famous chefs. That's why we strive to keep our costs the lowest in the industry without compromising on quality or service.
So, how much does it cost to print your cookbook with QinPrinting? While the end price depends on your choices — paper, format, binding, and more — you can get an idea by checking our super-easy at-a-glance charts. Most offset printing companies won't go to press unless you order at least 500 or even 1,000 copies in a single print run. But we know that's often too many for an independent publisher, so we've set our minimum order quantity (MOQ) at just 100 copies. Still, the more you order, the less you pay per unit.
203mm x 203mm Cookbook Printing Price Chart (Spiral binding)
Quantity

100pcs

500pcs

1000pcs

2000pcs

5000pcs

10000pcs
Please note that all prices are EXW our facility and do not include shipping costs.
Cover: 300 gsm / 111 lb coated cover paper with gloss lamination
Inner: 157 gsm / 106 lb coated text paper for interior
Cover and inner: full color printing
203mm x 254mm Cookbook Printing Price Chart (Paperback)
Quantity

100pcs

500pcs

1000pcs

2000pcs

5000pcs

10000pcs
Please note that all prices are EXW our facility and do not include shipping costs.
Cover: 250 gsm / 92 lb coated cover paper with gloss lamination
Inner: 128 gsm / 86 lb coated text paper for interior
Cover and inner: full color printing
203mm x 203mm Cookbook Printing Price Chart (Hardcover)
Quantity

100pcs

500pcs

1000pcs

2000pcs

5000pcs

10000pcs
Please note that all prices are EXW our facility and do not include shipping costs.
Cover: 157 gsm / 58 lb coated cover paper with matte lamination wrapped on 2.5 mm thickness greybeard
End sheets: 140 gsm / 95 lb uncoated text paper, blank
Inner: 128 gsm / 86 lb coated text paper
Cover and inner: full color printing
If you already know your cookbook printing specifications and you'd like a more precise figure, you can drop your details into our helpful Online Print Cost Calculator to get an instant quote. Otherwise, get in touch by email, telephone, Skype, or the contact form. We're always here to help.


The most common size for a cookbook — because it's big enough to look good but small enough to handle easily — is a square 8.5″ x 8.5″ format.
But often clients want a luxury display cookbook which shows off professional food photography to advantage, in which case 11″ x 11″ is a good option.
A portrait-oriented 8.5″ x 11″ is another possibility. But the smaller size is better for daily use in the kitchen.
You can print your cookbook in custom sizes, too. That's no problem. But remember that customization is always a little more costly than going with a standard option because of the extra work involved. And if you want to sell your cookbooks, then meeting consumer expectations is often more effective than trying to "stand out" with an unusual design. If you're publishing a cookbook for the first time or have a limited budget, we recommend printing in a straightforward 8.5″ by 8.5″ format.
The paper you choose to print your cookbook on will affect the price and the quality of the finished product. Most cookbooks feature printed recipes, decorative illustrations and flourishes, color symbols and keys, and high-resolution photography. So, we recommend printing your cookbook's interior pages on gloss or matt art paper to get the best results.
Gloss and matte coated papers both have surfaces which are ideal for vibrant color reproduction. For cookbooks with full-page color photography and less text, gloss is often best as it will make the images really 'pop'. For simpler cookbooks with fewer visual elements, matte paper will still do justice to your photography but make the text easier to read.
Cookbook paper mustn't be too thin or colors might "bleed through" from one side of the page to another. Gloss or matte coated paper is great because it's more durable and even resistant to the odd splash of sauce! It's important for most cookbooks that you can lay the open pages flat. While this also depends on the binding style, the paper shouldn't be too heavy for that reason.
At QinPrinting we recommend 128 gsm / 86 lb, 157 gsm / 106 lb coated paper for cookbook interiors as they give a lovely crisp, vibrant finish to the artwork and make the text easy to read. It will also stop the artwork "bleeding through" to the other side of the page. Choosing book interior paper depends on the book size and book thickness, too. As a general rule, we recommend thinner paper for the interior. Thinner paper can be opened flat easily which is best for a small size book. If the interior paper is too thick, smaller books can be harder to open. 
If the book is 8.5" x 11" or larger, we recommend thicker paper for the interior. For example, 128 gsm / 86 lb, 157 gsm / 106 lb coated paper. If the book has 32 pages or less and you want to use perfect binding, we recommend 200 gsm / 135 lb coated paper to reach the required spine width.
You can download a book cover template to check the book spine thickness according to different paper types and page amounts here.
You may choose a heavier 250 gsm / 92 lb or 300 gsm / 111 lb gloss cover paper—with single-sided or doubled-sided coating—for your cookbook cover if you've opted for a spiral bound or sewn perfect bound cover, or 157 gsm / 58 lb gloss or matte coated cover paper wrapped on 2 mm to 3 mm gray board for a hardcover binding, for example. Vinyl covers are another popular choice as they're splash proof and water resistant and come in a range of attractive colors.
To bind your cookbook, you can choose from a range of possibilities. "Sewn perfect bound" and "Sewn hardcover" are the most popular choices, but we also bind cookbooks with spiral coils. Your choice will depend on your budget, the length of your book, your market research, and other factors. You can open all the following bindings flat.
We use this binding style for many cookbooks. We collate the interior pages into sets called signatures, which are then sewn together and fixed into a wrap-around cover made of heavier art paper or lightweight card stock. For cookbooks with a higher page count, this is a great option.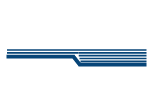 We apply a sewn binding to the interior pages before gluing them to the cover. But the sewn pages are not glued individually to the spine, allowing the book to open flat. Our lay-flat perfect binding gives you the best of both worlds for a clean, professional presentation coupled with robust, practical functionality. And best of all, this up-scale binding method is the least expensive of all the options for an open-flat book.
In this binding, we organize the interior pages into signatures which are then printed, cut, and sewn, and glued into a hard casing covered by a printed sheet which forms the cover. This binding is the most durable.
This binding is another popular choice for cookbooks for is practicality and flexibility. We punch or drill holes into the pages down one side and then bind them with a plastic coil which spirals through the holes. We crimp the coil at both ends so the pages don't come loose. You can turn the pages of a spiral-bound book through 360° and also lay the open book completely flat. We can laminate the pages to make them extra-resistant to splashes and we can make the covers from waterproof vinyl. This is a superb choice for a cookbook that's used daily.
Whichever binding style you choose, we like to make it easy for you to design your cookbook. So, you can use one of our ready-made design templates if you wish.
Cookbook Design and Artwork Tips
The quality of photographic reproduction is always important, but especially so when printing a cookbook. Whether your cookbook has only a few photographs to illustrate and add style, or step-by-step montages for each recipe, you want your images to be a visual feast which suggest the delicious flavors and textures of the food to the reader's imagination. With that in mind, here are a few useful tips to help you when you're preparing your files for the printer.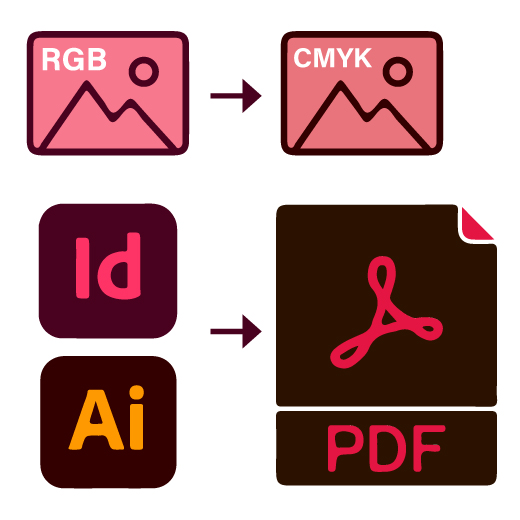 Export your files as vectors in PDF format for the best results. Our recommended software options are Adobe InDesign or Adobe Illustrator. These will also allow you to convert your color space from RGB to CMYK which you will need to do for offset printing.
If you can't deliver vectors — say, if you're exporting bitmaps from Photoshop — then make sure the resolution is at least 300 DPI. With vectors, you needn't worry about resolution, but all other images must have a high definition to tolerate resizing without becoming fuzzy and "pixilated".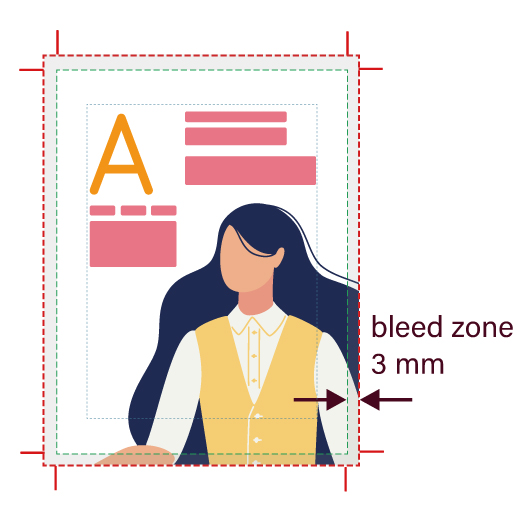 You'll need to add a "bleed zone" of 3 mm around all your illustrated pages. A bleed is an extended zone at the periphery of your artwork, which falls outside the area that your final page will cover. Once we print your pages, we'll cut them to the exact size needed for your cookbook format. This "bit extra" gets cut off and makes sure that the image fills the page with none of it being lost. You should mark bleed zones as red lines.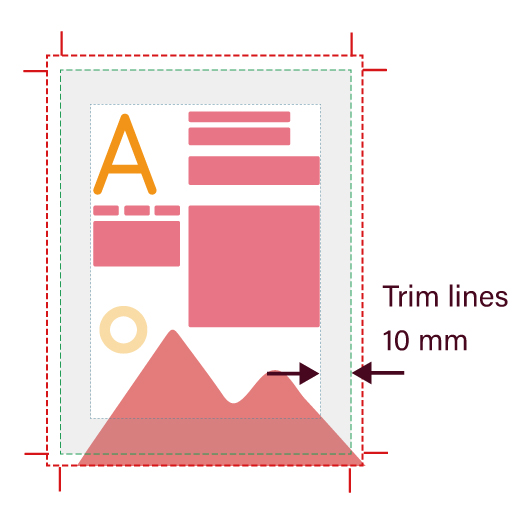 Inside your bleed zone, don't forget to mark the "trim lines". These will define the final dimensions of the finished page. Make sure that any necessary elements of your images stop at least 10 mm short of the trim line.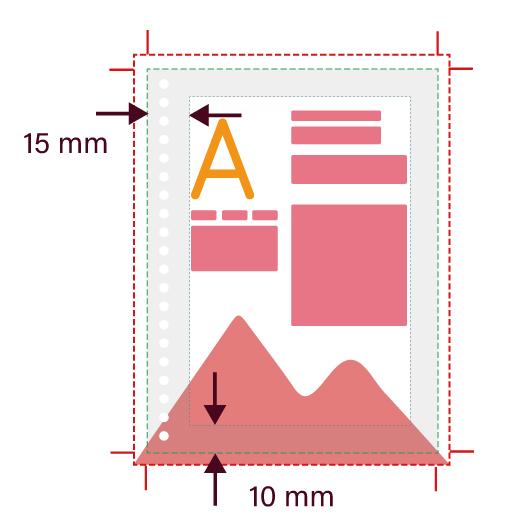 For a spiral bound cookbook, leave an added margin of at least 15 mm on the edge that we'll bind the book to allow for the holes.
If you're working with a professional designer to create your files, they should understand what's needed to make everything "print ready". But if you're working with design software yourself for the first time, these are the vital tips to remember before you submit your files. Still, our team of experts will always manually check all your files before we go to press. If we find any issues, we'll let you know and help you resolve them. We won't print your cookbook until we're sure we'll get a perfect result.
The QinPrinting Eco-Friendly Promise
At QinPrinting, we are very conscious of our responsibility to develop our industry in a sustainable way that respects the life of the planet and of future generations. For that reason, we use paper stock that's sourced from FSC-certified sustainable forestry whenever possible. We can provide recycled paper material on request. We also use environmentally-friendly soy inks—based on harmless, biodegradable vegetable products—rather than toxic resins and solvents. Getting your book printed in batches with an offset printer — rather than one at a time with a print-on-demand service — is also significantly more energy efficient, saving both water and electricity.
When you order from us, we can include the FSC-certified logo and an environmental guarantee from the manufacturer of the soy inks.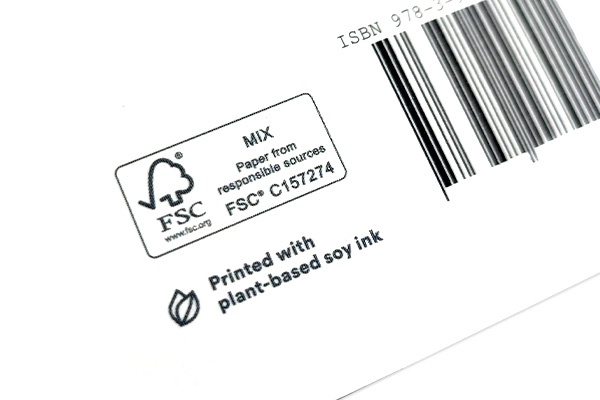 If you're keen to print a beautiful, high-quality cookbook — and personal customer service matters to you as much as a world-class product — then we should talk. Get in touch today to chat through your needs or to ask for a no-obligation quote. We can't wait to help you make a delicious, mouthwatering cookbook!