A book of memoirs is a uniquely personal magic; a subtle gift of the self to the world that can inspire, reveal, and enrich the lives of others as much as that of the author.
"There is always one moment in childhood when the door opens and lets the future in."
–Graham Greene, author of Brighton Rock
Writing a memoir can seem as challenging as it is liberating. It's not just telling a story, it's telling your story, and in a way that will touch the hearts and resonate with the experiences of people unknown to you. In short, it's one of the most powerful and important genres in literature.
At QinPrinting, we are committed to helping our memoir book authors design and print the most beautiful memoir books possible. 25 years and more of success in the industry; an expert, caring team; state-of-the-art technology; and unrivalled customer service make us the first choice for your memoir book printing needs.
Memoir Book Printing Prices
How much it costs to print your memoirs depends on several factors such as the number of pages and copies, the paper stock you choose, the binding style, and other factors. The most popular bindings for most memoirs are paperback (also called perfect bound) and hardcover. To get a detailed quote, you can use our online print price calculator. Or, if you'd prefer, just get in touch by telephone, email, Skype, or the contact form, and we'll be happy to tailor a quote to your needs. In the meantime, you can get a ballpark idea of the cost of printing your memoir book from the charts below:
Softcover Memoir Book Printing Price Chart (148mm x 210mm)
Quantity

100pcs

500pcs

1000pcs

2000pcs

5000pcs

10000pcs
Please note that all prices are EXW our facility and do not include shipping costs.
Cover: 250 gsm / 92 lb coated cover paper with matte lamination
Interior: 100 gsm / 67 lb uncoated text paper
Perfect binding
Cover and inner: full color printing
Hardcover Memoir Book Printing Price Chart (150mm x 230mm)
Quantity

100pcs

500pcs

1000pcs

2000pcs

5000pcs

10000pcs
Please note that all prices are EXW our facility and do not include shipping costs.
Cover: 157 gsm / 58 lb coated cover paper with matte lamination wrapped on 2.5 mm thickness greybeard
End sheets: 140 gsm / 95 lb uncoated text paper, blank
Inner: 128 gsm / 86 lb coated text paper
Cover and inner: full color printing
Black-and-White vs Full Color Memoir Book Printing
When you decide to print a memoir book, determine whether you would like the interior printed in either black-and-white or color. This option affects both the appearance and the pricing of your book. When weighing your options, it is critical to grasp both the procedure and the advantages of each of them.
Color printing—because it's more complex and expensive—is usually reserved for shorter works of fewer than 100 pages. These are mainly memoirs with less text and more photographs. Color is significant if you include lots of pictures since you can use images to evoke memories and illustrate your life story. It piques the reader's interest, adds value, and brings the narrative to life.
Longer texts are often printed in black-and-white. This does not imply that the cover will be black-and-white, however. It simply indicates that all of your book's internal pages will be produced in black-and-white. Because of production costs and prices in the marketplace, this approach is more cost-effective for longer texts. Even if your key text is in black-and-white, you can still include special photographic pages within the covers.
Popular Memoir Book Sizes
The most popular memoir book sizes are
But you're not limited to these options. If you'd like to customize the size of your memoir book, that's fine. We'll be happy to advise you about the practical and technical requirements if you'd like a non-standard size for your book.
Memoir Book Paper Options
The paper you choose for your memoir book's interior pages and cover will depend on a number of factors, including whether you'll have photographs or just text, the binding style, and the dimensions of the finished book. We're always happy to support and advise you so you can make the right decision for your needs and your budget. But here's a general guide to the most common paper stocks we use when printing memoir books:
Paperback (Perfect Bound) Cover Paper
Memoir Book Binding Options
 While dozens of binding options exist the two most suited to a book of memoirs are "perfect bound"—the industry term for what is more commonly known as a paperback or softcover—and hardcover (also called hardback or hard case binding). Paperbacks are cheaper and quicker to produce, but hardcovers look more professional and authoritative, have higher perceived value, and are more durable.
Perfect bound memoirs: with a paperback book, the cover is a single sheet of heavier paper or cardstock, coated on one side for printing, which wraps around the interior pages to form a front cover, a spine area, and a back cover. The interior pages are collated in a block, glued together down one side and then glued into the cover along the spine with a strong, flexible adhesive. Finally, the cover and pages are trimmed so that they are all the same, creating the "perfect" binding.
Hardcover bound memoirs: hardcovers have a cardboard cover wrapped in printed paper. The interior pages are sewn together in folded batches known as signatures, and then collated and sewn and glued into the casing. The inside of the covers at the front and back are glued onto the "end papers" which are positioned between the covers and the first and last pages of the interior.
Memoir Book Artwork and Design Tips
Whether you're preparing your own text, artwork, and layouts or commissioning a professional designer to handle the technical work for you, it's important to understand how to prepare the finished digital files for printing your memoir. You'll need to allow for bleed zones, safety areas, trim lines, and borders, for example, and make sure that the resolution and the color space are correct. 
With that in mind, here are a few useful tips to help you when you're preparing your files for the printer.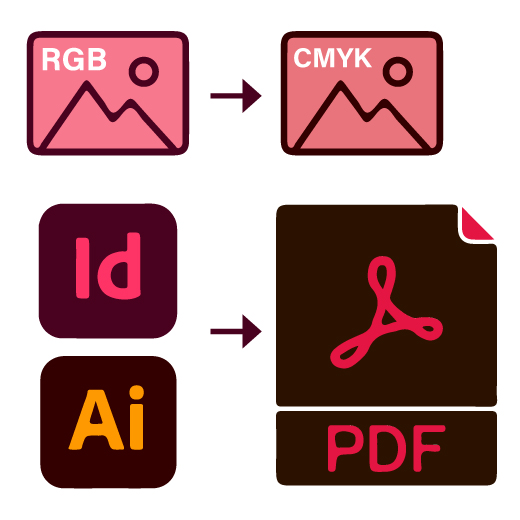 Export your files as vectors in PDF format for the best results. Our recommended software options for photo book design are Adobe Illustrator or Adobe InDesign. These will also allow you to convert your color space from RGB to CMYK which you will need to do for offset printing
If you can't deliver vectors — say, if you're exporting bitmaps from Photoshop derived from scans of your family photos — then make sure the resolution is at least 300 DPI. With vectors, you needn't worry about resolution, but all other images must have a high definition to tolerate resizing without becoming fuzzy and "pixilated"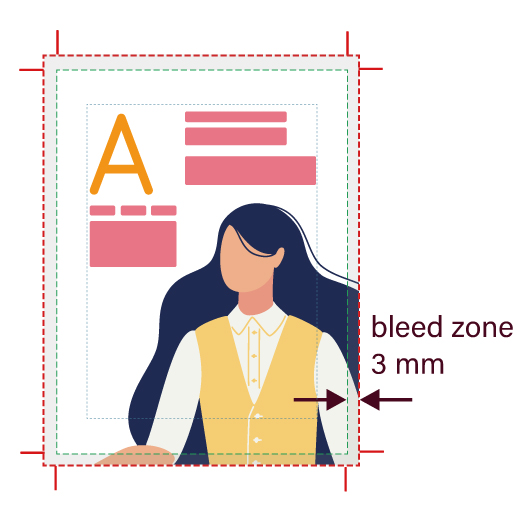 You'll need to add a "bleed zone" of 3 mm around all your image pages. A bleed is an extended zone at the periphery of your photo, which falls outside the area that your finished page will cover. Once we've printed your pages, we'll cut them to the exact size needed for your memoir book format. This "bit extra" gets cut off and makes sure that the finished image fills the page with none of it being lost.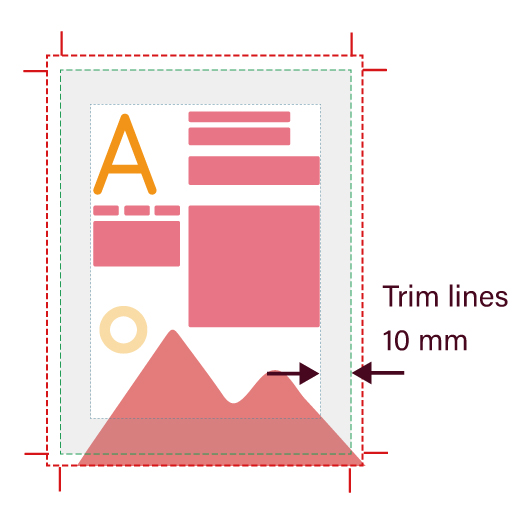 Inside your bleed zone, don't forget to mark the "trim lines". These should be green and will define the final dimensions of the finished page. Make sure that any necessary elements of your images stop at least 10 mm short of the trim line.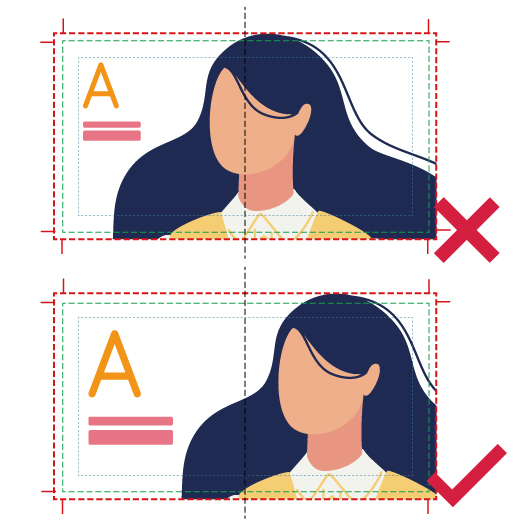 If a photograph or artwork crosses over two pages in a "spread" make sure that nothing essential—like the subject's face or other important details—lie along the center crease.
If you're working with a professional designer to create your files, they should understand what's needed to make everything "print ready". But if you're working with design software yourself for the first time, these are the vital tips to remember before you submit your files. The responsibility for sending "print ready" files rests with you. But please don't worry! We'll be happy to "hold your hand" through the process, explain what's needed, liaise with your designer, and manually check everything ourselves to make sure it all goes smoothly and you end up with a perfect print of your custom memoir book.
Both the writer and the audience can benefit from creating a memoir. A memoir shares a life narrative from the writer's point of view, enabling readers to learn about the writer's choices and actions from the author's deep, personal perspective. Whether the target audience knows the writer personally, this may be immensely powerful, since it offers the reader a far greater grasp of not just how, but also why particular incidents occurred and may also provide psychological and emotional insights into their own life.
Writing your memoirs, whether as a legacy for your family and friends or for commercial reasons, is an admirable, interesting and meaningful activity that may provide you with significant personal happiness or catharsis while also bringing great enjoyment and meaning to others. But it is also an enormous amount of labor. Once you've put in all the work, you should do justice to your memories and your effort by getting your book printed by a professional, experienced, and sympathetic offset book printer with a good knowledge of the field.
At QinPrinting, we've been working with self-published authors for over 25 years. We have a genuine commitment to personalized customer care, a vast amount of knowledge and expertise, and state-of-the-art printing facilities. If you've written your memoirs and you want to print an edition which does justice to
Designing and printing your memoirs, either as an heirloom for your family and a gift for your friends or to self-publish and sell commercially, is always an enriching and satisfying project to complete. Get in touch today to chat through your needs or to ask for a no-obligation quote. We can't wait to help you make your memoir book something of which, and your family for generations to come, can be truly proud!