Coffee Table Book Printing

Nothing speaks so eloquently of your taste, values, and style than a gorgeous, exclusive, artfully placed coffee table book
"10 years from now, my book will still be sitting on someone's coffee table."
–Rick Smolan, Time, Life, and National Geographic photographer
Coffee table books elevate interiors with flair, charm, and style. When entertaining, coffee table books are classic conversation starters. When alone, browsing their luxurious pages is the ideal way to relax.
At QinPrinting, we print exquisite, premium-quality coffee table books for discerning clients. Coupled with over 25 years in the industry, an expert team, state-of-the-art technology, and unrivaled customer service, our dedication and commitment sustain a first-class reputation among sophisticated self-publishers around the globe.
"My wife made me a book of photographs she took of our road trip across the United States. Makes for a good coffee table book."
–from Paul Wesley, actor
Hardcover Coffee Table Book Instant Quote
Custom Coffee Table Book Printing Costs
At QinPrinting, we help self-published authors, photographers, interior decorators, and artists to print custom coffee table books of unparalleled quality every day. But we believe you shouldn't need to sell the family silver or re-mortgage your estate to pay for a superlative coffee table book. That's why we continually review our work processes to make sure we always deliver exceptional quality books at the most competitive prices you'll find anywhere in the industry. And that's a cast iron promise.
But don't take it on faith. You can get an immediate estimate of how much it will cost to print your custom coffee table book with our at-a-glance pricing charts. Unlike most exclusive offset book printing services — which demand a minimum print order of 500 or even 1,000 books — we offer a minimum order quantity (MOQ) of just 100 copies and still with a competitive price advantage. But as you'll see from the charts, the more copies you order in a single run, the less you pay per copy.
Hardcover Coffee Table Book Printing Cost Chart (280mm x 280mm )
Quantity

100pcs

300pcs

500pcs

1000pcs

3000pcs

5000pcs
Please note that all prices are EXW our facility and do not include shipping costs.
Cover: 157 gsm / 58 lb coated cover paper with matte lamination wrapped on 2.5 mm thickness greybeard
End sheets: 140 gsm / 95 lb uncoated text paper, blank
Inner: 128 gsm / 86 lb coated text paper
Cover and inner: full color printing
Hardcover Coffee Table Book Printing Cost Chart (210mm x 297mm )
Quantity

100pcs

300pcs

500pcs

1000pcs

3000pcs

5000pcs
Please note that all prices are EXW our facility and do not include shipping costs.
Cover: 157 gsm / 58 lb coated cover paper with matte lamination wrapped on 2.5 mm thickness greybeard
End sheets: 140 gsm / 95 lb uncoated text paper, blank
Inner: 128 gsm / 86 lb coated text paper
Cover and inner: full color printing
For a more detailed estimate, try our easy and convenient online Printing Cost Calculator. Just follow the link, drop in your information, and get an instant quote! If you have any questions, get in touch and one of our polite, knowledgeable, in-house experts will be delighted to help.
Bindings for Coffee Table Books
As coffee table books have an integral aesthetic purpose, we recommend "sewn hardcover" as our preferred binding style. This binding achieves high-end results which always impress. You can open the book flat with no damage to the spine, too, which makes it ideal for appreciative browsing. With sewn hardcover binding, we organize the interior pages into signatures which are then printed, cut, and sewn, and glued into a hard casing covered by a printed sheet which forms the cover. This binding is the most durable.
Jackets, Wraps, and Cover Material Options for Coffee Table Books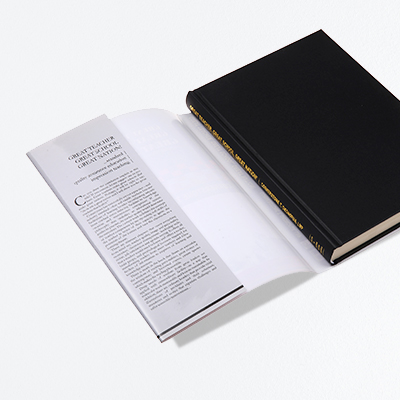 The so-called "dust jacket" is the most common and practical way of covering a hardcover book. Used alone or combined with image-wrapping, it finishes your book with a professional touch while adding five printable surfaces—front, back, spine, and two inside flaps.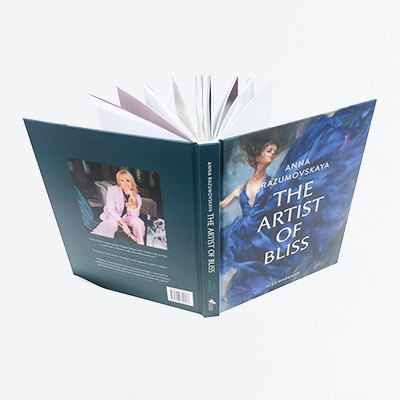 An image-wrapped cover is an economical and innovate option in which we print the text and images straight onto the cover material and laminate it with a protective coating. We can only do image wrapping on paper- and card-based covers.
Besides printed paper covers and image-wrapping, at QinPrinting we offer traditional cloth covers in a vast range of colors. We source only the finest linen for our coverings and provide a superb choice of textures from ruggedly rustic to surprisingly smooth. We're happy to mail you samples on request—just ask.
While we can't print your image directly onto the linen cover — no-one can, that option just doesn't exist for material reasons! — what we can do is deboss (mechanically impress) a specific area to mount a printed image onto the cover. We can also add copper, bronze, silver, or gold foil stamping and debossed custom logos or text. So even without direct printing, your linen cover becomes something very special.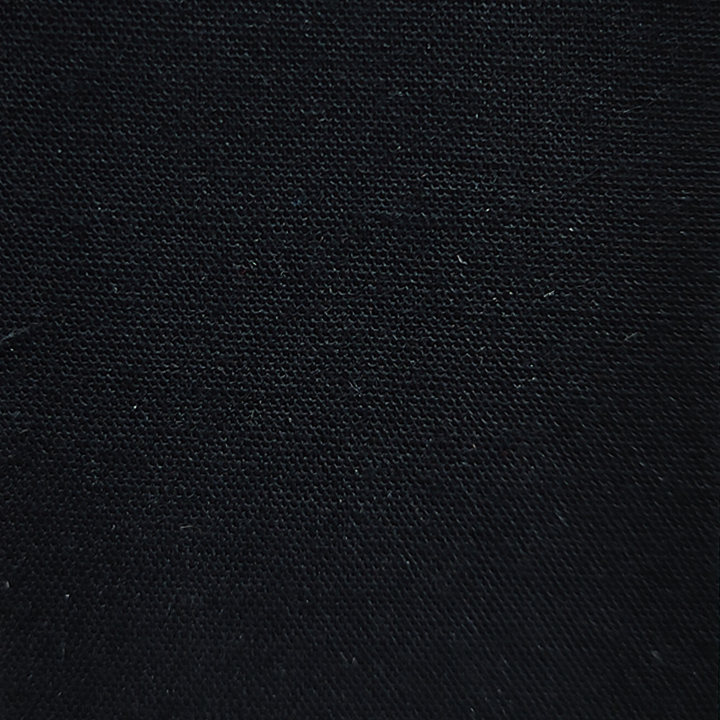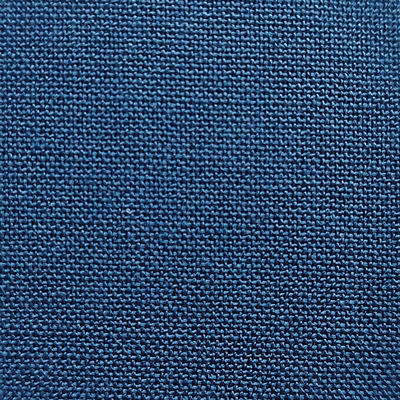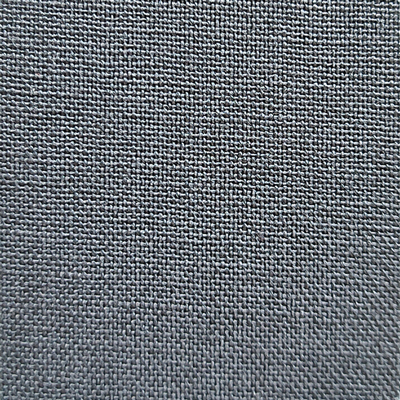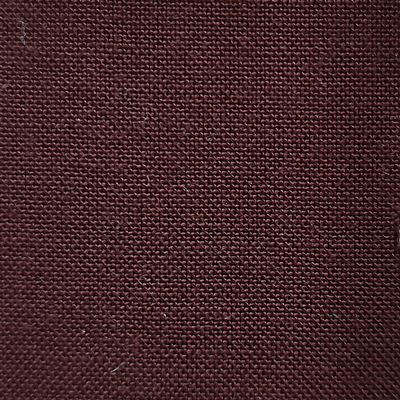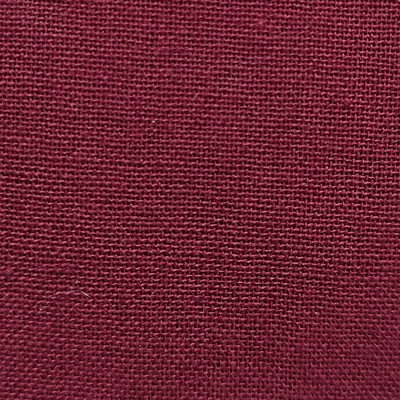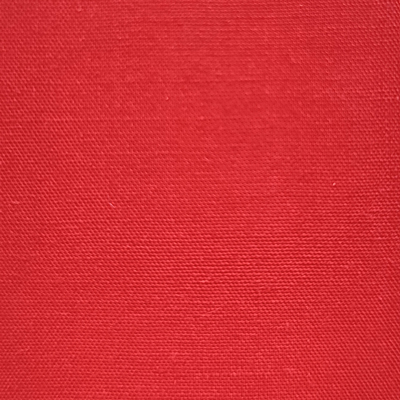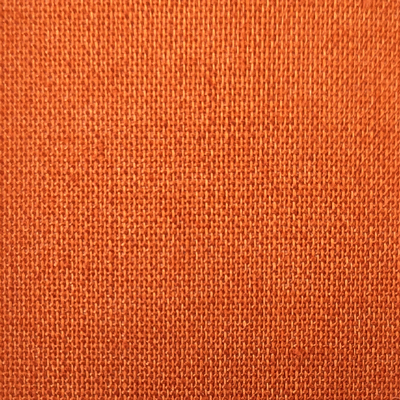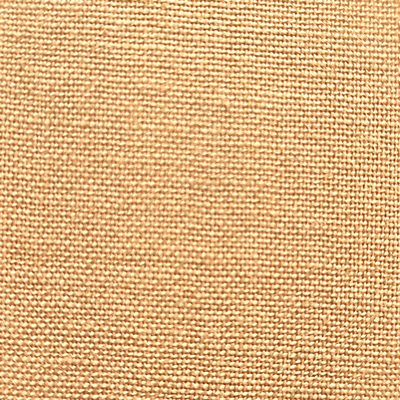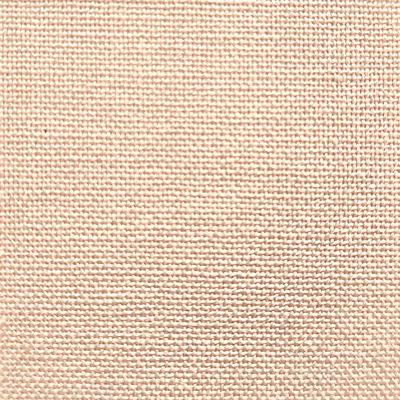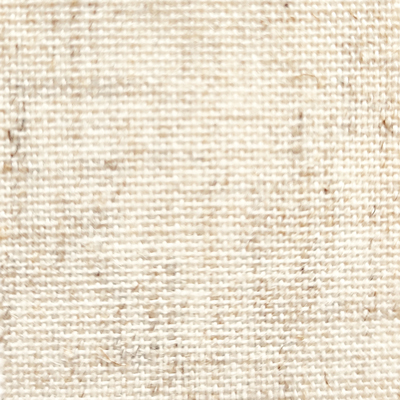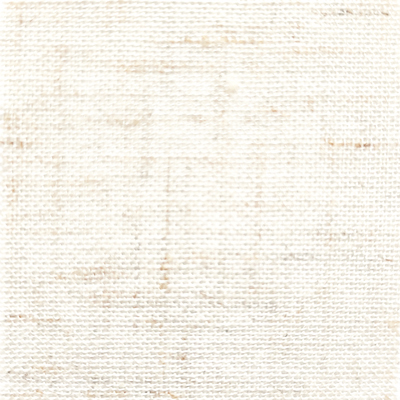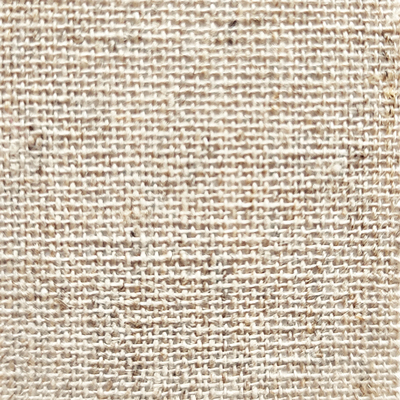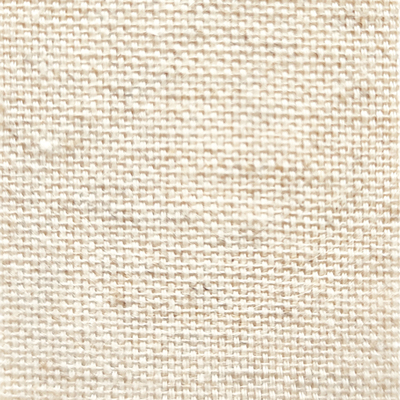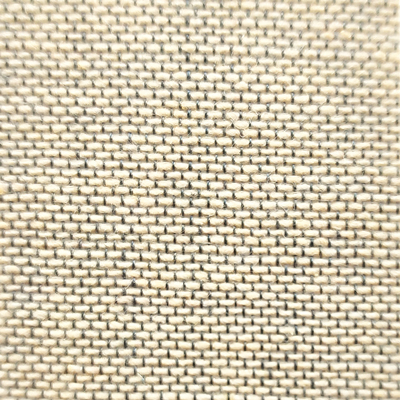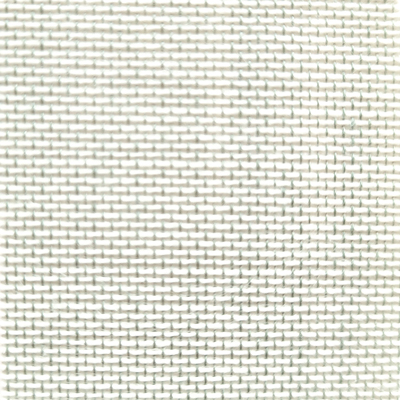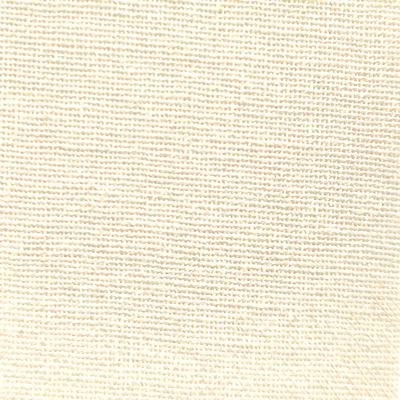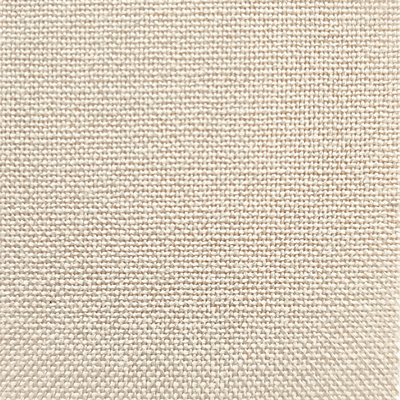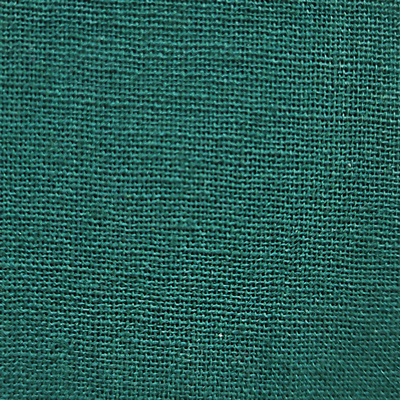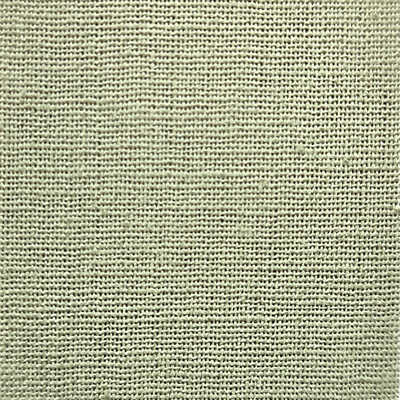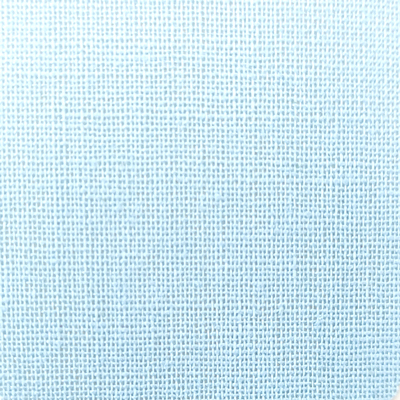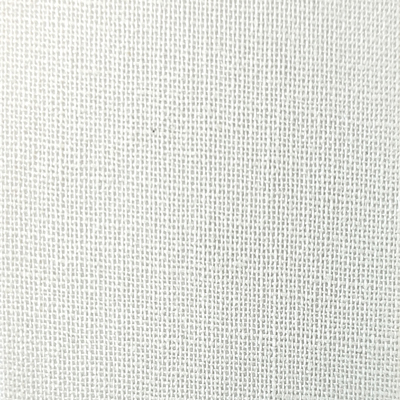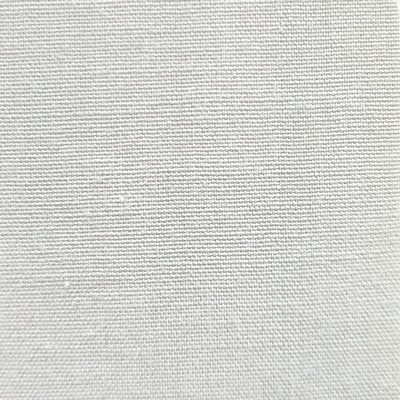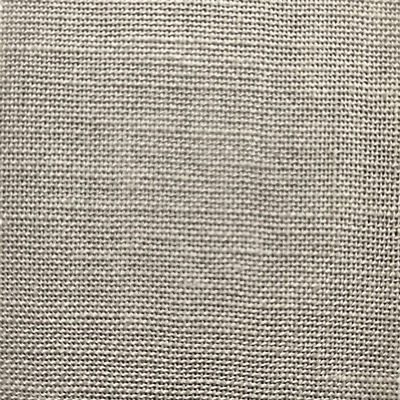 Vinyl and Padded Vinyl Covers
We can cover your hard bound book with colored vinyl. Vinyl is a synthetic material which is pliable and waterproof. For hardcovers, we apply the vinyl sheets directly to the casing. We can also stuff the covers with other materials to give a padded effect.
Imitation Leather and Padded Imitation Leather Covers
We also offer imitation leather and padded imitation leather covers for books which need a traditional, superior, and luxury treatment.  The imitation leather is cruelty-free and very realistic. It has a similar appearance to traditional vellum and calfskin products. We can apply skilled decorative techniques such as tooling and carving, gold leaf, embossing, "dentelle" and "pebbling". You may choose to have your hardcover book fully or partially imitation leather bound. With a partially imitation leather-bound book, we can make the remainder of marbled paper, high-quality cloth, or a soft touch laminated paper, for example. As this is specialist work and rather exclusive, please contact us and one of our binding experts will be happy to discuss your needs.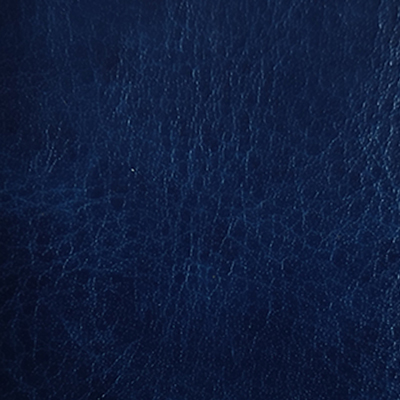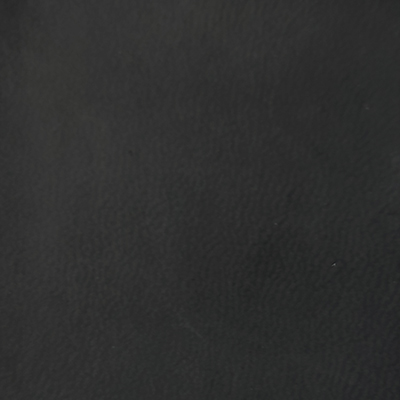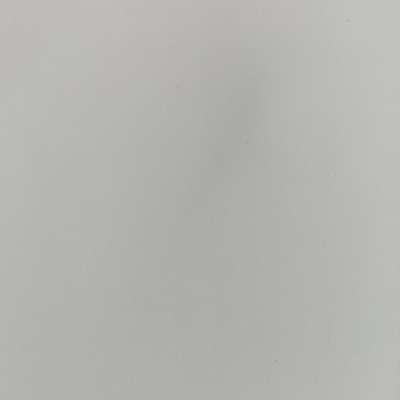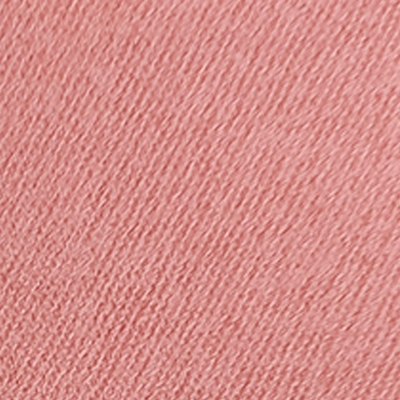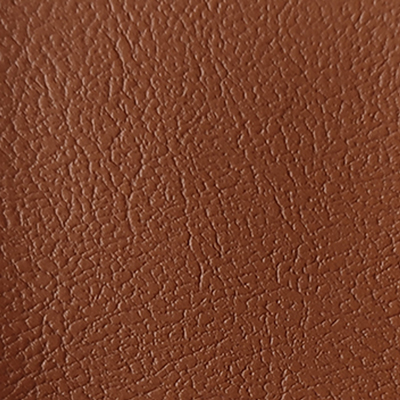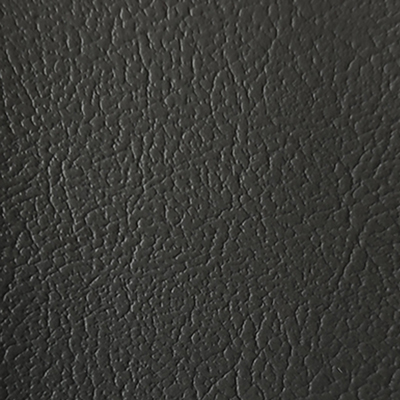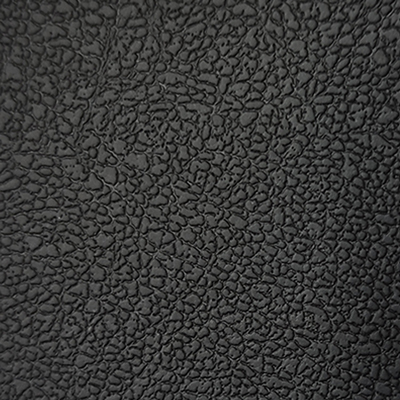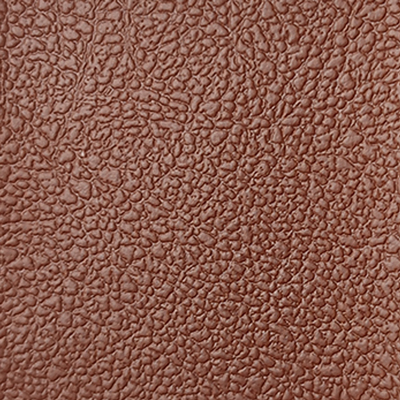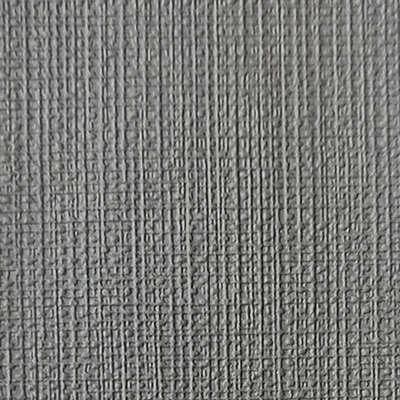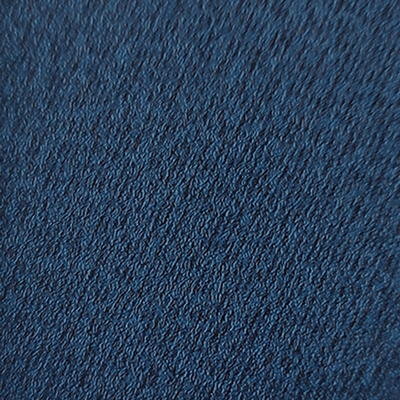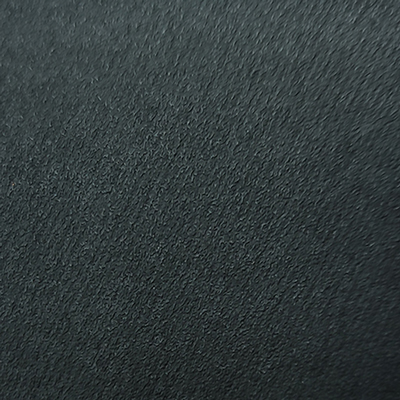 Whichever binding style you choose, we like to make it easy for you to design your coffee table book. So, you can use one of our ready-made design templates if you wish. And ask us for paper samples. We'll be happy to drop them to you in the mail.
Common Coffee Table Book Sizes
A coffee table book is an oversized hardcover bound book. Coffee table books are designed for presentation. They should impress, intrigue, and catch the eye. While the exact dimensions depend on your content, how many photographs and illustrations you include, and the layout and orientation, most coffee table books are large, printed on premium art paper, and bound in hardcovers. A landscape-oriented collection of black-and-white or full-color art photography may be larger than an anthology of your verse; and a memoir, family history, or travelogue may better suit a large portrait format. Here's a handy coffee table book size chart. Explore the possibilities to help you to decide which size would best suit your project.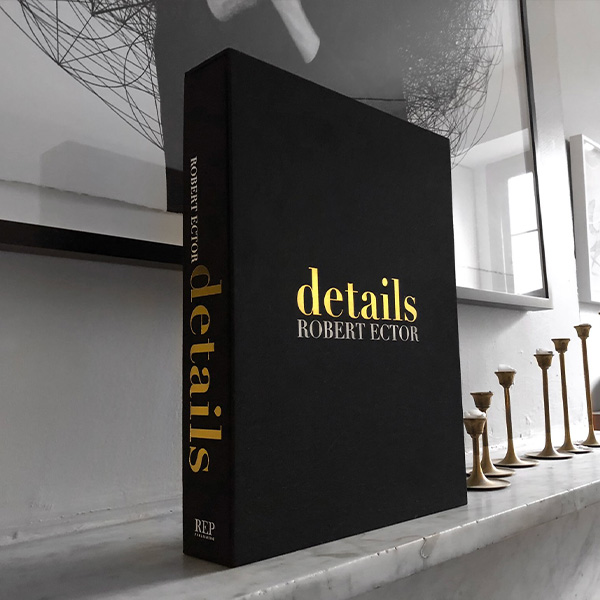 | Square Sizes | 8″ x 8″ | 8.5″ x 8.5″ | 9″ x 9″ | 10″ x 10″ | 10.5″ x 10.5″ | 11″ x 11″ | 12″ x 12″ |
| --- | --- | --- | --- | --- | --- | --- | --- |
| | | | | | | | |
| | | | | | | | |
Smaller sizes—even down to 6" x 9" are convenient if you need to enhance a more intimate interior or 'top off' an elegant stack of grander volumes. Larger sizes make a stronger impression. But you're not limited to the suggestions above. At QinPrinting, we specialize in custom coffee table book printing in any size or format you wish. Only remember that extensive customization incurs higher costs and slower turnaround times because there's more pre-press and setup involved. But for your dream project, or as part of an overall interior décor renovation, the added investment could be worthwhile. It's always your decision.
Coffee Table Book Paper Options
Coffee table books should make a powerful—even if subtle—visual statement. So, even if you include text, the artwork or photography is the focus of most coffee table books. We recommend printing on premium-quality gloss or matte art paper to get the most vivid and pleasing results. Gloss and matte both have coated surfaces, perfect for vibrant printing that will reproduce your photographs and artwork with faithful color, superb contrast, and fine detail. Gloss paper is often best for books with full-color spreads and less text, whereas books with more text may benefit from matte paper. Matte paper will still give sumptuous color or black-and-white reproduction while rendering the text easier to read.
You'll need at least two paper specifications for your custom coffee table book: one for the interior pages and one for the cover. You may also wish to include end papers, which is usually a heavier, colored or textured paper. But the choice of end paper depends on the book size and interior page count. If the book is less than 8.5" x 11" and the interior page count is less than 200 pages, you can use the same interior paper—for example, 140 gsm / 95 lb offset paper. If the book size is larger than 8.5" x 11" and the interior page count is more than 200 pages, 170 gsm / 115 lb or 190 gsm / 128 lb uncoated paper is a better choice.
Paper Stock for Coffee Table Books
Hardcover binding is the most popular option for coffee table books, especially for an exclusive, superlative look and feel, perhaps with luxury additions such as an embossed title or gold or silver foil stamping. We recommend a paper weight of 157 gsm / 106 lb or 200 gsm / 135 lb gloss text paper for the interior pages in both cases. It's beautiful to look at, has a luxury feel, faithfully reproduces photography and fine art, and has good durability.
Coffee Table Book Design and Artwork Tips
Artwork and photography are vital components of most coffee table books, along with beautifully formatted typography, decorative dividers, and other flourishes. Whether you're preparing your own text, artwork, and layouts or commissioning a professional designer to handle the technical work for you, it's important to understand how to prepare the finished digital files for printing. You'll need to allow for bleed zones, safety areas, trim lines, and borders, for example, and make sure that the resolution and the color space are correct. 
With that in mind, here are a few useful tips to help you when you're preparing your files for the printer.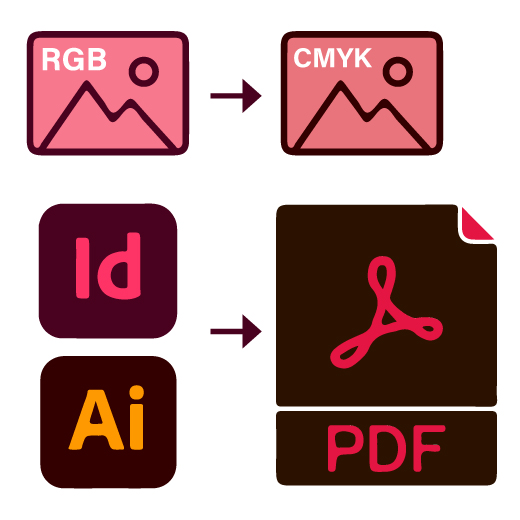 Export your files as vectors in PDF format for the best results. Our recommended software options for coffee table book design are Adobe Illustrator or Adobe InDesign. These will also allow you to convert your color space from RGB to CMYK which you will need to do for offset printing.
If you can't deliver vectors — say, if you're exporting bitmaps from Photoshop — then make sure the resolution is at least 300 DPI. With vectors, you needn't worry about resolution, but all other images must have a high definition to tolerate resizing without becoming fuzzy and "pixilated".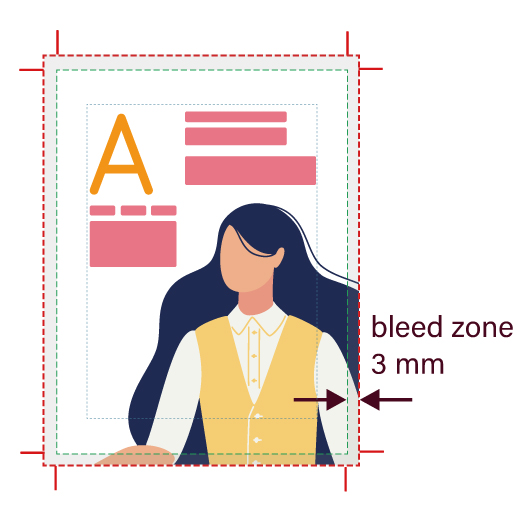 You'll need to add a "bleed zone" of 3 mm around all your image pages. A bleed is an extended zone at the periphery of your photo, which falls outside the area that your finished page will cover. Once we've printed your pages, we'll cut them to the exact size needed for your coffee table book format. This "bit extra" gets cut off and makes sure that the finished image fills the page with none of it being lost. You should mark bleed zones as red lines.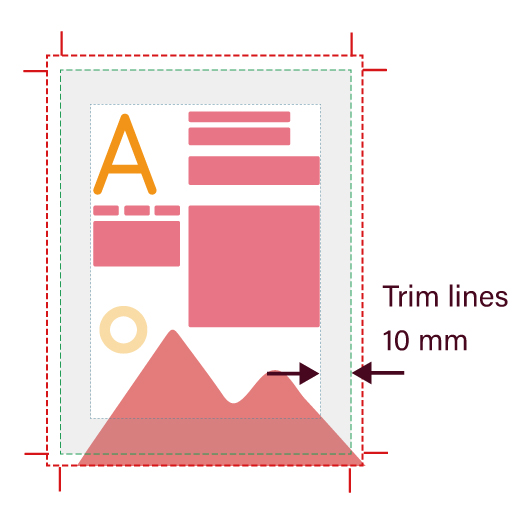 Inside your bleed zone, don't forget to mark the "trim lines". These will define the final dimensions of the finished page. Make sure that any necessary elements of your images stop at least 10 mm short of the trim line.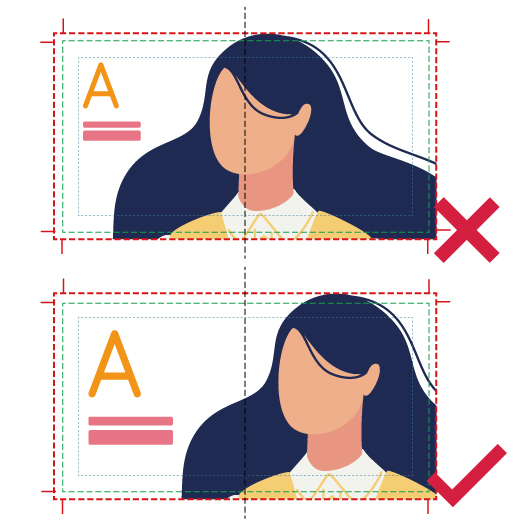 If a photograph or artwork crosses over two pages in a "spread" make sure that nothing essential—like the subject's face or other important details—lie along the center crease.
If you're working with a professional designer to create your files, they should understand what's needed to make everything "print ready". But if you're working with design software yourself for the first time, these are the vital tips to remember before you submit your files. The responsibility for sending "print ready" files rests with you. But please don't worry! We'll be happy to "hold your hand" through the process, explain what's needed, liaise with your designer, and manually check everything ourselves to make sure it all goes smoothly and you end up with a perfect print of your custom coffee table book.
To learn more about preparing your photographs, text, and layout for printing, please check out our Pre-press Artwork information page.
Designing and printing your own, exclusive, high-end coffee table book either as a premium addition to your interior decoration strategy or as an independent business proposal, is always a culturally enriching and satisfying project to complete. Get in touch today to chat through your needs or to ask for a no-obligation quote. We can't wait to help you make your custom coffee table book the most beautiful yet!