Presentation Folder Printing

QinPrinting offers world-class presentation folder printing services to businesses, non-profits, educational institutions, medical services, and many others around the globe
If you need to print custom presentation folders for your trade fairs, expositions, exhibitions, showcases, displays, conferences, and meetings, you can be confident that we'll handle the job with consummate professionalism, technical expertise, and a touch of creative flair. We print and deliver exceptional quality presentation folders that will work hard as ambassadors for your business or organization and amplify and communicate your messages across all contexts and spaces.
At QinPrinting we offer a comprehensive range of paper stocks, finishes, coatings, and special features together with state-of-the-art offset printing technology. We guarantee you'll find a presentation folder solution within your budget. For over 25 years, our high-quality products, technological ability, and excellent customer care have consolidated our world-wide reputation as one of the globe's finest enterprise printers. The same passion and commitment to excellence carry our reputation forward today.
Presentation Folder Printing Costs
Our vision is to make high-quality enterprise printing accessible to everyone: entrepreneurs, small business owners, educational and medical services, and non-profits; as well as national and multinational corporations. That's why we constantly review our processes, protocols, and supply chains to make sure we can always deliver world-class quality at globally competitive pricing. To get a quick idea of how much printing your presentation folders with us would cost, check out the at-a-glance charts below.
230mm x 310mm x 100mm (pocket) Folder Printing Price Chart
Quantity

500pcs

1000pcs

2500pcs

5000pcs

7500pcs

10000pcs
Please note that all prices are EXW our facility and do not include shipping costs.
300 gsm / 203 lb coated text paper, gloss lamination on the outside, full color printing
Due to the volatility of the paper market, the prices in this chart are for reference only. To get a exact and final quote, try our online Printing Cost Calculator. Just drop your specifications into the preset fields and click for an instant quote. If you have questions, just get in touch. One of our in-house printing experts — not a robot or a bored call center operator! — will be happy to answer all your needs.
Presentation Folder Styles
Your choice of paper and any special touches will depend on the style and format of your presentation folder design. Given such a considerable array of choice, we're happy to help you pick the best option for your needs. Here's a helpful look at the most popular possibilities.
Our most popular presentation folder styles are: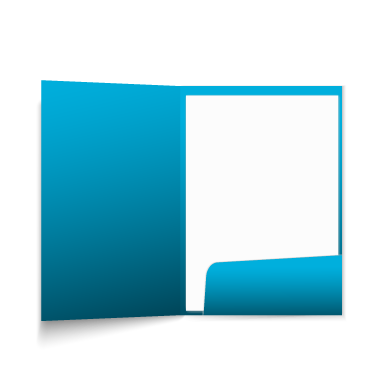 Single pocket folder
The regular single pocket presentation folders have their pockets situated on the right side, with the standard height of the pockets at 100 mm. The pockets needn't be square, we can shape them as you wish. Documents, reports, product booklets, flyers, and leaflets can all be inserted into these pockets.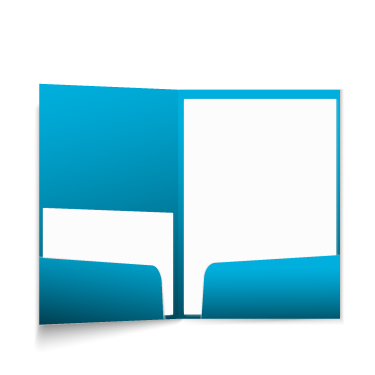 Two-pocket folder
Another popular choice, the two-pocket presentation folder has two pockets inside the folder as the name suggests, with each of the pockets situated on either side of the page. We can put the pockets on the bottom or sides of the folder and we can also add slits to support business cards.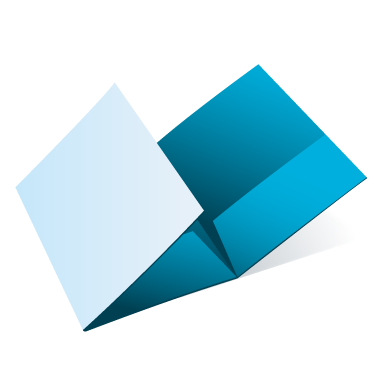 Three-pocket tri-folder
This style has two folds instead of one, creating a back and two over-lapping wings somewhat like a typical tri-fold leaflet design but bigger. Both the back and each of the wings have a pocket.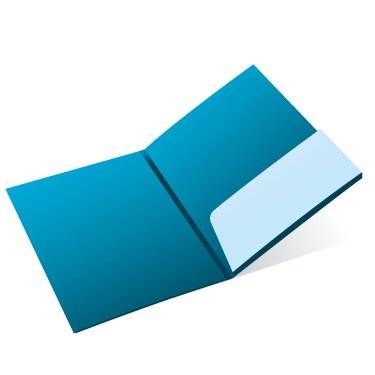 Folder with a spine
Presentation folders with spines are ideal for when you must include a larger number of documents or brochures. Rather like a paperback book cover, these folders have a flat spine between the front and back, giving them more depth. If deep enough, this may also be a printable area to carry text and a logo, for example.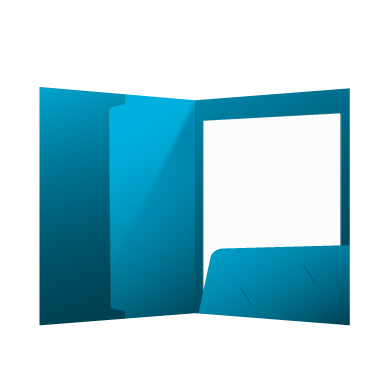 Fully customized folders
With this option, the sky's the limit, as they say. Choose to make special shapes, die-cut, and metallic effects, gloss varnish; choose textured or colored papers; include special pockets and holders for business cards, pens, and corporate gift items; make the folders any size or shape you prefer.
We recommend that you laminate your folders as this will make sure they don't tear and that the surface still looks good. You can laminate on one or both sides with gloss, matte, or soft touch lamination.
Presentation Folder Size Options
At QinPrinting, we offer a complete custom presentation folder printing service. We have digital machines which we use to prepare "hard proofs" to check for color and printing quality. But for the final print run we use our superior offset press. Offset printing gives you unbeatably professional-looking presentation folders with faithful color or black-and-white image reproduction and a noticeable price advantage over digital printing on longer print runs.
The most common and practical size for presentation folders is 9″ by 12″ (230 mm x 310 mm). They fit easily into a briefcase, for example, or into display stands, and happily accommodate A4 and legal papers.
While most of our customers choose standard sizes and folds, you can choose to fully customize your presentation folder if you like. Just remember that unusual custom designs will cost more and take longer to turn around than standard sizes because of the extra pre-press and setup work involved. But if you want it, and it's physically possible, we will print it. It's what we do!
Paper Options for Presentation Folders
Gloss, matte, and uncoated paper
You have many options for paper stock to print your presentation folders at QinPrinting. Most of the folders we print need to be quite robust and often have important photographic or other artwork elements incorporated into the cover design. So, we recommend 300 gsm / 200 lb gloss or matte cover paper as a standard because it has a high-quality finish which gives first-class image reproduction and is thick enough to offer good protection to the enclosed documents. But many other options are available, all of which could be good, depending on the details of your specification. For example, uncoated paper could be fine if your presentation folder needn't last for a long time and has only a simple text printed on the cover. Here's a helpful list of typical papers used for presentation folders:
Choosing paper for your presentation folders can feel confusing if it's new to you, but our printing experts are always here to recommend the best paper selections for your design and your budget. And please ask us for paper samples. We'll be happy to mail them to you.
Special Finishes, Lamination, and Foil Stamping
Your presentation folder represents your brand and so it must make a powerful and lasting impression. To make it "speak" above the noise of all the other common-or-garden folders doing the rounds at a conference or trade fair, for example, it must be eye-catching and distinctive. QinPrinting offers a complete range of finishing options to make your presentation folders uniquely attractive.
Among other options, the most popular choices include:
We can also incorporate a custom die-cut into your folder's cover to increase its visual impact. With die-cutting, we machine-cut a shape out of the material with a sort of industrial cookie cutter. For example, to create a 'window' to the documents beneath the top fold or to make your company name or logo more striking. 
Presentation Folder Design and Artwork Tips
Whether you're preparing your own artwork in-house or commissioning a professional designer to do it for you, it's important to understand how to prepare the artwork and text for printing. You'll need to allow for bleed zones, safety areas, trim lines, and borders, for example, and make sure that the resolution and the color space are correct.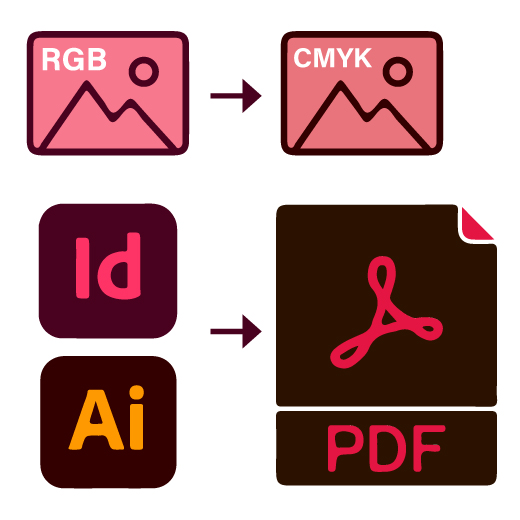 Export your files as vectors in PDF format for the best results. Our recommended software options for three-month calendar design are Adobe Illustrator or Adobe InDesign. These will also allow you to convert your color space from RGB to CMYK which you will need to do for offset printing.
If you can't deliver vectors — say, if you're exporting bitmaps from Photoshop — then make sure the resolution is at least 300 DPI. With vectors, you needn't worry about resolution, but all other images must have a high definition to tolerate resizing without becoming fuzzy and "pixilated".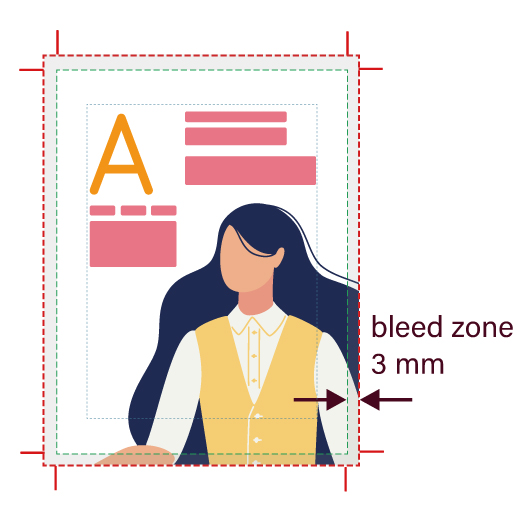 You'll need to add a "bleed zone" of 3 mm around all your photographic panels. A bleed is an extended zone at the periphery of your photo or other image, which falls outside the area that your finished panel will cover. Once we've printed your folders, we'll cut them to the exact size needed for your chosen format. This "bit extra" gets cut off and makes sure that the finished image fills the sheet with none of it being lost.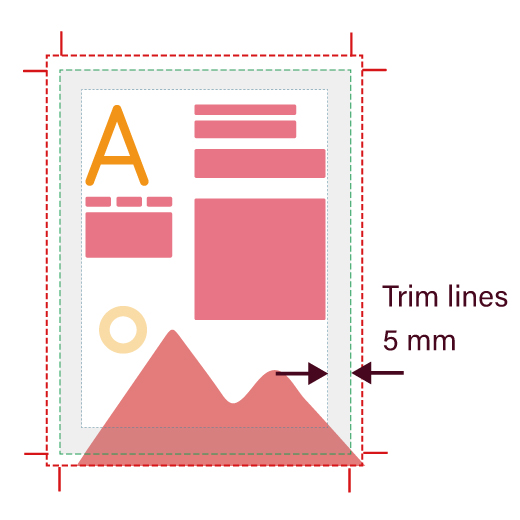 Inside your bleed zone, don't forget to mark the "trim lines". These should be green and will define the final dimensions of the finished panel. Make sure that any necessary elements of your images stop at least 5 mm short of the trim line.
A competent graphic designer should understand the technical details and be able to set this up for you. But we'll always manually check your files before going to press. While the responsibility for sending "print ready" files is yours, please don't worry! We'll be happy to "hold your hand" through the process, explain what's needed, and liaise with your designer to make sure everything goes smoothly and you end up with a perfect print every time.
To learn more about preparing your artwork and layouts for printing, please check out our Prepress Artwork information page. Please ask us for a design template to use yourself or pass on to your designer. We'll be happy to send you one. And if design isn't your thing, we'll create a design for you based on the images, logo, etc. that you provide. Just ask!
For the best pricing, highest quality, and quickest turnaround time on any type or style of presentation folder, printing with us is always a good business decision. No matter your target audience or the purpose of your folders, we guarantee the best pricing, the most professional service, and the highest quality product you can imagine. So, let's talk. We can't wait to make your next presentation folder a stunning ambassador for your organization.