Steep your mind in an infusion of colours for gentle fun, soothing relaxation, and enhanced well-being
"Color! What a deep and mysterious language, the language of dreams."
 — Paul Gauguin, French post-impressionist painter
In ancient times, people used colour to alter mood, stimulate concentration or soothe away the world's cares. Recent scientific studies show that colouring reduces stress. So, everybody wants colouring books now!
At QinPrinting, we're always impressed by the creativity and invention shown in the coloring books our clients ask us to print. Print your coloring books with us to enjoy the benefits of 25 years of industry experience, personalized service, and a beautiful finished product.
"Color is a power which directly influences the soul." 
 — Wassily Kandinsky, painter and art theorist
Custom Colouring Book Printing Costs
At QinPrinting, we believe colouring books must be beautiful even before you reach for your pens. They must intrigue and inspire the potential customer. But we also know that self-publishers don't have the resources available to big companies. That's why we do everything we can to keep our costs the lowest in the industry without compromising on quality or service.
So, how much does it cost to print colouring books with QinPrinting? While the final price depends on the details—paper, format, binding, and more—you can get an idea by checking our super-easy at-a-glance chart. Most offset printing companies won't go to press unless you order at least 500 or even 1,000 copies in a single print run. But we know that's often too many for an independent publisher, so we've set our minimum order quantity (MOQ) at just 100 copies. Still, the more you order, the less you pay per unit.
Softcover Colouring Book Printing Price Chart (210mm x 297mm)
Quantity

100pcs

500pcs

1000pcs

2000pcs

5000pcs

10000pcs
Please note that all prices are EXW our facility and do not include shipping costs.
Cover: 250 gsm / 92 lb coated cover paper with matte lamination
Interior: 100 gsm / 67 lb uncoated text paper
Saddle stitch
Cover and inner: full colour printing
If you already know your colouring book printing specifications and you'd like a precise quote, you can pop the information into our handy Online Print Cost Calculator and get an instant cost. Otherwise, get in touch by email, telephone, Skype, or the contact form. We're always happy to help.
Common Colouring Book Sizes
The most common standard size for a colouring book — either for children or adults — is a portrait oriented 8.5″ by 11″ format. But the same dimensions with landscape orientation — so, 11″ by 8.5″ — also works well.
That said, we've seen colouring books as large as 17″ by 22″ filled with intricate mandala-like designs which would keep even the most insatiable colouring book enthusiast busy for weeks!
You can print your colouring books in custom sizes, too, according to your needs. But remember that customization is always a little more expensive than going with a standard option because of the extra work involved. And if you want to sell your books for profit, meeting consumer expectations is often more effective than trying to "stand out" with an unusual design.
If you're publishing for the first time or have a limited budget, we recommend printing a straightforward 8.5″ by 11″ colouring book to get you started.
Colouring Book Paper Options
Which paper you choose to print your colouring book on will affect the price and the quality of the finished product. You'll need two different paper types for your book.
One kind of paper — plain white stock with an absorbent surface — for the inside pages on which we'll print your designs for colouring-in;
and another kind of paper — thicker, stiffer, stock with a coated surface — for your book's cover.
It's important the line drawings inside your book are clear. So, we usually print them in black on white; although you can also choose another colour for the line drawings if you wish. The most important quality that the interior paper must have is absorbency so that it "takes" the colour from a felt-tipped marker pen. If it's too smooth, the ink won't stick. If it's too fibrous, the colour will run and soak through.
At QinPrinting, we recommend white offset paper for colouring books. Offset paper — also known as uncoated wood-free paper or UWF — has the lignin extracted during the pulping process. The result is a natural-looking, absorbent white paper with a good balance of strength, opacity, and brightness, which makes it ideal for colouring in.
We measure paper thickness by weight. For a colouring book, the paper should be at least 100 gsm / 68 lb; but 120 gsm / 80 lb or even 140 gsm / 95 lb would be better to avoid the colours bleeding through to the other side — a disappointing effect you often see in the cheaper children's colouring books.
For the cover, we suggest coated art paper. If you'll print only on the outside of the cover, then only one side need be coated. If you want to print on the inside cover, too, then you'll need paper with both sides coated. Coated paper is more durable and resistant than offset and so it helps protect the interior. It also makes your cover design bolder and more attractive. We recommend 250 to 300 gsm / 168 to 200 lb gloss or matte coated art paper for your colouring book covers.
Bindings for Colouring Books
To bind your colouring book, you can choose from several options. "Saddle-stitched" and "perfect bound" are the most popular choices, but we also bind colouring books with spiral coils and even hardcovers. Your choice will depend on your budget, the length of your book, your market research, and other factors.
To saddle stitch your colouring book, we fold the printed interior sheets and stack them inside the cover sheet before stapling them together down the curved edge. We may also sew the pages together with special binding thread. This binding is only possible with a page count divisible by four. To make sure the book is neat and lies flat, we recommend a limit of 48 pages or fewer for this style of binding.
We use this binding style for standard paperback books. We collate the interior pages into a block, glued together, and then glued into a wrap-around cover made of heavier art paper or lightweight card stock. For coloring books with a higher page count, this is a great option.
This binding is less common for colouring books but may be useful sometimes. We punch or drill holes into the pages down one side and then bind them with a plastic coil which spirals through the holes. We crimp the coil at both ends so the pages don't come loose. You can turn the pages of a spiral-bound book through 360° and also lay the open book completely flat.
In this binding, we organize the interior pages into "signatures" which are then printed, cut, and sewn, and glued into a hard casing covered by a printed sheet which forms the cover.
If your colouring book is for children, we recommend you choose a sewn and perfect binding or perfect binding. Stapled bindings could be hazardous if the staples come loose. For adult colouring books, any of the above options are suitable.
Colouring Book Design and Artwork Tips
The quality of your artwork reproduction is always important but never more so than when printing a colouring book. Whether your colouring book is for children or for adults, you want your artwork to "leap off the page" into the reader's imagination. With that in mind, here are a few useful tips to help you when you're preparing your files for the printer.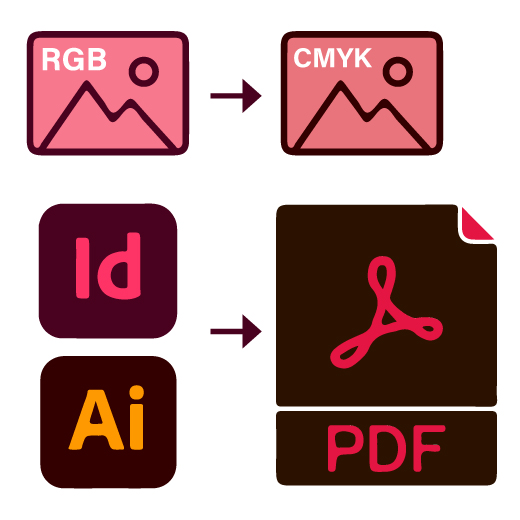 Export your files as vectors in PDF format for the best results. Our recommended software options are Adobe InDesign or Adobe Illustrator. These will also allow you to convert your colour space from RGB to CMYK which you will need to do for offset printing.
If you can't deliver vectors — say, if you're exporting bitmaps from Photoshop — then make sure the resolution is at least 300 DPI. With vectors, you needn't worry about resolution, but all other images must have a high definition to tolerate resizing without becoming fuzzy and "pixilated".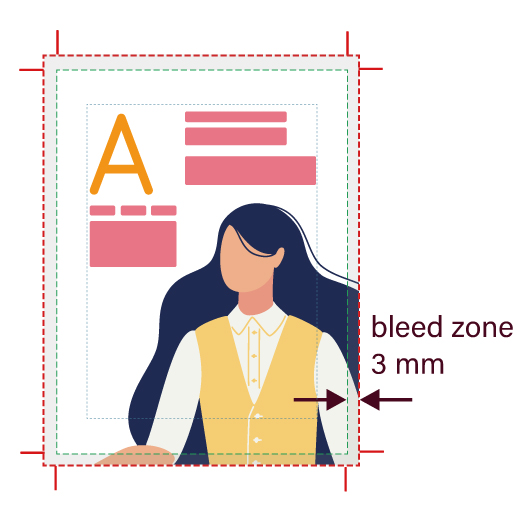 You'll need to add a "bleed zone" of 3 mm around all your pages. A bleed is an extended zone at the periphery of your artwork which falls outside the area that your final page will cover. Once your pages are printed, we'll cut them to the exact size needed for your colouring book format. This "bit extra" gets cut off and makes sure that the final image fills the page without any of it being lost. Bleed zones should be marked as red lines.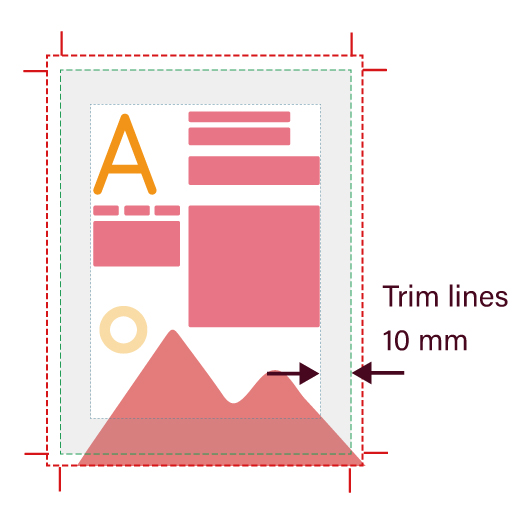 Inside your bleed zone, don't forget to mark the "trim lines". These will define the final dimensions of the finished page. Make sure that any necessary elements of your images stop at least 10 mm short of the trim line.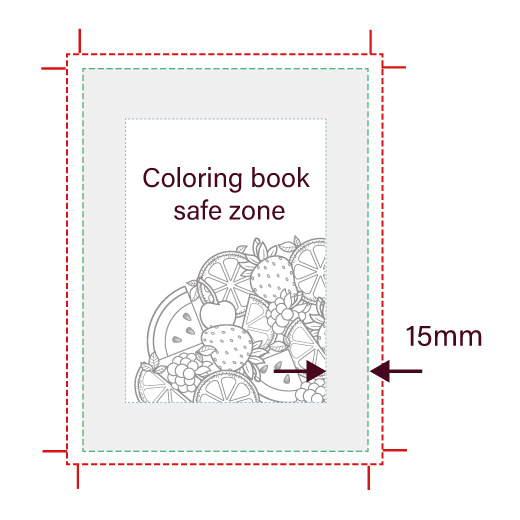 Also, as your pages are meant for colouring, we recommend you make each interior page with a 15 mm (about half an inch) inner margin and keep all colouring images within that limit. Otherwise, the area near the spine may not be easily accessible for colouring in.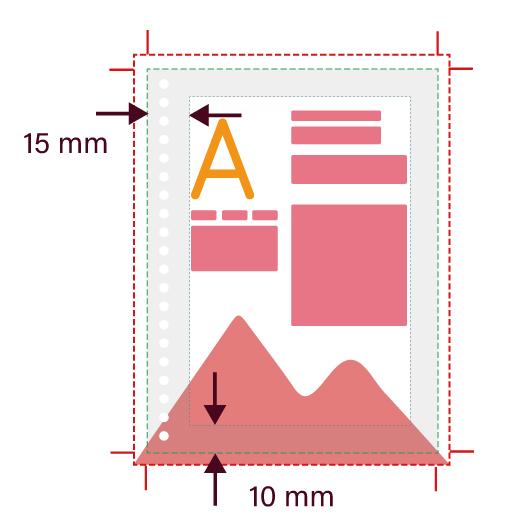 If you choose a spiral bound colouring book, leave an added margin of at least 15 mm on the edge that we'll bind the book to allow for the holes.
If you're working with a professional designer to create your files, they should understand what's needed to make everything "print ready". But if you're working with design software yourself for the first time, these are the vital tips to remember before you submit your files. Still, our team of experts will always manually check all your files before we go to press. If we find any issues, we'll let you know and help you resolve them. With QinPrinting, rest assured that we won't print your colouring book until we're sure we'll get a perfect result.
If you're keen to print a beautiful, high-quality colouring book — and personal customer service matters to you as much as a world-class product — then we should talk. Get in touch today to chat through your needs or to ask for a no-obligation quote. We can't wait to help you make the colouring book of your dreams!