Create a memorable yearbook with our unparalleled offset printing services
Your yearbook matters. It's a memoir of achievements; a record of challenges overcome; a personal statement by students; a reflection of the school's ethos; and an ambassador to the wider community. Above all, it's a celebration of the contribution everyone's made in the past year.
At QinPrinting, we believe your students deserve a yearbook whose quality honors everything they have given and achieved. With 25 years of success in the industry, an expert team, state-of-the-art technology, and unrivalled customer service, we're as proud of our first-class reputation as a yearbook publisher of distinction as you are of your pupils and staff.
"Let us remember: One book, one pen, one child and one teacher can change the world."
–Malala Yousafzai, Nobel Peace Prize laureate
Custom Yearbook Printing Costs
At QinPrinting, we work closely with each school to print a superlative yearbook which does justice to the hard work and commitment of both students, staff, and parents. But we appreciate schools must work within the constraints of a limited budget. That's why we frequently analyze our work processes and supply chains to make sure we continue to deliver exceptional quality yearbooks at the most competitive prices you'll find anywhere in the industry.
So how much does it cost to print a yearbook with us? See for yourself! You can get an immediate estimate of how much it will cost to print your yearbook from our at-a-glance pricing charts. Unlike most offset book printing services — which have a minimum print order of 500 or even 1,000 books—we offer a minimum order quantity (MOQ) of just 100 copies and still with a competitive price tag. But as you'll see from the charts, the more yearbooks you order in a single run, the less you pay per unit.
Paperback Yearbook Printing Price Chart (210mm x 297mm)
Quantity

100pcs

200pcs

500pcs

800pcs

1000pcs

2000pcs
Please note that all prices are EXW our facility and do not include shipping costs.
Cover: 300 gsm / 111 lb coated cover paper with matte lamination
Interior: 157 gsm / 106 lb coated text paper, full color printing
Cover and inner: full color printing
Binding: perfect binding
Hardcover Yearbook Printing Price Chart (210mm x 297mm)
Quantity

100pcs

200pcs

500pcs

800pcs

1000pcs

2000pcs
Please note that all prices are EXW our facility and do not include shipping costs.
Cover: 157 gsm / 58 lb coated cover paper with matte lamination wrapped on 2.5 mm thickness greybeard
End sheets: 140 gsm / 95 lb uncoated text paper, blank
Inner: 157 gsm / 106 lb coated text paper for interior
Cover and inner: full color printing
Spiral Binding Yearbook Printing Price Chart (210mm x 297mm)
Quantity

100pcs

200pcs

500pcs

800pcs

1000pcs

2000pcs
Please note that all prices are EXW our facility and do not include shipping costs.
Cover: 300 gsm/ 111 lb coated cover paper with matte lamination
Interior: 157 gsm / 106 lb coated text paper, full color printing
Cover and inner: full color printing
For a more precise quote, try our convenient online Printing Cost Calculator. Just go to the form, drop in your specifications, and click for an instant quote! If you have questions, get in touch and one of our enthusiastic, knowledgeable, expert team members — not a robot or a bored call center operator! — will be delighted to help. We pride ourselves on personal service and individually tailored solutions for all the schools we serve.
The dimensions of your yearbook are entirely up to you, but typically depend on your photographs and text, how many images you include, the layout and orientation. A landscape-oriented portfolio-style yearbook based on professional photography for the entire school will probably be larger than a portrait-oriented yearbook printed only for the drama club or a sports team, for example.
Smaller sizes—say, the standard 8.5" x 11" format—are practical if you need to mail out a lot of copies.
Larger sizes—up to 11" x 11"—make a stronger impression.
But you're not limited to the suggestions above.
At QinPrinting, we're happy to create custom yearbooks in any size or format you wish. Only remember that extensive customization incurs higher costs and slower turnaround times because we need to do a lot more pre-press work and setup. But for certain schools, the added investment could be worthwhile. It's always your decision.
While most include text—dedications and thanks, the principal's letter of introduction, student essays, summaries from clubs and societies, staff notes, and more—the images are the focus of any yearbook. So, we recommend printing on gloss or matte art paper to get the best results. Gloss and matte both have ideal surfaces for vibrant printing that will reproduce your photographs with faithful color, perfect contrast, and fine detail. Gloss paper is often best for yearbooks with full-color spreads and less text, whereas yearbooks with more text may benefit from matte paper. Matte paper will still give gorgeous color or black-and-white photo reproduction while making the text easier to read.
You'll need at least two paper specifications for your yearbook: one for the interior pages and one for the cover. You may also wish to include end papers, which may be the same paper as the interior, or you can choose something different; a heavier, colored or textured paper, for example.
Paper Options for Yearbooks
Sewn perfect binding—a style of paperback which can lay flat with the pages open without breaking the spine—is a popular choice for high-quality yearbooks. This binding style needs the spine to be at least 3 mm thick. Hardcover binding is another popular option, especially for a professional, high-end look and feel. We recommend a paper weight of 157gsm / 106 lb gloss art paper for the interior pages in both cases. It's beautiful to see and touch, faithfully reproduces your original photography, and bears repeated reading and browsing without damage.
While yearbooks come in a variety of shapes and sizes, the choice of binding is very important for reasons of both appearance and durability. Let's look at the three most common, professional-looking yearbook binding options. You can open all the following bindings flat.
We use this binding style for most yearbooks we print. We collate the interior pages into sets called "signatures", which are then sewn together and fixed into a wrap-around cover made of heavier art paper or lightweight card stock. For yearbooks with a moderate page count, this is a great option.
In this binding, we organize the interior pages into signatures which are then printed, cut, and sewn, before we glue them into a hard casing covered by a printed sheet which forms the cover. This binding is the most durable and professional-looking, especially if you add a dust jacket, end papers, and a marker ribbon, for example.
This binding is another popular choice for yearbooks for younger cohorts, for its economy, practicality and flexibility. We punch or drill holes into the pages down one side and then bind them with a plastic coil which spirals through the holes. We crimp the coil at both ends so the pages don't come loose. You can turn the pages of a spiral-bound book through 360° and also lay the open book completely flat. We can laminate the pages to make them extra-resistant to UV light, fingerprints, and spillages. We can even make the covers from waterproof vinyl. This is a superb choice for a yearbook for pre-kindergarten, kindergarten, and first-grade kids.
Whichever binding style you choose, we know that as a school principal or administrator, you already have a lot of stuff on your plate, so we like to make it easy for you to design your yearbook. We find several schools offer the design work to older students as a project. Either way, you can use one of our ready-made design templates if you wish. And ask us for paper samples. We'll be happy to drop them to you in the mail. The samples are free, so you need only pay the mailing charges.
Yearbook Design and Artwork Tips
Whether you're preparing the yearbook design yourself, delegating it to students, or commissioning a professional graphic designer, it's important to understand how to prepare the files for printing. You'll need to allow for bleed zones, safety areas, trim lines, and borders, for example, and make sure that the resolution and the color space are correct. With that in mind, here are a few useful tips to help you when you're preparing your files for the printer.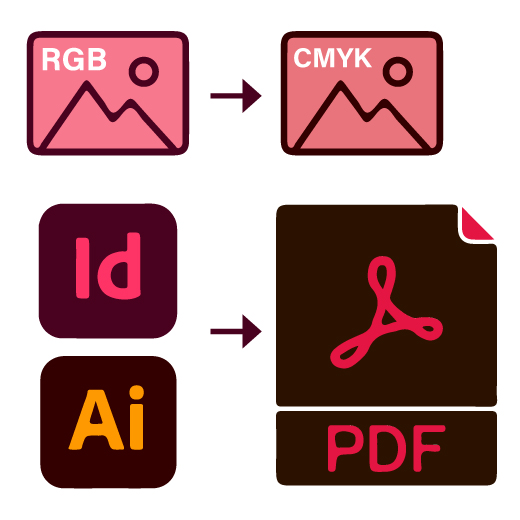 Export your files as vectors in PDF format for the best results. Our recommended software options for yearbook design are Adobe Illustrator or Adobe InDesign. These will also allow you to convert your color space from RGB to CMYK which you will need to do for offset printing.
If you can't deliver vectors — say, if you're exporting bitmaps from Photoshop — then make sure the resolution is at least 300 DPI. With vectors, you needn't worry about resolution, but all other images must have a high definition to tolerate resizing without becoming fuzzy and "pixilated".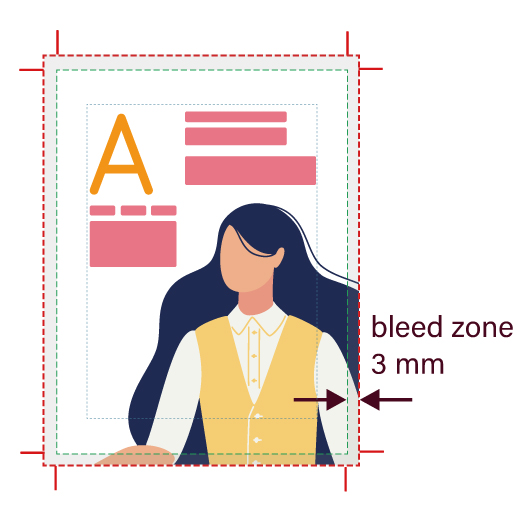 You'll need to add a "bleed zone" of 3 mm around all your pages. A bleed is an extended zone at the periphery of your photo, which falls outside the area that your finished page will cover. Once we've printed your pages, we'll cut them to the exact size needed for your chosen yearbook format. This "bit extra" gets cut off and makes sure that the finished image fills the page with none of it being lost.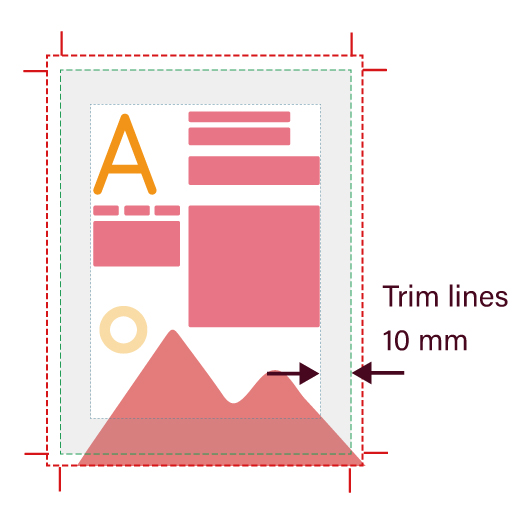 Inside your bleed zone, don't forget to mark the "trim lines". These will define the final dimensions of the finished page. Make sure that any necessary elements of your images stop at least 10 mm short of the trim line.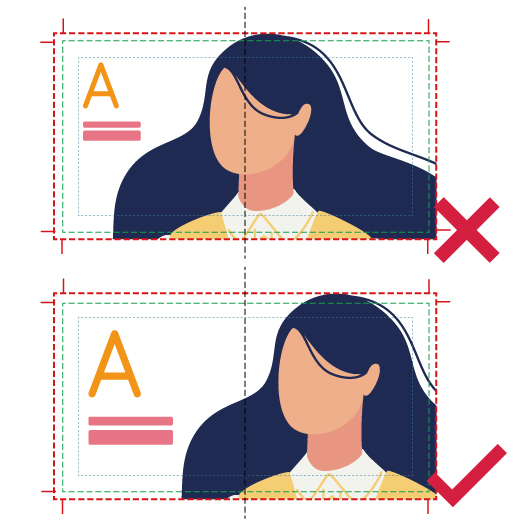 If a photo crosses over two pages in a "spread" make sure that nothing essential—like a student's face or other important details—lie along the center crease.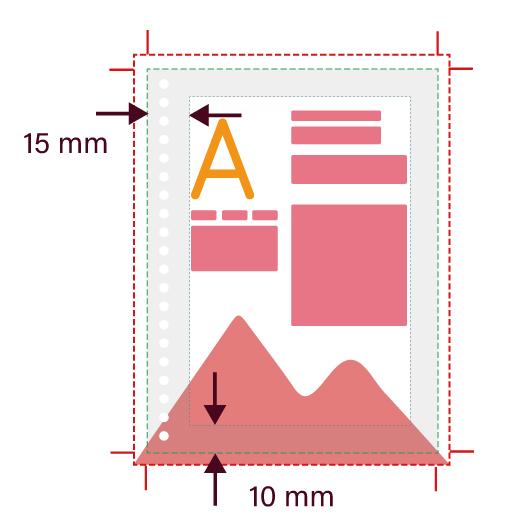 For a spiral bound yearbook, leave an added margin of at least 15 mm on the edge that we'll bind the book to allow for the holes.
If you're working with a professional designer to create your files, they should understand what's needed to make everything "print ready". But if you're working with design software yourself or need to help your students working on a project like this for the first time, these are the vital tips to remember before you submit your files. The responsibility for sending "print ready" files rests with the school. But please don't worry! We'll be happy to "hold your hand" through the process, explain what's needed, liaise with your designer as required, and manually check everything ourselves to make sure it all goes smoothly and you end up with a perfect print edition of your yearbook.
To learn more about preparing your photographs, text, and layout for printing, please check out our Pre-press Artwork information page.
If you're shouldering the responsibility for your yearbook design and printing—and you'd like to deliver a lavish yearbook of unrivalled quality and at an unbeatable price—we should talk. Get in touch today—either by telephone, email, Skype, or our simple contact form—to chat through your school's needs or to ask for a no-obligation quote. We can't wait to help you make your next yearbook one of which the entire school can be proud and students will treasure for decades to come.