A board game isn't a board game without a game board! At QinPrinting, we offer you a comprehensive custom board game manufacturing and printing service tailored to your needs
The fundamental component of any board game is… the board. The board is the focus and field of play, the arena in which the players — either collectively or individually — battle to win. It's also the largest component in a game and one of the most powerful images of the game's theme and imaginative atmosphere. So, a custom-made board game must have a board that's robust, practical, and eye-catching. It needs to stand up to repeated use, facilitate the flow of play, and look good.
Whether you're just beginning to explore the options or you're nearing completion of your game design, it's never too soon or too late to talk to us about your needs. But to give you an idea of what we can offer, here's a quick-start guide to the materials, thicknesses, folding options, shapes, printing choices, and special finishes you may choose for your game board. We can create a range of solutions from basic and standard — which are still very good! — to premium according to your needs.
Custom Game Board Material
Board games may be made from a variety of material substrates. Depending on your design choices, these can then be covered with other paper, coated, oriented, and finished in a number of ways, including reinforcing any folds with fabric and wrapping the edges for a super-neat, high-end professional look.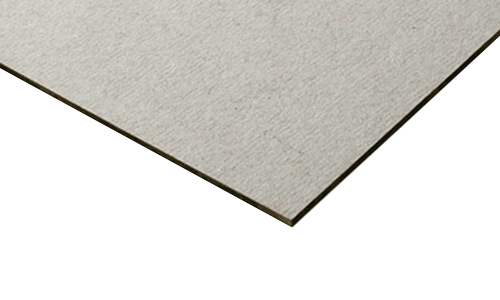 A versatile, robust board made from compressed recycled fibers, with a gray-colored, natural look. It's inexpensive but needs to be covered with coated paper before printing, after which it makes an excellent game board in the basic to standard range.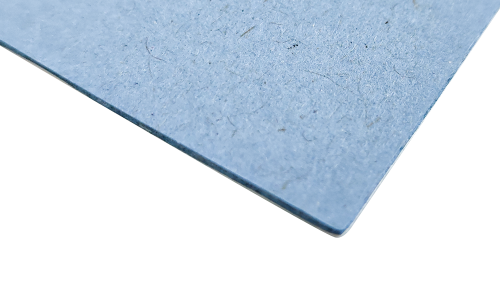 Orginally devised for use in making jigsaw puzzles, this has rapidly become a board game industry favorite. Made from recovered paper waste, dyed blue, and compressed, it's super-easy to cut, fold, laminate, and wrap for printing. Add to that its low environmental impact, and you see why it's such a popular option. Different grades make this suitable for both standard and premium solutions.
When choosing the substrate material for your game board, you'll need to factor in the basic costs of the material and any subsequent treatments such as lamination, paper wrapping, varnishing, and so on, which you'll need to make the surface printable, durable, and resilient. You must also consider if the materials lend themselves to cutting and folding, if that's what you need; and also, the weight it adds overall in terms of ease-of-use and shipping.
Custom Game Board Thickness Options
The thickness of your game board depends on its size, the materials from which it's made, whether it's laminated. Here's a general guide to the most common thickness of the different board substrates outlined above when used to make game boards:
Grayboard — most commonly 2 mm to 2.5 mm, but you can also make it thicker by gluing two sheets together
ESKA blueboard — available in 1.5 mm to 2.25 mm thickness
Obviously, the final thickness of your board depends on any further layers or laminates, treatments, and finishes you add to it—even ink has weight and thickness! So, it's worth taking it all into account when designing your game and thinking about how it will all fit together, how much it will weigh, and what size box you'll need to house it all comfortably.
A well-designed and manufactured game board may be bigger than the box you'll pack it in! So, you'll need to build in a fold structure. Fortunately, you can base this decision entirely on the practicalities of packing, because even complex folds with splits in the board won't change the playability of the game if they're expertly manufactured with precision die-cutting and finishing. While more complex folding system are possible, most boards are folded in one of the following four ways: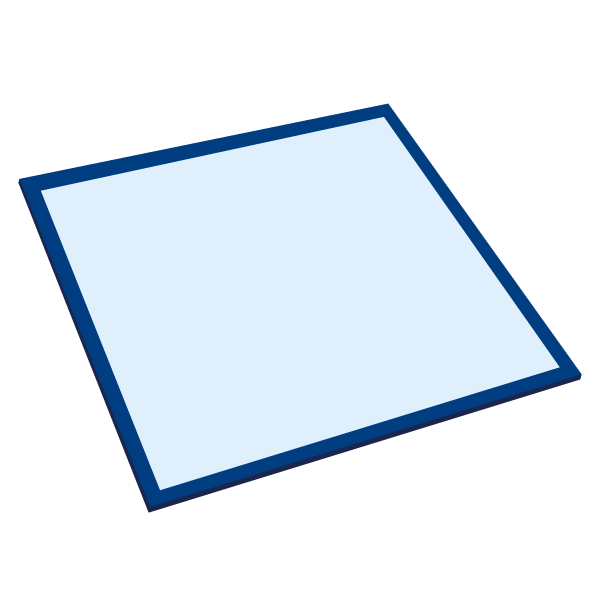 This isn't a fold at all, just a flat board that fits in the box as-is!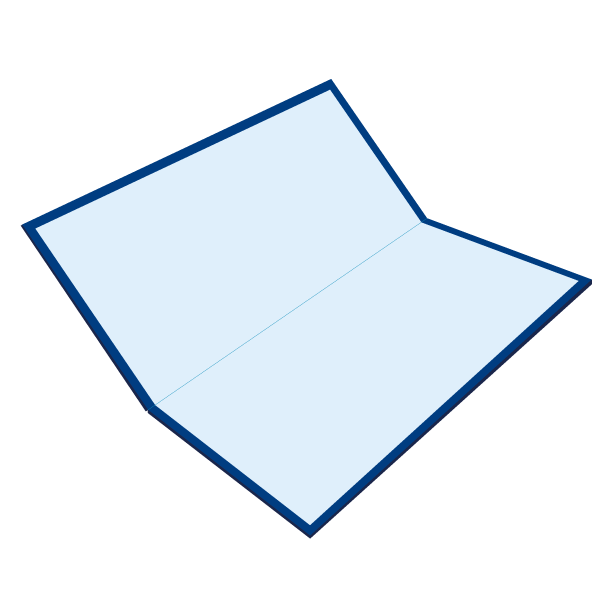 Typically a single fold right down the symmetrical middle of a rectangular panel, splitting it into two parts. Basically, you fold the board in half.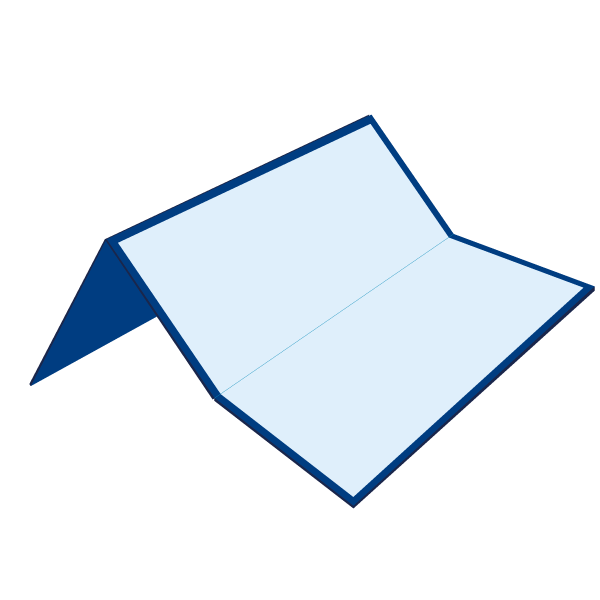 This has two folds and folds up like a concertina with one of the outer panels folding back and the other forward over the middle panel.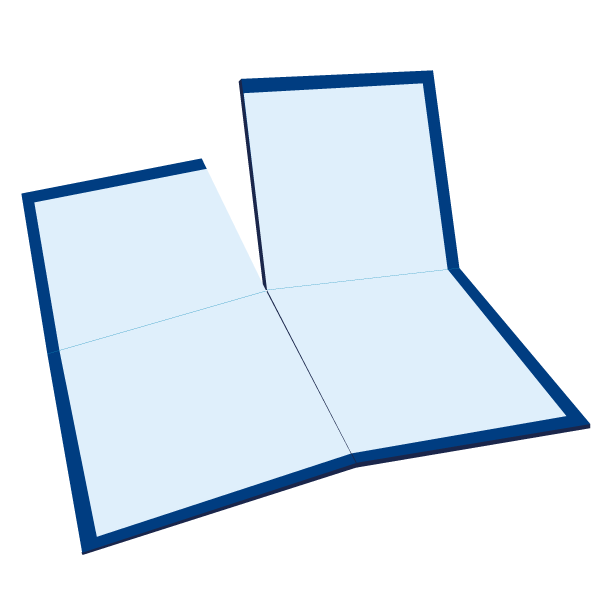 This fold requires a cut to split a section of the board, so that the two upper quarters fold down over the two lower quarters and then the whole board folds back on itself.
In principle, you could keep going with more folds and cuts—such as a six-panel multi-fold—but realistically, that's as far as you need go—without getting into some pretty serious engineering and geometry! Other options are non-rectangular boards. So, you could have a circular board, for example, or a hexagonal one, and so on. But consider that the more unusual the shape and the more complex the folding needed, the more expensive it will get.
While we'll make your custom game board any size and shape you like, there are certain standards which have proved best for most game designers both in terms of functionality and cost. These are either square, or rectangular, or round shapes that fit within these dimensions.
Custom Game Board Printing Options
We use only eco-friendly soy ink for colors of unmatched brightness and vibrancy while respecting the environment.  Board printing options are: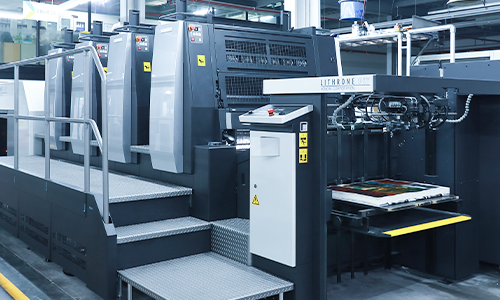 CMYK offset printing  — which uses cyan, magenta, yellow, and black to create the whole spectrum, and is the most cost-effective, popular, and practical solution for most retail box color printing needs.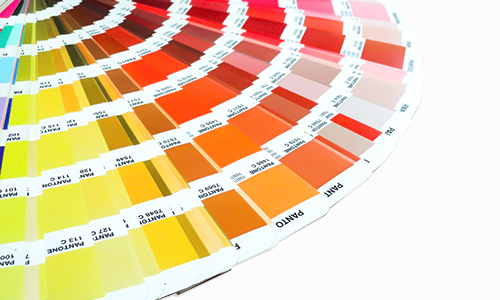 Pantone color printing—also a form of offset printing, but used to obtain 100% faithfulness in color reproduction. A little more expensive than CMYK.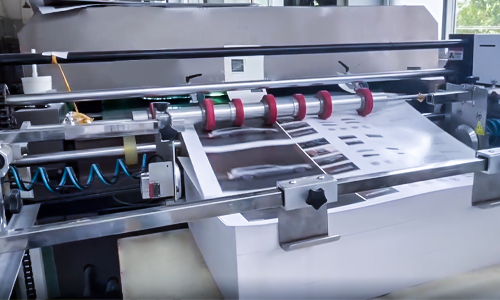 UV printing—used for printing onto gold, silver, black and other rich colored paper.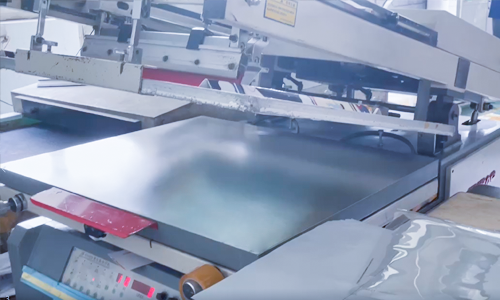 Silk printing—not suitable for photographs but ideal for printing logos, text, and simple graphics on black or colored paper.
Custom Game Board Finishes
All boards are covered with a suitable paper for high-quality printing and may also have extra backing material. The surface will need to be treated in order to make the board durable, bright, and smooth to support the other game components. At QinPrinting, we offer the following special finishing possibilities for your custom game board: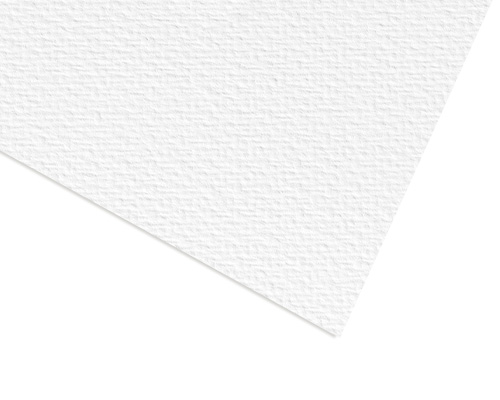 Linen is the most popular textured surface option, but you may also choose from a wider range if you prefer.
Custom Game Board Design Tips
We strongly recommend that you ask us for our pre-made game board design template to make the process easier and more reliable. It's completely free.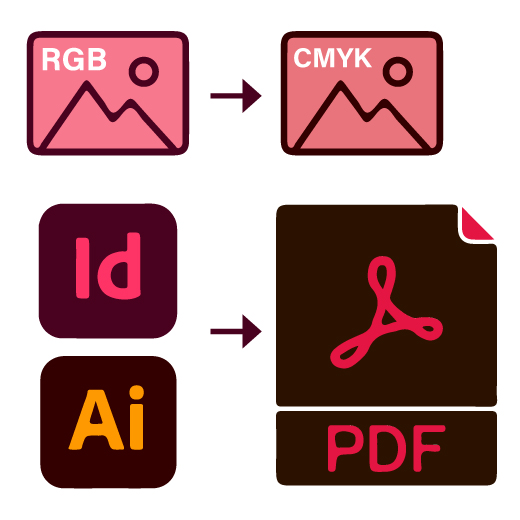 Export your files as vectors in PDF format for the best results. Our recommended software option for box design is Adobe Illustrator.
Convert your color space from RGB to CMYK or set for Pantone, which you will need to do for offset printing. If using Pantone, please mark the artwork as 'PMS'. Both CMYK and PMS color spaces must be separated into different layers.
If you can't deliver vectors — say, if you're exporting bitmaps from Photoshop — then make sure the resolution of all graphics is at least 300 DPI. With vectors, you needn't worry about resolution, but all other images must have a high definition to tolerate resizing without becoming fuzzy and "pixilated". All images must be embedded and correctly sized.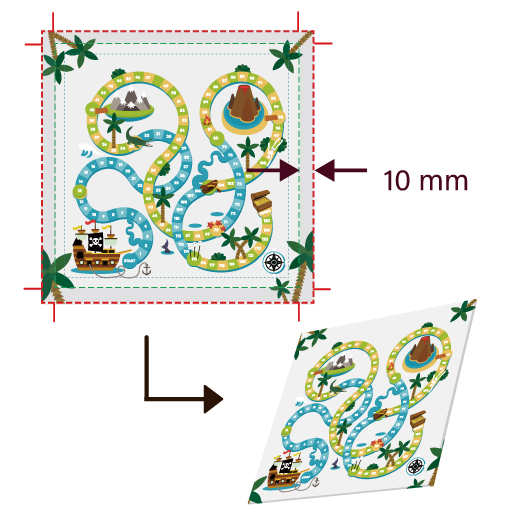 You'll need to add a "bleed zone" of 10 mm around all your dielines—the limits needed to allow for wrapping and cutting. A bleed is an extended zone at the periphery of your photo, artwork, or other image, which falls outside the area that your finished board area will cover. Once we've printed your boards, we'll cut them to the exact size needed for your chosen format. This "bit extra" accounts for wrapping and cutting, and makes sure that the finished image fills the sheet with none of it being lost. You should mark bleed zones as red lines.
The final board size is inside your bleed zone, so don't forget to mark the "safety area". Make sure that any necessary elements of your images stop at least 4 mm short of this line.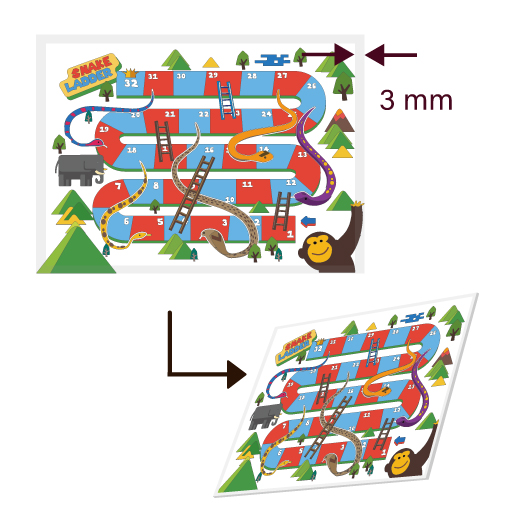 If you design the game board with printing on both sides, make sure the final artwork on the back is 3 mm smaller than you want the final game board size to be. You will still need to add a 3 mm bleed on each edge, too.
To learn more about preparing your artwork and board layouts for printing, please check out our Board Game Artwork information page.
Our Environmental Commitment
We actively encourage reuse and recycling of all our products. We can use recycled or FSC-certified materials on request wherever possible. FSC-certified means materials from responsibly managed, sustainable forests.


If you're ready to explore your options for creating a truly stunning game board at a price to suit your budget, we should talk. Get in touch to discuss your needs or ask us for a no-obligation quote.
Explore Board Game Components