If you need game cards, flash cards, poker cards or tarot cards made to the highest professional standards according to your custom designs, you're in the right place!
From flash cards for education and training, to cards for board games and tabletop games, to playing cards (also known as poker cards), tarot cards and oracle decks, we print them all! Usually, we print game cards as part of an overall board game package, but we can make them separately as well. Our high-quality art reproduction makes us especially well placed to produce enchanting tarot cards and oracle decks. And we're experts at collaborating with schools, business leaders, and personal development specialists to create effective and eye-catching flash card decks. We also work with promotional agencies and stage magicians to make playing cards, which we can also "gimmick" to suit your needs. In short, whatever your custom card deck needs, we've got your back. Let's dive in!
Custom Card Types and Card Accessories
So, let's take a quick look at the various types of cards we can make for you. While they each share several similarities — they're all cards, after all! — they also have their own distinctive features and uses.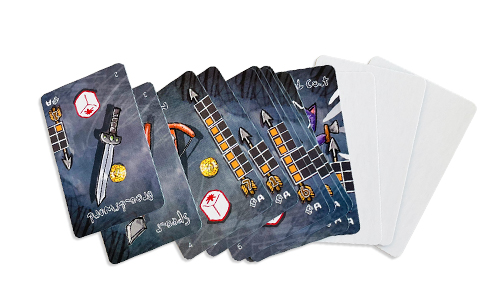 You can use game cards on their own or as part of a wider board game package. Think of anything from Magic: The Gathering, to Pokemon, to Uno and Exploding Kittens and you have a good idea of what game cards are. But they can also represent characters in a board game (think, Clue) or powers, actions, penalties, and more, in a range of tabletop and board game applications.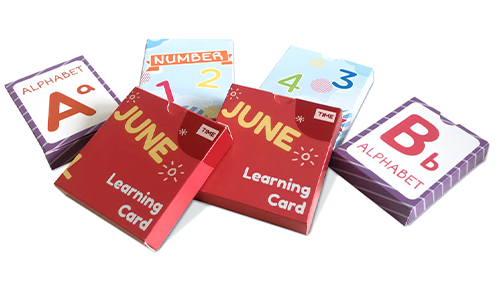 Typically, teachers and trainers use flash cards in education and training to aid memory and recall, as tests of core ideas or principles, points of departure for role-playing activities, and more. Simple, effective, and infinitely adaptable, anyone with an educational role can benefit from introducing flash cards into their program.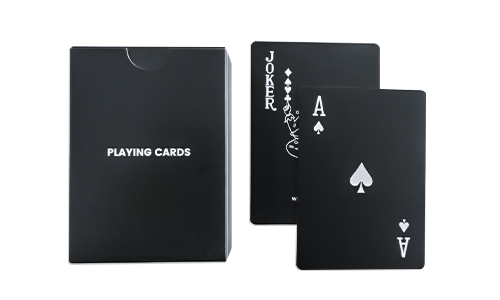 These are the traditional playing cards commonly used for poker, whist, rummy, and other popular games. They're also used by stage magicians to perform magic tricks; and sometimes those tricks need the cards to be "gimmicked"—so that some are slightly smaller than others, have two faces, or different color backs, for example. Traditional card decks have 52 cards, split into 4 suits—diamonds, hearts, clubs, and spades—with three royal cards and 10 number cards.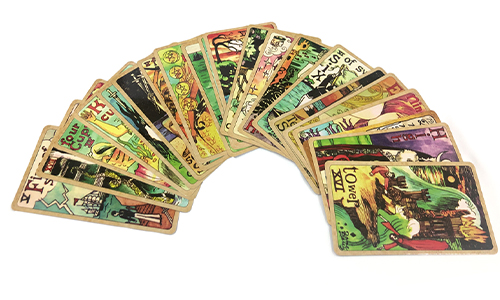 Tarot cards—and other oracle cards—are popular across a range of uses, from divination and fortune-telling, to games, storytelling, and personal development. There are 78 cards in a traditional tarot deck and they're usually illustrated with beautiful artwork, often inspired by myths, legends, and fairy tales.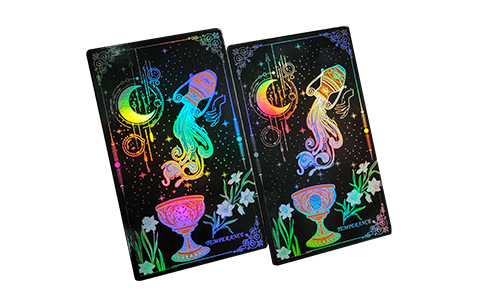 Whether game cards, tarot cards, or other types, printing your card sets on holographic paper can add a stunning three dimensional look to really make your cards stand out. Holographic paper is also colorful and reflective. We can print on it or enhance it further with techniques such as spot UV coating or foil stamping.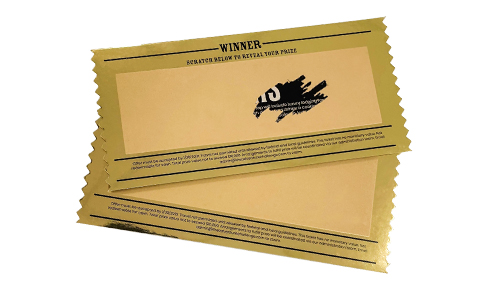 Scratch off technology—which involves hiding an area of the card under an overlay of a special covering which the user can scratch off to reveal the printed message, number, image, or code—can be incorporated into games, used as promotional tools, or for gift cards, coupons, and rewards. We've developed our own special "soft scratch" material which allows your customers to scratch off the surface more easily using just a fingernail.
The minimum order quantity (MOQ) for cards is a competitive 100 decks. Besides this, we also can also help you with related accessories such as rings, dice, game boards, card holders, card bags, coins and more.
Custom Card Deck Materials
We make our cards from high-quality printed paper. The type of paper used depends on the cards, what they'll have printed on them, and for what use they have. The most common paper options for making card decks are:
300 gsm / 110 lb gloss art paper
300 gsm / 110 lb matte art paper
350 gsm / 129 lb gloss art paper
310 gsm / 114 lb black core paper
two sheets of C1S (cover paper coated on one side) glued together
Custom Card Deck Surface Finishes
The corners of your cards may be square or rounded, as you prefer. If you're a magician, talk to us about any special designs you need for your custom cards. We can also add finishes to your cards to make them extra special, including:
Custom Card Deck Sizes and Thicknesses
We use die-cutting to make our cards. This involves making a cutting mold. We have the following size molds always in our stock: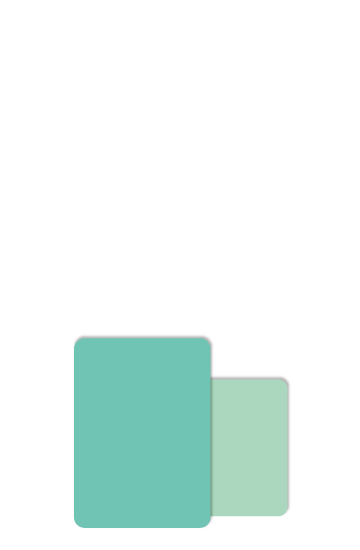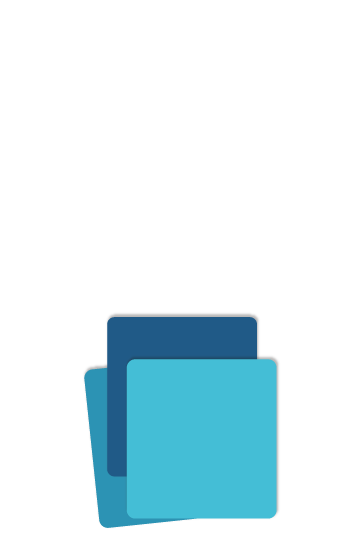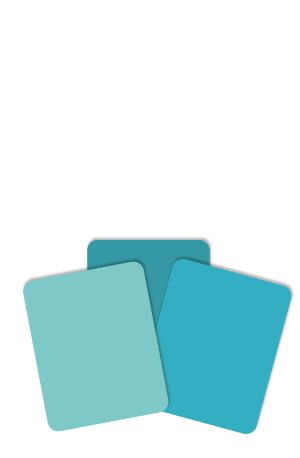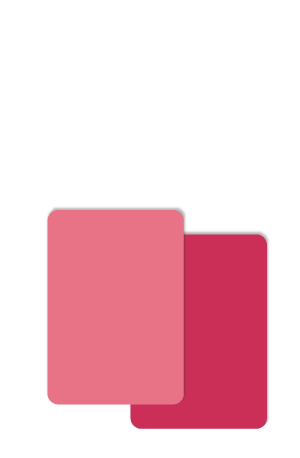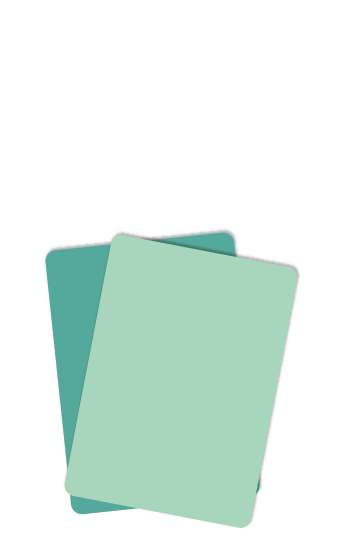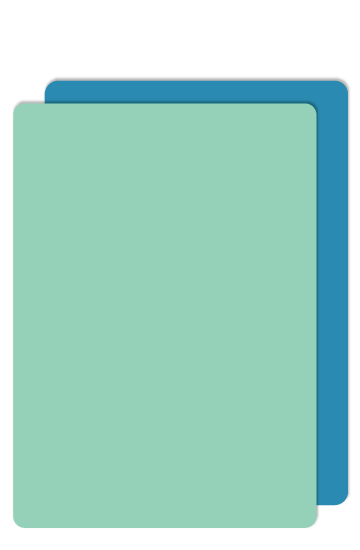 Using our standard pre-made molds is the most cost-effective method. But if you need a custom size, that's no problem. It just means that we'll need to prepare a special mold for you and for that service, we'll need to charge you a small added fee. We can make cards of any thickness you need and, for example, with children's cards which need to be a bit more robust, we can glue two sheets together.
How to Prepare Your Files for Die-Cut Card Printing
It's important that you prepare your files correctly to make sure that your cards come out looking great. Here, we share a few important tips.
Export your files in PDF format for printing
Make sure that you change the color space from RGB to CMYK before you export
Export images as vectors whenever possible
If you can't use vectors — if you're exporting bitmaps from Photoshop, for example — then make sure that you set the image resolution to at least 300 dpi
If you have a design with colors or images which extend all the way to the edge of the finished sticker, remember to add a 3 mm "bleed zone" to allow for die-cutting
If you're not exporting your artwork as vectors, you must separate the die-cutting design and the printable artwork into two layers
If you're working with a professional designer to create your files, they should understand what's needed to make everything "print ready". But if you're working with design software yourself for the first time, these are the vital tips to remember before you submit your files. Still, our team of experts will always manually check all your files before we go to press. If we find any issues, we'll let you know and help you resolve them.
We offer a range of card packaging solutions. As most card decks need collating in a specific order, we can do that for you first, and then load the deck into a traditional tuck-end box, a telescope rigid box (with a separate lid) or a magnetic closure rigid box (which has a hinged lid and a magnetic fastening). If your cards don't need their own box—because, say, they're part of a board game—we can load them into a plastic bag to go in your game box or fit them to a custom insert made of cardboard, molded PVC, or foam. 
Why Print Your Cards with Us?
Aside from our experience and expertise, we offer an unparalleled level of personal customer service and unbeatable pricing. We also use state-of-the-art printing technology and offer a range of environmentally friendly options, including recycled paper and card, FSC-certification, biodegradable soy inks, and more. Our expert team will check all your files free as part of the service and we have rigorous quality control protocols "baked in" to our design and manufacturing systems, so we can guarantee a perfect result every time.
If you're ready to explore your options for creating a truly stunning game board at a price to suit your budget, we should talk. Get in touch to discuss your needs or ask us for a no-obligation quote.