QinPrinting offers world-class professional calendar printing services to businesses, non-profits, artists, photographers, and independent publishers around the globe
Passionate about printing; passionate about people
At QinPrinting, we're passionate about printing and we're passionate about people, too. For over 25 years, our high-quality products, state-of-the-art technology, and excellent customer care have consolidated our world-wide reputation as one of the globe's finest calendar printers. The same passion and commitment to excellence carry our reputation forward today. Businesses, non-profits, entrepreneurs, and independent creatives of all stripes choose our calendar printing services because we offer the unmatchable production quality that you'd expect from a major international printer with the personalized customer support you'd enjoy in your local print shop.
Practical, Beautiful Calendars at Prices to Suit Every Pocket
Whatever calendars you'd like to print—wall calendars, pocketbook calendars, desktop calendars, poster-style calendars, desk pad calendars, or any other—you can have confidence that we'll handle your job with unparalleled professionalism, technical savvy, and creative flair. We'll deliver beautiful, practical calendars that will delight your clients as gifts, satisfy your customers if you sell them, and work hard to promote your brand wherever they catch the public's eye.
At QinPrinting we offer you a vast array of options with our comprehensive range of papers, card stock, finishes and bindings coupled with the latest digital and offset printing technology. We make it super-simple for you to find a printed calendar solution within your budget while tailored to your needs. Here is just a small selection of our most popular "bestsellers":
How Much Does It Cost to Print A Calendar?
The latest technology, reliable infrastructure, expert workforce, and efficient production protocols are just a few of the reasons we enjoy a global reputation for calendar printing services. Our vision is to make high-quality custom calendar printing services available to everyone: entrepreneurs, small business owners, and independent creatives; as well as national and multinational corporations and large-scale retailers. That's why we constantly review our processes and protocols to make sure we continue to deliver not only world-class quality but globally competitive pricing, too. To get a quick idea of how much printing your calendar with us would cost, check out the at-a-glance charts below.
Saddle Stitch Wall Calendar Printing Price Chart
Quantity

100pcs

500pcs

1000pcs

2000pcs

5000pcs

10000pcs
Please note that all prices are EXW our facility and do not include shipping costs.
Cover: 200 gsm / 74 lb coated cover paper with matte lamination
Interior: 128 gsm / 86 lb coated text paper
24pp+4pp
Cover and inner: full color printing
Saddle stitch, plastic bag each one
1-hole drilled
Wire-O Binding Calendar Printing Price Chart
Quantity

100pcs

500pcs

1000pcs

2000pcs

5000pcs

10000pcs
Please note that all prices are EXW our facility and do not include shipping costs.
Cover: 200 gsm / 74 lb coated cover paper with matte lamination outside
Interior: 128 gsm / 86 lb coated text paper, full color printing
24pp+4pp
Cover and inner: full color printing
Wire-o, plastic bag each one
1-hole drilled
Desk Calendar Printing Price Chart (246 x 170mm)
Quantity

100pcs

500pcs

1000pcs

2000pcs

5000pcs

10000pcs
Please note that all prices are EXW our facility and do not include shipping costs.
Cover: 200 gsm / 74 lb coated cover paper
Interior: 128 gsm / 86 lb coated text paper, full color printing
Frame: 2.5 mm thick gray board wrapped 157 gsm / 106 lb coated text paper with matte lamination outside

Inside wrapped paper: 80 gsm / 54 lb uncoated text paper

Cover and inner: full color printing
Wire-o, plastic bag each one
Three-Month Calendar Printing Price Chart (folded size 320 x 168mm)
Quantity

100pcs

500pcs

1000pcs

2000pcs

5000pcs

10000pcs

80 gsm / 54 lb

uncoated text paper

100 gsm / 68 lb

uncoated text paper
Please note that all prices are EXW our facility and do not include shipping costs.
Header: 350 gsm / 16 pt C1S paper with varnish one side
Panels: 350 gsm / 16 pt C1S paper
3 -part wire-o, plastic bag each one
To get a more tailored quote, use our online Printing Cost Calculator. Just drop your specifications into the preset fields and we'll give you an instant quote. It's really simple to use, but if you have a question, just get in touch. One of our in-house calendar printing experts — not a robot or a confused call center operator! — will be happy to answer your needs.
Our Range of Calendar Printing Options
At QinPrinting, we provide a comprehensive range of calendar printing services. We have digital machines, too, which we use only to prepare "hard proofs" to check color, printing quality, and so on. But the final print run will always be on the superior offset press. Offset printing gives you beautiful calendars with high-definition color or black-and-white image reproduction and a significant price advantage on longer print runs.
Short Run Calendar Printing
Short run calendar printing is a great option tailored to the needs of entrepreneurs, small businesses and self-publishers. When you don't need thousands of copies at once — but you appreciate the superior quality of an offset printed calendar — short run printing is a perfect solution. Unlike most printers — who demand minimum offset print orders of at least 500 to 1,000 copies — we're happy to provide offset services for a minimum order quantity (MOQ) of only 100 copies. So, you can enjoy a superior quality calendar with the price advantages of offset printing, even with a short print run.
Portrait, Landscape, Over-Sized, and Custom Formats
While most of our clients choose standard sizes and formats for the calendar designs—and they have sound commercial reasons—you can opt for a fully customized calendar solution if you wish. Only consider that unusual custom prints will cost a little more and take a little longer to turn around than standard sizes because of the extra pre-press and setup work involved. But if you want it, we will print it!
Gloss, Matte, Uncoated, and Specialty Paper
You have many options for paper stock to print your calendar at QinPrinting. Most calendars with photographic components use gloss or matte art paper because they have a high-quality finish which gives first-class image reproduction. But you're not limited to these typical selections.
You can also choose from our specialty paper stocks such as linen finish, vellum, or other textures. Opting for a specialty stock can affect your pricing, but it may be worth it to give certain high-end calendar projects an outstanding, unique look and feel.
Choosing paper and card stock can confuse, but our printing experts are always here to recommend the best paper selections for your calendar and your budget.
Special Finishes, Lamination, and Foil Stamping
Not all calendars have cover sheets, but most do. Your calendar's cover is the first thing that a client or potential customer sees, so it must make a fantastic impression. Someone browsing your stand at a trade fair, picking up a calendar in-store, or opening their direct mail gift calendar, is more likely to check it out if it displays an eye-catching cover. QinPrinting offers a complete range of finishing options to make your calendar uniquely eye-catching and attractive.
Among other options, the most popular choices include:
We can also incorporate a custom die-cut into your calendar's cover to increase its visual impact. With die-cutting, we machine-cut a shape out of the cover material with a sort of industrial cookie cutter. For example, to create a 'window' to an illustration underneath. 
Our Most Popular Calendar Formats and Binding Options
Your choice of binding will depend on your calendar's style, format, and your personal taste. Given such a considerable array of choice, we're happy to help you pick the best calendar binding option for your needs. Let's have a quick look at the possibilities.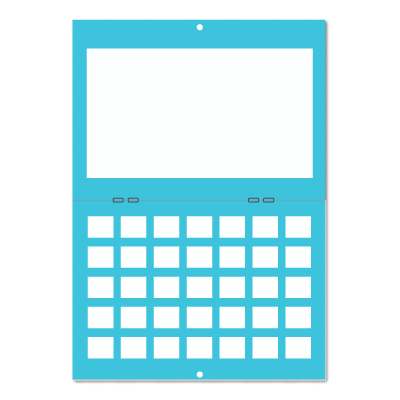 If your calendar has 24 pages and four pages in the cover, saddle stitching is a popular and economical binding method that may suit your needs. If your calendar is booklet-like, designed to be carried around and consulted on the move, then take advantage of saddle stitch binding. Saddle stitching binds the pages and cover together with specially designed staples. This is also an ideal option for a wall-hanging calendar and we can combine a drilled hole—that runs evenly through all the pages—making it easy to hang in the office, the workshop, or at home.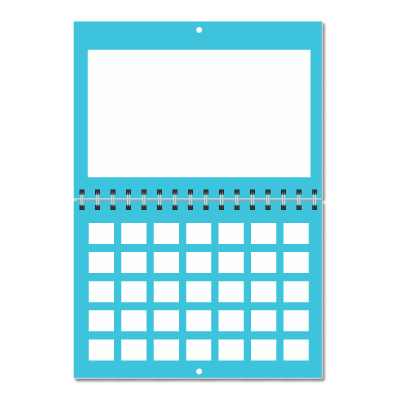 Wire-O binding uses a technique known as "punch-and-bind". We punch or drill equally spaced holes along one of the outer edges of the calendar's pages. We then insert a flexible wire—wound into a double series of circular hoops—through the holes. The wire coil holds the pages together while allowing them to turn independently even through 360° and, of course, lay completely flat. We can laminate the pages to make them tougher and water-resistant. For wall-hanging calendars, we can incorporate a special loop into the coil.
Our most popular calendar formats are: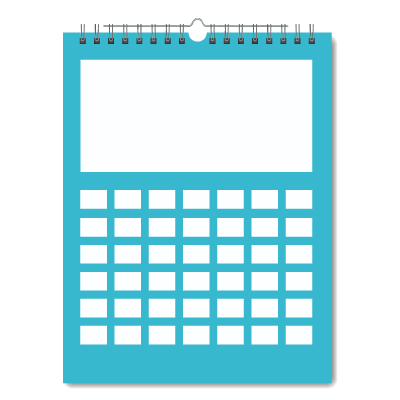 The most common calendar of them all, designed to hang up anywhere there's a hook; in the office, in the workshop, laboratory, or at home. These calendars are versatile, easy to use, and visually appealing.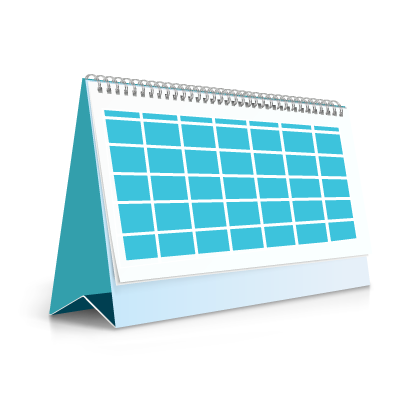 Made to stand up in a stable triangulated formation, and angled for easy sightlines, these robust and smart-looking calendar solutions mean you can check dates, appointments, and more just by flicking your eyes up from the desktop without squinting at the wall or flicking through pages.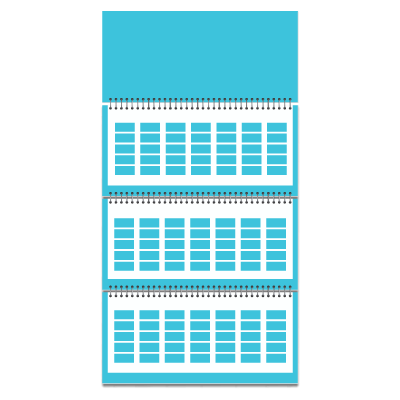 Folded Three-Month Calendars
Many businesses, academic, and arts institutions work on a three-month or seasonal cycle. This style is ideal for such needs and makes long term planning "at a glance" a total breeze.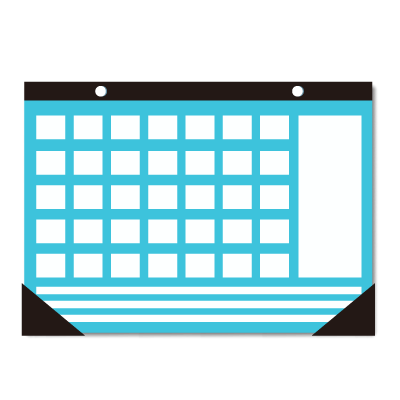 Practical and stylish, you can find a desk pad calendar on almost every executive workstation across the US and the world. For this reason, they're extremely popular and also make great corporate gifts. Desk pad calendars are also a hugely popular choice for many of our Amazon third-party retail clients who find they're always hot sellers in their online stores.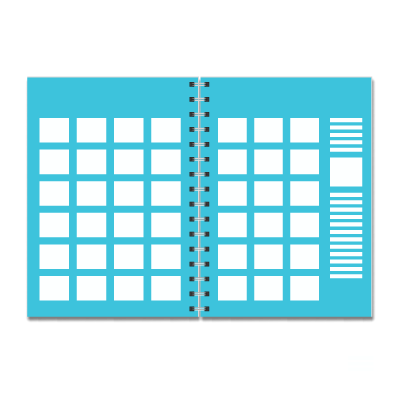 Calendars should be beautiful, but they must be practical, too. The notebook calendar answers both requirements. Stylish and portable, this is the perfect calendar for the person on the move.
Why Print Your Custom Calendars with Us?
While QinPrinting is based in Shanghai — China's financial center and a city famed for its beautiful waterfront, magnificent architecture, futuristic skyline, and gorgeous public gardens — we provide calendar services globally. 
We specialize in lowering the barrier to world-class professional printing. Our vision is to make our services accessible to small businesses, entrepreneurs, non-profits, and independent creatives from all over the world. For example, we work frequently with startups, small to medium-sized business, and independent artists, photographers, gallery owners, and self-published authors from the United States, the UK, and Europe.
Over the last 25 years, we've built a deserved and solid reputation in the global printing market as a go-to provider of a wide range of high-quality printing and binding services, calendars included. We're proud of that reputation and strive to sustain and expand it in everything we do. It's based on our knowledge, technical skills, efficient protocols, the unmatched quality of our products, and unbeatable pricing. But it's also based on our customer care and our genuine commitment to personalized service. Our vision is to bring you the production benefits of a global industry and the latest technologies combined with human-scale care and support.
Whether you want to print your calendar for commercial sales and distribution or for a circle of colleagues or students, as a powerful marketing and promotion tool for your business, at QinPrinting, we go the extra mile to create your custom printed calendars to impeccable standards of production and always at a price you can afford.
Specialist Printing Support Tailored to Your Needs
We've been working with businesses, entrepreneurs, independent creatives, and self-publishers for over a quarter of a century now, and during that time, we've developed a uniquely supportive range of services tailored to your needs. For example:
A dedicated, named consultant will work with you personally through every step of your journey from your initial inquiry to delivery of your printed calendars
Our calendar printing experts will support and advise you at each stage of setting up your files and preparing them for printing 
If desired, we'll provide you and/or your designer with a printing file template to assist you with your artwork prep and layouts
Our in-house designers will manually check all your files to make sure they're ready for a perfect print run 
If we discover any problems with your files, we'll explain what the issues are, how to fix them, and guide you through the process
Your dedicated consultant and our experts are available to answer questions you may have at any stage in the process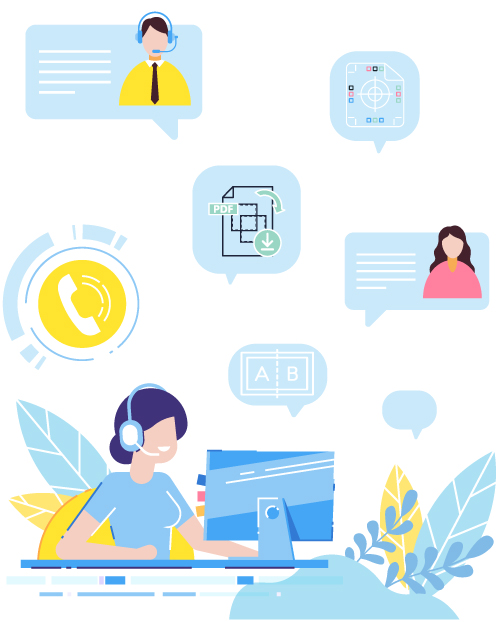 Very few printers offer this level of service nowadays, and many of those that do will charge you added fees. But not at QinPrinting. We understand that preparing your creative work for printing can seem overwhelming — especially if it's your first time — and we really want your experience to be easy and satisfying. That's why we offer you all the above services completely free as standard. We're always here to help.
For the best pricing, highest quality, and quickest turnaround-time on any type or style of calendar, printing with us is always a good business decision. No matter your target recipients or the purpose of your calendar printing project, we'll give you the best pricing, the most professional service, and the highest quality product you can imagine. So, let's talk. We can't wait to make your next calendar the most beautiful yet.