Custom Scratch-Off Cards and Ticket Printing

Scratch off cards and tickets have a wide spectrum of applications and are immensely popular among the public. And our specially formulated "softer scratcher" technology means that the cards and tickets you print with us are easier and more pleasurable than ever for your customers
In today's competitive business environment, it is essential to discover innovative and effective ways to promote your brand and increase sales. Custom scratch-off cards and tickets could be the answer you're looking for, either as a permanent product feature or as an innovative promotional tool that will assist you in achieving your objectives. These interactive cards not only generate anticipation and excitement but also provide your consumers with a fun and engaging experience.
Let's investigate the advantages and potential of customized scratch-off cards, including their customization options, best use scenarios, and design considerations.
Options for Customizing Scratch Cards and Tickets
You have a variety of customization options to choose from when designing and printing custom scratch off cards. These options enable you to design cards and tickets that align with your brand identity and marketing goals while managing your production and distribution budget effectively. Let's examine some of the most important available customization options:
The scratch-off layer, also known as the scratcher, is available in various hues. Clients usually prefer silver scratchers. However, you can choose custom colors like gold or black for larger quantities or special requests. This customization option enables you to match the scratcher's color to your brand's colors or to create a distinctive visual effect.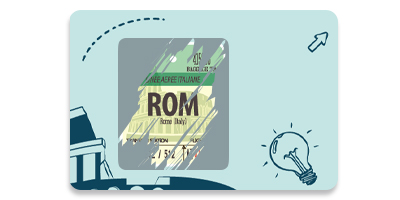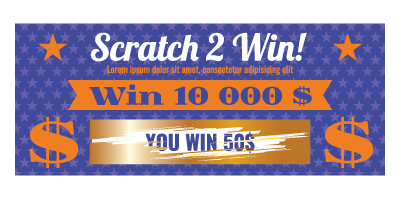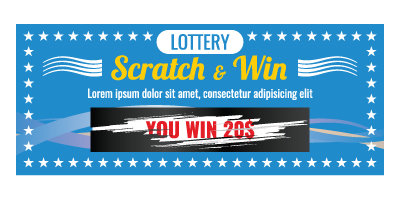 Besides selecting the scratcher's color, you can also choose its shape. Scratchers are readily available in standard shapes such as round, square, and rectangular, but custom configurations can be created for high-volume orders. This customization option allows you to match the scratcher's shape to your brand or create a distinctive design element.
Multiple Scratchers Per Card
You can include multiple scratchers on a single card or ticket for increased flexibility and participation. This enables you to provide multiple prizes, discounts, or promotional messages on a single card, increasing the value and excitement for your consumers.

Conventional VS Softer Scratchers
Depending on the intended use of the scratch off cards, the sort of scratcher used can vary. Tickets for lotteries, traditional scratch off contests, and promotions will require conventional "hard" silver scratchers. Our specially formulated flexible scratchers are designed for a variety of other scratch off projects in which customers can easily remove the coating using only their nails. This customization option ensures that the scratchers satisfy the particular requirements and preferences of your intended audience. If you are unsure of which option to select, please contact us and we will gladly provide guidance.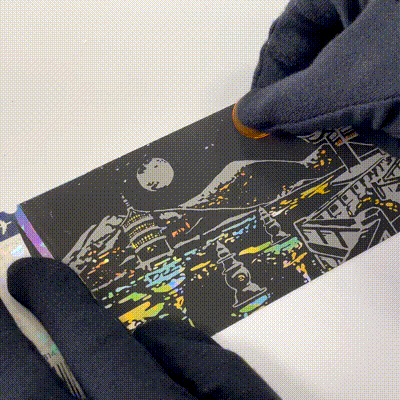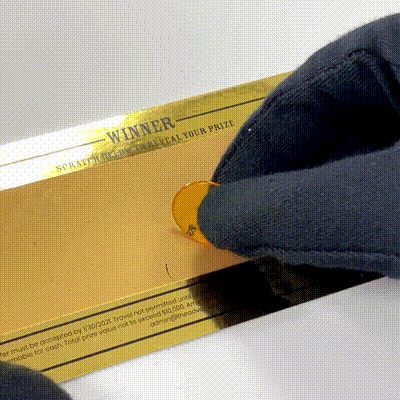 Options for Scratch-Off Cards and Ticket Paper
We offer a vast selection of paper stocks to choose from. Most times, for scratch cards and scratch off tickets, we recommend using coated paper and suggest laminating it for additional protection. We can print the scratcher surface without difficulty on glossy, matte, soft-touch, or laminated surfaces.
You can choose from a wide range of papers for your cards and tickets, listed here:
Other special papers such as colored or metallic papers are also possible.
Design Factors for Custom Scratch Off Cards and Tickets
To guarantee the success of your scratch-off card campaign, you must pay close attention to the design process. Consider the following factors when designing your scratch-off cards: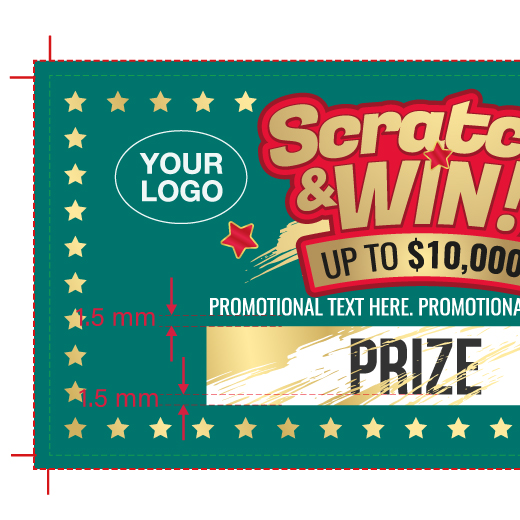 Protected Area for Scratchers
It is essential to leave an extra 1.5 mm of space around the scratchers to provide a safe placement zone. Guaranteeing that essential elements, such as logos or text, are not obscured by the scratchers requires leaving an extra 1.5 mm of space around them. You should place all content that needs to be concealed within the allocated scratcher area.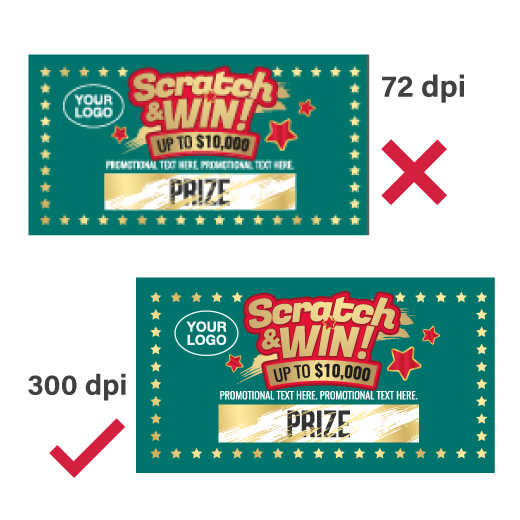 We recommend using images with a resolution of 300 DPI (dots per inch) for high-quality reproduction. This ensures that the images printed on the scratch-off cards appear crisp and clear.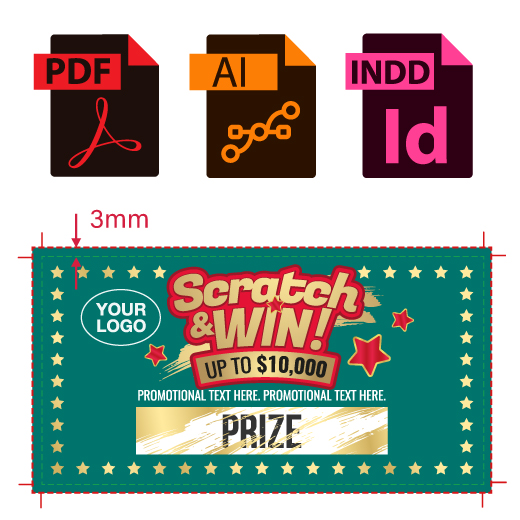 Format of Files and Bleed
When submitting your design assets, you must submit them in PDF format with a 3 mm bleed. This ensures that the design extends slightly past the final trim size, preventing any white edges or missing elements.
Options for Scratch-Off Card and Ticket Packaging
Once your custom scratch off cards or tickets have been printed, you must consider packaging options to ensure their safe and aesthetically pleasing presentation. Here are some popular options for packaging scratch-off cards:
Shrink Wrap or Plastic Bag
We can package scratch-off cards using shrink wrap or a plastic bag in a cost-effective and expedient manner, which safeguards them against deterioration, dust, and manipulation. If you have fewer than 20 cards in a pack, then we'll usually suggest a plastic bag. If you want to pack over 20 cards, shrink wrap is often the best option.
Scratch off cards and tickets offer a novel and exciting way to advertise your company, engage customers, and increase sales. You can use them in traditional contests, promotions, and lotteries, as well as board games, educational tools, and more. With a variety of customization options, you can design scratch off cards that align with your brand and marketing goals. You can ensure a successful scratch-off card campaign that leaves a lasting impression on your consumers by weighing design elements with care and employing appropriate packaging.
Why Choose Custom Scratch-Off Cards and Tickets?
Scratch-off cards and tickets offer many advantages for businesses seeking to excite consumers and increase sales. Compared with many other promotional and marketing tools, they're also relatively inexpensive to design and produce. But the novelty effect of the scratcher adds a powerful experiential value from the customer's perspective.
Scratch-off cards offer an outstanding promotional opportunity for your brand, products, or services. You can effectively increase brand visibility and awareness by imprinting your logo, tagline, or other promotional messages on the cards. The element of surprise and the possibility of winning a prize can substantially influence customer behavior and increase sales. Custom scratch-off cards can encourage consumers to make a purchase, redeem a discount, or take part in a special promotion, boosting your revenue. Custom scratch-off cards generate a sense of excitement and anticipation, increasing consumer engagement with your brand. The interactive nature of scratch-off cards motivates customers to partake actively, resulting in a memorable and enjoyable experience.
Personalization and Customization
With variable data printing, each scratch-off card can have a distinct prize or message, allowing you to tailor your promotions to specific consumers or demographic or interest groups. This level of customization can make your consumers feel appreciated and increase their brand loyalty. Custom scratch-off cards can be used in a variety of marketing contexts, including fundraisers, marketing events, employee rewards, and giveaways. Their adaptability makes them appropriate for enterprises in various industries.
If you're ready to print stunning, high-quality scratch off cards and tickets — and first-class customer service is as important to you as an unparalleled product — then we should talk. Get in touch today to chat through your needs or to ask for a no-obligation quote. We can't wait to help you make your scratch off cards!