Your imagination is the only limit when you choose our world-class graphic novel printing services
"Graphic novels are—at their best—an amazing blend of art, literature, and the theater of the mind."
 — John Ridley, Academy award-winning screenwriter and novelist
A graphic novel is an alchemical laboratory in which literature, art, theater, and film bubble together in the alembic of imagination. If the mix is right, the results are pure gold.
At QinPrinting, we believe graphic novels deserve the same superlative production values as any other literary art form. Our passion—together with an exceptional team, state-of-the-art technological wizardry, and personalized customer care—position us among the world's most successful independent graphic novel printing companies.
"Indie creators making graphic novels are the ones to watch."
—Kate Leth, graphic novelist, creator of the bestselling Hellcat! series
Graphic Novel Printing Costs
At QinPrinting, we collaborate daily with indie graphic novelists of outstanding talent and commitment. But we totally get it that many high-caliber emerging artists and writers in the field must work with a limited budget or hustle for funds through a Kickstarter campaign. That's why we strive constantly to work as efficiently as we can to deliver graphic novels of phenomenal quality at unbeatable prices.
Don't take that on trust. You can get a good estimate of how much it will cost to print your novel with the simple price chart below. The exact cost of printing your graphic novel with us will depend on several factors like the paper you choose, the number of pages, the coating and finish for the cover and interior, and the layout and dimensions of the finished book. To get a precise, project-specific quote, use out Online Printing Cost Calculator. Unlike other offset printers who have an MOQ (minimum order quantity) of 500 or more copies, we're happy to print as few as 100 in a single run—ideal for a first-stage crowdfunding campaign, for example.
Paperback Graphic Novel Printing Price Chart (7" x 10")
Quantity

100pcs

500pcs

1000pcs

2000pcs

5000pcs

10000pcs
Please note that all prices are EXW our facility and do not include shipping costs.
Cover: 250 gsm / 92 lb coated art cover paper with matte lamination outside
Interior: 105 gsm / 71 lb coated art text paper, full color printing
Cover and inner: full color printing
Binding: perfect binding
Hardcover Graphic Novel Printing Price Chart (7" x 10")
Quantity

100pcs

500pcs

1000pcs

2000pcs

5000pcs

10000pcs
Please note that all prices are EXW our facility and do not include shipping costs.
Cover: 157 gsm / 58 lb coated cover paper with matte lamination wrapped on 2.5 mm thickness greybeard
End sheets: 140 gsm / 95 lb uncoated text paper, blank
Inner: 128 gsm / 86 lb coated text paper
Cover and inner: full color printing
And don't forget that we're real people at QinPrinting. We genuinely love graphic novels, too, and we're always willing to answer questions you may have. Just get in touch by whichever means you prefer — email, telephone, Skype, or our handy online contact form. One of our expert and enthusiastic team members will be delighted to assist you.
Common Graphic Novel Sizes
We can print any size graphic novel you like, although unusual custom prints will cost a little more and take a little longer to turnaround than standard sizes because of the extra pre-press and setup work involved. The most common sizes for graphic novels range from as small as 5.5" x 8.5"—the same as a pocket paperback—up to a large format 7.3" x 11" known as "tabloid" size. From a commercial point of view, it's often in your interests to follow a well-known format. Why? Well, it's effective and inexpensive, meets customer expectations, and cuts down on set-up time, leading to a faster turnaround.
But there's no other reason you shouldn't experiment with custom sizes. Innovation can delight and surprise and may make your book stand out from the crowd at aconvention or on the shelves and your local indie book store. You could make a tiny 3.5" x 3.5" micro-book or go for a whopping 11" x 17" monster edition. Switch things up with a landscape rather than portrait orientation. It's all possible. The only limits are your imagination and how you guess the public will respond.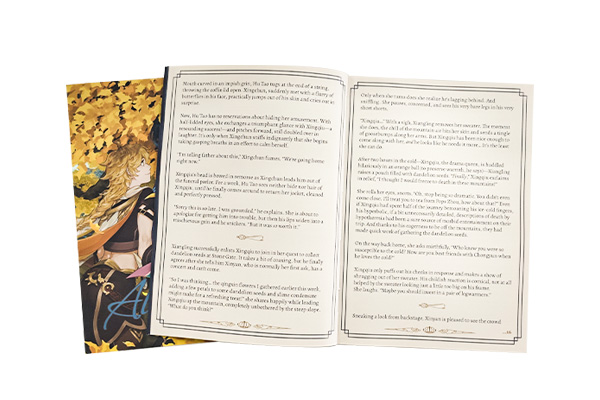 Graphic Novel Paper Options
The paper you choose to print your graphic novel affects how it looks, how hard wearing it is, and the printing and shipping costs. Many commercially produced graphic novels use lighter, uncoated paper stock for black-and-white interiors and thicker coated paper for color interiors. These standards are fine for most graphic novels.
At QinPrinting we recommend 105 gsm / 70 lb, 128 gsm / 86 lb, 157 gsm / 106 lb coated paper or 80 gsm / 54 lb, 100 gsm / 68 lb uncoated paper for graphic novel interiors as they give a lovely crisp, vibrant finish to the artwork and make the text easy to read. It will also stop the artwork "bleeding through" to the other side of the page. Choosing book interior paper depends on the book size and book thickness, too. As a general rule, we recommend thinner paper for the interior. Thinner paper can be opened flat easily which is best for a small size book. If the interior paper is too thick, smaller books can be harder to open. 
If the book is 8.5" x 11" or larger, we recommend thicker paper for the interior. For example, 128 gsm / 86 lb, 157 gsm / 106 lb coated paper or 100 gsm / 68 lb uncoated paper. If the book has 32 pages or less and you want to use perfect binding, we recommend 200 gsm / 135 lb coated paper to reach the required spine width.
You can download a book cover template to check the book spine thickness according to different paper types and page amounts here.
Paper for the cover of your graphic novel depends on your choice of bindings. Typically, we make graphic novel covers of heavier, gloss art paper. Sewn perfect bound or sewn hardcovers are the best options for graphic novels as they look very professional, protect your book better, and you can open and lay the pages flat, which makes reading easier. You'll need to choose two kinds of paper for your graphic novel: one for the interior pages and one for the cover.
Paper Choices for Graphic Novels
Bindings for Graphic Novels
Graphic novel fans often read the books several times and keep them in jealously guarded collections. So, they must both look good, be easy to read, and endure repeated handling. We recommend "sewn perfect bound" and "sewn hardcover" as our preferred binding styles for graphic novels. Your choice depends on your budget, the style and length of your book, and several other factors. But these two binding options both achieve optimal results. You can open both bindings flat with no damage to the spine, too, which makes them ideal for reading and re-reading.
This is the most popular binding style for graphic novels. We collate and print the interior pages in sets called signatures, which are then sewn together and fixed into a wrap-around cover made of heavier art paper or lightweight card stock. This option gives you a truly beautiful book for a minimal outlay.
In this binding, we organize the interior pages into signatures which are then printed, cut, and sewn, and glued into a hard casing covered by a printed sheet which forms the cover. This binding is the most resilient and professional-looking, especially if you add special treatments such as embossed titles, debossed titles, soft touch lamination, and metallic foil stamping; or a custom-made printed dust jacket, a slip case, marker ribbons, and sewn decorative headbands for a special "collector's edition or, as a Kickstarter stretch goal, say.
Whichever binding style you choose, we like to make it easy for you to design your graphic novel. So, you can use one of our ready-made design templates if you wish. And ask us for paper and treatment samples. We'll drop them to you in the mail. The samples are free, so you need only pay the mailing charges.
Graphic Novel Design and Artwork Tips
The quality of your artwork's reproduction is of paramount importance when printing a graphic novel. Whether your novel is humorous, an exciting adventure story for young adults, or a complex narrative for the older crowd, you need your artwork to "pop off the page" into the reader's imagination. With that in mind, here are a few useful tips to help you when you're preparing your digital files for the printer.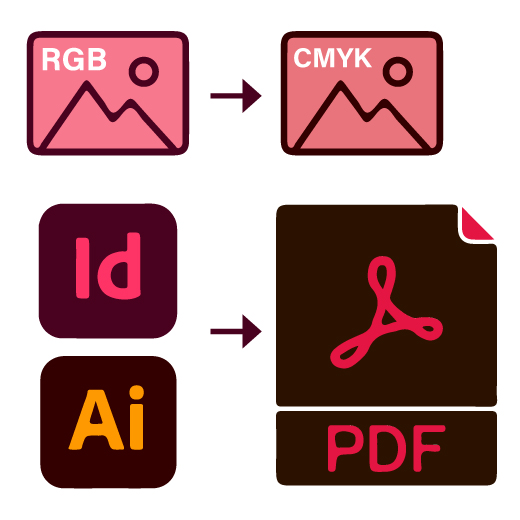 Export your files as vectors in PDF format for the best results. Our recommended software options for graphic novel book design are Adobe Illustrator or Adobe InDesign. These will also allow you to convert your color space from RGB to CMYK which you will need to do for offset printing.
If you can't deliver vectors — say, if you're exporting bitmaps from Photoshop — then make sure the resolution is at least 300 DPI. With vectors, you needn't worry about resolution, but all other images must have a high definition to tolerate resizing without becoming fuzzy and "pixilated".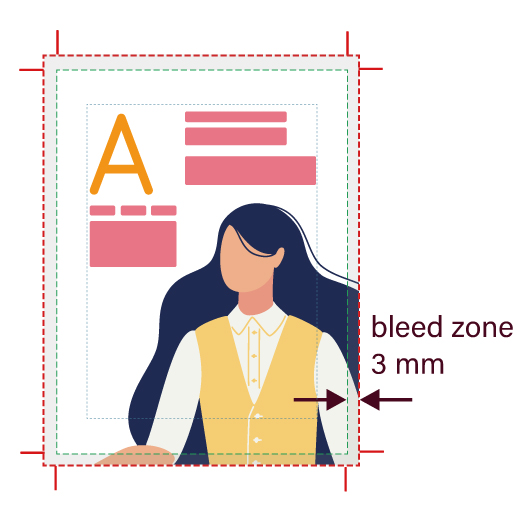 You'll need to add a "bleed zone" of 3 mm around all your pages. A bleed is an extended zone at the periphery of your artwork, which falls outside the area that your finished page will cover. Once we've printed your pages, we'll cut them to the exact size needed for your chosen graphic novel format. This "bit extra" gets cut off and makes sure that the finished image fills the page with none of it being lost. You should mark bleed zones as red lines.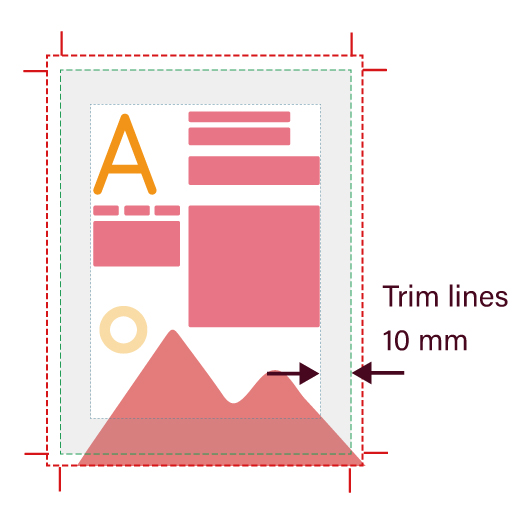 Inside your bleed zone, don't forget to mark the "trim lines". These will define the final dimensions of the finished page. Make sure that any necessary elements of your images stop at least 10 mm short of the trim line.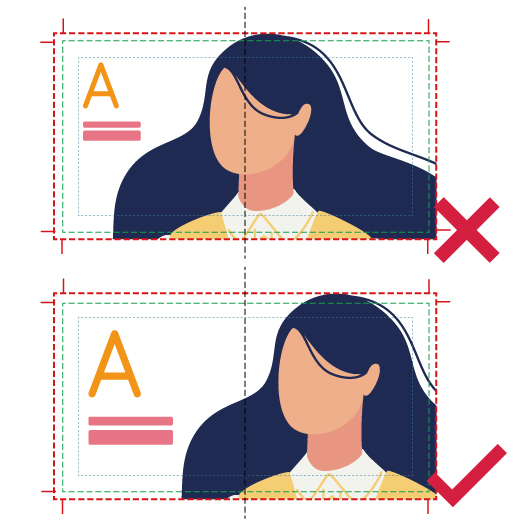 If your novel has "splash pages" with artwork which crosses a spread, make sure none of the essential elements — like your protagonist's face! — fall over the center crease.
If you're working with a professional designer to create your files, they should understand what's needed to make everything "print ready". But if you're going it alone with design software for the first time, these are the helpful tips to remember before you submit your files. Still, our team of experts will always manually check all your files before we go to press. If we find any issues, we'll let you know and help you resolve them. We won't print your graphic novel until we're 100% sure we'll get a perfect result.
Graphic Novels Crowdfunding
Unlike several other printing companies, we genuinely care about all our clients and appreciate the intensive creative work that makes a graphic novel from the first inkling of inspiration to the final printed product. We genuinely want you to succeed. So, if you're running a crowdfunding campaign, say on
Kickstarter,
talk to us first. We'll be happy to help you with
graphic novel interior and cover design templates, free artwork checking, and special discounts
on a range of optimal printing solutions.

If you're an indie author or a small press wanting to print a graphic novel — and only the finest product and unbeatable customer service will do — we should talk. Get in touch today to chat through your needs or to ask for a no-obligation quote. We can't wait to help you make your next graphic novel the best!