Delight in the excitement of beautifully engineered pop-up books, and engage children and adults alike in an immersive reading experience when you use our pop-up book printing services
"Most people don't realize the many steps that a pop-up goes through."
–Tomie DePaola, author of Pancakes for Breakfast
Pop-up books are three-dimensional, magical experiences which fascinate and entertain readers of all ages. A combination of expert paper engineering and storytelling, they open the doors on a theater of the imagination.
At QinPrinting, we love the challenge and excitement of helping authors and illustrators move from an initial idea, through artwork and paper engineering, to a finished, functional pop-up book. 25 years and more of success in the industry; an expert, caring team; state-of-the-art technology; and unrivalled customer service make us the first choice for your pop-up printing needs.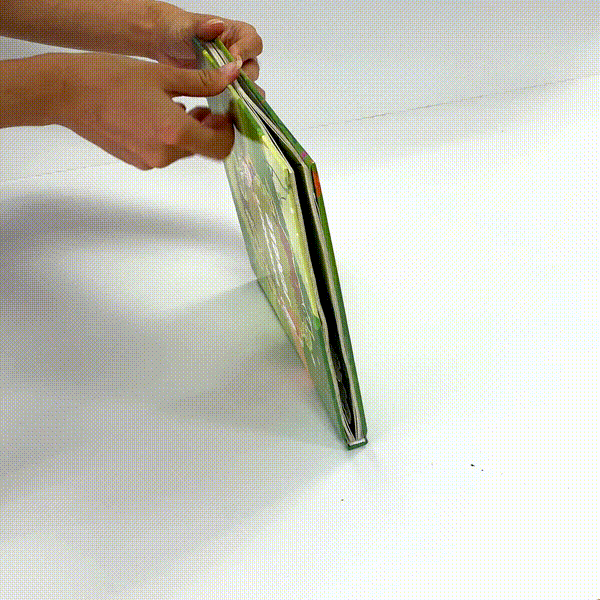 Pop-up books have paper components that readers can control inside the pages. These books are often known as "mobile books". Text, pictures, and features that can be folded, pasted, or pulled-tabbed may all be included in pop-up publications, resulting in an interactive experience for the reader. Children are the main target demographic for pop-up books, but they are also produced for older readers.
To efficiently design the moving paper components of a pop-up book, a competent paper engineer's skills are required. The paper engineer understands how to design and integrate dynamic parts into pop-up books whilst also making sure they will be economical to make and easily controlled. This engineer is a hybrid of a technician and a conceptual designer. The moving components are die cut and fitted according to instructions provided by the paper engineer.
These features require sophisticated die cutting. The mobile components are quite costly, as most need to be cut, folded, and glued manually.
At QinPrinting we focus on two approaches or styles to construct pop-up books. In the first, the pop-up elements are cut out of the interior pages, with two sheets of C1S (coated on one side) paper glued together based on board book printing. In the second case, we make the pop-up elements from thinner paper added to the interior pages. The second method is more time-consuming but needed for the most complex pop-ups so that they don't become too thick to fold and close properly.
Custom Pop-Up Book Printing & Pricing
Printing custom pop-up books is a complex and unique process which is different for each book. For this reason, all our custom pop-up books must be handmade.
For each page, we need to make pop-up die-cut molds and printing plates. Mold fees vary depending on the design and complexity of the pop-up parts. While you can get an online quote for a regular book if you know the size, paper stock, page count, binding, and so on, we can't offer online quotes for pop-up book prices as they vary dramatically according to the unique design of each book. Custom pop-up book printing costs can only be calculated based on each pop-up design and other specifications.
We specialize in offset printing. Like most offset printers, we have an MOQ (minimum order quantity) for books. But whereas most require you to print at least 500 or even 1,000 copies at a time, we've set our minimum order quantity for custom pop-up book printing to just 100 copies. But the unit price is lower if you make over 1000 copies.
We use different paper stocks and other materials depending on the style, size, design, and complexity if the pop-up book.
The interior pages are usually made from a few sheets of C1S (coated on one side) paper glued together. We may use 2, 3, 4, 5, or 6 sheets depending on the structural and mechanical needs of the book design. The pop-up elements may be made from this, too, if they're not too complex. If they're more complicated in design, we'll make them from thinner paper glued onto the main page.
Weight and type options for interior paper include:
Pop-Up Dielines & Artwork Support
When designing your custom pop-up book with QinPrinting you'll need to know about "dielines" and how to prepare them. This is the most important aspect of pop-up book design and manufacture. Dielines are essential to show us the extent of your artwork for printing, and where to cut and fold the pop-up mobile elements. The term comes from the process we used to cut designs into paper and cardboard. A "die" in this context is a metal or resin mold which has shaped edges which make a precise, clean cut through the material. The dielines show where the cuts should be made.
While creating dielines for pop-up books can seem daunting, don't worry. If you don't know what to do, we'll help. Just send us your rough designs and artwork and our expert paper engineers will create dieline templates for you. We'll the make a sample for you to examine and approve before we move on to the next stages of production.
If you're an indie author or a small press wanting to print a pop-up book — and only the finest product, unmatched customer service, and unbeatable prices will do — we should talk. Get in touch today to chat through your needs or to ask for a no-obligation quote. We can't wait to help you make your next pop-up book the best!