Our desk calendars are as eye-catching and stylish as they are useful. Customize your calendar with your own photos, artwork, logo, and graphics so it reflects your personal style, your business brand, or your organization's mission.
Our beautiful desk calendars give you the flexibility to customize them to your specifications while we offer you full, personalized support with the design, printing, and packaging, using only the highest quality materials that set your desk calendar apart. We guarantee your finished calendar will make a stunning, professional impression. For a gift or promotional tool that's both attractive, popular, and useful, our custom printed desk calendars are the solution you're looking for.
At QinPrinting we believe that practicality and good looks go together with unmatched design and the finest materials. That commitment — coupled with 25 years of success in the offset printing industry, an expert team, the latest technology, efficient, cost-effective processing, and unrivalled customer service — sustains our world-class reputation among enterprise and non-profit sector clients around the globe.
Custom Desk Calendar Printing Costs
At QinPrinting, we print exceptional desk calendars to our clients' required specifications daily. But we know how important it is to work within your budget and maximize your return on investment; especially for start-ups, small to medium-sized businesses, self-publishers, and independent creatives. That's why we continually review our work processes to guarantee we always deliver superb quality desk calendars at prices that you can afford.
So, how much does it cost to print a desk calendar with us? Get an estimate now by checking our helpful at-a-glance pricing chart. Unlike most offset printing services — which demand a minimum print order of 500 or even 1,000 units—we do a minimum offset print run of just 100 units and still with a competitive price tag. But as you'll see from the chart, the more calendars you order in a single run, the less you pay per unit.
Desk Calendar Printing Price Chart (246 x 170mm)
Quantity

100pcs

500pcs

1000pcs

2000pcs

5000pcs

10000pcs
Please note that all prices are EXW our facility and do not include shipping costs.
Cover: 200 gsm / 74 lb coated cover paper
Interior: 128 gsm / 86 lb coated text paper, full color printing
Frame: 2.5 mm thick gray board wrapped 157 gsm / 106 lb coated text paper with matte lamination outside

Inside wrapped paper: 80 gsm / 54 lb uncoated text paper

Cover and inner: full color printing
Wire-o, plastic bag each one
For a more detailed quote, try our easy and convenient online Printing Cost Calculator. Just follow the link, pop your specs into the boxes, and get an instant quote! If you have questions, get in touch and one of our enthusiastic team members will be pleased to help.
Common Desk Calendar Sizes
The exact size of your desk calendar depends on its design features, how many pages, the number of photographs and other graphics, and more. But we can make your calendar any size you like. However, our experience shows that it's often better to stick with standard dimensions for most projects. It makes production simpler, it's cost-effective, and guarantees a desk calendar people will like.
The most common sizes for promotional desk calendars are:
But you're not limited to the suggestions above. At QinPrinting, we're happy to create custom desk calendars in any size or format you wish. Only remember that extensive customization—like giant display calendars or complex multi-page die-cutting and soft touch lamination—incurs higher costs and slower turnaround times because we need to do a lot more pre-press work and setup. For certain projects, the added investment in customization could be worthwhile. It's always your decision. But in most cases, it's less expensive, easier to mail out, and just as effective marketing-wise, to go with standard sizes.
Desk Calendar Paper Options
Most desk calendars feature full-color photography and graphics alongside the basic dates-and-days grid. So, we recommend printing on gloss or matte art paper to get the best results. Gloss and matte both have ideal surfaces for vibrant color or black-and-white printing that will make your desk calendar visuals really stand out. Gloss paper is often best for full-color photographic calendars, whereas calendars with a simpler appearance may benefit from matte paper. Matte paper will still give top-notch image reproduction while making text easier to read.
For desk calendars you want people to write on, we suggest an uncoated paper stock. On uncoated stock, you can write, annotate, and make notes easily using pencils, pens, or Sharpies. So, if your clients need to write on the calendar, an uncoated paper is the best choice.
A unique aspect of the desk calendar design is the triangulated frame which supports it on the desktop. We make our frames with sturdy but lightweight 2 mm or 2.5 mm grayboard, wrapped with laminated 157 gsm / 106 lb paper. If you wish, we can also wrap the frame with textured paper, vinyl, cloth, or leatherette for a distinctive look.
157gsm art paper wrapped on 2 mm thickness grey board
Binding Options for Custom Desk Calendars
We mount your custom desk calendar on a folding cardboard frame which makes it possible to stand up on your desktop. The only binding which looks good and gives ease-of-use and great functionality with a desk calendar is a method we call "wire-o" binding.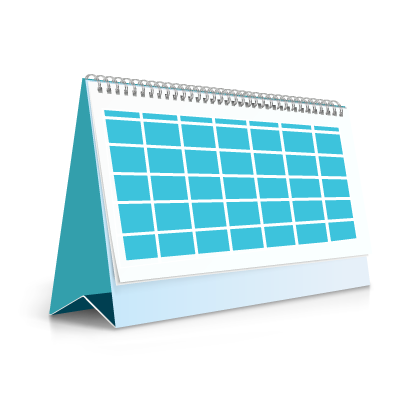 Wire-O binding uses a technique known as "punch-and-bind". We punch or drill equally spaced holes along the upper edge of the calendar's pages. We then insert a flexible wire—wound into a double series of circular hoops—through the holes. The wire coil holds the pages together while allowing them to flip over easily. We can laminate the pages to make them tougher and water-resistant. And we're happy to spruce your desk calendar up with other features, like foil stamping, embossing, debossing, and die-cutting.
We'll also pre-package your calendars in individual plastic wrappers or bubble envelopes ready for mailing on request. Do you have a feature in mind for your desk calendar that isn't mentioned here? No problem! Talk to us. If it's possible, we'll do it.
Custom Desk Calendar Design and Artwork Tips
Whether you're preparing your own artwork in-house or commissioning a professional third-party artist or graphic designer, it's important to understand how to prepare the artwork and text for printing. You'll need to allow for bleed zones, safety areas, trim lines, and borders, for example, and make sure that the resolution and the color space are correct.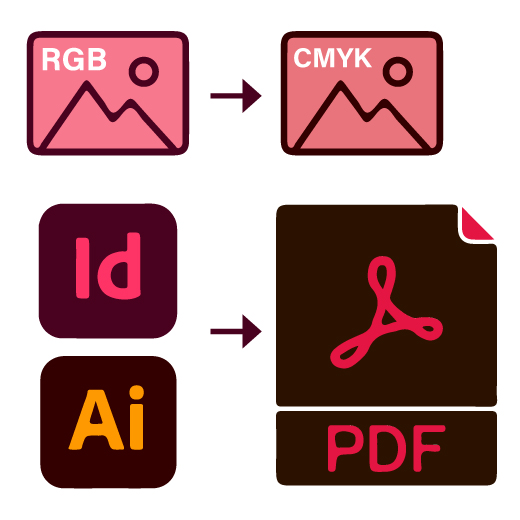 Export your files as vectors in PDF format for the best results. Our recommended software options for calendar design are Adobe Illustrator or Adobe InDesign. These will also allow you to convert your color space from RGB to CMYK which you will need to do for offset printing.
If you can't deliver vectors — say, if you're exporting bitmaps from Photoshop — then make sure the resolution is at least 300 DPI. With vectors, you needn't worry about resolution, but all other images must have a high definition to tolerate resizing without becoming fuzzy and "pixilated".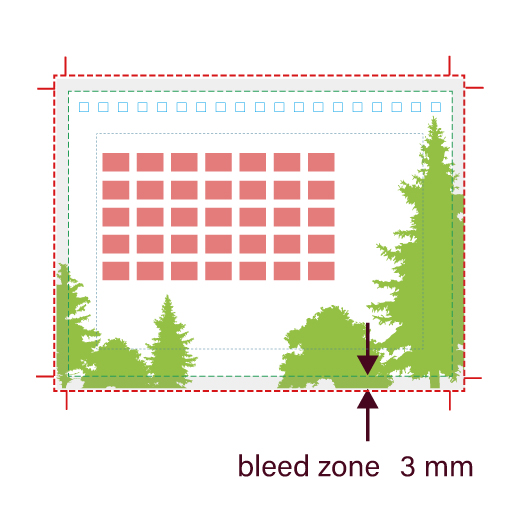 You'll need to add a "bleed zone" of 3 mm around all your pages. A bleed is an extended zone at the periphery of your photo, which falls outside the area that your finished page will cover. Once we've printed your pages, we'll cut them to the exact size needed for your chosen calendar format. This "bit extra" gets cut off and makes sure that the finished image fills the page with none of it being lost. You should mark bleed zones as red lines.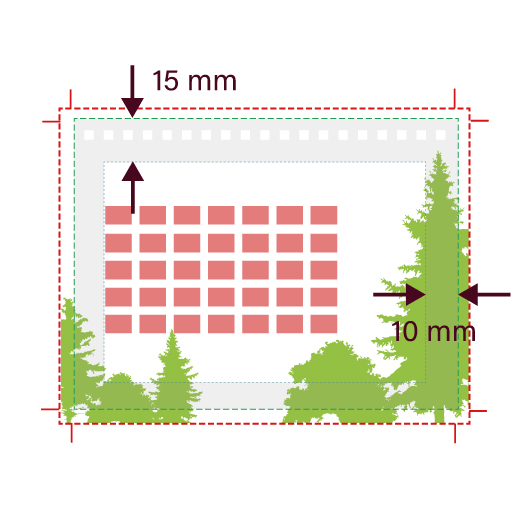 For a wire-o bound desk calendar, always leave an added margin of at least 5 mm on the edge that we'll bind the calendar to allow for the holes. For example, if the calendar margin on the cutting side is 10 mm, you need to leave a 15 mm margin on the binding side.
A competent graphic designer should understand the technical details and we'll always manually check your files before going to press. However, the responsibility for sending "print ready" files is yours. But please don't worry! We'll be happy to "hold your hand" through the process, explain what's needed, and liaise with your designer to make sure everything goes smoothly and you end up with a perfect print on your desk calendar.
To learn more about preparing your art for printing, please check out our Prepress Artwork information page.
If you're a business, a non-profit, or an independent creative in need of a first-class custom desk calendar at an unbeatable price point — we should talk. Get in touch today to chat through your needs or to ask for a no-obligation quote. We can't wait to help you make your next desk calendar!