In some cases, you may wish to custom design each component of your board game. But more often than not, you can create a great game using only premade components. Consider the humble plastic pawn. It's an off-the-shelf standard game piece, but it's been the avatar of choice for several world-famous games like Clue, Sorry! and Snakes and Ladders. With the right combination of pieces, you can keep costs down without compromising quality and generate a custom game without custom-designing anything other than the artwork! What really makes a great game are the core conceptual elements: the theme, the mechanics, and the win condition.
So, let's take a look at several of our standard game piece options. Of course, if you have the budget for it, the more customization you can afford to do, the more unique and exciting your game will be. But as the classic examples above show, you can still be a winner even with fewer cards to play.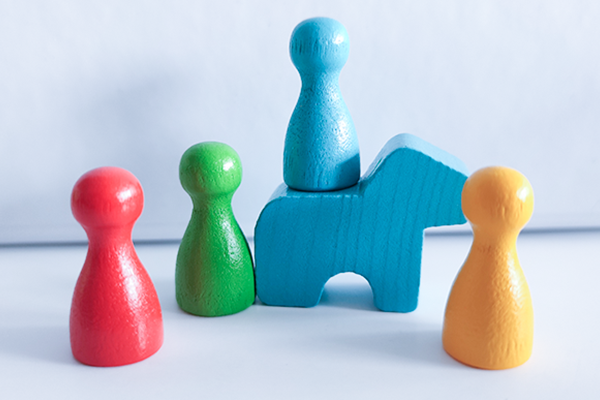 Wooden pieces include "meeples", pawns, cubes, silhouettes of animals and other objects, houses, balls, dice, discs, and much more. They're perennially popular and can be painted, varnished, or stained in a spectrum of bright, attractive colors. And if you choose to use pieces with wood certified by the FSC as being from sustainably managed forests, they can be environmentally-friendly, too.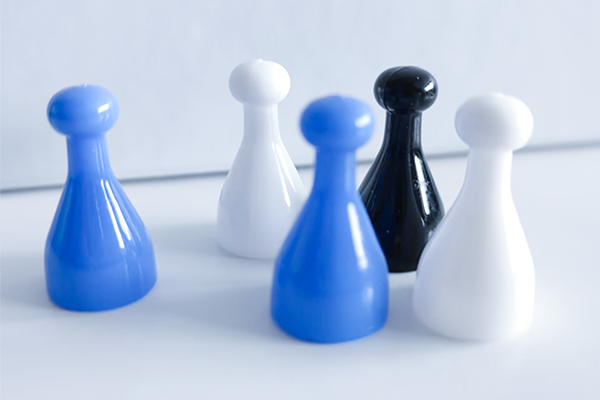 The brightly colored conical pawn is one of the classic examples of a plastic game piece. But plastic is a very versatile materials and may be used for standees, miniatures, tokens, poker chips, coins, trays, spinners, egg-timers, card holders, and more. In fact, there're very few game pieces that can't be made from plastic!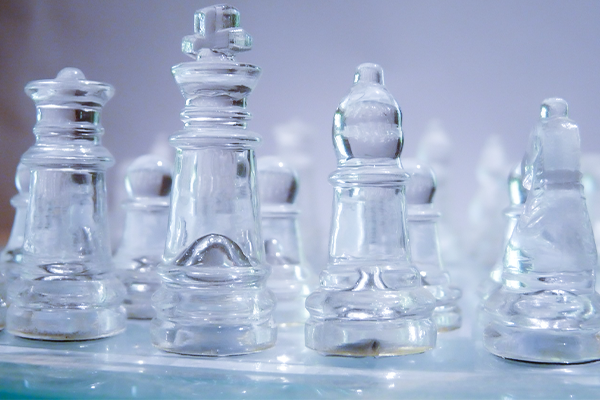 Glass game pieces are less common, but they're perfect for certain kinds of items. Think of making "diamonds" from transparent glass beads; or "rubies", "sapphires", and "emeralds" from colored glass. Then there're marbles, and paperweights to keep sets of cards or notes in place. Even miniatures and other figures can be made from glass.
Dice are often essential to the mechanics and dynamics of a board game. But there's an exciting range of dice that go beyond the standard wooden cube with six sides. Dice these days are most often made of plastic. They're geometric shapes with many sides. The sides can be engraved or printed with numbers or percentages. Rolling them and seeing which side faces up is a simple but effective way to introduce a controlled element of chance into game play.
Modern dice can have up to 20 sides. They're identified by using the prefix 'D' followed by the number of sides. So, for example, a D6 is the classic die, a D4 is a pyramid-shaped die with four sides, and a D20 is made up of twenty triangular sides. There's another variation commonly used in role-playing board games, which is the 'percentile'. It's actually a pair of special D10s with values 0 to 9, which combined give you a 'tens' figure and a 'units figure' resulting in a percentage. So, if you roll a 3 and a 0, you score 30%.
We can make dice for you inscribed with your own custom symbols, number arrangements, or supply them blank along with stickers which you can apply yourself or you can include them in the box and players can add them as part of the set-up of the game.
Punchboard Tiles and Tokens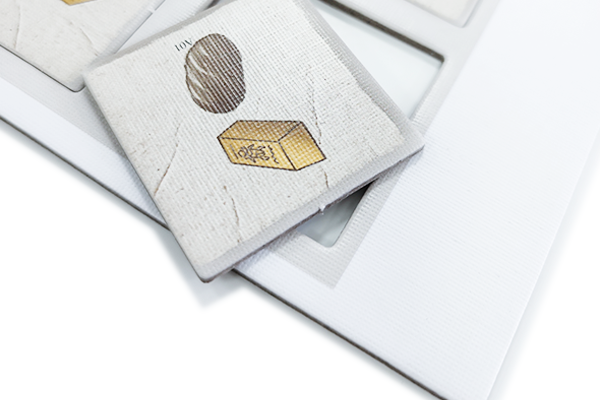 While tiles and tokens can also be made of plastic, wood, or glass, they're mostly produced in cardboard on printed sheets from which the tiles can be "punched" out. Not surprisingly, these sheets are known as punchboards. Any flat game pieces that you want—tiles, tokens, coins, chips, counters, and more—can be printed on punchboards. It's inexpensive, effective, and can satisfy several game designs needs.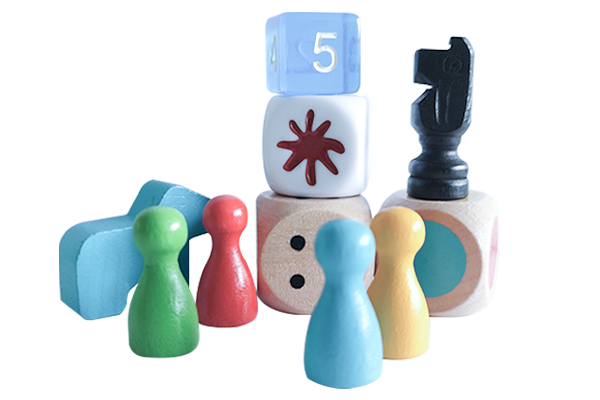 Other popular components might include compasses, spinners, timers, bags, envelopes, cords, coins, bank notes, rulers, sliders, 3D objects, and more.
Fantasy, science fiction, or wargame inspired board games frequently deploy sculpted miniature figures. These were traditionally made of metal alloys made from lead and zinc, but nowadays, are more commonly plastic. They can be left in their "natural" colors or painted. Many gamers enjoy painting their game miniatures by hand as another aspect of the hobby.
Custom-molded plastic figures are more costly to design and produce—and take longer, too—than using ready-made meeples or pawns. So, you'll need to factor them into your budget with care. We can make anything from a handful of miniatures to whole armies, monsters, and more. And they can be produced in a range of colors and sizes depending on your needs. Get in touch if you want to add customized miniatures to your game and your named consultant will guide and advise you through the process.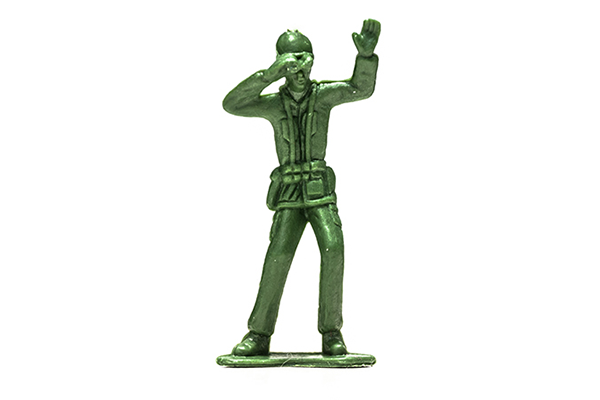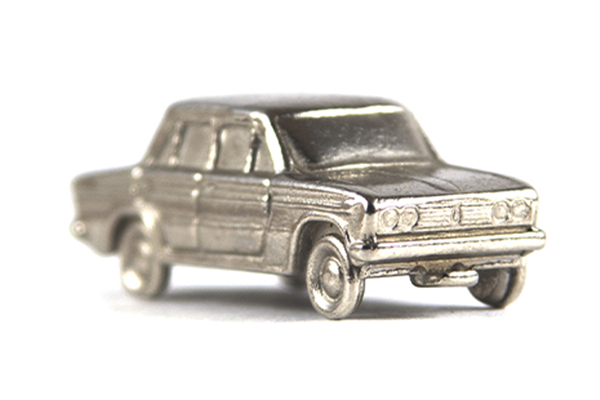 Miniatures may still be made of metal, but it's a suitable material for many components, especially if your aim is to produce a high-end, luxury game. The weighty feel of real metal "doubloons" in your pirate game, say, or something like the original Monopoly figures, or the handgun, lead piping, and candlestick in Clue.
Polyresin Miniature Pieces
Polyresin is a synthetic material which can be molded and sculpted while soft and then baked to harden it. It's usually painted with acrylic paints and then varnished. All kinds of game piece can be made from it, and it adds an extra dimension to any board game design. However, it's important to keep the objects compact, without complex extensions or delicate parts as resin is brittle and may break or chip if knocked or dropped.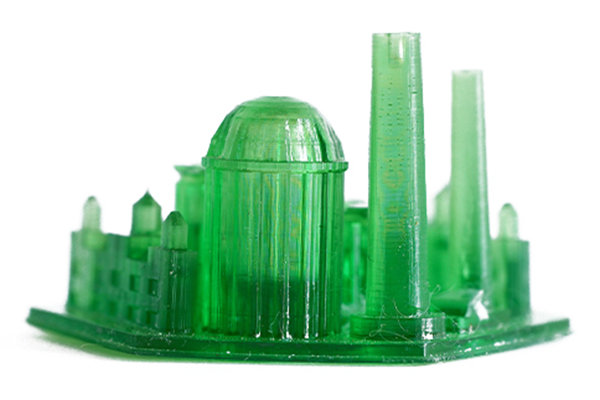 Game pieces may be packages individually or collectively in plastic bags, housed in simple tuck-end boxes, or shrink-wrapped if you're buying them separately. If they're built-in to an overall game design that you're manufacturing with us, we'll include them in the box.
At QinPrinting, we have lots of experience, an expert team bursting with enthusiasm, the latest technology, and a genuine commitment to personalized customer care. Whatever stage you're at in your game design journey, it's never too soon to talk to us. We can help with expert advice, design templates, and a reliable quote on an unbeatable price for your project. Besides printing and manufacturing your custom board game pieces, we can help you to promote it, too, with our vast range of publicity materials from leaflets and flyers, to brochures, booklets, postcards, and more. Let's talk. We can't wait to play our part in your board game's success!
Explore Board Game Components