Also known as coil binding, with this binding method, we perforate the pages by drilling holes down one side and then bind them together using a colored plastic coil twisted through the holes and crimped at the ends to keep it secure. Individual pages are not attached to each other, but they are all attached to the spiral coil. We can also add cover sheets or even soft vinyl covers to complete the binding. Spiral binding is a popular choice for a variety of practical uses.

The coils we use in spiral bound books come in a variety of vibrant colors and a range of sizes to suit every need. We can make the coils longer or shorter, thicker or thinner, depending on the size of your book, the weight of the interior paper and cover sheets, and the page count. 
Here are a few examples of the variety of coils we provide: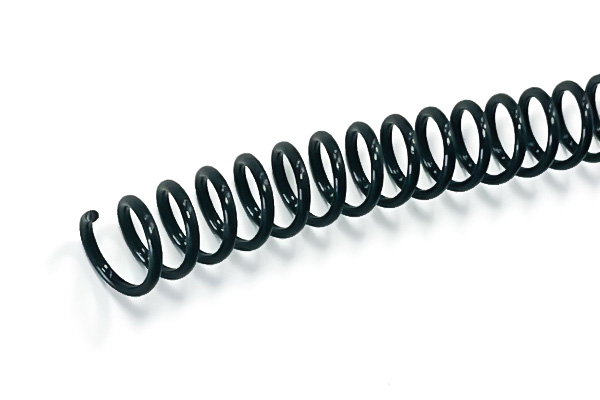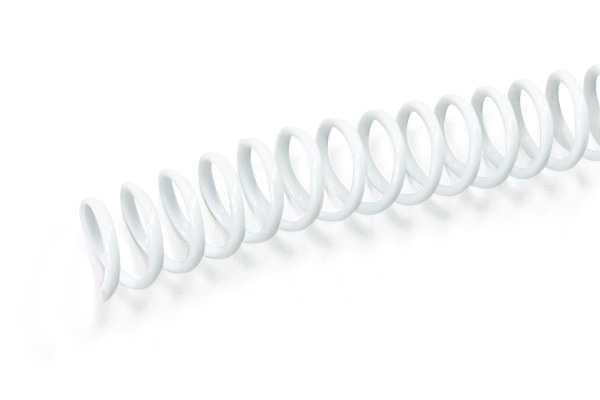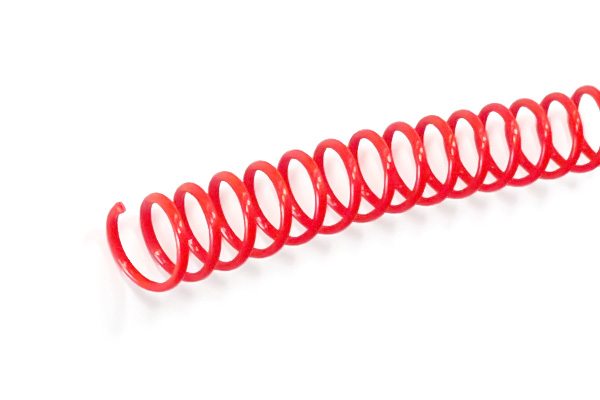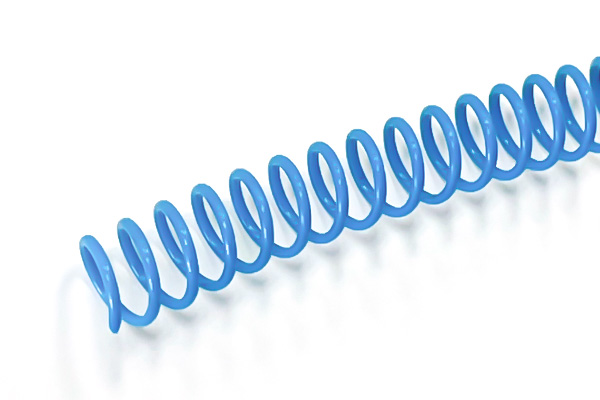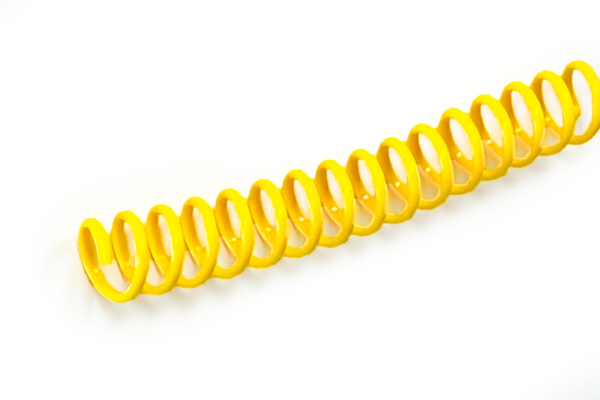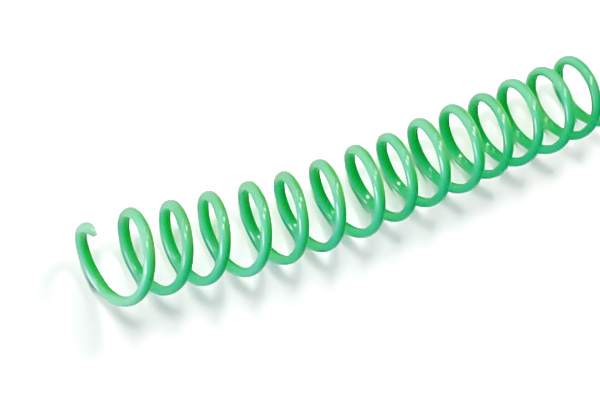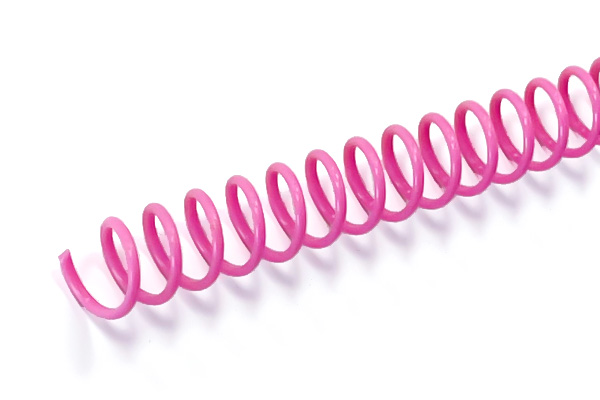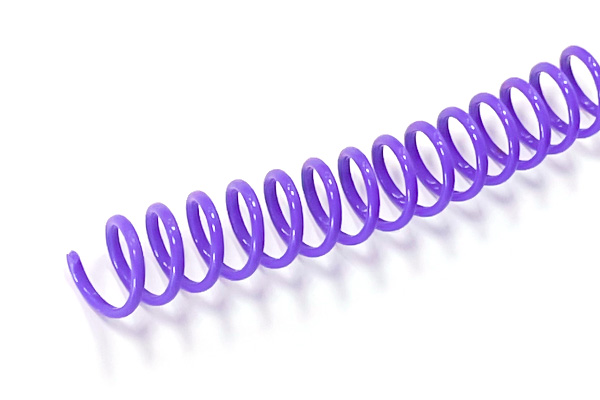 Spiral Binding vs Wire-O Binding
Spiral binding is like another technique called wire-o-binding. While they have much in common, they are not the same. It's important to understand the differences if you need to choose between them.
Spiral bound books have plastic coils, while wire-o-bound books use metal coils.
Spiral bound books can carry less pages than wire-o bound books, although in each case much depends on the thickness of the paper you've chosen to use.
Spiral binding uses a single coil whereas wire-o binding has a double wire.
The holes in a spiral bound book may be circle or oval shaped.
Wire-o is less durable and robust than spiral binding
Wire-o has a more professional, corporate look
Which you choose depends primarily on the context and content of your book. If it's for educational or workshop use, for example, then spiral binding may be better; if it's for, say, a business report or a company bio, wire-o could be the optimal choice.
Spiral-Bound Book Design Tips
Most of the design requirements for all books—using the CMYK color space, exporting images either as vectors or 300 dpi rasters, allowing for bleed zones and trim lines, etc—are the same for spiral bound books, too, but you must consider a couple of extra factors.
For a spiral-bound book, always leave an added margin of at least 5 mm on the edge that we'll bind the book to allow for the holes. For example, if the book margin on the cutting side is 10 mm, on the binding side, you need to leave an 15 mm margin. We suggest that you avoid making images spread across two pages as they image will be disrupted when we drill the holes through the pages.
The Advantages of Spiral Bound Books
We can think of many advantages to using spiral binding for your book. Here, we list a few to help you decide if it's the right option for your needs.
Flexible page counts—with spiral binding, the practical page count range runs from as few as 12 pages to 300 pages. Also, because the pages are not organized as "signatures"—as with a perfect bound or hardcover book—you needn't worry about making sure the page count is a multiple of four. You can have odd numbers of pages with no difficulty. We supply coils in an array of diameters and to match exactly with your book's thickness, so that the result is always both aesthetically pleasing and practically functional.
Ability to open fully—you can turn the pages through 360°, lay the book completely flat, stand it up for presentations, making it ideal for salespeople, business presentations, and educational contexts.
More color options—the coils we use for spiral binding come in almost every color under the sun, so it's easy to find one that fits your overall color design, your corporate branding, or your preference.
Pages turn without obstruction—because the pages move independently of each other, spiral binding is an ideal solution for practical and work manuals, as they can be opened and then the instructions can be followed hands-free with no risk of the pages flipping or the book closing on itself.
Those are just some of the many advantages of spiral binding. We hope that the list is helpful. But if you're still not sure, please get in touch. Our friendly experts will be happy to listen to your needs and offer you the best professional advice about which binding style would best suit to your project.
For Which Books Is Spiral Binding Best Suited?
Spiral binding offers a perfect choice for music books, manuals and several other documents, including educational tools and children's activity books. At QinPrinting, we help businesses to print spiral bound reports, legal documents, and planners, together with on boarding, technical, and user manuals. We also make spiral bound workbooks, activity books, and more for schools, colleges, and other educational institutions.

Need More Help? Let's Talk!
If you're a business, school, college, or anyone else in need of a first-class spiral-bound book at an unbeatable price point — and only the finest product and personalized customer service will do — we should talk. Get in touch today to chat through your needs or to ask for a no-obligation quote. We can't wait to help you make your next spiral-bound book the best!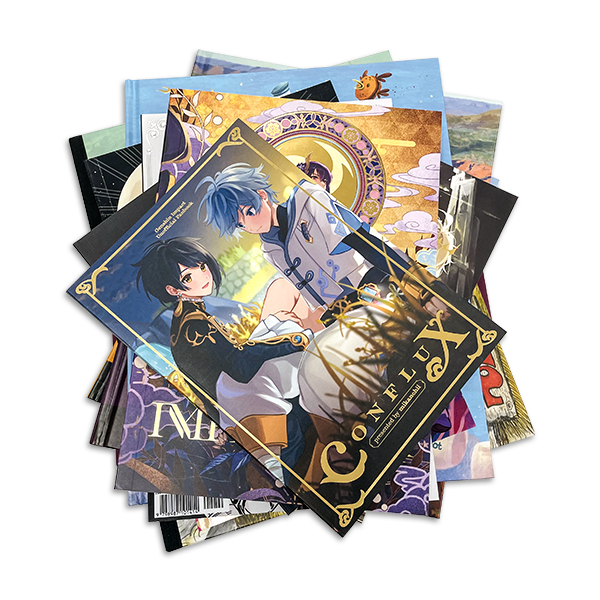 Start your printing project with QinPrinting
Explore all our different printing choices