Board books are popular for publications aimed at babies and toddlers, although we've also printed board books geared toward a teenage or adult readership. They're typically small, robust books — well-suited to tiny hands and a degree of rough handling! — illustrated with colorful artwork and a simple text, often as few as one or two words per page. They're also a significant starting point for self-publishers interested in breaking into the juvenile market, as they're always popular and relatively economical to print and distribute.

What Is Board Book Binding?
Board book binding is unique compared to other binding methods. We print and cut each two-pages spread—usually on 350 gsm C1S paper. Then we fold each spread in the middle. Now we glue the spreads together in a carefully planned order so that they follow the proper sequence. In most cases, there's no added cover; we simply wrap the outer surfaces—front, spine, and back—in a single sheet of printed paper, which we may also varnish for extra protection, and glue into place. Here, we describe the books as "self-covered". However, while less common, we also apply hardcovers on request, using the same technique as for a normal hardcover book. Either way, the result is an attractive, colorful, and robust board book with a professional and eye-catching finish.
What Are the Features of Board Book Binding?
The key consideration we keep in my when manufacturing and binding board books is that they must be child-friendly and confirm to all national and international safety standards. We can also provide national and international safety certificates—such as the CE and CPC certificates and others—to you on completing the book. So, let's look at several of the most important and distinguishing features of our board books and board book binding, designed both to appeal to a young audience and to make them safe and functional.
Board books open flat without splitting, so you can add beautiful full-color spreads. In fact, we recommend designing the artwork for board books as spreads—two opposite pages, left and right, visible at the same time with artwork which "spreads" across them both—rather than in terms of pages.
They have a square, flat spine which is a printable area and also make tidying up and stacking or shelving the books easy.
For the safety and comfort of babies and very young readers, we round off the corners of all our board books.
We laminate all the interior pages to protect them from spillages and dirt and to enhance the colors of the artwork.
We make board books from high-quality materials which result in a robust product which can endure the rough-and-tumble of the nursery.
You can make your board book extra special by adding sliders, windows, and "pop-up" features with which children love to engage.

Limits to Board Book Binding Page Counts
Board book binding allows for 12 to 48 pages. These are functional limits. A board book with fewer than 12 pages would be too flimsy and one with over 48 pages would be too chunky and difficult to handle. Decades of industry experience show that for the age group for whom we make these books, the ideal page range in terms of concentration and practical handling is 12 to 48 pages. If for a special reason, you'd like to make a board book with fewer pages, talk to us first. It may be possible to reinforce the pages with extra layers, for example, or increase the overall board dimensions. But remember that the more customization, the higher the production costs will be.
Self-Cover Board Book Binding vs Hardcover Board Book Binding
We mentioned at the outset that most board book binding uses the technique known as "self-covering". This means that there is no separate cover per se and that we make the outer wrap of the same paper as the interior pages. But we also mentioned that we can add a hardcover to a board book. It's also a popular choice for baby, adult, or teen board books. For young children, we recommend a round corner cover. With self-covered books, the process is simpler, it's more economical, and the book can easily lay flat open as we do not glue the inner pages to a spine. All the pages are flush with the front and back.

With hardcover binding, which follows the identical process we use for hardcover adult and teen books, uses an added casing made of robust board and covered with another layer of paper glued to end sheets and changes the book's design considerably. The cover overhangs the interior pages by a small margin and the pages don't open fully flat. However, aside from looking rather special, a hardcover board book binding also provides extra protection to the interior artwork. It also costs more and takes longer to produce.

With self-covered board book binding, the cover paper is the same as the interior paper. For hardcover board book binding, the cover is made of printed paper wrapped on grayboard. So, hardcover board book binding is thicker than self-cover board book binding even when they have the same interior page count and use the same paper.
For self-cover board book binding, we cut rounded corners into the cover and interior together. For hardcover board book binding, we need to separate the process for cutting round corners for interior and hardcover because the hardcover is a little bit larger than interior. So, with hardcover, you may have round corners for the interior and straight corners for the cover. You may also have rounded corners on the cover, but in that case the cutting must be done manually and so it adds to the cost.
With a hardcover, we can also insert a layer of sponge to give it a wonderful, soft feel that small children love.
Also with the hardcover option, we can add colored hand bands and a marker ribbon if you wish.
While you have more design options with hardcovers, self-cover board book bindings are more economical and have faster turnaround.
Pop-up board books are a popular option. If you'd like to create a pop-up board, it's important to discuss your design needs with us first as it's a specialized process. We can make windows, sliders, lift-the-flap, and 3D pop-up elements as you prefer. These books are a great option for young children as they are interactive and encourage deeper engagement with the book as well as providing endless hours of fun. Adults like them, too!
Need More Help? Let's Talk!
Designing and printing a board book either for children or adults is always a fun and creative project which can bring great satisfaction. Get in touch today to chat through your needs or to ask for a no-obligation quote. We can't wait to help you make your custom board book the most exciting yet!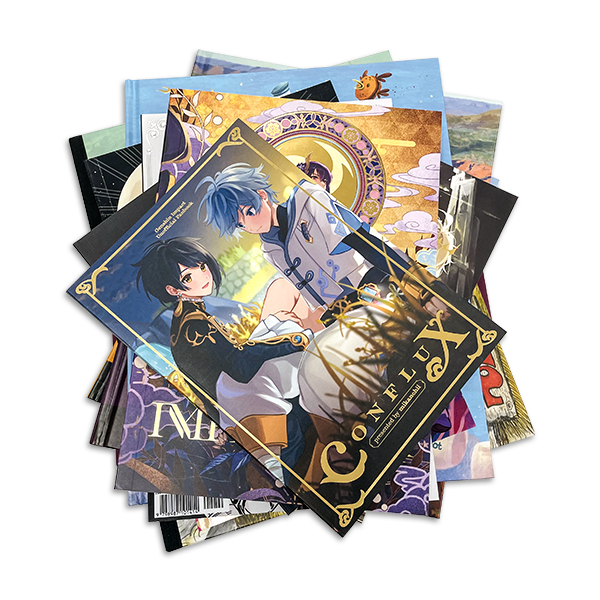 Start your printing project with QinPrinting
Explore all our different printing choices