Saddle stitch binding—also called "stapled binding"—is one of the simplest and most economical binding methods. When saddle stitching, we collect and collate the page signatures, cut, fold, and insert them one inside the other before stapling them together down the central crease. In most cases, we use two wire staples which we insert from the outer edge and crimp securely on the inside. At QinPrinting, our saddle stitch results are excellent, as once we've printed the pages, we use a specialized, state-of-the-art "stitching machine" which automates the process and eliminates human error.

Saddle Stitch Binding Maximum Page Count
Saddle stitching is best with shorter books. Typically, the page count for this binding is between 8 and 64 pages. It depends on the paper's thickness. For example, if we print the interior pages on 105 gsm art paper, the maximum page count would be 64. If we print the interior on 128 gsm art paper, the maximum page count would be 48. So, the thicker the paper you choose, the lower your maximum effective page count will be. We recommend keeping your page count to 48 or under for the best results and to make sure that your overall book thickness doesn't exceed 0.1″. To get a better idea of our range of papers and their thicknesses, please check out our paper samples.
Saddle Stitch vs. Perfect Bound
Most booklet, magazine, and brochure customers make a decision between saddle stitch or perfect bound solutions. Saddle stitch and perfect bound are both popular binding options for a multi-page booklet, magazine or catalog. But how do you choose between them? Your decision will be based on your book, your market, and your budget, alongside technical considerations. The following information should help you make the right decision. But if you have questions, just get in touch and we'll be happy to explain what you need to know.
Saddle stitched books don't have a printable spine area. We staple them along the folding line. Perfect bound books have a flat, "square" spine on which you can print the title, the author's name, the publisher's name, and a logo.
While we limit a saddle stitched book to a maximum of 64 pages, a perfect bound book can have up to a thousand.
Saddle stitch production and turnaround time is much shorter than for perfect binding; as little as three days.
Saddle stitching costs less, perfect binding costs more—not only in terms of design, materials, and production, but often to ship, too.
For children's books, we don't recommend saddle stitching because of the potential risk if a staple comes loose. For a children's book, perfect bound is often the better option.
Usually, saddle stitching is done with a self-cover, whereas for perfect binding the cover paper is thicker than the interior paper.
What Are the Advantages of Saddle Stitch Binding?
Neither saddle stitch binding or perfect binding is better than the other per se. It all depends on your project, the style, design, page count, market, and more. But let's look at several of the primary advantages of saddle stitch binding which may help you further in making your choice.
It is a cost-effective, affordable binding method ideally suited to booklets, magazines, and brochures. So, if you are publishing any of these, we'd recommend you give saddle stitch serious consideration.
It has a short production time, which makes it ideal for quick-turnaround or repeat projects (such as a monthly or quarterly magazine).
You can open a book with saddle stitch binding flat. If the images or photos cross two pages in a spread, the crease in the saddle stitch doesn't interfere much with the effect; whereas with perfect bound, you lose the middle section where the pages meet the spine.
You can use this method even if you have a very short production run (i.e., you only need, say, 100 copies) and still make savings, compared to perfect bound or hardbound books which have higher minimum order quantities.
You can make books or booklets in which we make the cover of a paper that is of the same thickness as the paper inside. We know these books as "self-cover" books. This makes it a more economical option if you have a limited budget.
The practical range of effective size options is greater with saddle stitch books than with perfect bound, which become unwieldy if they get too big.
As no extra "bulk" is involved in the saddle stitch method—just a couple of almost weightless staples—it means the books are lighter and less costly to ship and distribute.
With saddle stitched books, you can choose from an array of hundreds of paper types to create something unique and beautiful from your design.
Those are just a few of the advantages of opting for saddle stitching. We'd recommend it as the optimal solution for any publication with 48 pages or fewer and when you need to keep costs down and get a quick turnaround. But don't think of saddle stitching as only a budget option: a well-made saddle stitched book is an attractive object and has a lot of appeal. It's all down to the paper choices, the design, any special finishes, and, of course, the content. 
Tips for Getting the Best Out of the Saddle Stitch Binding Method
The saddle stitch binding method is optimal for printed magazines and booklets. But if you are currently at the design stage, then we'd like to share a few helpful tips that you should keep in mind in order to get the best out of this method.
Think in terms of spreads, not pages—one of the prime advantages of a saddle stitch binding is that you can lay the brochure or booklet flat. This gives you the opportunity to design full-spread illustrations and graphics that will make the interior more dynamic, unique, and visually appealling. A "spread" is two pages, left and right, both visible at the same time and considered as a single design field.
Consider size and orientation—saddle stitching opens up a broader range of size possibilities than many other binding styles. We make saddle stitch books ranging from 95 mm by 120 mm up to 305 mm by 420 mm, but we also offer a full customization service, so if you have an unusual size concept, talk to us, as we can probably print and bind it for you. And don't forget that not all books, brochures, and booklets need be narrower at the top and bottom and longer down the sides—so-called portrait orientation. We can orientate them the other way in landscape orientation, or even equal-sided to make a square.
You can get creative with paper—your choice of paper is important to get the perfect outcome from saddle stitch binding. We can offer you a vast range of paper stocks in different weights, types, and textures. The best thing about this binding method is that you are free to choose either a heavier cover paper or something that has the same weight as the paper you use inside. If you want your booklet or magazine to be much more robust and resilient, you can also opt for laminating the cover. Our stunning range of papers will truly make your booklet stand out.
Remember the "rule of four"—the saddle stitch binding method involves taking larger printed sheets and folding them to form the pages. The mathematics of how we print these sheets—known as signatures—means that your total page count must always be in multiples of four: 16, 32, or 48 pages plus four for the cover sheet are the most popular and effective options.

Your choice of binding option makes a significant impact on the appearance and quality of your finished book, the design process, and the price. If you're not sure if saddle stitch binding is right for your project, the best thing to do is to talk to us. With over 25 years' experience under our belts, the latest offset printing and binding technology at our fingertips, and a genuine commitment to customer service, we'll be happy to give you the best advice to help you choose the perfect book binding solution for both your book and your budget. Get in touch today for an informal chat or a no-obligation quote. We can't wait to work with you!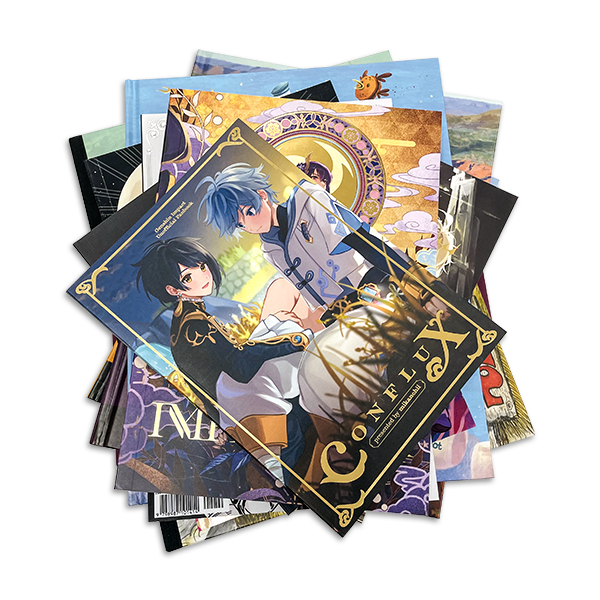 Start your printing project with QinPrinting
Explore all our different printing choices