One of the easiest and most effective way to customize board game components and promote your project is with custom-made stickers created according to your own designs
Custom stickers are an economical and effective way to enhance your custom board game design, adding character and color to your components. You can also use them to advertise and promote your board game business. Stickers are adaptable to many needs and uses, inexpensive to print, and loved by almost everyone, adults and children alike.
You provide us with the artwork and tell us a little about how you want to use your stickers, and we'll print them for you.
Once you know what you want your stickers to do, how they'll be used and by whom, and have decided on what they'll represent and what size or sizes they need to be, you can choose the best materials, create the artwork, and prepare the digital files for printing.
Materials Used for Custom Stickers
As a designer, you need to know the different materials we use for printing your custom stickers. It's important to understand the distinct qualities and uses of each material to help you decide which is most appropriate for your custom board game components. So, let's look at each material option next.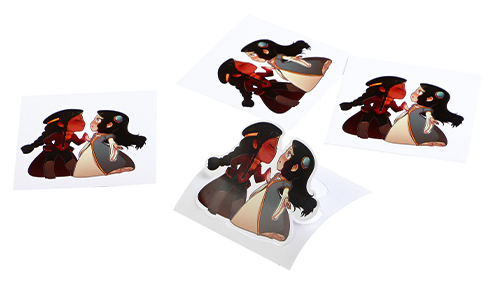 Paper stickers are the most cost-effective option. We recommend you choose paper stickers only for components that will be safely housed inside the game box. While we make them of high-quality paper, they're not waterproof and can also become scuffed or torn if over-exposed. We'll make your paper stickers either from semi-gloss paper or eco-paper and can also varnish, laminate, or foil stamp them for added protection and special effects.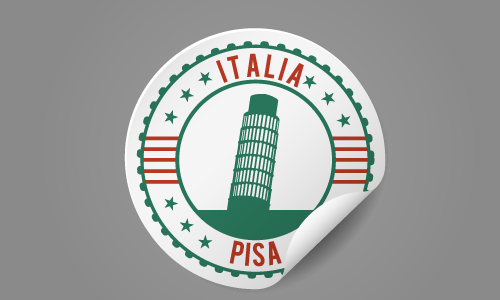 While most of our stickers have a permanent adhesive backing so they won't easily come off once stuck on, you may want your stickers to be removable. In that case, we'll use a "low tack" adhesive so you can peel the stickers off and even re-use them. Just ask.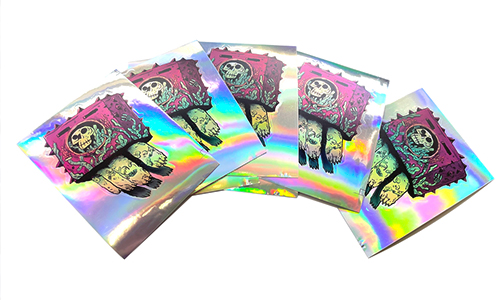 Another fabulous possibility is to go with holographic stickers. We'll print your design onto special holographic vinyl. We use UV printing machines. The artwork won't be smudged and we can apply a UV coating to protect the surface and prevent abrasions. With holographic stickers, please don't choose rich ink designs as these won't come through. Holographic stickers are dynamic and eye-catching and will make your board game really stand out.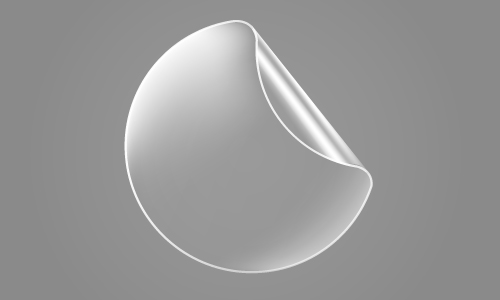 PVC stickers are another popular choice for custom board games. They are strong and waterproof. Like the polypropylene option, the PVC sticker substrate can be either clear or white. But we also can print the background in any color you choose. 
Polypropylene is a popular material for custom stickers. You can use it for both inside and outside surfaces as it won't get damaged by water and humidity. The material is tougher, won't tear, and will resist scuffing and repeated use without wearing out. We can print your sticker designs on a transparent polypropylene substrate or on a white background, depending on your needs.
Custom Sticker Sizes and Shapes
We can make stickers of any size or shape you like. While the most popular option is to print round stickers; rectangular, triangular, hexagonal, and star-shaped stickers are also common. We use a die-cutter (a sort of industrial cookie cutter for paper!) to cut the shapes to size. If you have a lot of smaller stickers, we can print them onto a single sheet of backing paper to save you money.
Color Printing Custom Stickers
The choice of color space and printing method depends on the design and material. You can choose the CYMK color space or the Pantone range according to your needs. And we'll either use the offset press machines, silk screen printing, or UV printing techniques. If you are not sure about these options, just talk to us and we'll be happy to explain them to you and help you make the right decision for your project.
How to Prepare Your Fles for Die-Cut Sticker Printing
It's important that you prepare your files correctly to make sure that your stickers come out looking great. Here, we share a few important tips.
Export your files in PDF format for printing
Make sure that you change the color space from RGB to CMYK before you export
Export images as vectors whenever possible
If you can't use vectors — if you're exporting bitmaps from Photoshop, for example — then make sure that you set the image resolution to at least 300 dpi
If you have a design with colors or images which extend all the way to the edge of the finished sticker, remember to add a 3 mm "bleed zone" to allow for die-cutting
If you're not exporting your artwork as vectors, you must separate the die-cutting design and the printable artwork into two layers
If you're working with a professional designer to create your files, they should understand what's needed to make everything "print ready". But if you're working with design software yourself for the first time, these are the vital tips to remember before you submit your files. Still, our team of experts will always manually check all your files before we go to press. If we find any issues, we'll let you know and help you resolve them.
If you're keen to print a set of beautiful, high-quality stickers to enhance your board game — and personal customer service matters to you as much as a world-class product — then we should talk. Get in touch today to chat through your needs or to ask for a no-obligation quote. We can't wait to help you make some seriously snazzy stickers!
Explore Board Game Components