Custom UV Offset Printing
A comprehensive guide to our custom UV offset printing services
What Is UV Offset Printing?
UV offset printing is a special offset printing method which uses "photoinitiator" inks cured with ultraviolet light. Besides regular UV offset printing, we can also use UV ink with several other printing methods, including silk screen printing, ink-jet printing, and transfer printing. But UV offset printing gives higher quality results when printing photographs, small sized text, and fine lines than UV silk screen printing or other UV printing methods. Compared with regular offset printing, UV offset printing is more durable and resistant. It also produces a glossier, smooth surface finish and richer, more vibrant colors which really "pop" off the page. We can apply UV offset printing techniques to a broad spectrum of materials including standard paper, colored paper, PVC, fabric, and more.
Custom UV Offset Printing Services
UV printing services are of several kinds, including digital and traditional offset. At QinPrinting, our custom UV printing services use state-of-the-art sheet-fed offset UV printing machines. These allow us to print onto an array of different material substrates, including:
Paper and cardboard — coated paper, laminated paper, colored paper, Kraft paper, cardboard, E-flute and F-flute corrugated cardboard, and more.
Plastics — PET (Polyethylene terephthalate), PVC (Polyvinyl chloride), PP (Polypropylene), and PE (Polyethylene).
Metalized board — gold, silver, copper, bronze, and other colors.
Foil covered board — gold, silver, black, and holographic coverings
Our sheet-fed machines can UV print a broad range of products including boxes and other packaging solutions.
UV Offset Printing Products
Our UV offset printing services are popular with clients needing a broad range of products. We have lots of experience across a spectrum of industry, business, and creative enterprise needs, from books, magazines, and catalogues to custom cartons and board games. Here's a list of a few of the most common applications for UV offset printing:
UV offset printing boxes — custom designed and made boxes for all your business, industrial, and retail needs; rigid paper boxes, collapsible boxes, folding cartons, telescope boxes, and retail boxes of every description for cosmetics, electronics, pharmaceuticals, toys and gifts, clothing, food, luxury goods, and more.
UV offset printing cards — gift cards, postcards, greeting cards, visiting cards, playing cards, game cards, and flash cards, for example.
UV offset printing packaging — packets, wraps, sleeves, labels, and stickers can all be made using UV printing 
UV offset printing on plastic — because it cures without applying heat, UV printing is especially helpful when printing on plastic. Popular uses include custom molded inserts for packaging, board game components, flexible plastic folders, and ID-style cards, to name a few.
UV offset printing on colored paper — another advantage of the rapid drying of UV inks is that they don't absorb into the paper but remain on the surface, which means they retain their chromatic integrity even when printed over another color which makes them ideal for printing onto colored paper stocks.
UV offset printing on holographic paper — if you want to print on holographic paper, then UV is a must as the substrate is laminated and not absorbent enough for standard inks.
UV offset printing on paper with lamination — again, because the ink is photo reactive and doesn't require absorption into the paper, UV is an optimal solution for printing on laminated surfaces.
UV offset printing special book covers — for many books, you may want a special cover with truly vibrant color reproduction and a glossier, protective surface. For such needs, UV offset printing is a prime solution.
UV Offset Printing Advantages
Whatever products you're working on, UV offset printing offers a gamut of advantages over other printing techniques. For example:
Faster turnaround — because the inks dry instantly on exposure to UV light, there's no time-sucking curing period. As soon as the sheets are printed, we can move on to the next process. This can significantly shorten the turnaround time, especially on longer runs.
More creative design options — because we can print UV on so many materials other than regular paper, you have much greater freedom to design and customize your products to make them truly unique.
Better reproduction — because it's a low-absorbency technique, it means you get sharper images and more vibrant color reproduction.
Protective surface — UV printing coats the surface of the paper with a tougher, more robust layer that's resistant to scuffing, scratching, fading, and moisture.
These superior qualities of UV offset printing make it the option of choice for products — such as custom boxes and packaging, board games and components, cards, and more, that see heavier use but still need to look great.
Sheet-Fed UV Offset Printing vs Regular Offset Printing
With sheet-fed UV offset printing, instead of using a "web" (a continuous roll) to supply the machine — as we would with regular offset printing — we load it with separate sheets. Since the design is transferred from metal plates to a rubber blanket before actually contacting the paper in either case, both techniques are still known as "offset". 
The key difference between sheet-fed UV offset printing and sheet-fed regular offset printing is in the curing mechanism. Whereas in a standard offset printing machine, there are infrared heating lamps which dry the inks after printing, with a UV machine, those lamps are replaced by ultraviolet light emitters which cure the inks immediately. Sheet-fed UV offset printing technology is fast, efficient, more environmentally friendly, and gives great results.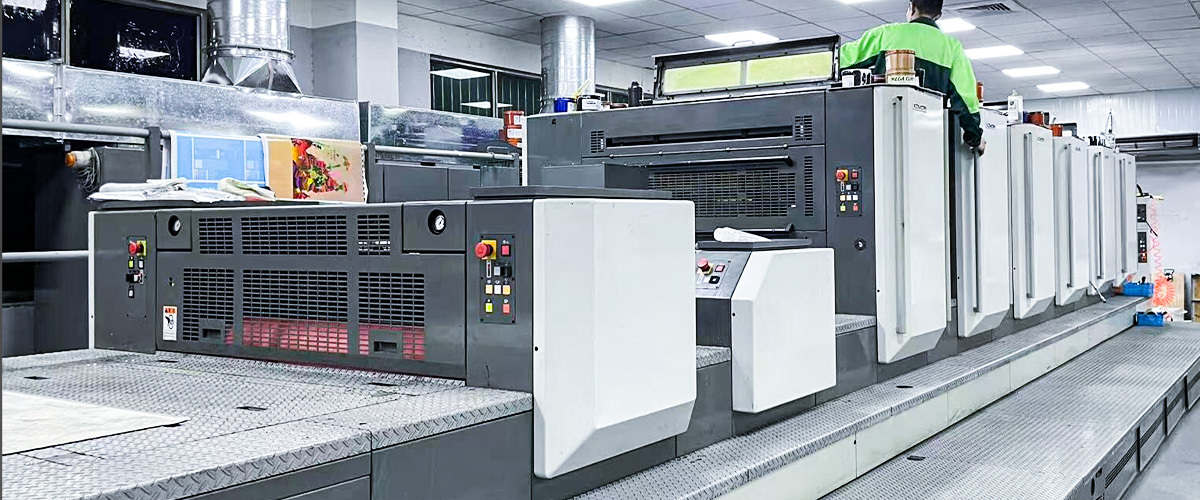 Interested in UV Offset Printing? Talk to Us!
From our facilities in Shanghai, we provide custom UV offset printing services to clients around the world. We are the global experts in UV offset printing for books, paper boxes and other custom packaging, catalogues, jigsaw puzzles, rigid boxes, game cards, custom board games, and more. You can customize your products according to your designs, or you can ask us to create the designs for you based on the text and artwork you provide. As well as UV offset printing, we also offer general printing services and a comprehensive board game manufacturing solution. Let's talk!