Everything you need to start working with dielines: what they are, why they matter, and how to prepare them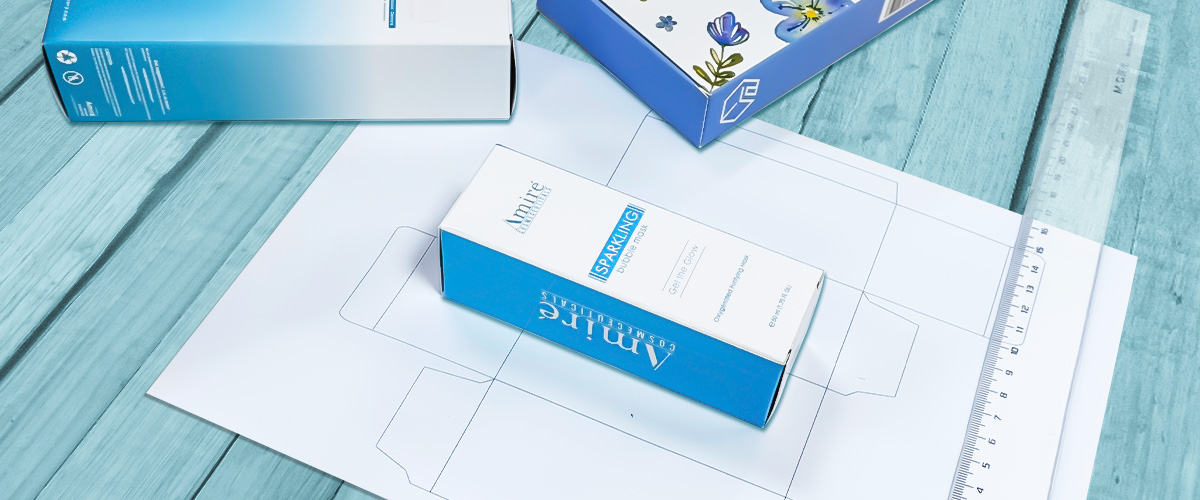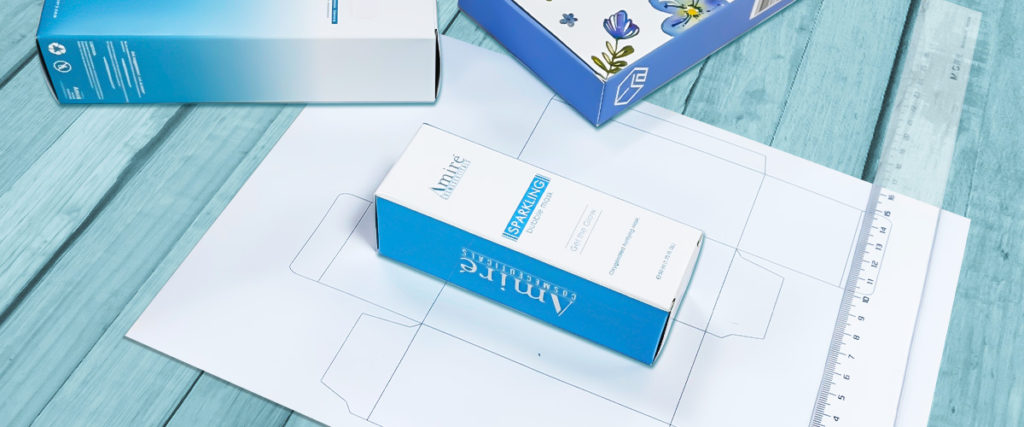 When designing your custom printed packaging solution with QinPrinting — or any other reputable offset printer — you'll need to know about "dielines". Dielines are essential to show us the extent of your artwork for printing, and where to cut, fold, or perforate the sheet so that your box will turn out exactly as you want it. The term comes from the process we use to cut designs into paper and cardboard. A "die" in this context is a metal mold — usually made of steel — which has sharp edges which make a precise, clean cut through the material. The dielines show where the cuts should be made.
So, a dieline — in design terms — is a marked line on a two-dimensional graphic layout which defines the shape of a box template when laid flat. Different colored dielines also define where the sheet must be folded, scored (for self-assembly boxes, for example), cut, creased, and perforated depending on the specific needs of the structural design. The term also encompasses bleed lines, trim lines, and safety lines. It's also used in the singular form to refer to a plan or template which includes all the dielines referred to above. So, you may here a designer, printer, or box manufacturer refer to "the dieline" and they mean the final drawing of the template or plan.
Dielines: Colors and Styles and What They Mean
The way the various deilines are represented varies. So, it's always worth making sure that your printer understands your system. However, the most common color and style attributes for the different dielines are as follows:
Solid green lines: most often used to indicate where the paper should be folded.
Dotted green lines: frequently used to show "safety" margins. All important artwork must fall within these lines to avoid being cut off.
Solid or dotted red lines: usually signify "bleed zones". These show the extra space to which your artwork or background color must extend to allow for movement of the paper during each stage of the printing process.
Solid black lines: these show where the box paper or card will be cut all the way through.
Dotted black lines: also known as "score lines", these are where a light, partial cut will be made into the paper to allow the box to be folded together for self-assembly.
Criss-crossed areas: typically, a criss-crossed area of any color indicates a tab or flap that should be glued during construction.
It doesn't matter which color and style system you use for your dielines. But as different designers, printers and manufacturers may use different systems, it's vital to make sure that both you and your printer are "on the same page" and have agreed on the meaning associated with each line.
However, if you'd like us to make things super-easy, we'll happily create a custom structural dieline for you. This will be a simple but complete template of the box's "footprint" with folding and cutting dielines. Our in-house color system uses solid magenta lines to show where the sheet should be folded and solid cyan lines to show where the sheet should be cut. We'll add other dieline requirements—such as bleed lines, safety zones, etc.—later in the production process. Here's a typical example of an in-house strutural dieline template: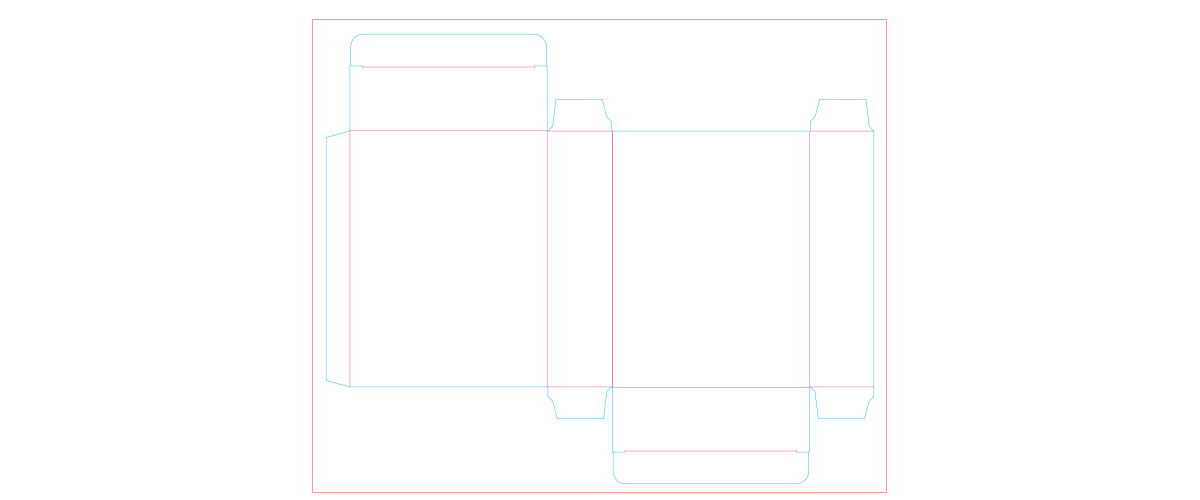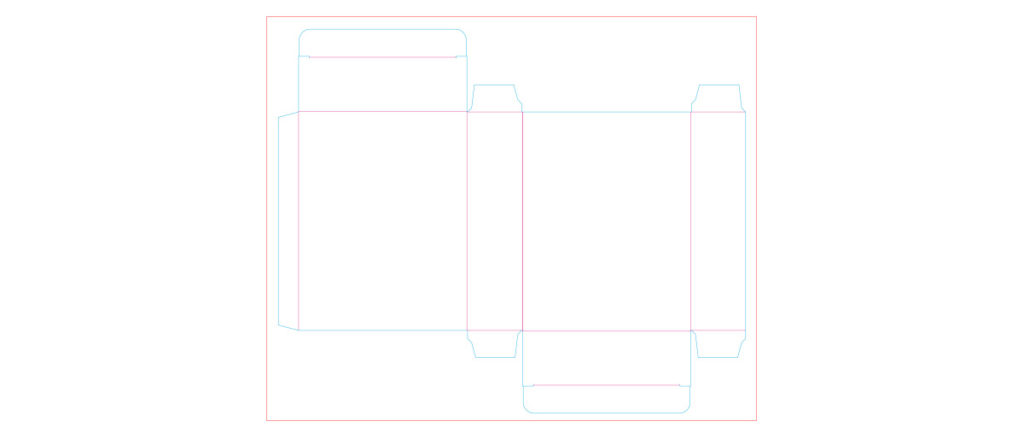 So, the dielines show the parameters ofyour proposed box's internal and external surfaces and where parts of the template will be cut, folded, glued, perforated, scored, and so on. They also show the areas in which the artwork and text must be placed. It's essential to get this two-dimensional layout prepared before you begin to work on your artwork. It is essentially a structural blueprint onto which all other aspects of your design will be mapped. Without it, you won't know if your images, text. logs, product codes, bar codes, and more will match and fit.
As we pointed out before, the term "dieline" is often used to refer to the complete blurprint. But you may find it less confusing to use the term "template" for the entire layout and reserve "dielines" for the specific linear instructions within the template.
How Do You Prepare Dielines?
If you are already familiar with box structural design and associated software, all of this will make perfect sense to you. In which case, you may wish to prepare the dielines yourself. If not, you may find this overwhelmingly technical. But don't worry, we're here to help! Once we've discussed the details of your design and chosen the materials, we can prepare a custom template with all the dielines ready-made for you. Then, all you need to do is open it in your design software — we recommend Adobe Illustrator for this — and add your artwork.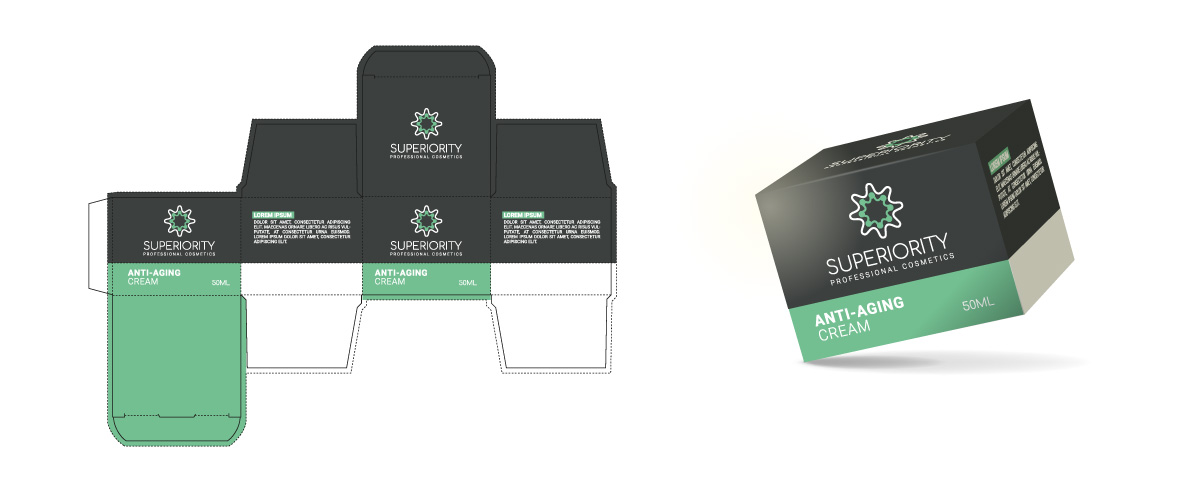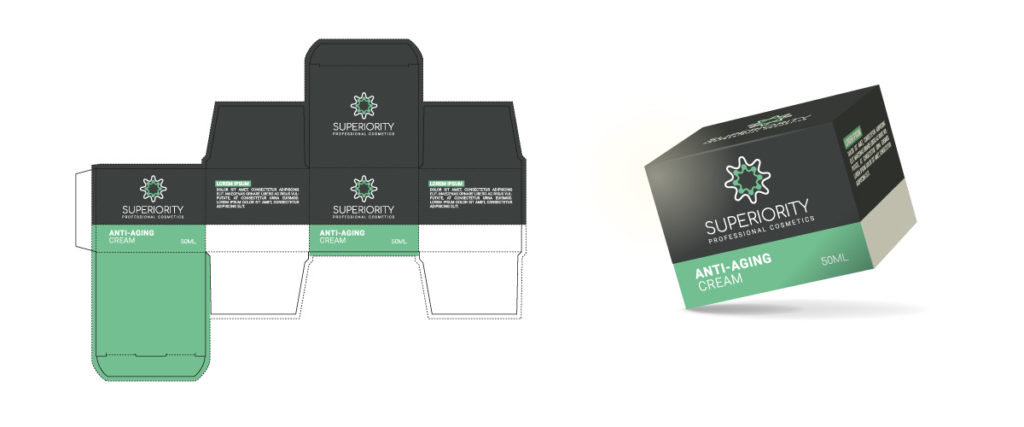 Top Tips to Prepare Correct Dielines
Still, if you would like to create the dielines yourself, remember the following top professional tips before you start:
Make sure you use appropriate software capable of creating and working with vectors. We recommend Adobe Illustrator.
Create your dielines as vectors and make sure that the dimensions are consistent.
Double-check all your sizes for accuracy, consistency, and proportion.
When designing different box styles, you'll find you'll need alternative dielines. So, make sure you study several examples of the box style you're designing as a point of reference.
Remember to color-code your dielines and include a key so that we can clearly understand the scheme you've chosen.
Always separate your artwork, special treatments — such as embossing or foil stamping vectors— and your dielines into individual layers.
Export everything in high-resolution, print-quality PDF format.
Even if you decide not to ask us to create your dielines for you, we'll still always be happy to advise and help any of our customers at any stage in the process. Just get in touch. And remember that we'll always check your files with care and provide you with a proof, prototype, or sample for approval before we go into mass production. 
If you're ready to develop your custom packaging artwork and structural design, we should talk. We have over 25 years in the industry, an enthusiastic and knowledgeable team of experts, a global reputation for excellence, and a sincere dedication to customer service and technical support. Get in touch to discuss your needs or ask us for a no-obligation quote.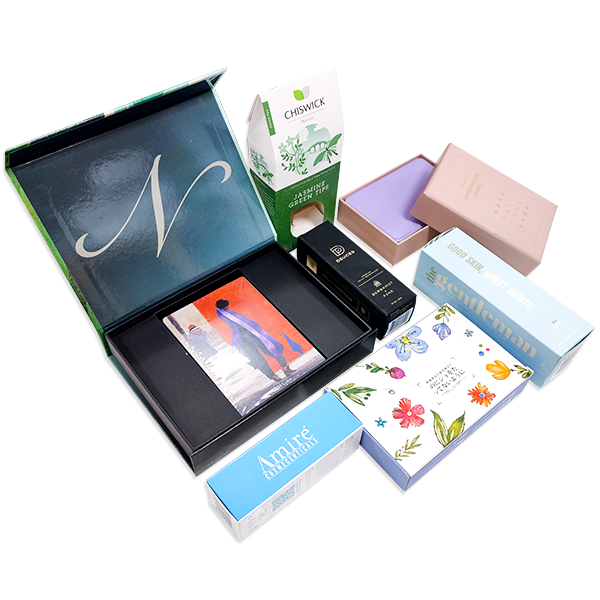 Start your packaging project with QinPrinting
Explore all our different packaging choices