Custom Printing on Vellum Paper
Your complete guide to custom printing on vellum paper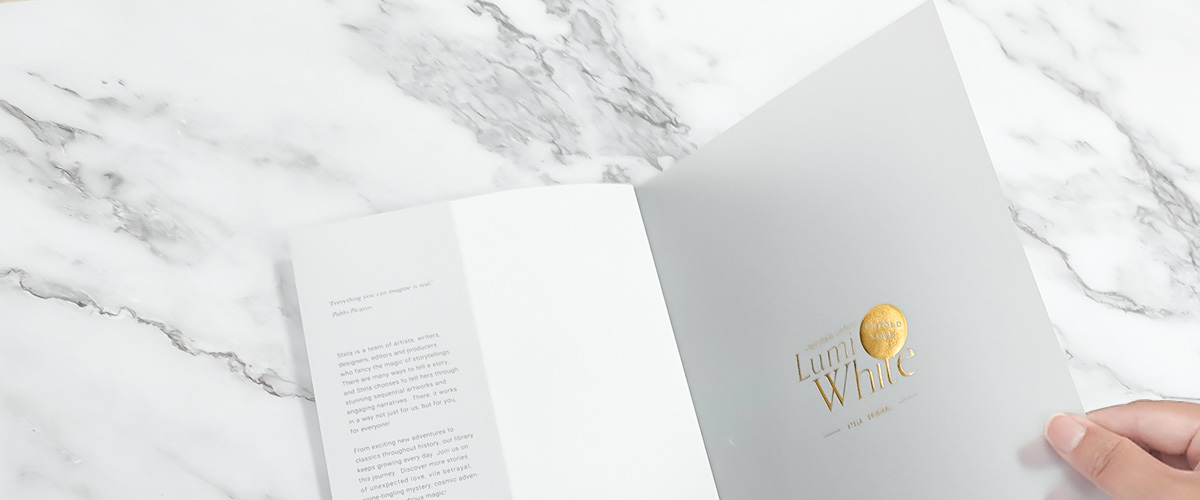 First, let's clear up any misunderstandings: the word "vellum" in this context means is a paper made from plant material, not cured pigskin as it once was in the Middle Ages! In addition to vellum, it is also known as tracing paper, translucent paper, luminous paper, and see-through paper. Whichever name you give it, it's the same thing: transparent, supple paper. It is available in a variety of hues and weights, and sometimes even textures. It is exceptional, adaptable, and has countless applications in the worlds of printing, custom packaging, and other paper-based products.
Vellum is suitable for a wide range of printing products and you can incorporate it in a variety of ways. Here's a list of the most common requests we get from clients for their product designs. But it's not exhaustive. If you have an idea not listed here, just get in touch. We can probably do it for you.
Packaging decor vellum—these are custom printed vellum sheets which can be printed with an artistic decorative pattern or your brand colors and logo, for example. It's a popular choice for use as a custom box insert for wrapping around the product. Popular products for decorative vellum inserts include luxury stationery items and chocolates, for example.
Book decor vellum pages—a stylish and appealing use of vellum sheets inserted into books, these can be end papers or used to overlay full page high-quality art and photographic reproductions in art books and high-end coffee table books, for instance.
Printing photos on vellum—we can also print photographs, black-and-white or color—directly onto the surface of the vellum paper.
Vellum invitation—a very popular choice for weddings, christenings, and other events. A vellum printed invitation has a distinctive and classy look.
Vellum cards—gift card, greeting cards, and other kinds make a unique and intriguing product that's sure to make a positive impression on the recipient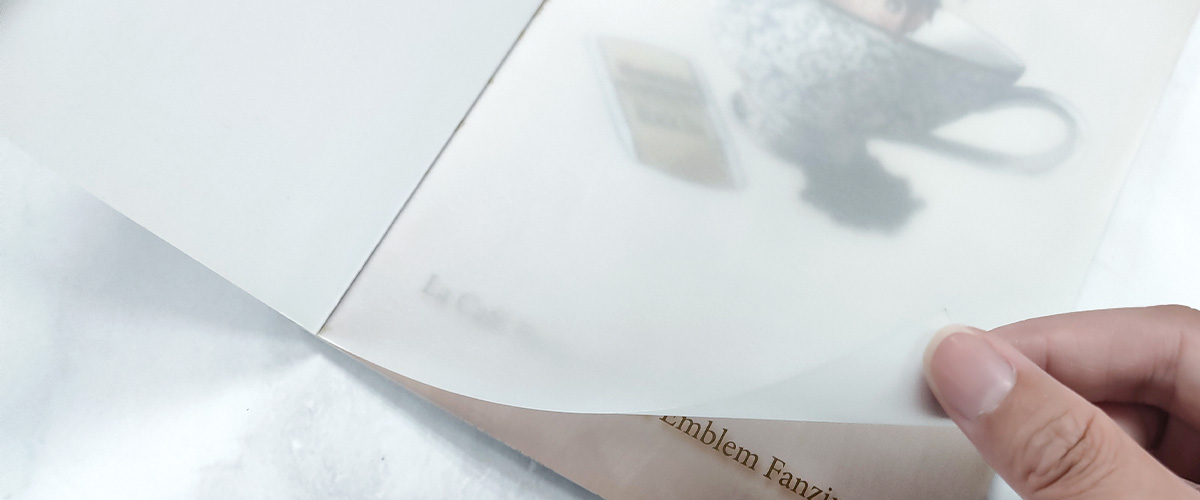 Different Weight of Vellum
Vellum paper comes in a variety of colors and the regular "frosted window" natural effect. All the colors are available in a range of weights—or thicknesses—for you to choose. Here are the most common and popular vellum weights for a wide spectrum of products and printing styles:
80 gsm
100 gsm
170 gsm
200 gsm
250 gsm
300 gsm
Paper weight indicates thickness. "Gsm" stands for" grams per square meter. Essentially, the heavier the weight, the thicker the paper.
Vellum Paper Special Features
Vellum paper has several special features that distinguish it from other paper types. These are factors which you will need to take into consideration when developing your printing product design.
If the vellum paper gets damp or is exposed to excessive heat, it will curl. 
The surface of vellum paper is extremely smooth to touch. 
Because vellum paper is transparent, we usually only print on one side.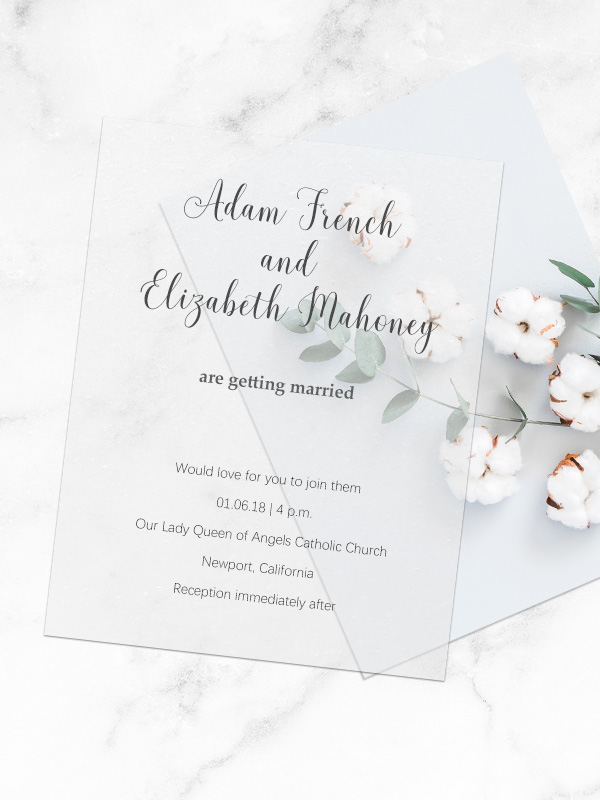 Our Printing Methods on Vellum Paper
At QinPrinting, we focus on sheet-fed offset printing or sheet-fed UV printing on vellum paper. We don't use digital printing for vellum. We are an offset printing company, so we have what's known in the business as an MOQ (minimum order quantity). But unlike most other offset printers who set their MOQs as high as 500 or even 1,000 prints, we like to keep our services useful and accessible and so we've set our MOQ at just 100 pieces per run. But remember that the more units you order, the lower the cost-per-unit price you'll enjoy.
Sheet-fed offset printing—traditional offset printing with soy-based inks but feeding the machines with individual paper sheets rather than a continuous roll (also known as a "web")
Sheet-fed UV printing—as above, but using special photo reactive UV inks which are cured instantly on exposure to ultraviolet light.
Screen printing—with screen printing, the image is made with a template inserted between to silk screens through which the inks are applied. It's only suited to larger images and text and shorter runs as in large numbers it gets quite expensive. It's not a good option for photographs.
Foil stamping—hot foil stamping is a mechanical printing technique which adheres a layer of colored foil to the substrate using heat and pressure. While the most common colors are metallic, such as gold and silver, we can apply other pigments, too.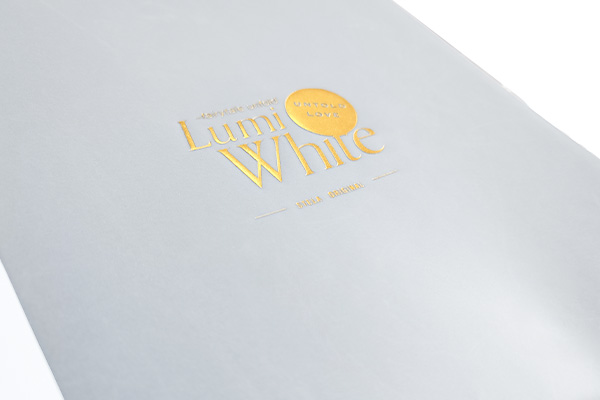 Need More Help? Talk to Us!
Interested in custom printing on vellum paper but need more help? Choosing the right paper, style, color, inks, and printing methods for your product is an important decision, so if you need any help, please ask.
We've been in the industry over 25 years and during that time have built a solid reputation as one of the world's most respected and reliable international offset printers. While we also work with large companies, we're genuinely supportive of smaller businesses, entrepreneurs, and independent creatives, too. Whether you need books, boxes, cards, games, or anything else, we're here for you.
If you'd like to talk to us about your next project and how we can help, we'd love to hear from you. Get in touch and one of our experienced, expert, and enthusiastic team will be delighted to listen and advise. And if you'd like a no-obligation quote to compare with your other options, no problem. Just ask.