A helpful guide to the paper options available for offset printing products from books and brochures to magazines, catalogs, boxes, and board games


Different Types of Paper for Printing
You can choose from a vast range of different paper options to best suit your print project. Some of these papers are untreated, others are coated on one or both sides with mineral clay or polymers, and others may be colored, textured, metallic, and more. Each with their special uses and particular qualities. In this helpful guide, we'll introduce the most common and useful paper options and describe their best uses to help you understand what's available and to choose the ideal paper for your particular project.
The kind of paper stock that you buy from the stationary store for use in the office or with your home printer is fine for domestic purposes and short-run digital or laser printing of newsletters, updates, correspondence, and so on; but it isn't of high enough quality to work well with offset printing. Most print jobs require either uncoated offset paper or paper coated on one or both sides. Many projects—such as a bound book—will need at least two different kinds of paper for the interior pages and the cover.
Uncoated paper is also called "offset" paper or sometimes — misleadingly — "woodfree" paper. It takes print well, but it isn't good for full-color or photographic reproduction as it's too absorbent and the images may look dulled or the ink "bleed" into the fibers making your images seem fuzzy. But for most black-and-white printing and text-only projects, it is efficient and cost-effective. Its slightly rougher surface and high absorbency also make it perfect for any project—such as a workbook, a coloring book, or a diary or journal—in which the end-user needs to write.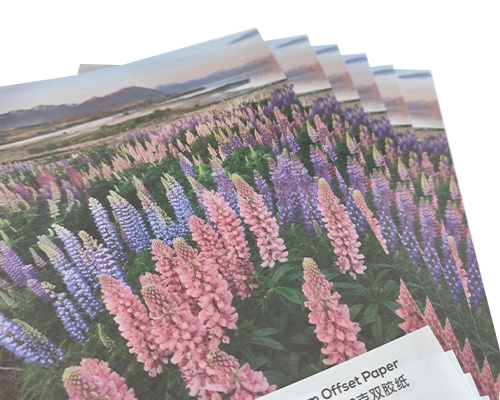 Our standard uncoated paper weights—a measure of the thickness of the paper, which we'll look at in a moment—are as follows:
C1S-Coated One Side Paper
In the industry, you'll always hear this paper referred to as "C1S". It means "Coated on one side". It's ideal for uses such as folding cartons, for example, in which only one side will be printed and the other left blank for gluing. At the same weights, C1S is more rigid and robust than standard coated paper, which is another quality which makes it ideal for packaging products.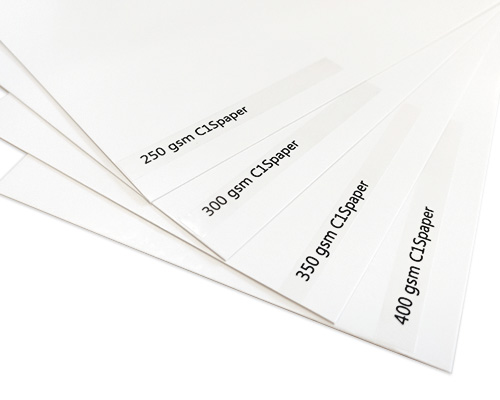 Our standard C1S paper weights are as follows:
Coated Paper or Art Paper
Coated paper, also known as "art" paper, includes both gloss art paper and matte art paper. Coated paper is the best paper option for photographs, images, graphics, and colorful backgrounds, as the coating holds the colors closer to the surface leading to a bright, crisp color reproduction with well-defined zones and boundaries between areas of shade and contrast. Where gloss art paper has a little shine on it, matte art paper feels like silk, which is why it's sometimes also known as "silk paper".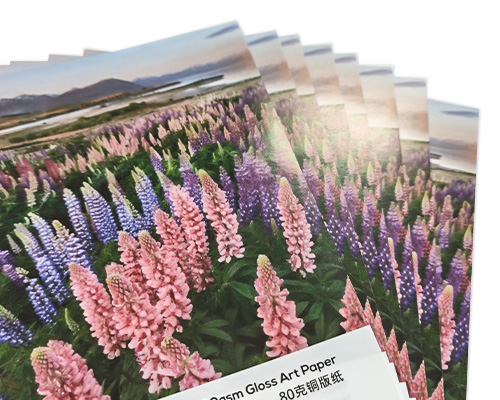 Gloss and matte art paper standard weights:
350 gsm / 236 lb
(gloss only)
Special Paper and Other Materials
We also have hundreds of special paper options and other materials, including:
Textured paper
Colored paper
Metallic (gold, silver, and holographic) paper
Soft-touch paper
Linen paper
Parchment paper
Tracing paper
Waterproof paper
Vinyl
Leatherette
Cloth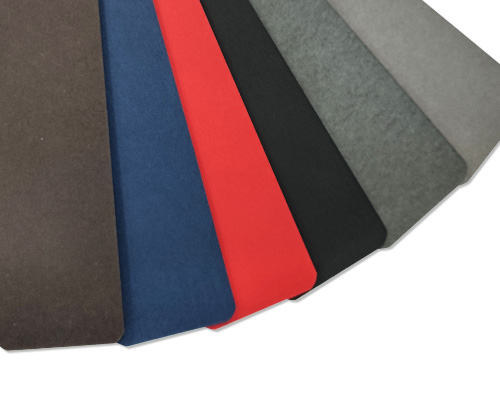 Several of these papers or other materials are great options for making book covers, paper boxes, board games, cards, and for many other products or for achieving special effects, or specific practical uses such as end sheets or tabs.
The printing industry uses several measures of the thickness of paper. The most common are the weights, "gsm" and "lb". Weight is used as a proxy for thickness. "Gsm" is an abbreviation of 'grams-per-square-metre'.  So, it's a measure of the weight of a sheet of paper with dimensions of one square metre. "lb" stand for pounds and uses the same principal but expressed in the old measures still used in North America and a few other places. But to help you understand the thickness of the paper options available, here's a handy chart:
How to Choose the Best Paper for Your Print Project
Whichever application or combination of applications you use to design your covers and interiors, we'll need you to export the final files as PDFs. This is straightforward in all design software as it is standard practice when collaborating with an offset printer. So, here's a quick guide to how to export your files as PDFs from each of the applications we've discussed above.
For a paperback or softcover book, the most popular and effective choice is 250 gsm gloss or matte art paper, or C1S paper. If the book is larger than 8.5" x 11", then 300 gsm art paper or 300 gsm C1S paper would be better. If the inside front cover and inside back cover won't be printed, choose C1S paper. If the inside front cover and inside back cover will be printed in full color, go for gloss or matte art paper
For hardcovers, we recommend a 157 gsm art paper, laminated, and wrapped on grayboard to make the casing, with end sheets to bind it to the block.
Again, your paper options depend on the purpose, content, and style of your book along with factors such as size and layout. In most cases, novels, coloring books, and other text-based volumes should be fine with uncoated offset paper for the interior pages. But an art book, coffee-table book, or a photo-essay, for example, would need a heavier paper coated on both sides to give the best reproduction. A comic book with a black-and-white interior could be fine with uncoated paper, but a full-color graphic novel would be best with coated paper for the interior, too.
To make our folding paperboard boxes robust and practical while keeping them lightweight and easy to store, handle, and ship, our standard papers for folding cartons are:
C1S paper—this has a protective layer of gloss or matte coating on one side
Brown Kraft paper—made from chemical pulp, this paper is tough, resistant, and durable
Black Kraft paper—same as above, but black, with a slick, professional look
Corrugated paper—a robust solution with two or more layers filled with fluted inserts
Colored paper—paperboard in a variety of attractive colors and shades
Soft-Touch paper—this has a scuff-resistant, velvety coating
Textured paper—attractive paper with a textile-like finish
These are excellent choices for folding cartons and serve the needs of most customers. They're high-quality stocks with excellent properties for print, durability, and precision cutting — all important factors for making an effective carton.
We make rigid boxes from grayboard covered with coated white paper. Our standard papers are:
Printed paper— we use CMYK offset printing on 157 gsm / 106 lb art paper
Brown Kraft paper—120 gsm / 81 lb paper made from chemical pulp, this paper is tough, resistant, and durable
Black Kraft paper—same as above, but black, with a slick, professional look
Colored paper—120 gsm / 81 lb paper in a variety of attractive colors and shades
Soft-Touch paper—120 gsm / 81 lb paper with a scuff-resistant, velvety coating
Textured paper—120 gsm / 81 lb paper paper with a textile-like finish
We can also include custom inserts made from paperboard, foam, silk, PVC, and other materials of your choice.
The type and thickness of your game board paper options depends on its size, whether it folds, and if it's laminated. Typically, it will be 157 gsm art paper with either gloss or matte lamination wrapped on paperboard. Here's a general guide to the most common paper and paperboard types and thicknesses:
Grayboard—most commonly 2 mm to 2.5 mm, but you can also make it thicker by gluing two sheets together
Chipboard—chipboard is already a little tougher than grayboard, so 1.5 mm up to 3 mm is usually plenty thick enough
ESKA blueboard—available in 1.5 mm to 2.25 mm thickness
Plasticized cardboard—while commercially available up to 10 mm thick, 1.5 mm to 2.5 mm is about right for most game board applications
Obviously, the final thickness of your board depends on any further layers or laminates, treatments, and finishes you add to it—even ink has weight and thickness! So, it's worth taking it all into account when designing your game and thinking about how it will all fit together, how much it will weigh, and what size box you'll need to house it all comfortably.
Cards play a crucial role in lots of popular and successful board games and can also be printed as decks of playing cards, games in their own right. We also print tarot cards, flash cards, and more. We have a full range of paper options including grayboard, whiteboard, and bluecore from which to make your cards; and we can cover them with gloss or matte coated art paper, colored paper, textured paper, and more, along with special finishes such as varnishing, lamination, spot UV, foil stamping, and laser-foil. And of course, we can make a special box to keep your cards in.
The choice of paper affects the quality and impact of the finished printed product, the design process, and the price. When you have a print project in mind, the best thing to do is to talk to us first. With over 25 years' experience under our belts, the latest offset printing technology at our fingertips, a vast range of paper options available, and a genuine commitment to customer service, we'll be happy to give you the best advice to help you choose the perfect paper for both your print project and your budget. Get in touch today for an informal chat or a no-obligation quote. On request, we can also send you our comprehensive paper samples manual. It's free; you only pay the cost of mailing it to your chosen address. We can't wait to work with you!