Holographic Paper Printing
An introduction to our range of holographic paper printing services and customizable products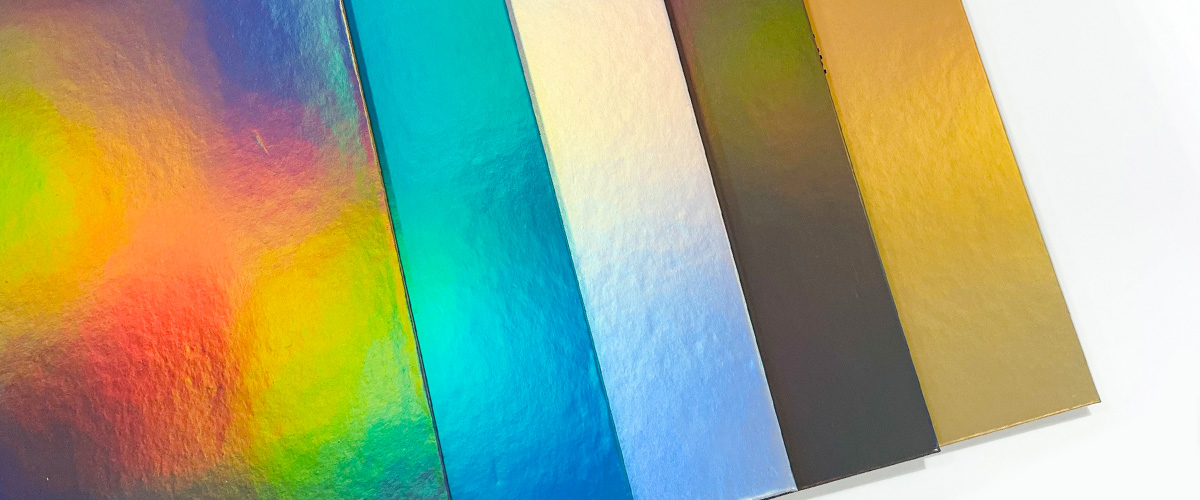 What Is Holographic Paper?
A sheet made from paper which is imprinted or embossed with a design or image and then covered in a thin, transparent film of metal is known as "holographic paper". The finished sheet has a characteristic luster — a kind of rainbow iridescence — when the imprinted pattern is viewed from particular perspectives. It can be used for several applications in a range of printing projects to create striking and visually stunning effects. 
While the smooth, reflective surface of holographic paper means it's not suitable for standard offset printing, over-printing can still be achieved with other techniques. For example, here at QinPrinting, we can do holographic paper printing with state-of-the-art sheet-fed offset UV printing machines. To make this service as accessible as possible, we've set our minimum order quantity to a competitively low 100 units per run. But remember that the more prints you order at once, the lower the cost-per-unit pricing will be.
Holographic Paper Printing Methods
Holographic paper is best printed on using one of the following methods. Which is most appropriate for your project will depend on several other factors, including your budget, how many pages you need to print, and the overall nature of your product. UV printing is the most common, effective, and fast solution for a range of holographic printing needs, but we are the facilities and skills to carry out all the following techniques — and we frequently do!
UV Printing on Holographic Paper
Holographic paper doesn't absorb standard ink well. For that reason we use UV printing as it is a better solution for printing on holographic paper. In most cases, before we print any designs or images on holographic paper, we print the area with white ink first. Then we print CMYK or other colors onto the white base applied to the holographic paper. The UV printing allows the ink to dry rapidly after printing by exposure to ultraviolet light. As holographic paper scratches easily, you may also choose a special surface coating for added protection, although the coating will slightly dull the holographic effect. Alternatively, we can laminate the surface, which protects it without losing any of the holographic effect.
So, the fundamental process of printing onto holographic paper is similar to standard offset printing, except that we print a white layer first before printing over again with the colored photoreactive inks, and then the final design is rapidly dried under UV light. The colors will be a little different printed this way on holographic paper compared to standard printing on standard paper.
Silk Printing on Holographic Paper
Silkscreen printing is another fantastic choice when using holographic paper, particularly if the images or text are very large. With this technique, the inks are applied to the paper through a silk screen that has a stenciled design embedded inside it. Because it requires more manual setup and management than either offset printing or UV printing, so it is more expensive, but it produces excellent, high-quality results. However, we don't advise it for large print runs because it takes so long and is so expensive compared to other methods.
Foil Stamping on Holographic Paper
Your holographic paper can be made more sophisticated by using the printing technique known as hot foil stamping, sometimes also referred to as metallic foil printing. To create foil stamping, we use a unique printing method that adheres a thin foil layer to a paper substrate by utilizing metal or resin molds called "dies", heat, and pressure. This method is especially designed to produce a raised textured surface with a gold, silver, copper, or bronze sheen, or combined with special pigments to create other colors on matte and glossy surfaces.
UV printing + gold foil stamping on holographic paper
The Advantages of Holographic Paper
For several reasons, you may choose to incorporate holographic paper into print product design — whether a book cover, a custom printed box, cards for a board game, or anything else. Here are a few of the advantages of holographic paper:
It is relatively inexpensive paper stock compared with the visual high-impact it creates
As a covering material, it's also very robust and resistant to scuffs and scratches once it is coated or laminated
Properly incorporated into your design, it can give your product a luxury look and feel
It can be combined effectively with a range of other cards and papers
But what sort of products might you want to use holographic paper for? Good question! let's look at the answer to that next.
Holographic Paper Printing Products
You might be surprised by the range of products that can successfully integrate holographic paper into their design both from a structural and aesthetic perspective. These are a few of the most common requests we get from customers for holographic paper products. But the only limit is your imagination!
Holographic boxes — custom packaging items including rigid paper boxes, collapsible paper boxes, folding cartons, retail and gift boxes of every description can all use holographic paper
Holographic cards — you can use holographic paper to spice up greeting cards, playing cards, board game cards, flash cards, even visiting cards
Holographic stickers—you can include stickers in games, give them away as prizes and gifts in children's products, cereal boxes, confectionary, magazines, and comics, or incorporate them into labels or custom product packaging. They also sell well online as A4 sheets with the stickers "kiss cut" to make them easy to remove.
Holographic posters—posters can make a considerable visual impact. But make them with holographic paper, or include holographic paper in their design, and you can really generate a truly eye-catching effect.
Holographic book covers—yes, you can even use holographic paper in book covers! It's especially convincing for science fiction, children's books, technology books, and photographic books, for example.
Holographic gift wrap paper—what do we need to say? Who wouldn't love a gift wrapped in sparkling, iridescent paper?
But don't let this list limit you. It's just an example of the most common uses of holographic paper printing. If you have something else in mind, just talk to us. We love a creative challenge. If it can be done—we'll do it!
Special Finishes for Holographic Paper Printing
Aside from its inherent qualities and the possibility of printing over it, holographic paper also lends itself to several special finishing processes which are useful when you're designing custom packaging solutions, custom board games, and other high-end products.
Anti-scratch lamination—this is a covering of a BOPP (Biaxially Oriented Polypropylene) plastic film which protects the surface from scratching and scuffing.
Special coating—both UV coating and gloss lamination can be applied to the surface of holographic paper. These coatings further enhance the holographic effect, creating an almost "3D" appearance.
Foil stamping—adding a design or text in a metallic foil or metallic inks as a powerful combination with holographic paper
Embossing—embossing raises the surface of the paper as artwork, text, or both and can be combined with foil stamping to stunning effect.
Debossing—debossing is like embossing, but in reverse; it presses a design into the paper.
So, now you know all about holographic paper printing! Choosing the right paper for your product design in printing is an important decision, so if you need any help, please ask.
We've been in the industry over 25 years and during that time have built a solid reputation as one of the world's most respected and reliable international offset printers. While we also work with large companies, we're genuinely supportive of self-published writers, artists, and other independent creatives. Whether you need books, boxes, games, or anything else, we're here for you.
If you'd like to talk to us about your next project and how we can help, we'd love to hear from you. Get in touch and one of our experienced, expert, and enthusiastic team will be delighted to listen and advise. And if you'd like a no-obligation quote to compare with your other options, no problem. Just ask.