We clear up the confusion about the meaning of color spaces or modes and the differences between RGB, CMYK, and the importance for design and printing.


What Are the CMYK and RGB Color Spaces?
In brief, CMYK is the color space or mode most commonly used for printing, while RGB is the color space or mode designed for use with light-emitting screen displays, such as you have on your computer.
CMYK stands for "Cyan, Magenta, Yellow, and Black". Black is signified by the letter "K" because it's the "key color" in the system. The CMYK color mode is known as a "subtractive system" because it works by blending pigments which reflect and absorb different light frequencies. So, these are, if you like, "physical colors" made with inks and which can be applied to paper and other materials.
RGB stands for "Red, Green, Blue". RGB color mode is an "additive system" because it creates colors by emitting different light frequencies across a visible zone. It's used for screens—computers, televisions, monitors, etc.—and is composed of tiny light emitting units called "pixels" or "dots".
What Is the Difference Between CMYK and RGB?
Both CMYK and RGB are color systems which allow us to see objects or scenes in varying colors, but CMYK works by subtracting, or absorbing, certain light frequencies from reflected white light (which contains the whole spectrum), whereas RGB adds colors to the visual field by emitting frequencies directly from a light source.
The more color you add in CMYK mode, the darker the result you achieve. The more color you add in RGB, the lighter the resulting image will be. While you're designing images on your computer, you'll use the RGB color system by default. But you can't print light-emitting pixels! So, during processing, a color image must be converted by separating the elements into CMYK components that are recombined using inks on an offset printing press to achieve the desired print result.
Which Color Space Do Printers Use?
Offset printing necessarily needs to use a material color system to print on paper. A printing machine creates images by combining CMYK colors to varying degrees using physical ink. That's why we use CMYK for printed materials. It's also why, if you've been designing in RGB mode, you'll need to convert your color space to CMYK when preparing your files for printing.
How Do You Convert RGB to CMYK?
Before you edit the artwork in any design software—such as InDesign and Illustrator, which we recommend—you need to convert the photos from the RGB format to CMYK.
1. Open your image in Adobe Photoshop, and click on Edit > Convert to Profile.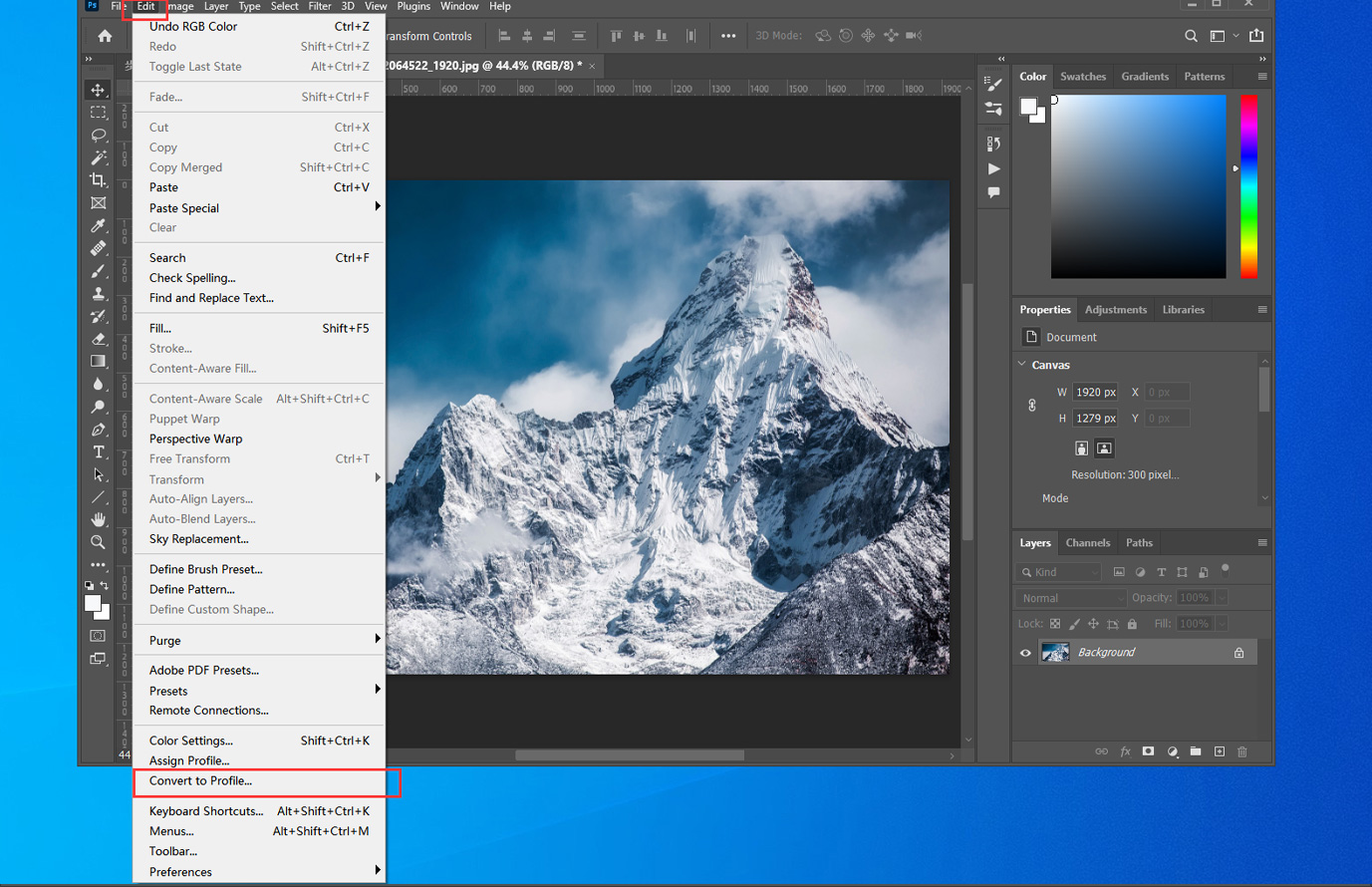 2. Choose the Profile: Japan Color 2001 Coated, then click OK.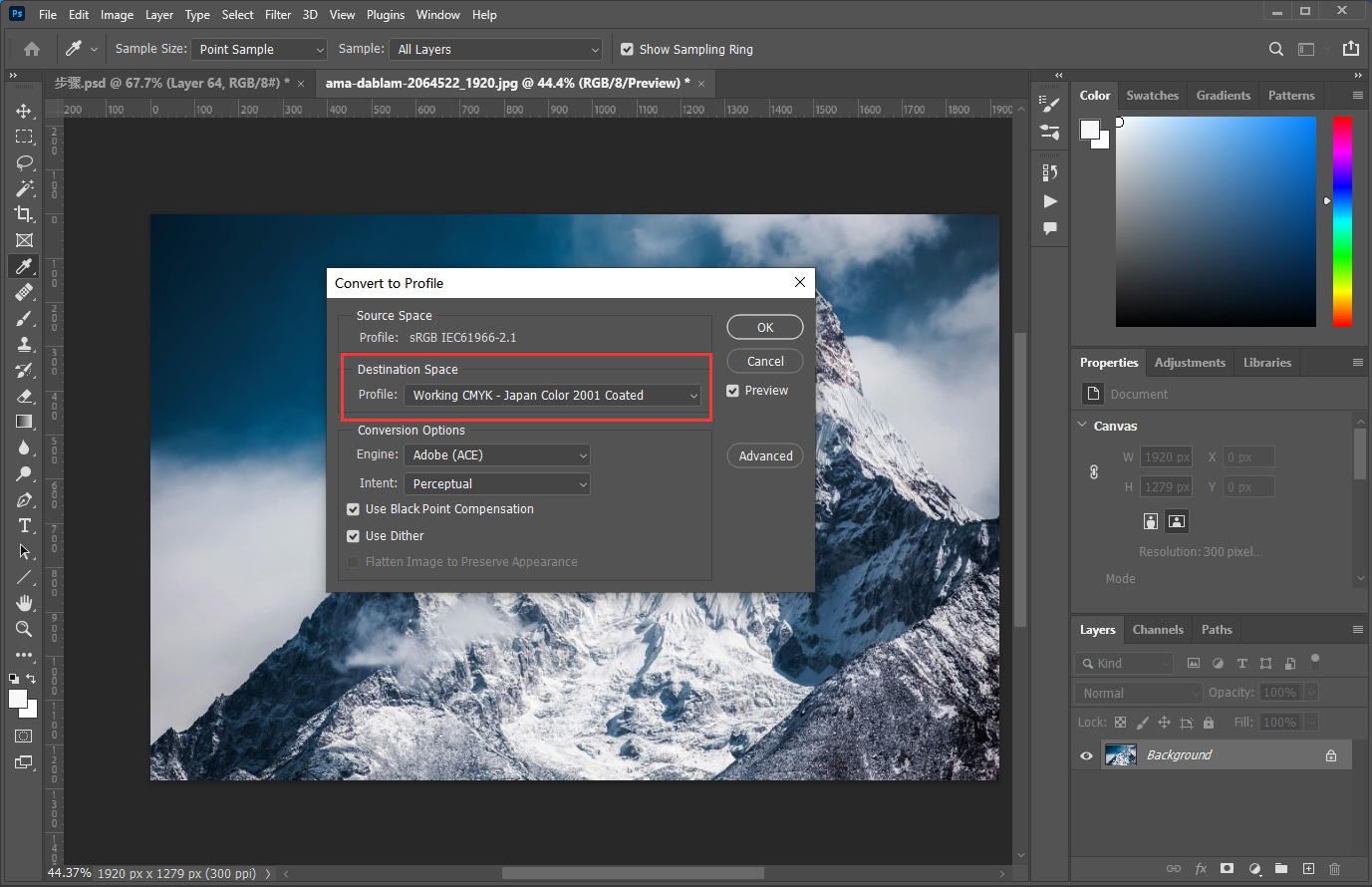 CMYK is the default color option in InDesign. But whatever software you choose, it's best to select the CMYK color space at the outset and work with it throughout your design process.
If you would prefer, you can send us the original printing files, including all fonts and photos, and we'll handle the color conversion for you.
What Happens If You Print Artwork in RGB Color Mode?
The difference between the color spaces of RGB and CMYK is vitally important because RGB colors can't always be accurately reproduced in print. At best, if you tried, you'd get a dull, muddy version of your original and in the worst case, colors may even appear different in print compared to how they did on your screen.  So, we strongly recommend that you design in CMYK from the outset.
Why Are Printed Colors Different Than on the Screen?
RGB on the screen, and CMYK in ink on paper, create color perception by opposite means. So, RGB emits light. That gives it access to the whole "gamut" of possible colors in the visible spectrum. Whereas CMYK creates color perception by materials (inks) which absorb some frequencies of reflected light. This difference means that some colors simply cannot be reproduced on the page. But, if we convert the color spaces, we can get very close; so much so, that the viewer can't tell the difference. But if you reproduce the same image from the screen to ink and paper without converting, the difference is often striking.
For all the reasons explained above, recreating colors on the printed page is a challenging task and requires skill and professional expertise. But with decades of experience and the continually evolving print technologies we have available; we've developed a vast array of reliable color mixes that work well with offset printing. The chart below shows several CMYK color matches which will go a long way toward helping you.
Need More Help? Talk to Us!
All these facts about color spaces need to be kept in mind before designing your print materials. At QinPrinting, we pride ourselves on our first-class customer service and design support. If you have any further questions about RGB and CMYK color modes and conversion or other prepress issues, we've made it super-easy for you to get in touch with our expert design team by telephone, via email, Skype, the chat box, or the contact form. Talk to us!