When you need a design feature that distinguishes your print product—whether an art book, a custom printed box, a deluxe board game, or anything else—and gives it an eye-catching visual appeal. Embossing is a simple but beautiful and cost-effective technique to do just that. But what is embossing?

Embossing is a mechanical process by which we "lift" a design—either lettering, graphics, or both—out from the surface of a printed sheet. First, we make a metal and a resin mold of your design called "dies". We use two dies to press a sheet of paper using a special machine. The result is a powerful three-dimensional effect of a perfect elevation, in the shape of your design, lifted up from the paper surface. The process works best on smoother surfaces and so we don't recommend it for textured paper, but we can apply it successfully to most printed substrates. You can also combine it with other finishing techniques—such as foil stamping and spot UV—for a truly superlative effect.
The Advantages of Embossing
Embossing has the potential to impress your customers and elevate your products, but whether it's the best option for your design will be influenced by the product style, the market for which it's intended, and your available budget. With that in mind, let's list the principal advantages of embossing to help you come to the best decision for your project.
Embossing is an eye-catching design feature which distinguishes your print product from the run-of-the-mill, communicating artistic flair and high quality.
While instantly effective in its own right, embossing combines well with inking, foil stamping, spot UV coating and other special features.
Embossing on its own is a relatively economical effect compared to, say, foil stamping, although it has a high impact.
It adds significant perceived value to your product, making it more likely to be kept, treasured, enjoyed, and shared.
Embossing gives your printed materials a sophisticated look and helps draw attention to your brand identity.
These are just a few of the advantages of embossing, which make it a desirable choice for products aimed at the upper end of the market, from books and catalogs to deluxe board games, custom paper boxes, and more.
Popular Applications for Embossing
We can apply embossing successfully to many print products. It lends class and style to those products and positions them in the higher end of the market. So, let's see what impact it has on the appearance of several popular printed products.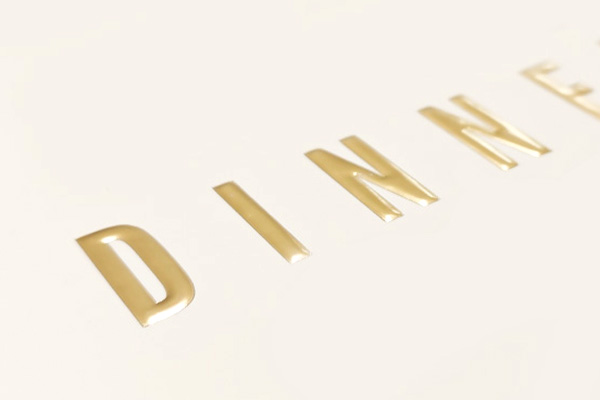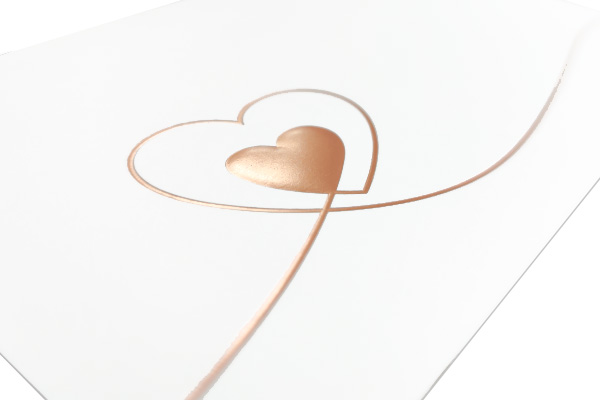 We hope the above examples will help you appreciate the special qualities of embossing and its appeal. It's a powerful but relatively cost-effective option, and if you focus on the luxury market, it will probably give you an excellent return on your investment.
To get the best results from embossing, it's important to understand how to prepare the finished digital files for correct printing. You must account for bleed, for example, and make sure that you've set the resolution and the color space correctly. So, here are a few helpful tips to guide you when you're preparing your digital files for embossing.
Setting up your artwork for any special finishes that only affect specific areas, like embossing, requires a separate file called a mask. This type of file allows you to specify exactly where you want the finish, using black to signify which areas should be embossed and white to specify which areas should be left. The mask file and your embossing artwork file make up your overall project.
The easiest way to create a mask file involves using a copy of your artwork file. Once you make a copy of your artwork file, remove all elements from the file that you do not want to be embossed. Then, change the color of all other elements to black. In a CMYK color layout, you generate black using the following formula: C0, M0, Y0, K100. Finally, you need to make sure the emboss printing file is a vectorial file and not a raster.
When creating your mask file, always make sure that the alignment of the mask file and artwork file are exactly the same. This includes the overall size of the files and the positioning of all shared elements.
Set up your graphics as vectors in PDF format for the best results. Our recommended software option is Adobe Illustrator.
Also, make sure that all text to be embossed is at least 14 pt and ideally larger if possible.
If you're working with a professional designer to prepare your files, they should be competent to get everything ready for embossing. But if you're unsure of anything, please talk to us. We'll be happy to explain what's needed step-by-step, liaise with your designer when necessary, and manually check everything ourselves to make sure it all goes smoothly and you end up with a perfect embossing effect. If we discover any errors, we'll let you know, explain what the problems are, and help you fix them.
Need More Help? Talk to Us!
Deciding to apply embossing is an important decision which changes the appearance and quality of your finished printed product, the design process, and the cost. If you're not sure about whether it's right for you, the best thing to do is to talk to us. With over 25 years' experience under our belts, the latest offset printing technology at our fingertips, a vast knowledge about paper, coatings and finishes of all kinds, and a genuine commitment to customer service, we'll be happy to give you the best advice to help you choose the perfect solution for both your print project and your budget. Get in touch today for an informal chat or a no-obligation quote. We can't wait to work with you!