Custom Packaging Materials
A comprehensive guide to our range of box materials to help you create robust and beautiful custom packaging solutions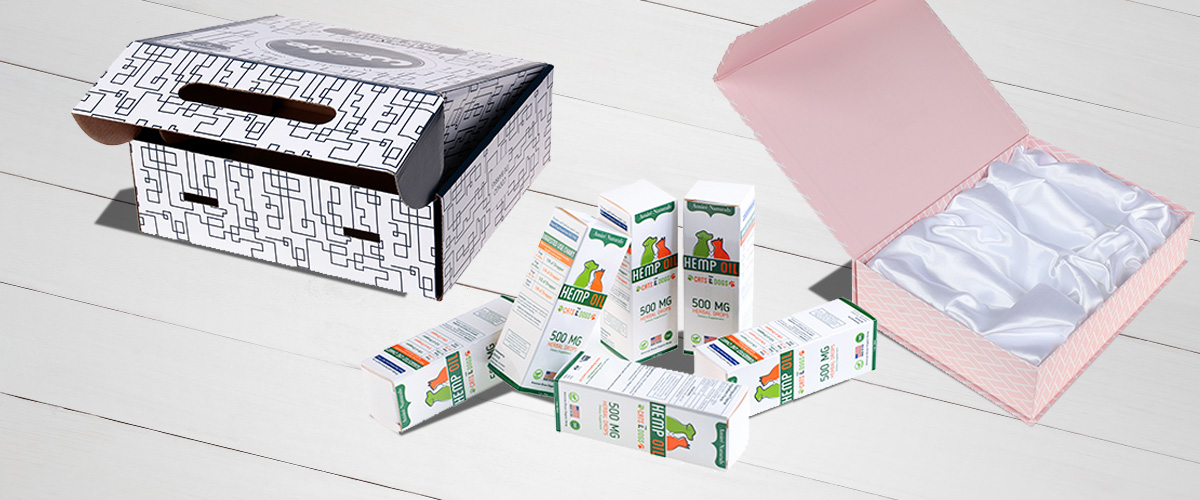 The foundation of successful custom packaging is structural design, and effective structural design depends on choosing the right materials for the job. During 25 years and more of success in the industry, QinPrinting has evolved a superb range of high-quality material option adapted to all your packaging needs. On this page, you'll find an introduction to our core catalog of box materials, a description of their specific properties, and an explanation of the applications to which each is best suited.
Our C1S cardboard is a premium quality paper product, coated on one side for high-definition printing. A robust but lightweight material with a glossy, printable surface on one side and an uncoated flip side ideal for gluing or wrapping. An excellent choice for folding cartons, rigid box inserts, and sleeves of all kinds. Coupled with a plastic laminate, it's an ideal material for making packaging destined for use in the food, medical, and cosmetics industries.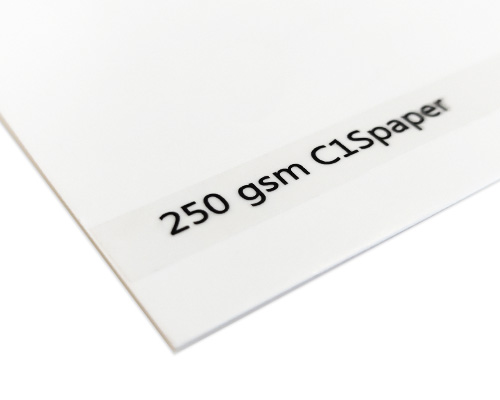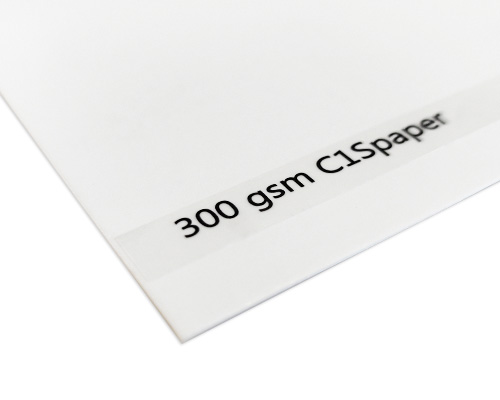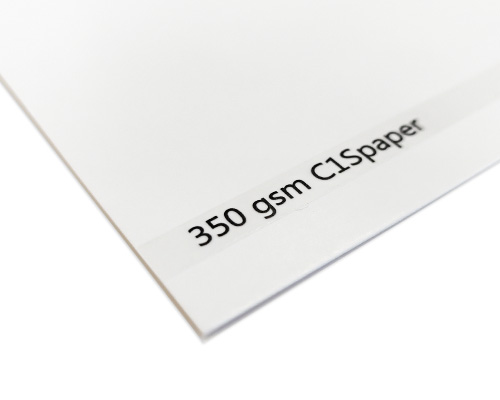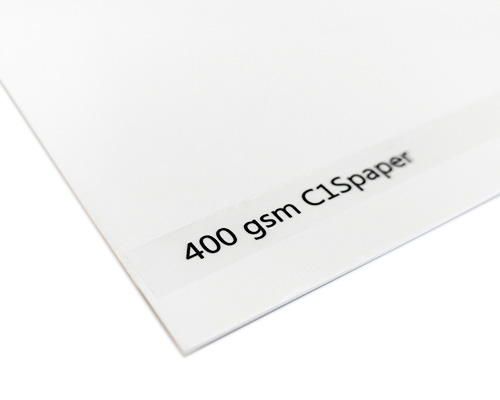 As above, but coated on both sides, making it the perfect solution for carton designs which need printing both inside and out. We use coated paper for wrapping rigid boxes with custom printing. We always laminate the outside to protect the box surface.  Durable and resistant to moisture, tearing, and scuffing, C2S cardboard renders crisp, high-quality color printing on both surfaces, making it ideal for custom rigid boxes, inserts, and sleeves.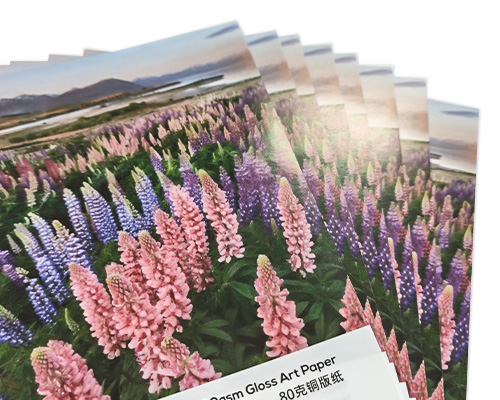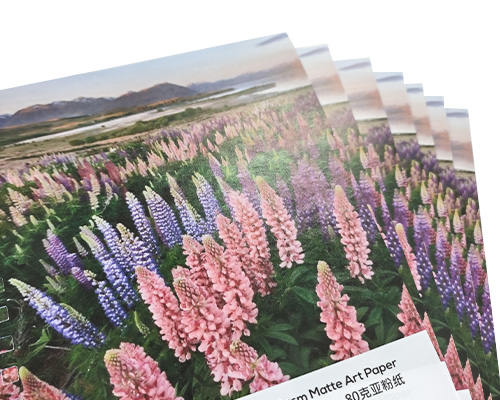 Cardboard needn't be only white or brown! We offer a superb range of colored cardboard options to suit all your design requirements and branding needs.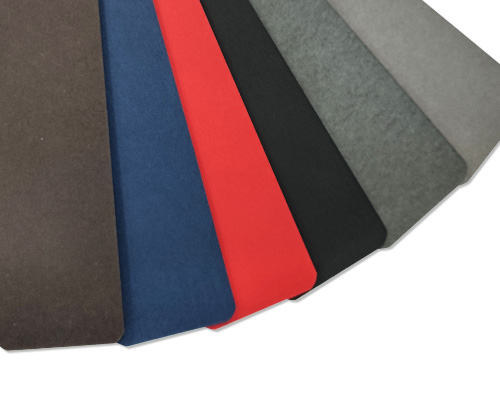 Textured paperboard is an exceptional quality card stock that has a textured surface such as vellum, linen, silk, or parchment. It's a fantastic choice for developing high-end, tactile custom packaging solutions. It's also a robust material, resistant to tearing and ideal for embossing, debossing, and foil stamping. It represents an excellent structural solution for all types of boxes, including folding cartons, rigid and collapsible boxes, wrapping sleeves, and more.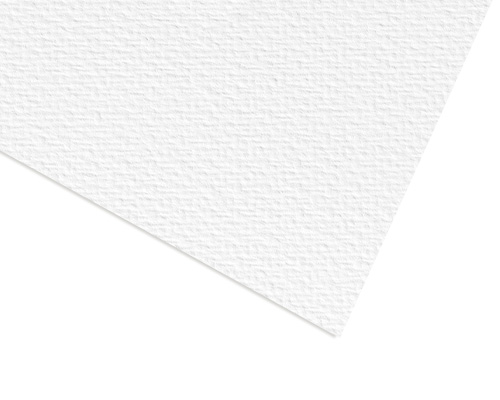 Brown kraft is a popular cardboard paper with a natural, organic look and feel. It may contain a significant proportion of recycled material or is 100% recyclable. This makes it an ideal option for boxes and packaging for eco-friendly items from organic foods to cruelty-free cosmetics, and sustainable and biodegradable products of all kinds. Its surface is more absorbent than many other cardboard materials and so direct color printing may result in a duller, less crisp effect. However, that can be overcome by printing in white first to seal the surface and then overprinting in color afterward.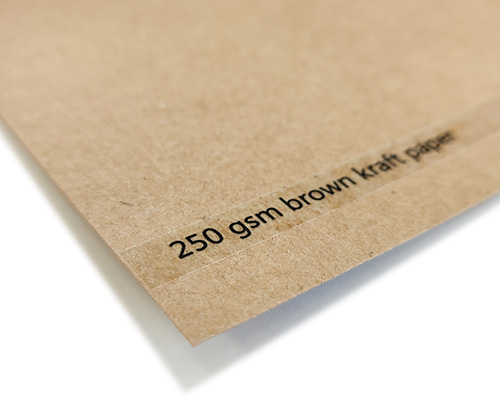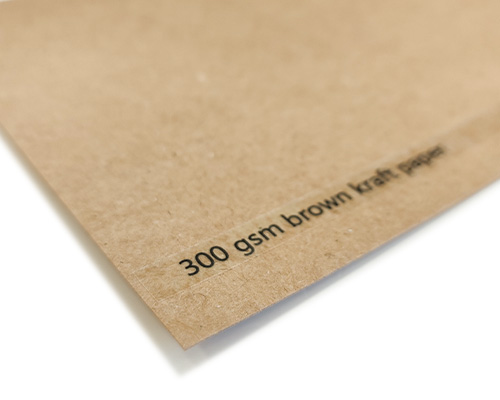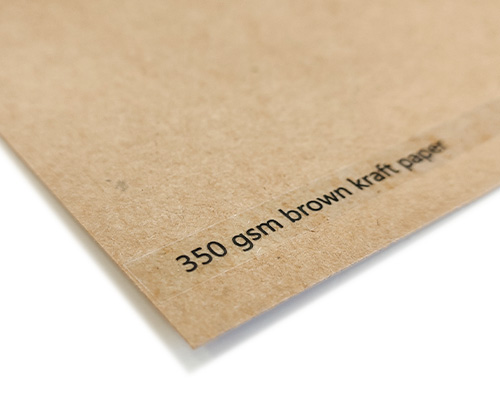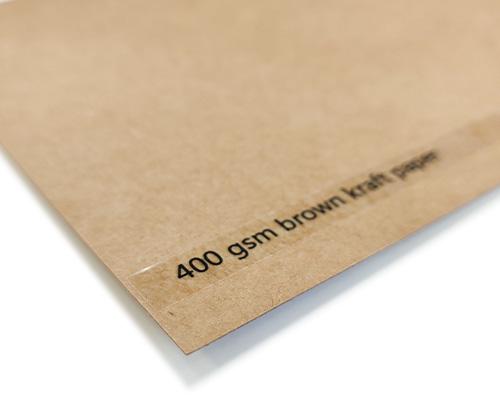 Sharing many properties with brown Kraft paper, black Kraft has a more elegant and sophisticated look with a matte or gloss finish and a deep, night-sky black surface color. It's a favored solution for packaging designs destined to house luxury products, personal tech, cosmetics, and more. As with any Kraft paper, color printing works best when a substrate of white ink is applied first and then the colored ink printed on top.
White Kraft paper gives superb results when printed in black-and-white or in full color. Available in a range of shades — including brilliant white, ivory, and cream— it can also be coated to make it resistant to moisture and scratching. It's also available in a flame-retardant form. White Kraft paper also works well in conjunction with special finishes such as embossing, debossing, lamination, and foil stamping. It's a superlative option for almost any product and packaging style.
These are specialty cardboards covered with a thin metallic layer which gives them a bright, reflective surface that looks like either polished gold or silver. The surface can be smooth and polished or have a "beaten" effect. It's very tough and resistant to damage either from contact or moisture. Silver or gold cardboard is a popular choice for luxury products, cosmetics, and makes an excellent structural substrate for most box types, including folding, collapsible, and rigid box structures. It can be embossed and debossed effectively but printing on it is more complex, requiring a prior layer over the metallic surface and then the application of a UV coating.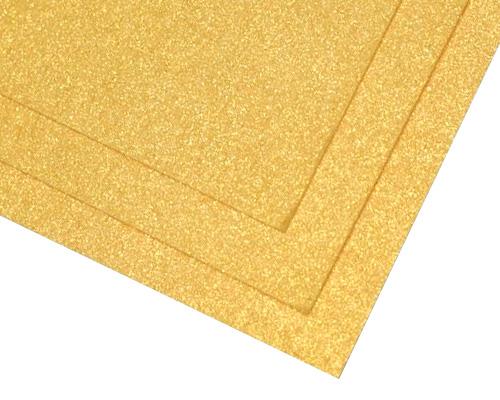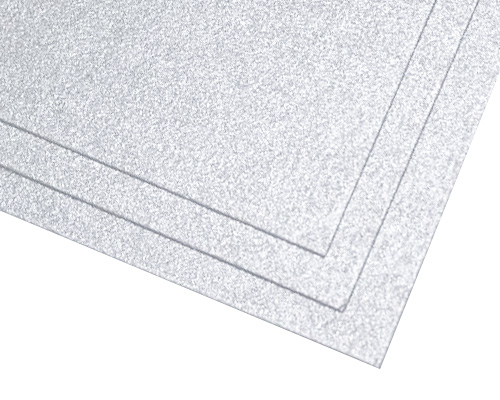 Another speciality paper similar to silver and gold but covered with a shimmering, reflective foil which gives a three-dimensional rainbow effect. Transparent inks can be printed directly over the top and UV spot coating can also be used to highlight the holographic effect in a given area. If you want to print solid colors on the surface, we'll need to apply a layer of opaque white ink first, and then print over that. Ideal for any box design that needs to dazzle and catch the eye.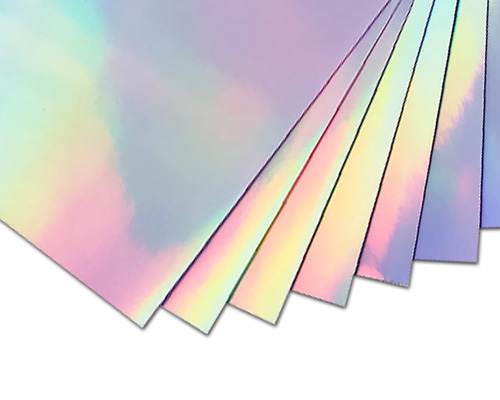 Corrugated cardboards are made by sandwiching a "fluted" paper layer between to sheet of flat paperboard. They're especially strong and durable and suitable for a range of packaging applications from telescope boxes to display cartons. Corrugated materials come in a range of thicknesses and qualities. The two most useful and commonly requested are the E and F grades.
E-Flute Corrugated Cardboard
E-flute board is 1 mm to 1.5 mm thick. It has a single layer of fine grade fluting. It's strong and stable while giving an excellent, smooth surface for printing on. A popular choice for any smaller packaging where good quality printing outcomes are a must. It's also suitable for die-cutting.
F-Flute Corrugated Cardboard
F-flute cardboard is between 0.8 mm and 1 mm thick. It also has a single, fine layer of fluting making it lightweight but robust. It's an excellent solution for all kinds of specialty packaging, POP displays, and small retail boxes such as cosmetic box inside holders.


Made from compressed paper, grayboard is the most popular rigid box structural material. It's very strong, versatile, and cuts accurately. Grayboard is available in a variety of thicknesses: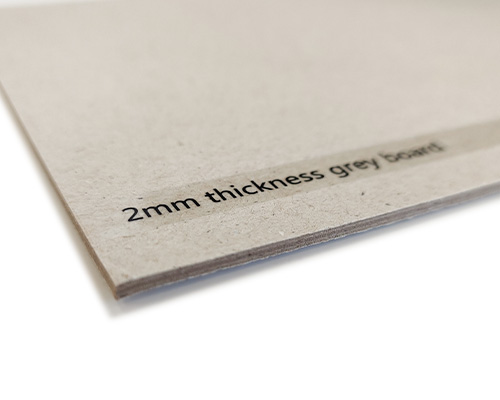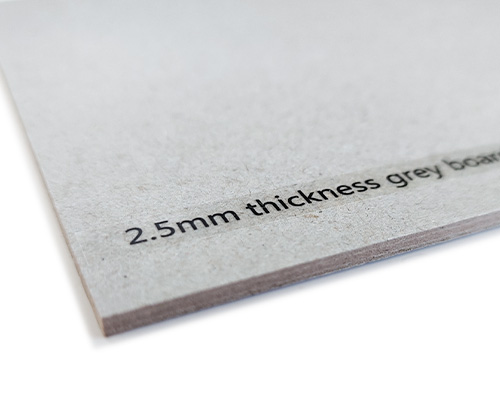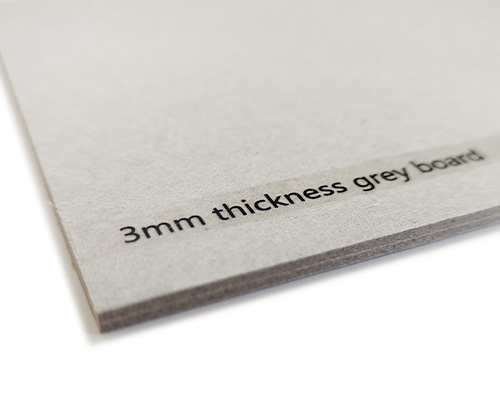 It's excellent properties make ideal as the structural base for most packaging solutions from rigid boxes, telescope boxes, folding and collapsible cartons, and more. It is always wrapped in a covering of printable paper — usually coated paper or uncoated paper — before being cut and constructed to form your final box.
Special Materials for Inserts
Besides the principal materials for the box structure, you may wish to add custom built inserts to help protect and present your products. While paper and cardboard materials make excellent inserts, we also offer a selection of materials which make ideal inserts across a spectrum of product and packaging needs.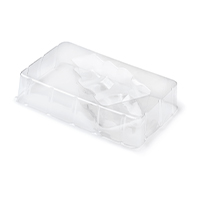 Made from poly-vinyl chloride, this plastic substance can be molded to fit your product shapes exactly. It's durable and lightweight. A popular choice for many products and packaging styles.
Polyurethane (PU) foam is low density and soft to the touch. It protects goods from knock-and-shocks and can be cut to house your products with a snug fit.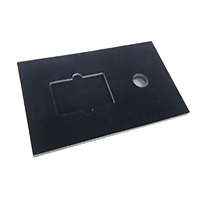 Polyethylene (PE) is high-density and extremely durable. It can be die-cut to fit products and is popular for goods which need extra protection in transit such as delicate electronics or larger scale equipment.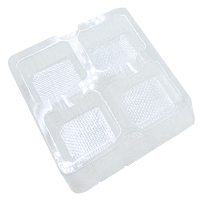 Polyethylene Terephthalate (PET) is ideal for making molded blister inserts suitable for smaller items. It's a popular choice for food, toys, and pharmaceutical products. 
Ribbon — which may be made from silk or synthetic fabric — is a common option for fastenings, handles, and decorative flourishes.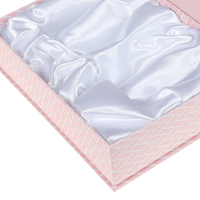 Silk, velvet, polyester, nylon, and other cloths can make attractive inserts for products that don't need a tight fit or can be used in addition to other inserts options.
We know it can be difficult to choose which box materials will be the best for your packaging solution. That's why we've made a comprehensive sampler set which includes examples of all our materials along with print and finishing effects. We make no charge for the sampler except the cost of mailing it to you. If you'd like one, just ask.
Need More Help? Talk to Us!
If you have any questions or need more information and pricing details for a box material sample, just get in touch. We have a global reputation for excellence based on 25 years success in the printing and packaging industry, the latest design, print, and manufacturing technology at out fingertips, world-class expertise, and unparalleled customer service. You can talk to us by telephone, email, Skype, the online chat, or the contact form. We can't wait to hear from you!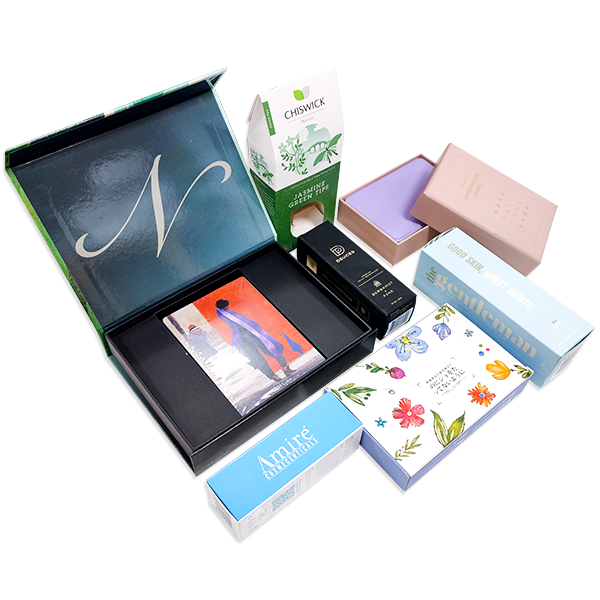 Start your packaging project with QinPrinting
Explore all our different packaging choices