Everything you need to know about page numbers including when to use them, how to set up automatic numbering, and how to customize your page numbers for different print projects
What Are Page Numbers and Do You Need Them?
Page numbers are numerals printed on each page to show the order of progression through a document and to facilitate locating a particular chapter, paragraph, or other section. Many print projects also do not need page numbers and not all print projects need numbering throughout. There is no point adding page numbers to a 4-page flyer, for example, or a children's board book. So, you'll need give some thought as to whether page numbering is appropriate and useful for your particular project.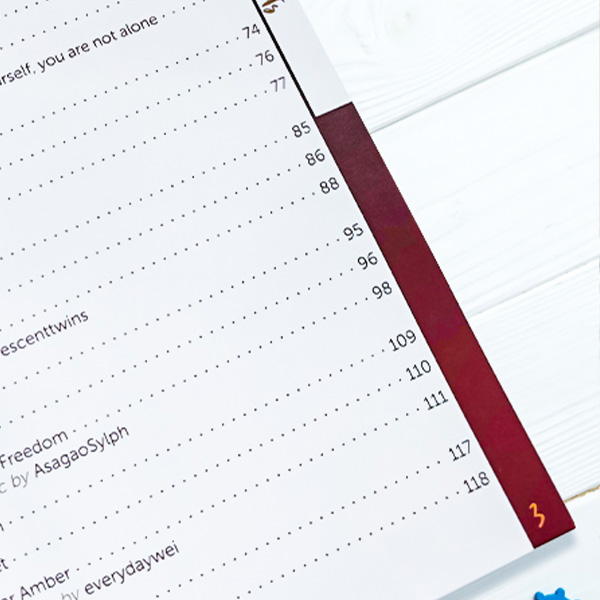 Most books, catalogues, and any publications that have a table of contents or glossary require page numbering. A standard book is normally divided into chapters that give the reader natural breaks. These can be pause or changes in the narrative, as in the case of a novel or they can demark subjects and categories of information in factual books, guides, and practical manuals. Page numbering allows readers to locate the relevant sections with ease.
This is particularly useful when the publication is likely to be referred to frequently and is not intended to be read in order from front to back; a cookbook or an academic book, for example. A reader may only be interested in one section or constantly refer to a certain chapter. Magazines, newspapers, brochures, and reports are all normally numbered to help the reader in this way, while novels have the interior pages numbered so that the reader can find the place where they left off when they come back to the book after a break.
Where Should You Position Page Numbers on the Page?
The most common position for page numbers is in the center of a page at the bottom; or in the bottom left- or right-hand corners. When designing the layout, make sure the numbers are positioned at least 5mm within the trim lines and away from the binding edge. Another popular position is at the top of the page, again, either in the center, left- or right-hand. The exact position depends on the style of the publication and comes down as much to personal taste as practical considerations. As a general rule, right-hand pages use odd numbers and left-hand pages use even numbers.
Not every page may need numbering. Title pages, introductions, and acknowledgments at either the beginning of the end of a book are often left unnumbered. Blank pages and end paper don't need numbering, either. Pages with no text—such as full-page illustrations and photographs—may be left without numbers. A cookbook, for example, may have pages of recipes opposite a page with an image of the finished dish. However, in such a case, even if the number isn't printed, it is implied, and you need to maintain the numerical sequence. So, for example: A page of text [numbered 1] – a full-page photo [unnumbered] – a page of text [numbered 3]. In this case, while not printed, the page number "2" is still implied.
As a general rule, page numbers atrat on a right-hand page and then follow on in sequence from there. Magazines, newspapers and most booklets will start the numbering with page one being the front cover even though the number won't be printed on the cover page. Therefore a 32-page booklet will be numbered from 2 through to 31 with the front and back cover numbers only implied. A book or other publication with a hardcover or a cover in a different material from the main text may start the numbering on the first inner page.

Many books and technical journals will number any prefaces, indices, and appendices using a different page numbering system—for example, Roman numerals (i, ii, iii, iv, v, vi, vii, etc.). This is to separate the main copy of the book from the reference sections, but still provide a searchable facility.
The page numbering needs to be large enough to be visible but small enough that it doesn't distract the reader. A clean, legible font is preferable, using the same position on every page, depending on whether it's left or right (verso or recto).
How to Insert Page Numbers into a Document for Offset Printing
Once you have decided on your numbering style and position, you can add the numbers into the layout. Luckily, you don't need to add numbers manually one-by-one Professional page make-up software such as Adobe InDesign and Quark Xpress can automatically apply and position the page numbers. Microsoft Word also has this feature. You can define and create different sections within a publication using different styles. As it's the software we recommend that you use to prepare your files when you work with us, we'll focus on how to set up pages in InDesign. Each software has its own method, but most are very similar and relatively intuitive.
How to Set Up Page Numbering Using InDesign
If your document is a simple text without unnumbered pages, the easiest approach is to add a "current page number" marker to your pages. You need do it only on one page in order to specify the position and style of the numbering. The application will handle the rest, updating all pages with the correct numbers—even as you edit, add, move, and remove pages in the document.
Alternatively, you can add a page number marker to a parent page which will also update automatically and style your page numbering throughout the entire project. Here's how you do it:
1. Go to the Pages panel and double-click on the parent page where you want to add numbers.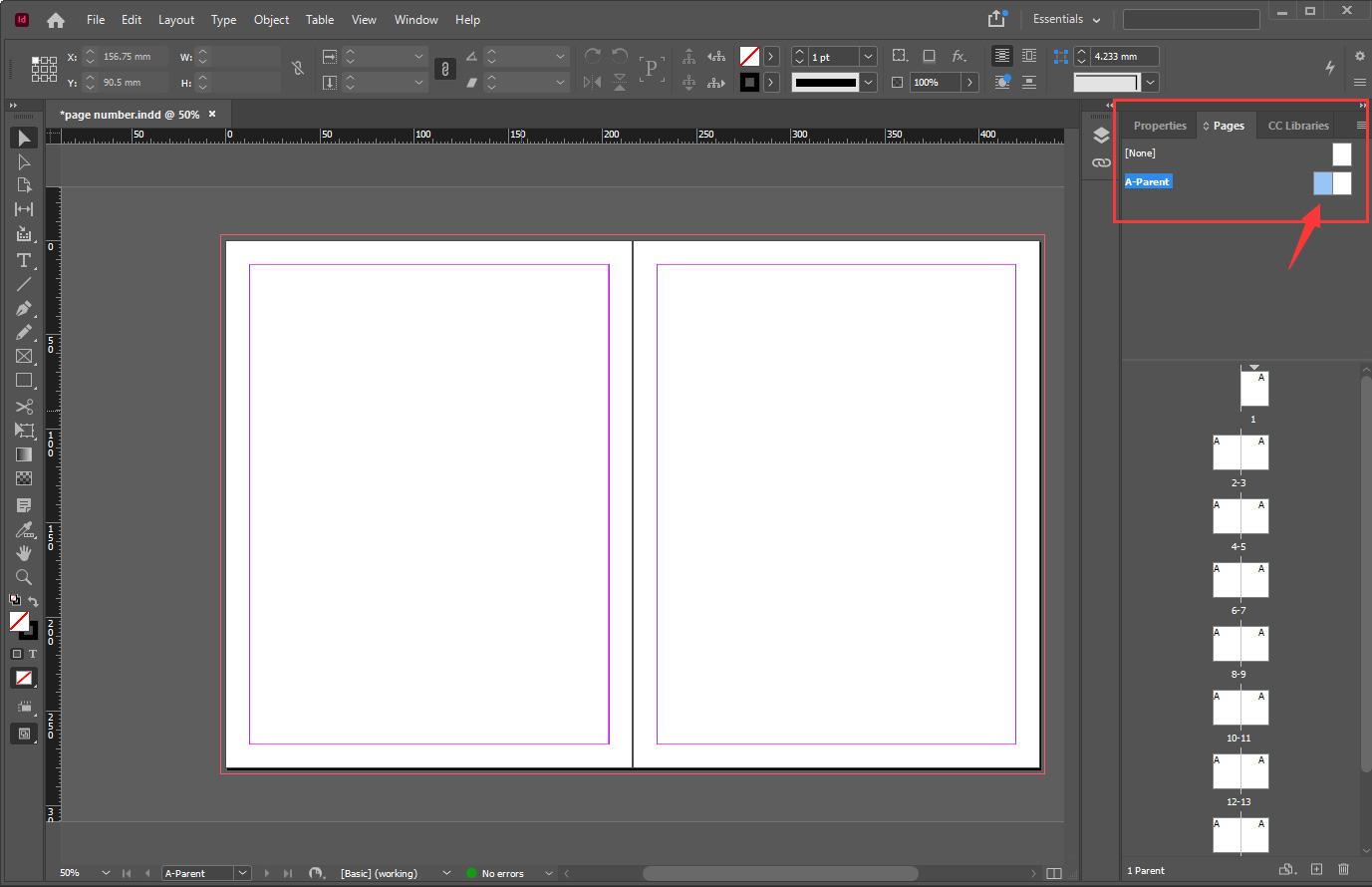 2. Now, draw a text frame that's big enough to contain your longest number and position it where you want your numbers to be. If you are working with "facing pages", you'll need to make separate text frames for each page, left and right. If you want text alongside your number, add that, too.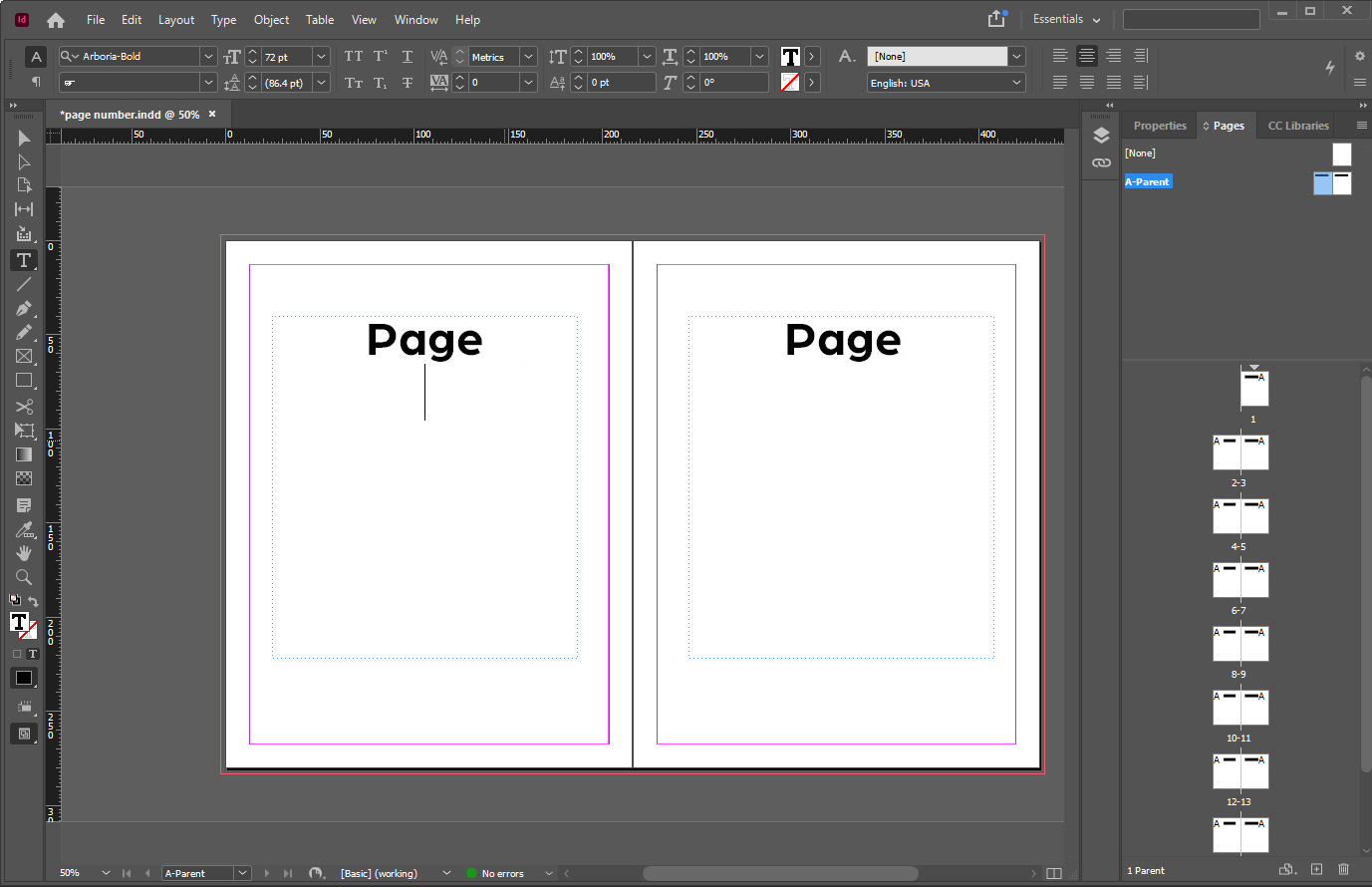 3. Once you've positioned the fame, choose Type > Insert Special Character > Markers > Current Page Number.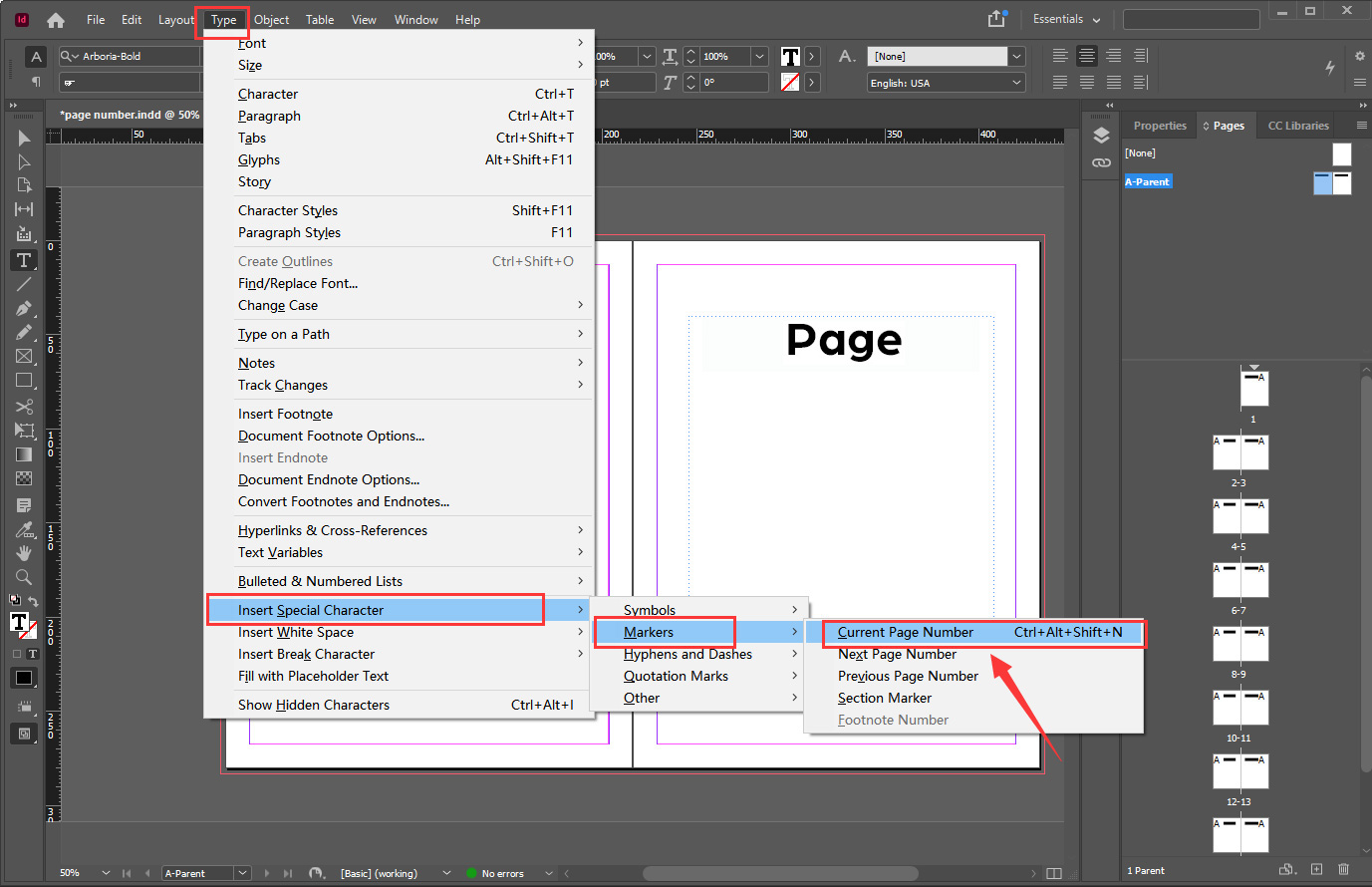 4. When you add, there will be a "A".
5. Once you've done that, you can apply the parent pages to the pages you want to number and you're done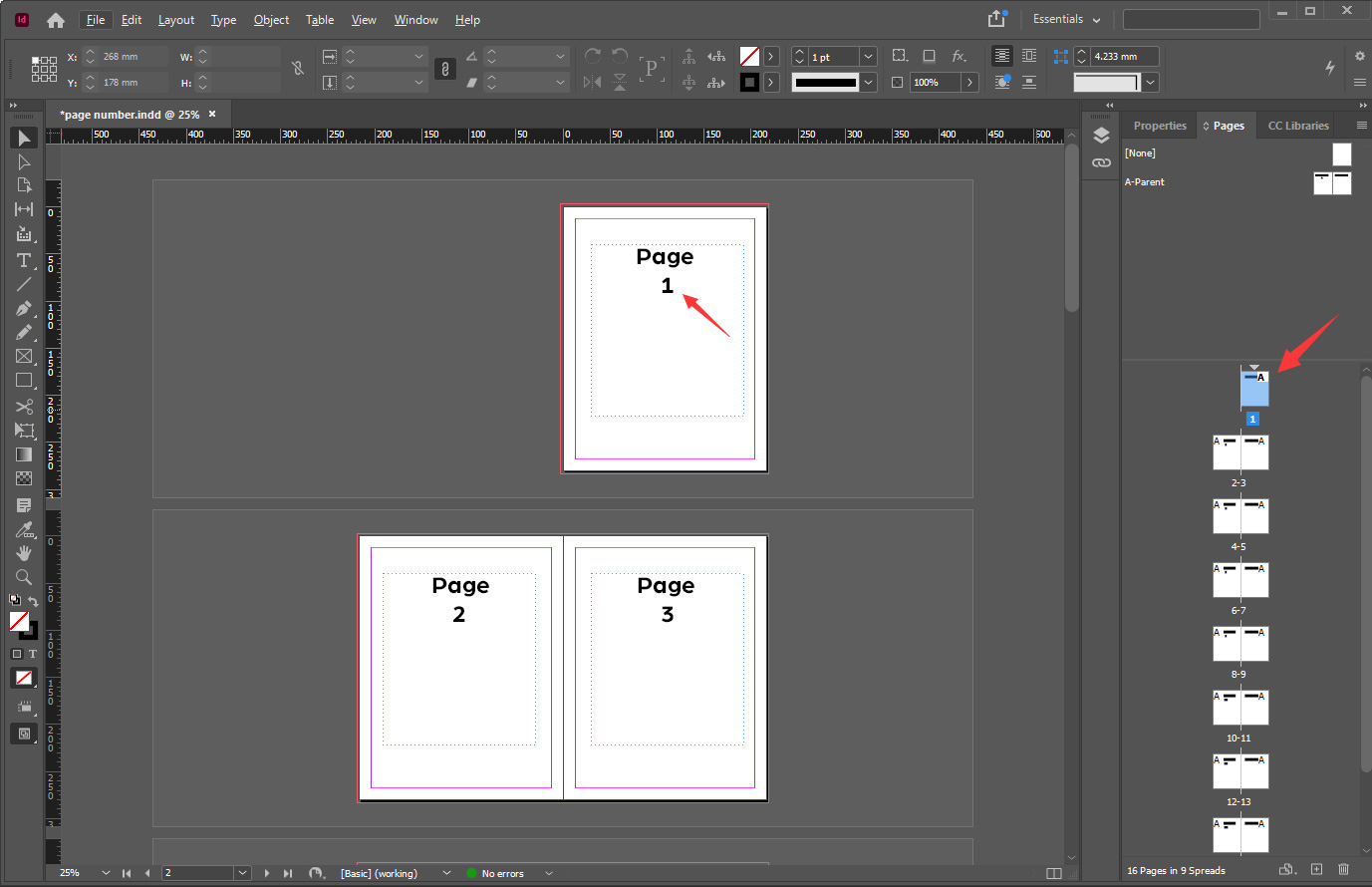 What's the Difference between a Page and a Sheet?
A sheet and a page are not the same. But while there's often confusion surrounding this fact, it's easy to understand once it's explained. In short, a sheet includes both sides of a piece of paper of any size; a page is one side of a sheet. Simple, really, isn't it? So a single flat sheet has two pages, one on the front and one on the back. Now, if you fold the sheet in two, you then have one sheet with four pages, two either side of the crease. If you had a booklet with eight pages, say, we would make it from two folded sheets, one inserted inside the other.
Simply, a page spread is two pages displayed opposite each other at the same time. So, imagine opening any book somewhere near the middle and laying it flat. What you see is a page spread.
When you're preparing a document in InDesign, you can select the Facing Pages option from the File > Document Setup dialog to see your pages arranged in spreads.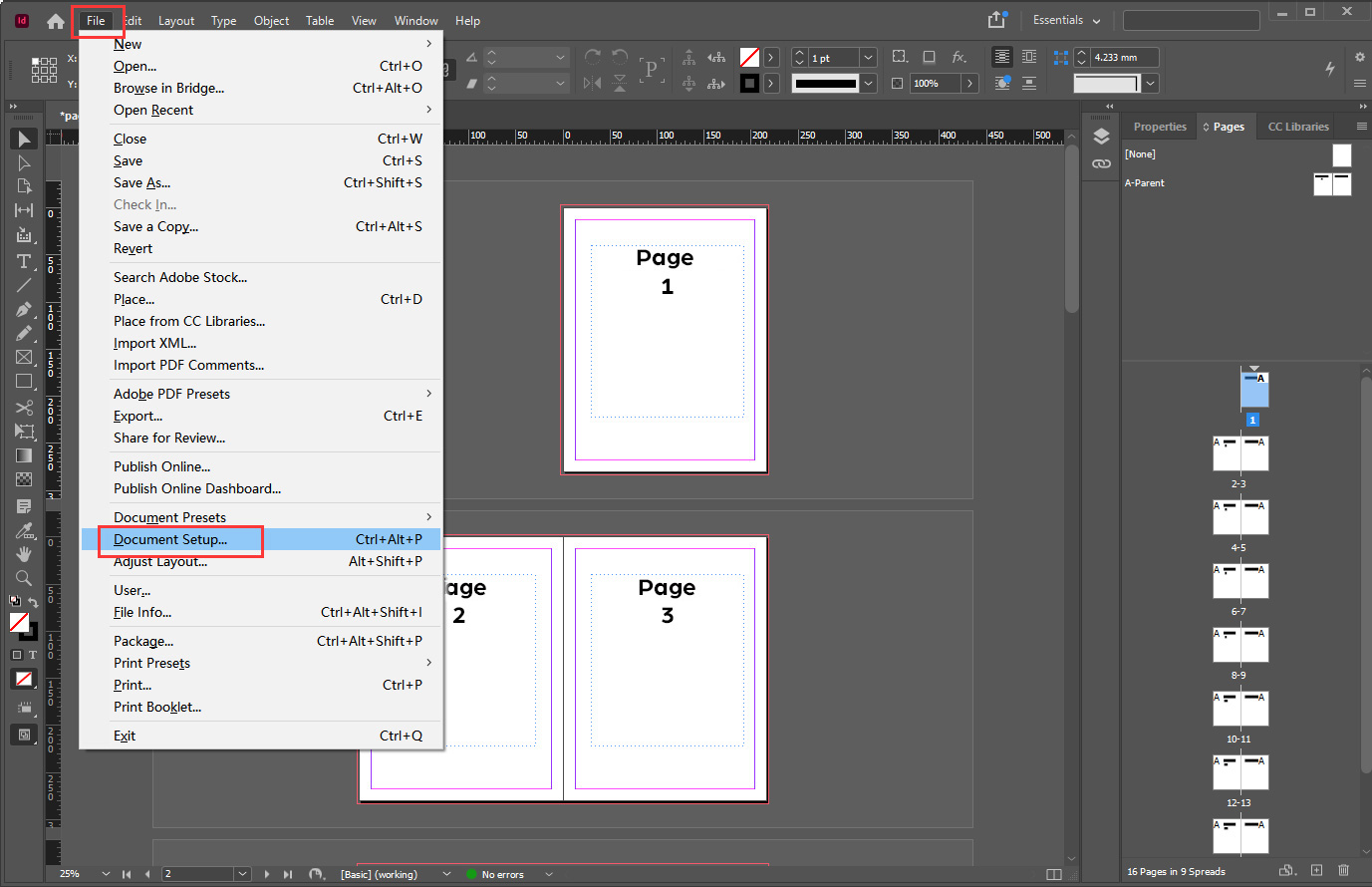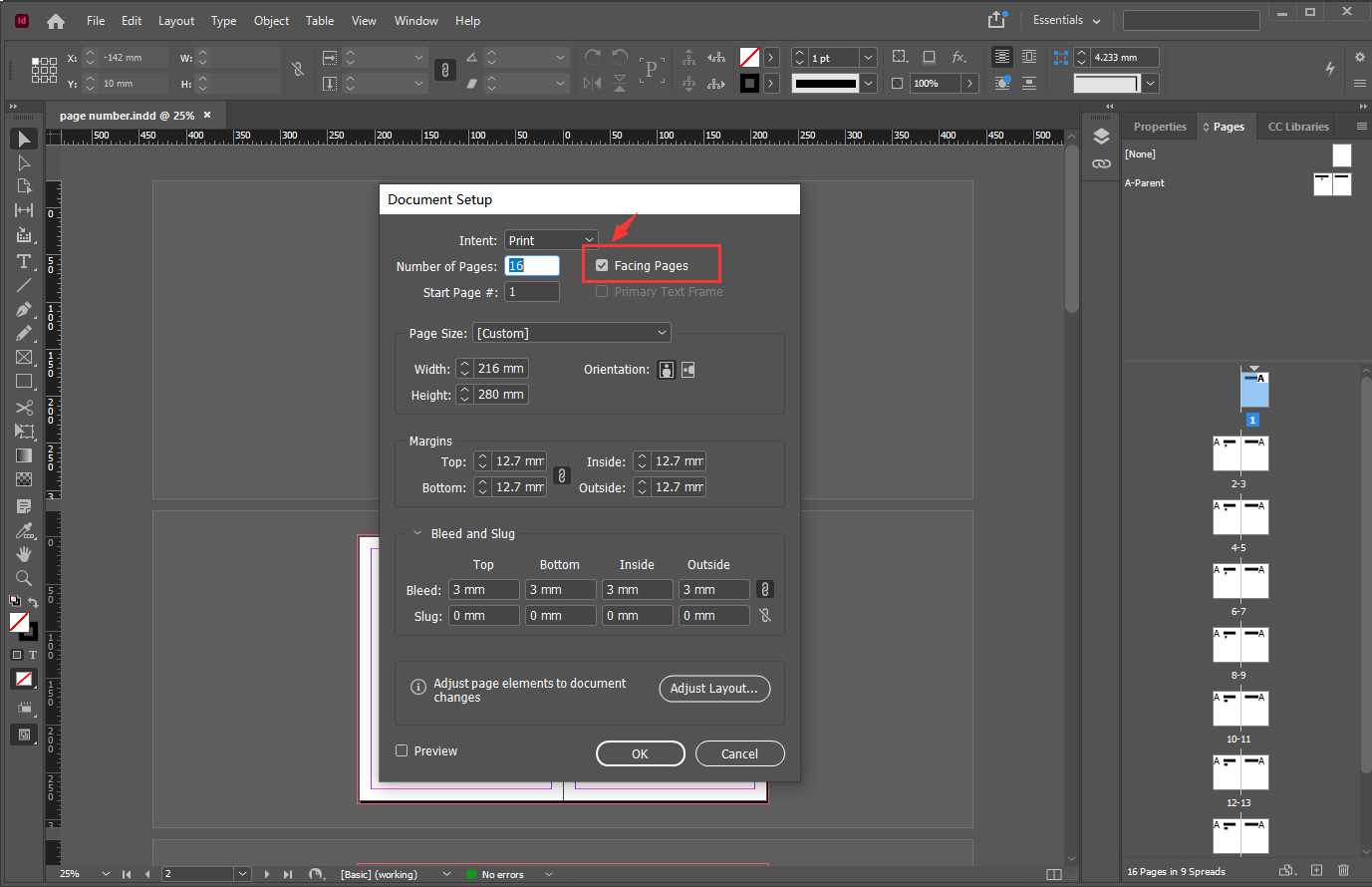 When you create a new document, you can also directly set it as facing pages.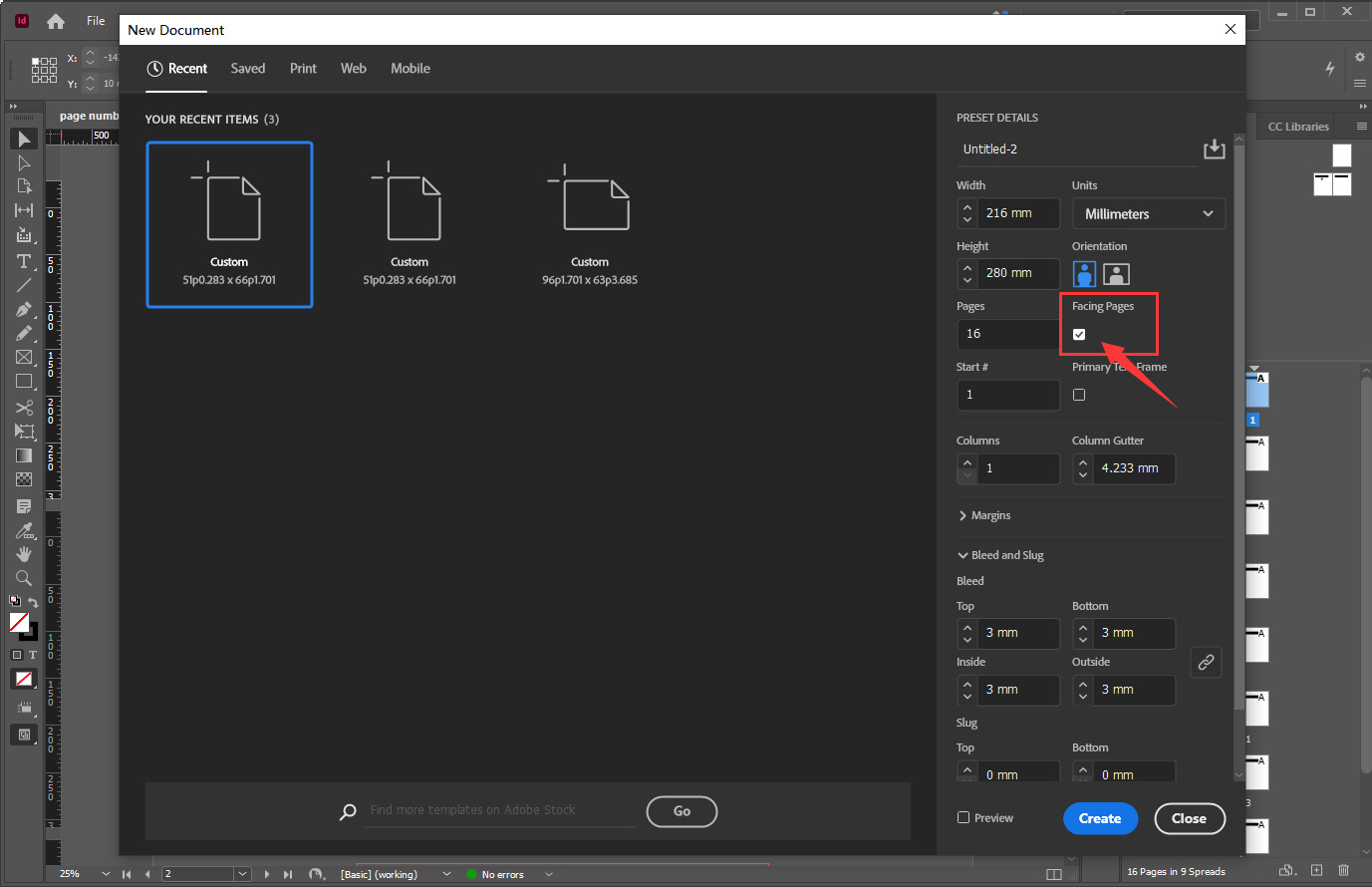 You're not limited to two-page spreads. You can even see your entire document in a single spread, but it would not be readable! Spreads are useful for seeing layout issues and designing with images and illustrations alongside text. If you're making a board book, then you can position a single illustration or phot across a two-page spread, for example, and reposition it so that nothing important lies along the central "crease".
Need More Help? Talk to Us!
At QinPrinting, we pride ourselves on our first-class customer service. If you have any further questions about page numbers, styles, and positioning or how to set numbers up in your design software, we've made it super-easy for you to get in touch with our expert design team by telephone, via email, Skype, the chat box, or the contact form. Talk to us!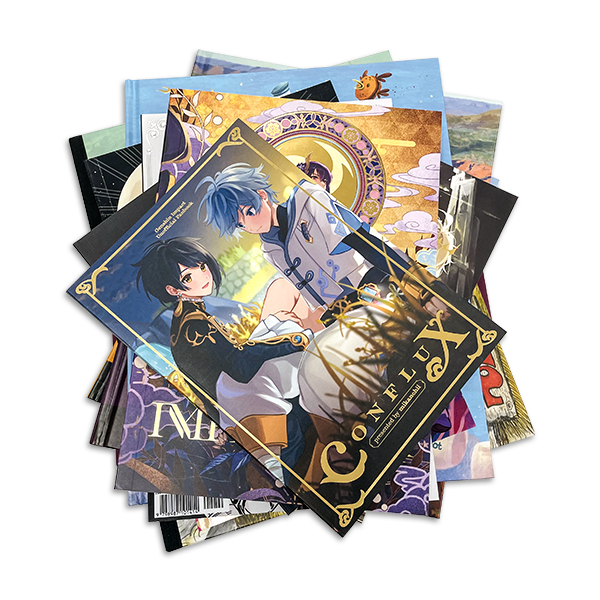 Start your printing project with QinPrinting
Explore all our different printing choices